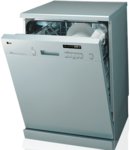 Product Details
Brand: LG
Max Noise Level: 49
Release date: Aug 2006

14 Place Setting Titanium / White Dishwasher (WELS 3.5 Star, 14.8 Litres per wash)

Titanium Dishwasher with 14 Place Setting, Dual Wash System for gentle wash on the top and strong wash on the bottom, half load option to save time and water and delay start for 1-19 hours for your convenience.

Key Features:
Flexible Basket System
Triple Filter
Half Load Option
Hybrid Drying System
Planetary Arm
Vario Washing System
---
This product has been discontinued by LG.
Hate it - doesn't clean and breaks down
smviles posted this on Jun 20, 2011
This review has been viewed 11 times
Bought this dishwasher in June 2007. From the beginning it never dried very well nor did it clean on the top shelf. Just prior to the end of the extended 3yr warranty (June 2010), the whole motor had to be replaced. One year on and the motor needs to be replaced again!
+ The digital display that shows the time remaining on a cycle
- Doesn't clean on the top shelf. At the end of the cycle (even on the hottest/intensive cycle) I take out more dirty items than clean. Even glasses that go in having only had water or soft drink in them, come out dirty. We keep the dishwasher clean and regularly use Finish dishwasher cleaner which helps but only for a very short period. Items (particularly plastic but not restricted to plastic) are not dried well. Also, the dishrack at the bottom that can be moved to accommodate larger plates is useless because with the slightest knock it falls open and causes all my plates to collapse onto themselves. At first I thought this would be a great feature, now I wouldn't buy a dishwasher that had this.