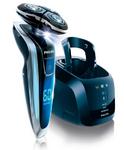 Product Details
Release date: Apr 2011

Philips most advanced shave yet, the SensoTouch 3D RQ1280CC / RQ1290CC shaver gives you the ultimate shaving experience. The GyroFlex 3D system follows every contour of your face and shaves every hair in just a few strokes with its UltraTrack heads.
Philips GyroFlex 3D system adjusts seamlessly to every curve.
UltraTrack heads catch every hair with just a few strokes.
SensoTouch Shavers with patented Super Lift&Cut Action.
Aquatec seal for comfortable dry and refreshing wet shaves.
Smooth, low-friction SkinGlide to minimize irritation.
Easy grip handle with ergonomic grip for close control.
Skin friendly precision trimmer
Jet Clean+ system cleans, lubricates and charges the shaver.
Product Range:
RQ1280CC - Jet Clean+ Chromed Numeric display
RQ1290CC - Jet Clean+ Touch Control Numeric display
---
Buy online
Philips Rq1280cc Sensotouch 3D Ultimate Shaver With Gyroflex 3D System - Chrome




from CrazySales

$379.53
Go to SHOP

Philips Senso Touch 3d Men's Electric Shaver Rq1290cc With Jet Clean System




from eBay.com.au

$400.00
Go to SHOP
Selected Review
I have never encountered anything quite like it.
elkabong posted this on Jan 10, 2012
This review has been viewed 66 times
Since my teens I have suffered after burn and stinging, baboon bum, red skin for hours after shaving. It did not matter as to whether I razor or electric shaved, applied copious amounts of balm or not, the result was still pretty much the same. This was a major impost as I would have to shave the night before so my skin would fade and not be so conspicuous. I kid you not! People would glance and then be hypnotised by my vivid, pulsating neck. The truly curious would mention and ask what was the cause. I was always searching for a solution to my shaving woes when, while surfing the 'net I stubbled across a review for the Philips RQ1290cc triple head shaver. I immediately balked at the price but on researching further took the plunge - and discovered shaving heaven.

This is one of the most awesome pieces of engineering I have encountered. Why did I purchase this model over other models which appear to be almost the same but less expensive? According to my research models subordinate to the RQ1290cc do have the same components but they are made from plastic. For instance, the RQ1290cc driveshaft is metal. The RQ1280cc is plastic.

The RQ1290cc (the 'cc' denotes self cleaning, which is a bit of a misnomer because you have to place the shaver in a supplied cleaning station. I still open the shaver heads and give the cutters a wash with running water, close them up and then install the shaver in the cleaning station for its bath. Once a month I also remove the cutters from the shaver and give the cutting area a clean out with the supplied brush. I have done this on all my previous shavers as well) gives a close, effortless shave. It is like sliding a warm piece of finely machined steel over your skin. It is a truly delightful experience, perhaps not erotic but certainly pleasurable. I will be honest and say that I look forward to shaving.

The initial setup is easy although I don't like the picture-type instruction manual. I have noticed that this type of user manual becoming the norm. I suppose it is to cut down on multilingual manuals or for those who suffer literacy problems. The shaver becomes fully charged within an hour and after that, unless you are travelling (a small, handy travel bag is provided) without the charger, it will recharge fully while having its heads and cutters flushed in the cleaning station. I calculated that the shaver will provide 20 or so shaves before the battery is too depleted to operate at a effective level.

The shaver is light and easy to maneuver. The on/off button can be fiddly until you get used to it. The shaver is coated with a non-slip surface which is ergonomically shaped so the shaver fits either comfortably in your hand or can be manipulated confidently with just your fingers. So even with very wet hands the shaver feels and is secure. It is also a wet/dry shaver which means you can use it with a foam (not my cup of tea). The charging stand footprint is small, but the cleaning station is three times as large and if you only have a small area, can get in the way. There is just one power cord so plug this into the cleaning station unless you are going to dispense with the cleaning station and manually clean the unit, plug the cord into the charging stand. According to the instructions a measure of cleaning solution will be effective for about 15 immersions. A replacement bottle of cleaning solution retails for about $15 and you will get about three to four measures from a bottle. The shaver comes with a 2 year warranty.

The amount of packaging is way over the top. I think this is a lot to do with trying to impress a buyer but really its unnecessary. After disposing of all the bits of contoured plastic keep the box. It's a handy size.

Although the shaver could be considered expensive the return for the money, I believe, is justified. As a shaver I believe it has no contemporary peer. Do not be put off by the price. I have seen these retail for $600 but I believe that realistically you could buy one for about the $450 to $500 mark. A lot of money? Maybe...but quality remains long after the price is forgotten and your face will thank you every day.
+ Superb build quality. Ergonomic design. Ease of setup. Does what it is supposed to do brilliantly.
- Superfluous packaging.
Buy online
Philips Rq1280cc Sensotouch 3D Ultimate Shaver With Gyroflex 3D System - Chrome




from CrazySales

$379.53
Go to SHOP

Philips Senso Touch 3d Men's Electric Shaver Rq1290cc With Jet Clean System




from eBay.com.au

$400.00
Go to SHOP