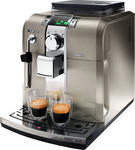 Product Details
Type: Fully Automatic
Brand: Saeco
Price (RRP): 1699
Release date: Oct 2009

Tucked inside the stylish stainless steel design with clear lines, the Saeco Syntia's innovative technology guarantees pure espresso enjoyment. The Syntia's precious stainless steel finishing is robust and has a modern and stylish look which perfectly adapts to every kitchen décor. The Syntia combines high-end functionality with sleek design. Front access to all features allows it to fit wherever it's most convenient for you. Short or long coffee with one touch, your favourite length easily stored with the memo option – it's all easy with the wide display and its self-explanatory icons.

Specifications:
Rapid Steam / Insta Steam: Rapid Steam (1 boiler)
Opti Dose: 7 - 10,5 gr
Bean container: 250 gr
Removable water tank: 1.2 lt
Dreg drawer: 8
Pressure: 15 bar
Frothing: SS Pannarello
Frequency: 50 Hz
Power voltage: 1400 W / 230 V
Housing material: Front, top and lateral in ss
Grinder: 1 ceramic grinder
Volume control: Programmable
Adjustable cup: Adjustable coffee dispenser
Boiler material: Stainless Steel
Dimension LxPxH: 256x415x315 mm
Interface: Display with icons 3 colors
Weight Around: 9 kg
Color: Steel
---
Big bubbles - not creamy, textured milk!
LatteLover posted this on Jul 02, 2011
This review has been viewed 70 times
After using a Sunbeam Cafe Series 6910, this machine is disappointing. The coffee it makes as automatically adjusted is fairly weak and you can only adjust the grind when you are grinding. It does the pour into a seperate compartment and then pours it into the cup so comes out looking pale and blonde straight away. It is useful that it can take ground coffee if you are using a different one some of the time but generally, the coffee 'cakes' in the waste bucket are small and coarsely ground unlike most coffee for espresso.
The milk texturing is disastrous! The silly panarello attachment makes big bubbles and there is no way of just using the steam arm with the small hole as it is too short to fit into the jug!
Overall, it looks pretty and is a nice simple machine for those who could not be bothered having to control factors to get a great coffee but if you want a really good coffee save your money and buy a Rancillio Miss Silvia or a Sunbeam for half the price!
+ Looks nice and is quiet.
- Expensive. Worst fault is the steam arm which cannot make decent textured milk even if you have a lot of experience in doing so due to the panarello attachment at the end which looks terrible since it is plastic.