7 photos
4.2

from 73 reviews ·

View Statistics
Brand Manager for Hyundai?
Register now
and take advantage of ProductReview's Brand Management Platform!
Expert Review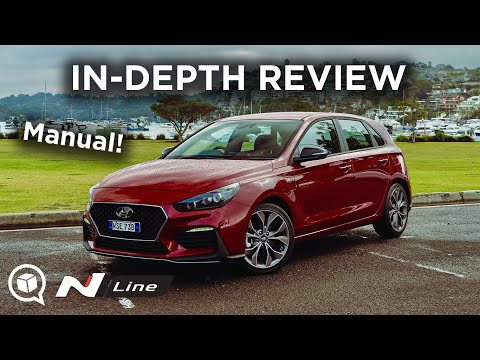 4 out of 5 stars
Introduction
If you're anything like me, then you would also love to own a hot hatch or a sports car of some description.
However, the sad reality is that these sorts of cars quickly move on from the honeymoon period into a land of resentment, due to the compromises they make in the name of performance.
Sure, it's fun purchasing these performance cars and getting that first big drive or track day under your belt. But as soon as Monday comes around, you're all of a sudden realising that for daily driving, your new vehicle might not have been the best choice.
On the other hand, you also don't want to drive something that is soul-crushingly boring, all in the name of practicality.
Hyundai offers both a full 'N' performance i30, and also this, the i30 N Line. It takes a few sporty cues both superficially and under the bonnet to try and provide a cost-effective but fun-to-drive 'warm hatch' - not quite a full 'hot hatch'.
I took this Hyundai i30 N Line manual home for a week to see if you could get the best of both worlds.
---
Build Quality
4.3 out of 5.
I was thoroughly impressed with the build quality of Hyundai's popular mid-sized hatchback.
Sure, you're immediately going to notice a lot of cheaper materials, however it's just cheaper to touch - the actual fit and finish on the inside is well executed.
The major touch points, like the doors, shifter and steering wheel are all dressed in soft leather which feels premium, and helps justify a price increase over the cheaper models.
Seats were the highlight here, with an N badge embossed into the backrest, helping lift the overall sporty feel of this interior.
On the outside, the main quirk was the panel gap between the bonnet and front bumper that was filled in with a rubber gasket, something found on all i30's of this generation. Not a negative aspect, however it doesn't scream accuracy in panel fitment on the outside.
Value for Money
4.5 out of 5.
The i30 range starts off at $25,490 drive away, whereas the i30 N Line hatch starts from $33,112.
The range can go all the way up to the i30 N-Line Premium, which maxes out at $38,056 (before you're shopping for the far more expensive and more powerful i30N).
For your money, you're getting an interior and exterior upgrade from the N department, with sporty front grills, side skirts, grippy Michelin tires, upgraded wheels and a dual exit exhaust.
On the inside, there are N-inspired bucket seats, steering wheel, pedals, shifter and floor mats. There's also a 8-inch centre infotainment paired with a half analogue, half digital driver's display.
Finally, it's topped off with 150kW, 265Nm from a 1.6L petrol four cylinder and sports-tuned suspension.
For $33,112, it's a great deal for those who want a bit more power and sporty flair packaged into a medium sized hatch. However, you'll have to pay a little extra if you don't like driving a stick.
Maintenance
4.2 out of 5.
Hyundai ships the i30 N Line with a 5 year/unlimited km warranty.
Servicing for the i30 can be prepaid up to 5 years or up to 50,000kms, costing a total of $1,385 for 5 services. Most people won't be travelling more than 10,000km a year, so that means yearly servicing will cost $277.
As for fuel, it'll cost you around $66 to fill up a full tank.
Noise Level
3.8 out of 5.
Surprisingly, you're met with a quaint and quiet cabin, despite opting for a more 'sporty' hatch over the standard car.
On the outside, you do get a more raspy and active sounding exhaust producing plenty of performance noises. Only issue is, you rarely get to hear this exhaust from the inside, aside from the occasional pop when revving.
I guess having a quieter cabin is part of the N Line hatch's appeal, as you'd be shopping for a hot hatch if you really wanted more performance theatre. Less external noise entering the cabin allows you to relax during the daily commute and over longer trips.
I found the audio system to be just fine - it'se clear and loud enough for daily listening. However, it wasn't mind-blowing or particularly deep in its sound. If you're looking for a better listening experience, you'll need to opt for the 'Premium' model which will upgrade your speaker system, along with other features.
Braking
3.8 out of 5.
The braking ability of the i30 N Line hatch was as expected for a medium sized hatchback. The car looks sporty, but you're not going to find these brakes fulfilling the hot hatch vibe this car is trying to portray.
You're going to experience brakes that are predictable, easy to operate and will tick the box just fine. Additionally, there's AEB available just in case there's a need to brake for an emergency.
Acceleration/Power
4 out of 5.
The appeal of the i30 N Line is the power bump it receives over the standard range.
This hatch is packing Hyundai's familiar 1.6L turbocharged inline four-cylinder petrol engine, producing 150kW at 6000rpm and 265Nm at 1500-4500rpm.
As this is the manual, you've got six speeds to choose from, which is all fairly standard.
The power produced by the i30 N Line isn't exactly adrenaline inducing, but it does produce enough performance to make this i30 fun to drive.
In reality, you don't need more power than what's given here. You'll get up to speed more than quick enough, and you'll be able to conduct clean overtakes out in the country.
Off-the-line acceleration is hampered by the exclusive drive to the front wheels, as you're met with the typical wheel-chirp of rubber failing to grip onto the road after the initial launch.
I am forever grateful for the existence of this turbocharger, as it really does allow this engine to come alive when you dig down into the accelerator pedal.
Gear Shifting
4.1 out of 5.
This is the i30 N Line that comes with a manual transmission, so on paper and when you're seeking thrills while driving, it'll be the obvious choice over the dual clutch alternative...or is it?
Having driven both variants of the transmission available when you purchase a i30 N Line, I have to say, the manual does come in second place.
Here's why.
It's the involvement required when using a manual transmission that gives you little reward over the dual clutch. Some manuals are absolutely worth the pain they provide in being a little more effort than an automatic, but I'm not so sure this particular transmission is.
I do believe that the manual provides more 'fun', but I found that it was a bit more effort than the dual clutch when I just wanted to run to the shops, or somewhere close.
As for the manual transmission's operation, there are no complaints here. It was slick, relatively precise and offered a rewarding exchange when shifting gears. If a manual transmission is a must, it's going to be plenty of fun when you want to have complete control over this vehicle.
Suspension & Handling
4.4 out of 5.
The N Line gets a 'performance-oriented' suspension and handling tune, in the form of stiffer springs, bigger wheels and Michelin Pilot Sport tires.
It's a greatly appreciated improvement over a more comfort-orientated setup.
The best part is, the suspension here isn't back breaking - but instead it's designed to limit body roll and sway through corners.
The grip from the Michelins is reliable once you've pushed past the initial loss of grip from launch, and pairs nicely with the larger wheels fitted to the N Line.
The suspension allows you to coast over rough parts of the road, while also getting just enough feedback to understand what's happening beneath your tires. Although it won't translate the road like braille for your butt if that's what you're hoping for - you'll need to seek out a proper hot hatch for that experience.
Fuel Efficiency
3.7 out of 5.
Hyundai claims a combined fuel efficiency figure of around 7.1L per 100km.
I saw figures cross 10L/100km while driving around town in this warm hatch, which was partly due to me operating the manual transmission as I'd hoped an aspiring hot hatch owner would.
For the manual gearbox, you will see higher consumption figures than the dual clutch, simply due to us humans not being solely designed to make optimal gear changes for fuel efficiency.
In short, just know that since this is the more powerful i30, you will be spending a little more at the pump than a more 'responsible' economy-oriented hatchback would.
Interior Design
4 out of 5.
The interior of the non-premium version of the i30 N Line hatch is looking a little old, compared to its sedan counterpart.
From a layout perspective, it's all logical and predictable.
The N Line not only adds visual flair to the outside, but also spruces up the interior with an assortment of N upgrades, like a N specific steering wheel, shifter, seats and carpet. Oh, and don't forget the red seat belts.
If it wasn't for the N upgrades, I'd say the interior was a little boring. However, we have these upgrades featured in this cabin, and that's what made a world of difference for me when it came to enjoying the interior design of the i30 N Line.
Boot Size & Comfort
4.2 out of 5.
The i30 N Line hatchback has a minimum of 395L of boot space.
Seats fold in a 60:40 split, meaning you can still carry up to 4 people, while one seat is folded.
If you need to move some items from IKEA, you can fold all the seats down for a total usable space of 1301L. This provides plenty of space for those home office improvements during your next lockdown.
Although, be careful dragging longer items in and out of this hatch, as there are some sizable ledges both at the entrance and at the base of the seats when folded.
Features
4 out of 5.
Since this isn't the Premium variant of the i30 N Line, you miss out on some creature comforts, like heated seats. However, you do get an assortment of performance upgrades, both superficial and mechanical.
Here's what you get when purchasing an i30 N Line manual:
Engine
1.6L turbocharged inline four-cylinder petrol engine
150kW at 6000rpm and 265Nm at 1500-4500rpm
6-speed manual transmission
Infotainment
8-inch full colour touch screen
7-inch 'supercluster' analogue and digital driver's display
Apple CarPlay/Android Auto
6 speaker audio system
Safety
Driver Attention Warning (DAW)
Forward Collision-Avoidance Assist (FCA)
Lane Keeping Assist - Line (LKA-L)
Lane Following Assist - Line (LFA)
Performance
N Line specific suspension
N Line specific exhaust system
Michelin tyres
Convenience
Keyles entry and exit/engine start and stop
Automatic headlights
Reversing camera
Should you buy one?
Consider buying a Hyundai i30 N Line if you're after a hatchback as a daily driver, but also add a little performance car flavour to your life. The i30 N Line hatch does a great job of filling the gap between economy car and full-on hot hatch.
I'd say in this base i30 N Line trim, with a manual, you're going to have most of the fun you'd find in a hot hatch, especially when rowing out your own gears.
However it does have to be said that the full fat enjoyment that you'd get out of a proper hot hatch is something that you'll only find in the $48,000 i30N.
About the author
Cameron is your typical car nut, but also drives and writes about cars for ProductReview.
Price high design and quality low
Went to see as wanted to buy a sedan, what a disappointment on the i30 sedan. The dashboard looks cheap and without any design. The front screen seems too small or the panel is too big, the buttons look like from a 1990 car. See picture attached also of the AC controls just 3 knobs compared to the hatch design, totally different cars.
One thing I could not get head around is what looks like a holding point for passenger? Next to the gear stick, just a way to make car feel cramped?
Looking the sedan from the side looks as the bonnet was open,...
Read more
but actually is like the bonnet comes out where meets the corner panel. Also sedan with key? Cmon! Makes it look more outdated. Price on the i30 line seems to go up but the quality and design seem to have lowered the bar, competing with mazda 2 or 3 in sedan leaves a lot to desire.
Great car, heaps of features, but horrible programming/tech
I have had an i30 SR Premium for 7 months now. It is a well built car, love the leather seats, sunroof and has decent power. At the same time, I think it looks a bit girly compared to other hot hatches, but I really dislike the tech/programming in the car.
Here are the problems:
- I normally drive with recirculate on the vents so I don't have to breath the exhaust of the car in front of me. The fresh air intake is very low, obviously at the level of the exhaust of the car in front. The problem with this car is whenever you put on defrost on or ...
Read more
open the sunroof, the car changes to fresh air. So I regularly get a car full of fumes, this is extremely annoying. When the sunroof it up, at that height, fumes are not notable with recirculate on, sadly when you change the vent to recirculate, it changes back every 3 mins. What the heck Hyundai, why can't I get the car to do what I want! - The windscreen wipers are confusing to raise to wash, as will all cars where you can't lift them straight up, the paint is damaged on the bonnet when the previous owner or car washers tried to lift them up. Each time I wash the car I often forget how to raise it. - Android Auto does not work reliably in this car. Even took it back for warranty and they tell me nothing is wrong. When using the GPS it won't stay connected for more than 10 mins. I am so sick of unplugging/plugging in the cable to restart android auto I no longer use it, making the centre screen totally useless except for the reverse camera. Before deciding to buy this car I hired a 2018 base model for a month, android auto worked perfectly with cheap cable (same phone). I have tried about 10 cables including original and expensive ones, still android auto is useless on this car. - The cruise control feature sucks. In my previous 2 cars, one didn't have a cruise control On/Off button, you simply hit Set when you want to set it and the other once you turned it on, it remembered that for life. This stupid car makes you turn on the cruise control feature before hitting Set each time you start a new drive. I often forget if I have turned it on and turn it off before hitting Set the next time. Get rid of the stupid On/Off button, it serves no purpose!!! Use your brains Hyundai, get with the times!!! Yet, some things are very good: Still, I think this car is better than the alternatives like Golf GTI and Mercedes A250. It has the same features for less money. The indicator lever is on the correct side for Aussie cars (I will never buy a car with the lever on the left again - extremely frustrating these stingy European manufactures that are too arrogant to put the lever on the correct side) and the seats are cooled and heated unlike the competition that only has heated seats (made for Europe). The full glass roof is also better than the Golf and Mercedes, it is far better insulated, so you can't feel much heat when the screen is rolled up. Also the screen is much thicker than the shade cloth you get with the Golf and Mercedes, so no heat at all on the hottest day. I tried the Golf and Mercedes and the sun beams straight through the poorly insulated sunroof and thin shade cloth. With this car I basically always leave the sunroof cover rolled up all the time, love it. The adaptive cruise and lane keep assist are great also, I would not buy a car without those features in the future.
Purchased in March 2020 for $27,000.00.
Good features, failed DCT engagement
The car was fun to drive until 40,000 KMs. I love adaptive cruise control and lane assist. The interior is great and Android Auto and Apple car play is good too.
However, I bought this car because of its 150 kw power and DCT transmission. Unfortunately the car has lost its edge and doesn't drive as it used to be. Took it to dealership and was told that all 4 alloy wheels are bent. They performed the relearn of adaptive values and the car still hasitates during low speed around round about and turns.
Purchased in September 2018 for $30,000.00.
I wasn't impressed with this car as the ride was very bumpy. Granted, our roads aren't the best in Australia but with the suspension on this car I felt every bump in the road.
Nice car until it breaks down
The car itself is fine when it works. Nice to drive and great arrange of features.
However, our Hyundai SR has been horribly unreliable in its first year. Car has already broken down twice and sits in the dealership today. Worst of all Hyundai Customer Care is shocking. They deflect all issues to the dealer and all repersentatives I've spoken to are rude.
Don't make the mistake of thinking Hyundai are now world beaters. They still seem to sell unreliable cars with a poor quality of service.
Purchased in September 2018.
Related Articles
Compact space efficient hatch
Good build quality and spacious cabin. The luggage area accommodates two full suit cases and back seat accommodation is spacious for this class of car. The cabin style is uninspiring, and the ergonomics from a driver perspective is not ideal. This seems to be a car you sit in rather than cosseting you in the way a Golf does. The seats are firm although reasonably supportive but I wouldn't call it comfortable. The massive infotainment screen seems crudely designed and whilst it does have Apple CarPlay, without SatNav, the ugly screen is in ...
Read more
an irritating intrusion into the dashboard view. The car has average economy, and seems below that of European hatches in this class, rarely getting below 7.5km/100 litres. The base petrol engine in auto form is lively, coping with Australian speed limits. but don't expect performance motoring. Handling is second rate. This is a car that has to be navigated cautiously through corners at the recommended speed limit otherwise expect nasty handling surprises such as a tipsy feeling and ploughing into corners or sudden body lurches. Under heavy braking from speed the I30 has trouble maintaining a straight line. However, if you're just after a no nonsense practical city car, then this car fulfils that remit well. It's curious that Hyundai can produce a performance version of this car when the base car is so wanting dynamically.
What is the five year warranty about.
Purchased a new 2018 Hyundai I30, not four months old yet. Washing it the other day I noticed a crack in the plastic surround in the handle of the tailgate. Rang the dealer where I purchased it, Lakes Hyundai, Qld. Was told that I would have to bring it in and have it looked at to see if it was covered by warranty. If it was, I would then have to wait until they got the part, then go back to have it fitted. Trip to Lakes Hyundai from my home one hour. Rang another Hyundai dealer, this one told me that the same plastic surround was cracking on a...
Read more
lot of 2018 I30'S and they might recall them for this. Not good all around, part should be purchased by the dealer straight away and fitted by them when they get it. When I told a person at Lakes Hyundai that I was an hour away from the dealership he told me that I should look for a closer dealer. What does the five year warranty really cover.
I bought the i30SR after being surprisingly disappointed with the Mazda 3 SP25.
The level of kit in thei30 is pretty much on a par with the SP25 GT. And the i30 made me smile compared to the SP25 lack of raising even a slight grin.
I've had the car since Easter ( 2018 build) and whilst overall I'm happy with it, there are a few niggles.
Since picking up the car I've done mostly city driving and 1 longer trip to the blue mountains.
The niggles are:
...
Read more
1) from warm ( ie left for about an hour) the car has struggled to start instantly upon pressing the start button.... i30 forum has a page on starting problems.... seems like a software issue. No faults codes so the dealer is struggling to duplicate the issue. 2) durability of the leather. Are the seats all leather, I have my doubts as the drivers seat bolster looked worn after just 600kms - drivers seat being replaced 6/6/18. 3) rear camera is blurry.... seem to be a common complaint The positives are that 2018 i30 is pretty spacious. It's very well equipped and the adaptive cruise control is great although you still need to keep your whits about you. The chimes and warnings keep you alert too. Apple car play is fab. Easy Bluetooth set up is great. Auto link is a good tool. Technology wise.... the i30 is pretty much fully loaded and probably class leading. I wish it had one touch windows ( up and down) Dealer is polite and helpful although sometimes it would be nice to speak to the mechanic... especially regarding issue 1 above. In summary, the i30 SR is amazing value. It's VERY well specced. Styling is very european and VW Golf-esque.... build quality is more 2010 Ford Focus though
Purchased in March 2018 at Hyundai Dealers for $28,500.00.
Step up for Hyundai, but same misses let it down.
Overall, probably one of the best cars in it's price range, but it's not perfect.
Good design, spacious, great boot space and flexibility (flat seats, boot lip etc).
Seats are comfortable, although the quality of the leather isn't the best, and some of the plastics are a bit cheap.
Feels solid to drive and handling is really good and up there against cars that are priced well above.
Features and inclusions are also well above a car in this price range - you get a lot of bang for your buck IMO.
The engine handles well and has got some ...
Read more
grunt (1.6L turbo), but with about a 1-sec delay, and pretty harsh noise as per most Hyundai's. However, there are the same few Hyundai things that let it down. The leather wears over time, and the ventilation holes mean that any spills or liquids drip in and are near impossible to get out. The paint work isn't perfect - the driver side isn't blended well, and the driver door almost looks a different shading on a certain angle / light. The technology isn't glitch free, and given the amount of autonomous and safety features, is a bit concerning.
Was very happy with my 2015 I30 ACTIVE X ,so purchased the the latest model i30 active (active x no longer available ) At first was impressed with the new added features ,but i neglected to notice that Hyundai has actually sacrificed some of the quality from the older model ,maybe to subsidise the new bells and whistles .Probably anyone that hasn't had older model i30 would be completely happy but if you are interested in the new model ,if you can compare the older models first .Too many features to list but one glaring downgrade is the rever...
Read more
sing camera .Was told by two different dealers that it is a different camera used this time. The clarity compared to previous one is terrible ,especially at night .Compared my camera in my car to other models in the yards of 2 dealers and they are all the same.Was told by both dealers Hyundai have in fact sacrificed some quality from older models for the new models .Queried this with head office in Sydney ,very different story from the customer support person who said go back to service dept. ,but the response from dealership was to confirm what i suspected and that i will eventually get used to it ,sorry can't help you.
I have a diesel i30 with 10000km on it as a courtesy car.
It is awful. It feels as if it has no suspension - every bump jolts, and at speeds over 100 km/h feels it will bounce off the road.
The engine is sluggish unless the pedal is floored.
No seat lumbar support.
Not particularly economical with 6.5 L/100km so far
Wouldn't buy one
Questions & Answers
i30
I have a 2016 Hyundai i30 which I absolutely love. The paint seal seems to be coming off on the rear door handles and the back of the hatch. Has anyone else had this happen? What can I do about it?
4 answers
I have a 2015 i30 and the clear coat (paint) is coming off the roof
Thanks John do you think a cut and polish would fix it? Have you done anything about it or just left it
We've got the same problem, ours is a 2014. Can I ask what colour is your car? Ours is red and as I now understand, red Hyundais have this as a known issue.
i30
Hyundai i30 2018 model,, after car service and upgrading radio and navigation system, it now doesn't give verbal alerts ,, like red light camera school zone warning road narrows. Why is this happening..
2 answers
You should check the settings in the navigation system, sometimes the service guys set it to default.
We have since been told that the new update doesn't have verbal alerts, anymore which we aren't pleased with this !!
See all

Hyundai i30

questions
Get an answer from our members
Details
Compare all 21
Hyundai i30
Category
Hatchbacks
Hatchbacks
Hatchbacks
Hatchbacks
Starting

Price

$23,390
$27,790
$34,990
Transmission
Automatic
Automatic
Dual-Clutch (DCT)
Drive Type
Front Wheel Drive (FWD)
Front Wheel Drive (FWD)
Front Wheel Drive (FWD)
Fuel Type
Petrol
Petrol
Petrol
Wheels
16" Alloy
17" Alloy
18" Alloy
ANCAP Safety Rating
5 Stars
5 Stars
5 Stars
Fuel Consumption
7.4 L/100km
7.4 L/100km
7.1 L/100km
Fuel Tank

Capacity

50 L
50 L
50 L
Engine
4 Cylinder 2.0L
4 Cylinder 1.6L
4 Cylinder 2.0L
4 Cylinder 1.6L
Engine Code
G4NC
G4NC
G4NC
G4FJ
Max Power
120kW @ 6200rpm
120kW @ 6200rpm
120kW @ 6200
150kW @ 6000rpm
Max Torque
203Nm @ 4700rpm
203Nm @ 4700rpm
203Nm @ 4700
265Nm @ 1500-4500rpm
Country of Manufacture
South Korea
South Korea
South Korea
Manufacturer Warranty
5 year(s)
5 year(s)
5 year(s)
Release date
Jan 2017
Jan 2017
Jan 2017
Jan 2017
Compare all 21
Hyundai i30
Visit official website
ProductReview.com.au has affiliate partnerships. These do not influence our content moderation policies in any way, though ProductReview.com.au may earn commissions for products/services purchased via affiliate links.