1 photo
Hyundai Palisade AWD Diesel Highlander (2020-2021)
Also referred to as: Hyundai Palisade AWD Diesel Highlander 2020 and Hyundai Palisade AWD Diesel Highlander 2022.
4.0

from 1 review ·

View Statistics
Listing monitored by Hyundai
Expert Review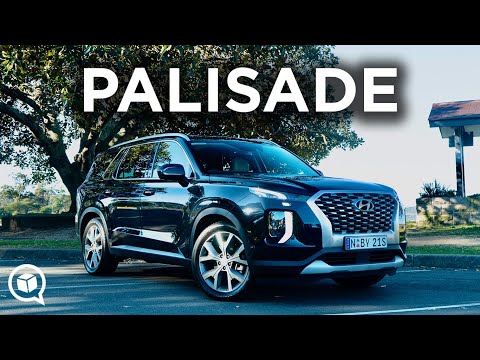 4.4 out of 5 stars
Introduction
I did some growing up in a place called Pacific Palisades in the USA. I loved that place, and it holds a dear place in my heart.
Hyundai recently came out with an American market SUV called the 'Palisade'. As Aussies, we rarely get large SUVs like this. Hyundai made a special consideration for our market and gave us the opportunity to buy one of the only 8-seater vehicles that isn't a minivan.
With a name like Palisade on an SUV that's impressing American car publications, I had to see if the fuss was worth the hype.
---
Build Quality
4.7 out of 5.
This is Hyundai's most expensive car they offer, so you'd expect it to be the best-built Hyundai. It's absolutely living up to that expectation both inside and out.
On the outside, the fitment of panels and trim is all well constructed. Additionally, the metal tail pipes really add an extra layer to the quality found on the Palisade.
On the inside, stand-out features like the suede roof liner, nappa leather seats and softly dampened buttons lift the interior experience and genuinely make you question how much additional luxury materials are worth, found in more expensive alternatives to the Palisade.
Value for Money
4.5 out of 5.
From build quality, I can easily jump into the value for money segment and confidently tell you the Palisade is worth every dollar you spend on it, for the features, space and capability that you get in return.
This Palisade Highlander 8-Seater diesel is priced from $81,329 drive away.
You could compare this in price to an entry level BMW X5, Land Rover Discovery Sport or even a Mazda CX-9.
Sadly, we don't get Kia's sister car, the Telluride, in Australia. Meaning, you don't have many large SUV options below the $100,000 side of the market.
However, where the Palisade stands out is in its packaging. Offering North American levels of space for all three rows, it's hard to say you'd be better-looked-after than many other competitors.
It certainly comes down to if you really need or want this much space in a car. If you do, there isn't anything that can offer you this level of luxury and comfort in the form factor of an SUV, especially for this price.
Maintenance
4 out of 5.
The Palisade is covered by Hyundai's 5 year/Unlimited kilometres warranty and capped price servicing program for that same period.
This particular Palisade is being powered by Hyundai and Kia's familiar 2.2L diesel engine, it's fair to say that you can expect total servicing costs during this period to remain fair and reasonable. Without anything too complicated under the hood, I think you can rely on the Palisade during your ownership experience.
Noise Level
4.6 out of 5.
The Palisade is the most expensive and most luxurious Hyundai you can buy, it's going to be quiet inside.
The Palisade worked wonders to isolate the cabin seemingly completely from the outside world. Although, your thoughts may occasionally be interrupted by the presence of the 2.2L diesel motor, which can rudely make itself known under hard acceleration.
The upgraded 12-speaker Infinity audio system was absolutely phenomenal. I was blown away by the quality and power that this speaker system was capable of. It makes listening to hours of podcasts and music far more pleasurable, almost like wearing a set of headphones.
For the price you pay, the Palisade was showing up vehicles twice as expensive in the luxury audio department.
Braking
4.5 out of 5.
The size of this large SUV might have you believe that braking would be impacted negatively. I'm here to let you know that driving an 8 seater has never been easier.
With a balanced and progressive brake feel, the Palisade was beyond easy to smoothly slow down from a variety of speeds.
I was also impressed with the ability to smoothly operate the Palisade through its brake pedal. I could see this being appreciated by a fleet of hire-car drivers, and families who have carsick passengers.
Acceleration/Power
3.9 out of 5.
This Palisade was fitted with Hyundai's 2.2L turbocharged four cylinder diesel, producing 147kW @ 3,800rpm and 440Nm @ 1,750 - 2,750rpm.
What was deceiving was just how a four-cylinder diesel motor was able to translate its power so effectively through the Palisade's all-wheel drive system.
The wave of torque was fed smoothly and with a low rpm requirement for peak torque. This meant you could gently squeeze the throttle to get up to speed. This resulted in a luxury driving experience that complimented the Palisade's overall presence.
Sure, the diesel motor would make itself known if you need to briskly pick up pace, but once you were up to speed, the engine settled down for a relaxing driving experience.
Gear Shifting
4.4 out of 5.
Power was sent via an 8-speed automatic transmission, proving to be a textbook example on how to develop a gearbox for luxury driving.
The seamless shifts and responsive drive allowed the Palisade to cruise without complaint. There was a set of paddle shifters fitted to the Palisade's steering wheel. However, I never felt compelled at any point to manually shift, when the automatic was better than I was at manually shifting.
Suspension & Handling
4.6 out of 5.
For such a massive SUV, again I was impressed with the on road manners the Palisade provided.
Suspension was the mechanical cherry on top for this luxury-orientated family car. I fell in love with how effortlessly the Palisade was able to glide over the road. It's no sporty SUV, but instead it leans hard into the comfort department.
Handling was impressive, when the Palisade was able to sweep through turns, without causing too much of a fuss for its passengers. However, the weight of the Palisade does become apparent on the edge of its cornering ability. You'd need to be an aspiring race car driver to be able to constantly encounter the edge of this SUV's grip.
Fuel Efficiency
4.1 out of 5.
The large Palisade returns a conservative 7.2L/100km combined. Around town, you will see that consumption figure cross the 10L/100km mark.
To fill the Palisade's 71L tank with diesel, expect to pay just over $100 per fill.
If you're heading on long road trips, or appreciate low down torque, certainly opt for the diesel motor over the more thirstier petrol V6.
Interior Design
4.7 out of 5.
Simply put, the Palisade's interior is built in such a way that makes some other cars beyond frustrating to interact with.
The layout and logic of this interior, wrapped in a luxury package, means that the Palisade is a fantastic option as the family hauler.
From the wood-look trim, electrically operated second row, rear heated seats, massive 10.25 inch infotainment display to the in-car intercom - the Palisade does it all.
Apart from the absence of massaging seats, there isn't a single option missing from inside the Palisade. These include heated and cooled seats, a heads up display, radar cruise control, a 360-degree parking camera, drive modes, terrain modes and even second row blinds.
The overall design feels like you're in a modern living room on wheels, with vast amounts of light flooding the cabin.
However, just note that if you like the lighter white nappa leather, it will stain if you wear dyed clothing and will absolutely show marks and scratches a lot more than darker coloured leather would.
Boot Size & Comfort
5 out of 5.
With all three rows up, you receive a minimum boot space of 311L, whilst with all seats folded down, you receive a maximum of 1297L of cargo space.
The boot is enormous, especially if you're not intending to rock around with the third row up. I loved the addition of a boot carpet that covered all the cracks and crevices normally found in SUVs like this.
It's a flat load floor all the way through, and the square load space makes this one of the most practical family cars, as the design of this car doesn't impede on interior space and comfort.
I believed the Kia Sorento and the Hyundai Santa Fe offered incredible amounts of second row comfort before I jumped into the Palisade. With the second row in full recline, second row air con adjusted, and rear blinds closed, you have one of the most comfortable cars to be driven around in.
The third row comfort is fine for adults, but really it's for the kids. If you want a more practical use of the third row, you would need to opt for the 7 seat option, that makes it a lot easier for kids to share space in the second and third row.
Overall, the absolute comfort provided by the Palisade is intoxicating. I really did miss that car when I had to hand it back, as it's hard to match this level of comfort, let alone for under $100,000.
Features
4.7 out of 5.
The Palisade Highlander 8 seater is a fully loaded car. It has a swath of features that help justify the price tag for a luxury large SUV like this.
Here's a full list of features included with the Palisade Highlander 8 seater diesel:
Engine
2.2L turbocharged four cylinder diesel
Producing 147kW @ 3,800rpm and 440Nm @ 1,750 - 2,750rpm
AWD
8-speed automatic transmission
Infotainment
10.25-inch touchscreen infotainment display
7-inch drivers display
12-speaker 'Infinity' audio system
'Intercom' system for front occupants to speak to rear occupants
Multi-bluetooth connectivity
Apple CarPlay/Android Auto
Safety
Blind-spot cameras
Blind-spot avoidance assist
360-degree parking cameras
Rear cross traffic alert and assist
AEB
Lane keep assist
Rear occupant alert
Lane follow assist
Highbeam assist
Performance
Drive Modes
Terrain Modes
Flappy-paddle gear selectors on wheel
Convenience
Heated/cooled front seats
Nappa leather
Heated second row
Three seats in third row
Automatic folding second row controls
Radar cruise control
Heads-up display
Roof rails
Panoramic sun-roof
Second-row climate controls
Second-row window shades
16 cup-holders
Should you buy one?
This is an SUV that struck a chord with me. Of course, the name provided a bit of nostalgia, and then there was a need to justify a high price for a Hyundai.
Not only does the Palisade deserve its name as one of the best large SUVs you can buy, but it goes to great lengths to impress with its features and driving dynamics.
Yes you should buy one if you're looking for a 7 or 8 seater SUV. Opt for the diesel for the best fuel economy and luxury driving experience. Finally, question if you need that lighter colour leather if you don't want to be cleaning marks off it more frequently than its darker counterpart.
Hyundai should be proud of this SUV, and it's a great option for families needing just that little extra space.
About the author
Cameron is our resident car expert. Aside being a source of knowledge about the automotive industry, he has also driven a wide variety of cars. From Porsche 911 GT2 RS's, through to a 1998 Toyota RAV4, Cameron has not only seen it all, but most likely driven it.
This is our family car and so far we are extremely happy.
Such a quiet and comfortable car to drive with all the safety tech to keep our family safe.
We traded in our 2019 nx pajero (the tractor) because my wife was having trouble getting our kids in their car seats and also the lack of safety tech.
The rear cross traffic alert together with an array of cameras leave little to no chance of making an error.
Issues:
Wireless phone charger is absolute rubbish.
Having to plug in the phone for apple car play is also lame for an 85k car.
I have noticed once the infotainment system didn't start up when i started the engine no reverse cameras or anything, will get this checked out at next service.
Purchased in March 2021 at Bloods hyandai for $86,000.00.
Questions & Answers
Sorry, there are no questions yet.
Get an answer from our members and Hyundai representatives
Details
Compare all 6
Hyundai Palisade
Category
Large / 7 Seater SUVs
Warranty

Distance

Unlimited kms
Transmission
Automatic
Drive Type
All Wheel Drive (AWD)
Fuel Type
Diesel
Wheels
20" Alloy

Doors

4

Seats

7 to 8
Fuel Consumption
7.3 L/100km
Fuel Tank

Capacity

243 L
Engine
2.2L CRDi R Series
Max Power
147 kW @ 3800 rpm
Max Torque
440 Nm @ 1750-2750 rpm
Boot Capacity
311 L
Country of Manufacture
South Korea
Manufacturer Warranty
5 year(s)
Release date
Dec 2020
Compare all 6
Hyundai Palisade
Visit official website
ProductReview.com.au has affiliate partnerships. These do not influence our content moderation policies in any way, though ProductReview.com.au may earn commissions for products/services purchased via affiliate links.