1 photo
Isuzu D-MAX 4x4 LS-M (2017-2022)
Also referred to as: Isuzu D-MAX 4x4 LS-M 2021 and Isuzu D-MAX 4x4 LS-M 2023.
4.3

from 7 reviews ·

View Statistics
Brand Manager for Isuzu?
Register now
and take advantage of ProductReview's Brand Management Platform!
Expert Review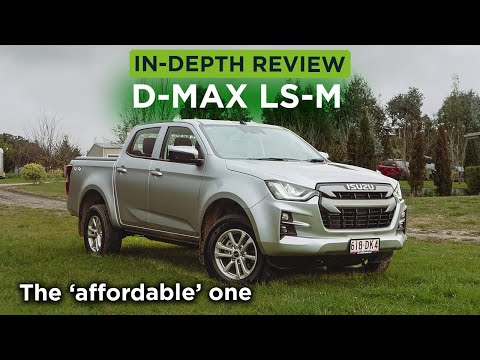 4.3 out of 5 stars
What is it?
This is the second-most expensive Isuzu D-MAX dual-cab you can buy. It moves up the range with alloy wheels and a nicer set of LED lights.
Other Isuzu utes we've reviewed focused on delivering a blend of luxury, comfort and iconic Isuzu capability.
However, some buyers don't want the leather seats, or the bigger screen. Instead, they're after this: the bare-bones dual-cab that'll take a beating at work, and be able to drive from the work site to your favourite campground the second you clock off.
I took this D-MAX on a long road trip and tested it at our off-road proving grounds and came to the conclusion that this is the budget sweet spot in the D-MAX range. Here's why.
---
Build Quality
4.3 out of 5.
The D-MAX is a tough ute. There's plenty of durable materials, robust tub-lining and a lot of hard plastics.
The issue with those hard plastics is that they're more susceptible to rattles and squeaks, some of which were heard across bumpy sections of tarmac and trails.
In addition, there could have been some improvements to the trims to make them feel more secure, and there was a little lifting on the tub liner from the body of the ute. I did also spot some sound isolation foam sticking out from the centre console, which wasn't the most impressive either.
I loved the distinct lack of any carpeting throughout the cabin, allowing for better durability over time and greater ease of washing.
Compared to the Nissan Navara, the tub lining is a lot better fitted in the tray, preventing finer materials like dirt and sand from leaking out between panel gaps.
How Much Does it Cost?
4.4 out of 5.
The LS-M 4x4 dual-cab specced with an automatic gearbox, as you see here, is priced from $55,300 and is just above $60,000 drive-away (in NSW).
It's not a significantly affordable ute, but I have to say that Isuzu's inclusion of technology throughout the car helps justify that price.
There's radar cruise control, rear cross traffic assist, wireless Apple CarPlay, a reversing camera and autonomous emergency braking. Along with automatic headlights and wipers, these features help justify this ute as a comfortable and safe daily driver.
Not to mention that you're also getting a 4x4 system with a rear locking differential, and you have a capable ute for all conditions.
You can spec this without a 4x4 system or head down to the cheaper SX model to save a bit of cash.
Warranty and Servicing
4.5 out of 5.
As for maintenance, as standard, the D-MAX comes with a 6 years warranty/150,000km, 7 years roadside assistance and 7 years capped price servicing.
The new generation D-MAX also offers a 20% stronger ladder chassis, higher mounted suspension control arms, lighter but stronger leaf suspension and a claimed 4,000,000 kilometres of simulated testing over 6 years here in Australia.
Hopefully, this will translate into an increase in long-term reliability.
You can jump onto the Isuzu website to see what every service interval will cost you, as part of Isuzu's capped price servicing. Your cheapest service will cost you $299.00 at 75,000 km, and your most expensive service will cost $749.00 at 90,000 kms.
Service intervals are 15,000km apart.
Noise Level
4.1 out of 5.
Just like every other Isuzu D-MAX, you're absolutely going to hear that 3.0L four cylinder when accelerating.
The speaker system is fine, and plenty powerful for listening to podcasts and music with the windows down. However, as some of my passengers noted, that diesel motor is obvious.
Road noise also makes itself known thanks to the more coarse hybrid off-road Dunlop tires too.
It's a relaxing cabin for the most part, but the D-MAX isn't the quiet sanctuary that you might find in a diesel SUV.
Braking
4.2 out of 5.
You're still getting drum brakes on the rear and discs on the front, just like every other D-MAX in the range.
There's no strange sponge effect or excessive dead zone in the pedal feel; the D-MAX makes you feel as if you're in control, especially if you need to brake for an emergency.
I will note that those rear drums were a little squeaky, either because this was a brand new car, or because there was some debris in the drum (reinforcing my preference for discs all around).
What is noticeable is the autonomous braking system, which is extremely active in the event the car believes that you're not slowing down fast enough to prevent a crash. It's occasionally intrusive, however, it's rarely dangerous. It makes a comfortable safety net, just in case you miss the opportunity to be in complete control when you need to avoid hitting an obstacle.
Acceleration/Power
4 out of 5.
Strangely, I did notice a slight improvement in acceleration with the D-MAX LS-M. It was a little lighter than the more generously appointed LS-U+ and X-Terrain, and felt a little more nimble when putting its power down.
What's great is that you don't lose power by saving some cash when buying the LS-M version of the D-MAX.
This is the more powerful 3.0L four-cylinder diesel engine option in the D-MAX range, producing 140kW and 450Nm from this turbocharged motor.
It's enough power if that's what you're thinking. Thanks to that large displacement, it's a motor that rarely feels strained.
Acceleration in the wet can be a little unnerving if you're in 2WD mode, as that surge of torque low in the rev range will spin those rear wheels with ease.
Once traction is gained, that turbocharger pulls strongly, however there's a distinct drop in acceleration if you're determined to change gears yourself once you're high up in the rev range.
It's an effortless feeling four-cylinder powerplant, and allows for a balance of performance alongside daily usability.
Accelerating from 0-100km/h, it's noticeably not a performance ute by any means, but it's fast enough to hustle up to speed without causing a traffic jam behind it. Mid-range acceleration feels even stronger, however a smidge of turbo lag can occasionally stifle any sports ute aspirations.
Gear Shifting
4.3 out of 5.
The same deal goes for the 6-speed automatic; it's just the same as you'd find in the range-topping X-Terrain.
The 6-speed automatic transmission found in the D-MAX does an excellent job of moving through gears without hesitation.
It's an easy-to-use transmission that rarely faults or makes itself known to you as the driver. Engagement with each gear is instant, and also allows for careful modulation of the throttle for tight space manoeuvres.
However, the manual shifting experience leaves a lot to be desired, but at least you have an option to engine brake if that's something you desire.
Suspension & Handling
4.2 out of 5.
Leaf springs on the rear help justify that large payload capacity of over 1 tonne, and springs on the front aid in cornering.
The LS-M was comfortable to drive around day-to-day, although a little bouncy on tough sections of road.
Out in the country highways, that suspension set-up offered comfort and respite from the hours of driving I had to do across this tarmac. I really didn't feel strained after spending a surprising amount of time behind the wheel.
When off-roading, the lack of a multi-link rear suspension set-up means that articulation is a little more limited. Yet, the D-MAX still delivered in its ease of use when it came to taking it away from paved roads.
Thanks to its size and the lack of side-steps on the LS-M, I was able to navigate tougher sections of our off-road proving ground with a little more confidence.
Just note that you'll have a hard time making hard turns when in 4x4-high mode, something which was a little annoying compared to other AWD off-roaders.
Fuel Efficiency
4.3 out of 5.
Sure, it would be nice to have a higher output 6-cylinder motor, or if we can dream, maybe even an 8-cylinder motor. Until Isuzu jumps on the impending electric truck/ute trend, a turbo-diesel 4-cylinder engine is the most sensible choice when it comes to reduced fuel consumption.
Combined fuel consumption is claimed at 8L/100km. I saw around 10L/100km during my week with the D-MAX - a respectable figure that'll allow you to travel a week without having to fill up your tank.
Expect to pay around $150 for a full tank of diesel thanks to the D-MAX possessing 76L of diesel-carrying capacity.
Interior Design
4.3 out of 5.
It's utilitarian inside the D-MAX to say the least. It's built around the ethos of function over form, yet there still are a few bits of design in here that make the new D-MAX interior feel a little nicer to look at.
There are bag hooks, under seat storage compartments and 2 additional storage cubbies on the dashboard. In addition to cloth seats, there's a smaller 7-inch touch screen surrounded by an obvious large bezel.
There are plenty of hard buttons too, making it easy to interact with when wearing gloves. Forget keyless entry and exit too, there's a traditional turn-key start instead.
A lack of mirrors in the sun visors points to the fact this is a work-ute more than anything too.
It's not a bland interior design, it just focuses on ensuring the interior is just as usable as a ute like this should be.
Boot Size & Comfort
4.7 out of 5.
This dual-cab's tray measures in at 1,570mm x 1,530mm x 490mm (length x width x depth), and is rated with a Gross Vehicle Mass carrying capacity of 6,000kg.
Towing is absolutely recommended, as the LS-M comes with a towing hitch right from the factory. Braked towing capacity is rated at 3.5T, making it more than capable of hauling whatever you want to throw at it.
I spent hours and hours behind the wheel of the LS-M, and I have to say it delivered on comfort in every sense. Whether it's using radar cruise control or effortlessly riding that wave of torque, the D-MAX makes for an ideal dual-cab ute.
My passengers and I loved the height, comfort from the cloth seats and how easy the D-MAX was to drive smoothly. And when we came across a muddy field to head to the farmers market, the D-MAX could park right at the entrance without any fuss thanks to that 4x4 system.
Features
4.3 out of 5.
Although there are a few features missing for the LS-M, there's still plenty on offer that satisfy basic needs and help with the daily commute.
A personal favourite was radar cruise control with active steering assist - it just made the 4 hour trip to our farm a little less strenuous.
Here's the full list:
Engine
3.0L Turbocharged 4 cylinder, diesel
140kW, 450Nm
6-speed automatic
Steel timing chain
Split camshaft
Double scissor gears
Infotainment
Android Auto and wireless AppleCarPlay with DAB+ digital radio and voice recognition, standard across entire range
7" Audio Display with sat nav
8 speaker audio system
Dual zone climate control
Rear Differential Lock button, engages only in 4WD-low
Terrain Command button
SMART MID (Multi Information Display) standard across the range, providing a variety of vehicle information
Steering wheel controls, with Adaptive Cruise, and audio controls, adaptive cruise is only for automatic transmissions
Safety
Autonomous Emergency Braking (AEB)
Forward Collision Warning
Post-Collision Braking, brings car to a stop if an impact occurs
Turn Assist with AEB - detects a potential collision during a turn, emergency braking is applied automatically
Misaccerlation Mitigation, slow moving areas like a car park, stereo cameras determine whether accelerator has been applied accidentally. Should a potential collision be detected, brakes are automatically applied. Auto cars only.
Drive Attention Assist, has been designed to identify signs of fatigue or inaccurate driving behaviour
Trailer sway control, apply brakes to individual vehicle wheels to help bring the trailer under control
5 star ANCAP rating in 2020
Lane Driving Features
Lane departure prevention, is activated if the vehicle to depart from the drivers lane, will steer in the correct direction to help prevent lane departure
Lane departure warning
Adaptive Cruise with Stop and Go functionality, auto only
Emergency lane keeping
Lane Keep Assist, detect road markings and assist steering operation by keeping vehicle in the lane
Front and rear parking sensors
Reversing cameras
Rear cross traffic alert
Traffic safety features
Traffic sign recognition
Blind spot monitoring
Intelligent speed limiter, when active, prevents the vehicle from exceeding the signed speed limit
Passive safety features
Eight airbags
ISO fix in crew cab models
Impact absorbing chassis
Safety cabin shell
Performance
Rear Differential Lock
800MM wading depth
2WD High Mode
4WD High Mode
4WD Low Mode
Hill Start Assist and Descent Control
Steel underbody panels, which includes a steel sump and transfer case guard, which allows you to bash against rocks and other debris when offroading
Convenience
Coming home lights, stay on when you lock your car
Buy it, Consider it, or Leave it?
There are a few dual-cab utes to choose from at this price point. However the D-MAX offers an ideal blend of performance, price and features when it comes to buying a model that's more on the affordable end.
Wireless Apple CarPlay, a reversing camera and a full-safety feature suite are clear advantages when buying a D-MAX.
In addition, you're not missing out on any power or capability when buying the D-MAX LS-M. Rather, it's almost better suited to those who enjoy modding their dual-cabs for off-road and work purposes.
If you're not after a bigger screen, heated seats, or any additional exterior upgrades, the basic LS-M is the one to get. It'll leave you room in your budget for upgrades, along with the same utility capabilities enjoyed by the more expensive versions of the D-MAX.
About the author Cameron is our resident car expert. Aside being a source of knowledge about the automotive industry, he has also driven a wide variety of cars - from a Porsche 911 GT2 RS, through to a 1998 Toyota RAV4.
If you want a pretty ute at the sacrifice of reliability, don't buy a DMAX.
Bought my ute brand new in Jan 2019 after driving one for work for a few years and can't fault them!
If you're buying a Dual Cab 4x4 and your decision is influenced by its interior looks, you clearly haven't done your research!
Purchased in .
Build Quality

Value for Money

See all answers
Similar opinion? Write a review on ProductReview.com.au!
Now on my seventh Isuzu 4wd ute.
Just a real honest workhorse.
Great on fuel and great in boggy sand, even with a boat hanging off the back (gotta get the tyre pressure spot on though).
I know that luck is part of the game with any car and I sympathize with anyone who has had problems.
(Had 2 wb holden utes...................one did 400,000 k's and still ran like new........the other blew up at 150,000.........hey go figure that out)
Purchased in for $40,800.
Build Quality

Value for Money

See all answers
Similar opinion? Write a review on ProductReview.com.au!
Quite simply a great ute...
Bought mine at 60 000ks old. From original owner in absolute immaculate condition.
It's now done 104 000ks. I do about 1000 ks a week, with approx a 600kgs load, and absolutely 0 major issues to report. Which was my main reason for picking the dmax. Reliability.
I will now list some of the annoying relatively small faults with it:
Suspension is crap with a load. It's obviously built for comfort. But by 100 000ks mine were truly sagged (inverted) and even before that it was "floaty". Recently had that replaced with aftermarket and it's now awesome.
The Bluetooth handsfree is terrible. Other people struggle to hear you. Oneday, I may look at an aftermarket headunit.
...
Read more
And thats about it really. Interior is holding up really well, looks brand new really, when I clean it. No unusual noises/rattles or anything starting to appear. Very happy. I'll be sure to keep servicing it regularly and from what I've experienced so far, and seen from others with higher K utes, I expect to get at least 400 000ks of relatively trouble free motoring out of this ute.
Badge

LS-M

Body

Cab Chassis

Cab

Dual Cab

Transmission

Automatic

Date Purchased
Similar opinion? Write a review on ProductReview.com.au!
I have recently bought an LS-M Crew Cab and had the tub replaced with an alloy tray.
OMG - what a vehicle. If you are reading reviews like this to gauge wether to get one or not then stop researching and just buy one cos you wont regret it. I'm long legged - yet I can slide the drivers seat so far back I can barely reach the pedals, my old Bitsashitty Triton couldnt do a U turn on a runway but the D-Max will comfortably go round the T-section at the end of our road while towing my tool trailer, the crew cab is big enough in the back for a fa...
Read more
mily trip to Fraser , you don't even feel like youre towing anything- its so powerful, it dumps all over its competitors for value for money- Honestly there is nothing bad I can say about it ...oh okay maybe one - the centre "pop-up" cover for the storage compartment has a pathetic latch mechanism which is temperamental to say the least - otherwise I cant Fault the car. Cant say the same for the job the dealer did putting the tray on .Theres wires and electrical connections hanging down underneath right in line to cop all the spray from the tyres. they tell me that's how all the tub conversions finish up. guess Ill have to buy a sealed electrical box and mount it myself but don't let this put you off.. BUY ONE before they wise up, realise what they've got and bump up the price, you wont regret it
Badge

LS-M

Body

Cab Chassis

Cab

Crew Cab

Transmission

Automatic

Date Purchased

Drive

4WD
Similar opinion? Write a review on ProductReview.com.au!
Find out how Isuzu D-MAX 4x4 LS-M compares to other Utes
Know better, choose better.
Compare all
See all Isuzu D-MAX reviews
Questions & Answers
D-MAX 4x4 LS-M (2017-2022)
Is there an impending retro fitted IDAS on/off switch option for the MY21 Dmax ? I heard that it was listed in an IUA press release last month but have been unable to find the article . After less than 4000ks and several changes of underwear due to swerving and braking for no apparent reasons plus a random xmas tree dash lighting display during a heavy rain storm I think the IDAS must be retro fitted with an on/off switch before someone is killed or seriously injured .
2 answers
Yes there is, it's a software update, which changes the functions of the buttons on your steering wheel. I've had it installed on my LSM three weeks ago. You hold down the steering wheel symbol butt...
Read more
on on the wheel for two seconds and it turns off the Lane keep assist and emergency lane keep assist. It can be turned on and off at anytime even once the vehicle is moving. So that's a positive step forward for Isuzu, one problem fixed. Unfortunately my Dmax has many more........
Thanks for the reply . Went to the dealers again last week and was told that because mine is a manual it will be a month or two before the retro fit can be done , so I'll have to wait . My latest prob...
Read more
lem was several days ago when I pulled up at a T intersection , went to take off and the motor started to shake like crazy and seemed to be running on two cylinders , not a lot of fun with cars stacking up behind you . started across the road and when halfway across the vehicle took off like a bat out of hell . The next day the dealer put it on the computer and again it showed nothing unusual . The only thing I could see at the time was the speed indicator , IE the red circle had three dashes in it which by the handbook indicates as ( unrecognisable ). With 5k on it now I think it's time to dump it and get a Ranger before it kills someone .
D-MAX 4x4 LS-M (2017-2022)
is there room to fit an auxillary battery under bonnet of 2021 model or does it need to be placed in cabin.
See all

Isuzu D-MAX

questions
Get an answer from our members
Details
Compare all 13
Isuzu D-MAX
Category
Utes
Starting

Price

$53,512.00
Warranty

Distance

150000 kms
Transmission
Automatic and Manual
Drive Type
Four Wheel Drive (4WD)
Fuel Type
Diesel
Wheels
16" Alloy
ANCAP Safety Rating
5 Stars

Doors

4

Seats

5
Fuel Consumption
7.9 L/100km
Fuel Tank

Capacity

76 L
Engine
4 Cylinder 3.0L Turbo Diesel
Engine Code
4JJ1-TC
Max Power
130kW @ 3600rpm
Max Torque
430Nm @ 2000-2200rpm
Country of Manufacture
Thailand
Maximum Towing Capacity (braked)
3,500 kg
Maximum Towing Capacity (unbraked)
750 kg
Tray Type
Pick Up
Cab

Options

Dual
Maximum Payload
1,049 kg
Ground Clearance
225 mm
Manufacturer Warranty
6 year(s)
Dimensions
Ground Clearance
225 mm
Release date
Compare all 13
Isuzu D-MAX
Visit official website
ProductReview.com.au has affiliate partnerships. These do not influence our content moderation policies in any way, though ProductReview.com.au may earn commissions for products/services purchased via affiliate links.