2 photos
Isuzu MU-X Series I 4WD 3.0L Diesel LS-U (2013-2016)
4.3

from 26 reviews ·

View Statistics
Brand Manager for Isuzu?
Register now
and take advantage of ProductReview's Brand Management Platform!
Expert Review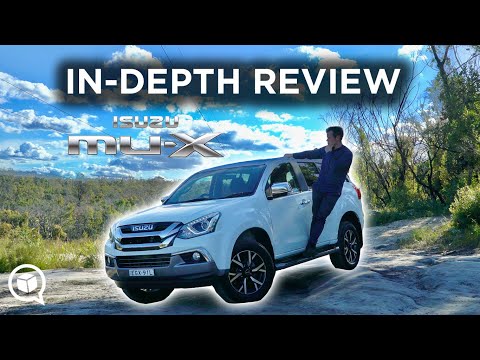 3.3 out of 5 stars
Introduction
On a street near you, you're most likely to spot an MU-X - for good reason too, as it's one of the most popular 4x4 capable 7-seaters on the market.
Isuzu has a long standing history in the truck and ute market, but it more recently cracked the SUV market with a D-MAX derived 7-seater.
This 4x4 SUV is built on the same chassis, but is engineered to make it more family-oriented. Of course, the MU-X is built with off-roading in mind, as it retains and slightly improves the four wheel drive capability of the ute it's based off.
Because there's a brand new MU-X for 2021/22 that's arriving in the coming months, I took out the last of the existing generation to ask: should you buy this generation of MU-X, or should you wait for the new one?
---
Build Quality
4.2 out of 5.
If you're looking for luxury materials, you'll have to shop elsewhere.
The MU-X is utilitarian with a capital U. First and foremost, it's an off-roader, and then it's a family SUV. This means it has a tough exterior to last against the elements and a robust interior to weather against dirt, dust and kids.
Externally, the MU-X has a similar build quality to the D-MAX, so it's definitely going to stand the test of time running across both tarmac and mud ruts.
For added longevity, there are factory bash plates fitted underneath the MU-X that protect some of its vitals when you manage to drive over larger obstacles.
Internally, the materials used are fairly basic. Cloth seats, hard plastic trim and even the touch screen all avoid feeling delicate, and instead give drivers confidence that these features will also last despite being kicked and scuffed.
Value for Money
3 out of 5.
This isn't the strong suit for the last of this generation's MU-X. The model I had was the MU-X in LS-U 4x4 trim, which is priced from $58,302 drive-away.
There are many competitors on the market that offer a similar value proposition, but do a better job at justifying their comparable price tag - take for example the new Toyota Fortuner.
I'm expecting the MU-X to make waves when it lands, and hopefully make it extremely competitive again. However, in 2021, this MU-X model is hard to justify for many considering this a family-oriented SUV.
This MU-X is missing out on key bits of safety equipment and technology which are now standard on cars that are $20,000 cheaper than this. Blind spot monitoring and Apple CarPlay/Android Auto are key omissions that make daily driving a little less enjoyable.
Similar to track-focused cars like the Lotus, the MU-X has fantastic off-road capabilities and enough equipment to get that job done. It's just up to you if you value buying an Isuzu over the current crop of competition before the new one rolls onto showroom floors.
Cleaning and Maintenance
4.5 out of 5.
Thanks to the ground clearance of the MU-X, it's easy to clean out any stubborn dirt or mud stuck to its underside. Additionally, the side steps let you get a better view of the roof, just in case some mud or dirt has accumulated there as well.
As for maintaining this SUV, the MUX comes with a 6 year/150,000km warranty which will cover you for most of your ownership.
Isuzu also covers capped price servicing for up to 7 years, helping bring additional peace of mind if you plan on buying an MU-X that's a few years old
Noise Level
3.5 out of 5.
There's no hiding that the MU-X is based on the D-MAX, as you're going to hear that diesel motor bleed into the cabin like you would on a working ute.
Unfortunately for those who prefer a quieter ride around town, under acceleration, the 3.0L diesel four-cylinder makes itself known to all the occupants. More so than other diesel motors, the engine sound bleeds into the cabin is quite noticeable. It's not a deafening sound, but it's going to come at a slight shock for those used to riding in quieter diesels.
Once you're up to a consistent speed, the four-cylinder audibly settles and you're greeted with the benefits of a diesel engine whilst out on the open road. Revs drop, and the cabin of the MU-X becomes a whole lot more relaxed.
The audio system in the MU-X isn't disappointing despite its age. There's a 'surround sound' feature in the form of downward-facing speakers placed on the roof, providing a richer sound, especially for the front passengers.
Despite lacking Apple CarPlay, I found listening to podcasts and music in the MU-X to be more upmarket for what I was expecting. However, there are some shortcomings in the overall audio quality in the form of a slight amount of distortion.
Braking
3.7 out of 5.
There are four-disc brakes on all four wheels.
I'm a firm believer that road-focused 4x4s should have disc brakes all-around rather than drums on the rear wheels. This is because you're more likely to be towing and carrying less than the lower-trims would be. Despite not having disc brakes, you can still tow up to 3 tonnes braked!
Braking in the MU-X was excellent for a two-tonne SUV, with a relatively progressive pedal feel enabling you to drive smoothly and come to a stop with relative precision.
The only issues are the weight and height of the MU-X, which becomes apparent when you dig deeper into that brake pedal. Be careful of any loose containers as the MU-X will pitch whatever they're carrying forwards if you brake hard enough.
Acceleration/Power
3.8 out of 5.
Unlike the current D-MAX, the MU-X is carrying the older version of Isuzu's 3.0L diesel motor.
In this generation, the MU-X is dealing with 130kW @ 3600rpm and 430Nm @ 2000-2200rpm.
Notice just how low in the rev range peak torque is generated, aiding in the off-road capability of this 7-seater.
Off the mark, the MU-X certainly picks up the pace. Although a 0-100km/h figure would land in the realm of nearing 10 seconds, the real-world performance of this motor never leaves you feeling like this SUV is underpowered.
Instead, the MU-X is able to comfortably move around town without the need to be buried in the accelerator pedal. On the highway, you won't be left behind as overtaking is effortless thanks to all that torque.
When you're out in the stickier stuff, the MU-X in low-range 4x4 mode provides confidence that you'll make it out alive.
With what feels like a precise delivery of power, the MU-X never slips or faults when putting its power to the dirt. I was met with impressive power-delivery which only encouraged me to find more difficult terrain to put this SUV through.
Gear Shifting
3.7 out of 5.
Isuzu proves that you don't need 9 speeds in your family SUV.
The 6-speed transmission used in the MU-X is able to seamlessly shift, even at low speeds, without ever feeling strained. My only complaint is the speed at which it shifts, which can feel a little slow. Oh, and don't get me started on manual shifting out on the road...it's best to leave this for holding gears when off-roading.
Suspension & Handling
3 out of 5.
Built on the D-MAX's ladder frame chassis, but without the leaf-spring suspension, the MU-X struggles to soak up bumps as you'd expect from a 7-seater family car.
It's apparent the MU-X can't shake the fact that it's a dedicated off-roader, as this suspension setup seems to give you too much feedback across tarmac. If you cross enough bumps and potholes, it seems to really upset the ride of the MU-X and can cause passengers to complain about the ride of the car.
On smoother sections of road, the MU-X settles and can glide across most highways with ease. When you start to hit corners, you're met with the surprise that the MU-X can handle turns relatively well; a pleasant trade-off for those around-town jitters. As quickly as you're impressed with how this SUV can prevent itself from sinking too much in the corners, it's dampened by the slow steering ratio.
This slow ratio keeps you busy and shuffling your hands as soon as a corner progresses into anything sharper than 100 degrees.
The suspension and handling make the most sense off-road. The MU-X is still busy over uneven surfaces, but it's solid grip and added protection underneath the car provided confidence that the 4x4 wouldn't bottom out across deeper ruts.
Fuel Efficiency
3.9 out of 5.
There's a 65L tank on board, and it'll cost you just around $90 to fill from empty.
Claimed total fuel consumption is 8.3L/100km.
The MU-X didn't have an onboard L/100km computer, instead it spat out km per litre of fuel, converting my average meant I was closer to 10L/100km.
Interior Design
2.8 out of 5.
This is a utilitarian SUV.
The inside of the MU-X offers no luxury extras.. It's about simply offering you everything you need, not everything you might want.
The touch-screen looks like it was taken from 2011, as it has basic navigation and media utility, and of-course a glaring omission of any options for phone mirroring. There's bluetooth available at least, but it makes changing playlists or podcasts a little more difficult.
There are basic analogue gauges, easy to use climate controls, and a shifter anyone could operate.
The car has a vast amount of storage options in the cabin too, from the middle of the dashboard, through to the dual-glove box configuration.
There's also no shortage of places to source electricity from, with USB and 12V sockets littered throughout the cabin, and covered in rubber flaps that prevent dust entering these ports.
The mid-row seats have plenty of room for adults, and are able to recline and slide forwards for additional cargo space, or leg room for the third-row.
For the family holiday, it makes for a roomy and easy to use interior without the stress of having to preserve delicate leather or avoid getting crumbs caught in some expensive carpet.
Boot Size & Comfort
4.1 out of 5.
The MU-X makes do with a minimum boot space of 235L (with the middle row up) and a maximum of 1830L with all seats stowed away.
The manual operation of the boot in the MU-X is normally passable on a car like this, however due to the height that this tailgate opens to, children who can't reach the boot will need you to exit the vehicle to close it.
There's a thoughtful 'tuck and fold' design with the middle row, which helps expand the total usable interior space of the MU-X - enough to place several push bikes in without needing to remove front wheels.
Although it's not a gargantuan amount of space like you'd find in say a Kia Sorento, the boxy design makes the most of the space it provides you.
There's a compartmentalised storage box located at the entrance of the boot that can be removed. This is an ideal space to stow dirty or loose items that you don't want flying around the boot.
As mentioned, the Isuzu is able to settle out on the open road with relative ease, however I found myself missing the ability to engage radar cruise control like I could on the new D-MAX. You can simply make do with the standard cruise control on this car, or easily coast along as you feather the throttle and brakes yourself.
There's limited safety features here, with the only stand outs being the reversing camera. Compared to more modern vehicles, it's certainly not as relaxing to cruise around town knowing you're missing features like active lane-keep assist or rear-cross traffic alert. Blind spot monitoring and rear cross traffic alerts, you'll have to find a car already with this 'option' fitted.
I had the pleasure of transporting my car-sick prone partner on an extended drive in the MU-X who found that even when sitting in the front passenger seat, the MU-X made her feel ill on winding sections of road compared to other vehicles. Something to note for those with friends or family cursed with motion sickness.
Middle-row comfort is exceptional compared to the dual-cab alternative. You have wider doors to enter in and out of, and greater ability to recline these seats. There's also a separate control for the rear aircon, helping keep the rear occupants comfortable.
Third row seating is a little tight for adults. At 5 foot 11 inches in height, I'm able to fold myself in the third row. However, I'm not raising my hand to sit back there for more than 15 minutes at a time.
Features
3 out of 5.
Although limited in creature comforts and safety equipment, the MU-X has plenty of off-road kit and hardware.
Here's what you get when you buy a Isuzu MU-X LS-U:
Engine
3.0L Turbo-Diesel 4-cylinder motor
130kW @ 3600rpm and 430Nm @ 2000-2200rpm.
Infotainment
10" screen
Sat-Nav
Bluetooth
Touch-screen
USB Connectivity
CD Player
Safety
Reversing Camera and Sensors
Trailor Sway Control
Hill Start Assist
Hill Decent Control
Performance
Total towing capacity of 3T
Under-body bash plates
4x2,4x4 and 4x4 low drive train settings
Convenience
7 seats
Storage container in boot
Cruise control
Second row A/C controls
Should you buy one?
If you're looking for a car that will be an off-road performer at its core, it'll be hard to move past some of the deals that will be presented on the current generation as soon as the new MU-X arrives. There is enough here to make most people happy if they're keen on offroading frequently and plan on making modifications to enhance the capability of the MU-X.
However, if you're primarily looking at purchasing an MU-X for daily use in the suburbs with the occasional trip off-road, I'd certainly wait for the new MU-X.
After testing the new D-MAX, I have to say, everything I've complained about here should be addressed and improved. From safety equipment and technology through to engineered improvements both off and on road - the new MU-X hopefully should be a contender for best in class.
I'm quite looking forward to reviewing the MU-X and providing a verdict on a car that feels like it should have been here 1 year sooner (barring current global circumstances).
About the author
Cameron is your typical car nut, but also drives and writes about cars for ProductReview.
Details · 
Compare all 12
Isuzu MU-X
| | |
| --- | --- |
| Category | Large / 7 Seater SUVs |
| Transmission | Automatic and Manual |
| Drive Type | Four Wheel Drive (4WD) |
| Fuel Type | Diesel |
| ANCAP Safety Rating | 5 Stars |
| Fuel Consumption | 8.1 L/100km |
| Engine | 4 Cylinder 3.0L |
| Max Power | 130kW @ 3600rpm |
| Max Torque | 380Nm @ 1800-2800rpm |
| Country of Manufacture | Thailand |
| Maximum Towing Capacity (braked) | 3,000 kg |
| Maximum Towing Capacity (unbraked) | 750 kg |
| Manufacturer Warranty | 5 year(s) |
| Release date | |
| Discontinuation date | |
| Replaced by | Isuzu MU-X 2nd Generation |
Compare all 12
Isuzu MU-X
ProductReview.com.au has affiliate partnerships. These do not influence our content moderation policies in any way, though ProductReview.com.au may earn commissions for products/services purchased via affiliate links.