5 photos
Kia Sorento AWD Diesel GT-Line (2016-2022)
Also referred to as: Kia Sorento AWD Diesel GT-Line 2021 and Kia Sorento AWD Diesel GT-Line 2023.
4.0

from 12 reviews ·

View Statistics
Brand Manager for Kia?
Register now
and take advantage of ProductReview's Brand Management Platform!
Expert Review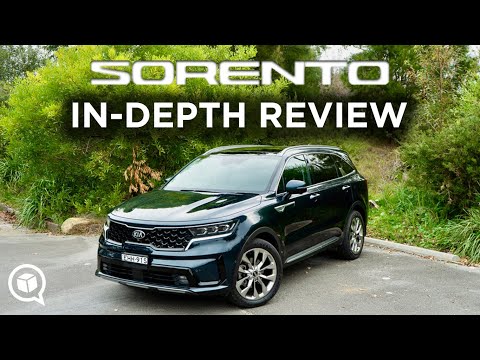 4.6 out of 5 stars
Introduction
It's the quintessential seven-seat family-hauler, it's the car that has already won a few car of the year awards, it's the 2021 Kia Sorento.
I managed to get my hands on one of the most anticipated family cars of the year, took it for a drive, and even ventured off-road!
Let's find out what makes the fourth generation Kia Sorento just so great.
---
Build Quality
4.4 out of 5.
Kia is making strides in improving the build quality of their cars, both inside and out.
The Sorento offers a level of superior quality, it's one of the best value-for-money propositions in the market.
When you open the doors on the new Sorento you can immediately feel a certain 'heft' and weight to them. This sensation of closing a heavy door is something you would normally expect to see on more expensive vehicles.
The Sorento's doors close with a reassuring 'thump', which all seems engineered to generate a greater sense of luxury with this SUV.
The weight of that door isn't exactly truthful, there is the hint of that classic cheaper car 'tin' sound that the door handles make when they snap back against the doors. Giving away that the weight of the door isn't being entirely truthful.
The Sorento is more than impressive for its asking price on the inside.
I can't remember the last car I jumped into and felt as if the interior didn't match my thoughts of the brand, for the better.
It's difficult to not help but feel proud of Kia for stepping up the quality of their cars this much.
There's plenty of high-quality materials used here, alongside plush leather seats. Features are aplenty in this cabin, and the dual screens used for the infotainment and driver's display all ooze a sense that this is a high-grade car.
Overall, the fit, finish and products used throughout the Sorento are of a standard that no longer makes you yearn to one day own the likes of a Range Rover. Instead, when it comes to quality, you're likely to be beyond content with your purchase of a Sorento GT-Line.
Value for Money
4.8 out of 5.
The car I had for the week was the GT-Line Diesel, which is the range-topping version.
Priced at $67,290 drive-away, this is certainly heading towards the expensive end of most people's budgets.
The Sorento range starts off at $49,290 drive-away, which is a petrol, front-wheel drive model.
You'll want the diesel motor for the Sorento in any trim, and you'll want a model as close as you can to the GT-Line. I found the GT-Line to be the model that really outshines European brands in this class, with the long list of features, the AWD drivetrain and with its diesel motor.
Other seven-seaters in this class include the Mazda CX-9, Toyota Kluger and the Skoda Kodiaq.
All I can say is that many large publications have listed the new Sorento as their car of the year. These awards reinforce my sentiment that the Sorento represents excellent value for money.
This car both acts as a class leader for seven-seaters under $70,000, but also gives the luxury SUVs a run for their money.
Cleaning and Maintenance
4.6 out of 5.
Seven-seaters are BIG and relatively tall cars - the Sorento is no exception.
Cleaning is going to be challenging for those of a shorter-stature, so you'll be better off sending this to the local car-wash if you must. However, after a stint off-road in the Sorento, I found it easy to hose-down and wash this family wagon.
The best part about buying a Kia in 2021 is the warranty, which is offered up to 7 years/unlimited kilometres.
Kia also offers capped price servicing for the Sorento over these seven years, but only up to 105,000km.
Your total cost of servicing over seven years comes to $3,463 - a fair price to pay for this amount of services. Here's the breakdown of those services:
| Interval | Cost |
| --- | --- |
| 1 Year or 15,000 km | $335 |
| 2 Years or 30,000 km | $544 |
| 3 Years or 45,000 km | $408 |
| 4 Years or 60,000 km | $729 |
| 5 Years or 75,000 km | $377 |
| 6 Years or 90,000 km | $670 |
| 7 Years or 105,000 km | $400 |
| Total | $3,463 |
For a large family SUV, it's a relief to know that you have a bit of certainty around your running costs.
Noise Level
4.3 out of 5.
Sound isolation in the Sorento was impressive to say the least.
Road, wind and traffic noise was sufficiently kept out of the cabin, which translated to a relaxing ride for both the driver and the passenger.
The diesel motor likes to make itself known under heavier acceleration, so it's not going to be library-quiet in here. Being distinctly diesel in its ability to sound a little like a tractor, It's not exactly a pleasant engine tone either.
The sound system in the Sorento was better than expected, largely thanks to the Bose-branded audio it's decked out with.
Podcasts, music and phone calls all sound great inside; there's plenty of depth and clarity throughout the cabin when listening through the system.
Quiet Mode' feature in the Sorento lets you play audio solely through the front speakers, leaving your rear seat passengers to sleep in peace - this is quite the thoughtful touch for a family car.
Braking
4.4 out of 5.
Although you're hauling two tonnes of SUV, it certainly doesn't feel like it when you come to a stop. Pedal feel in the brakes is as you would hope it would feel, with this Kia offering smooth operation of the Sorento when pulling up.
The car is fitted with autonomous emergency braking, which is activated if you have rear-cross traffic, someone in your blind spot, or have a car, pedestrian, or cyclist cross your path.
Acceleration/Power
4.3 out of 5.
The Sorento I tested was fitted with Kia's 2.2L 4 cylinder diesel engine, which produces 148kW at 3600rpm and 440Nm at 1,750-2,750rpm. Coupled with this engine is an 8-speed dual-clutch transmission, which performs exceptionally well.
0-100km/h figures are in the mid 9's, which is typical of a car in this segment with this motor. If you're looking for performance, you might need a second car.
Thanks to the torque, power delivery is strong throughout acceleration and smooth when you need it to be.
The new Sorento is rated to tow up to 2 tonnes (braked), allowing you to hook most trailers up to it. However, towing a caravan behind this family car might prove to be a bit tricky.
I've never found myself yearning for more power both on and off-road while driving the Sorento. You can rest assured that this motor not only has enough power to carry all your passengers and their luggage, but will also return conservative fuel-economy figures too!
Gear Shifting
4.6 out of 5.
Although the Sorento possesses an 8-speed dual-clutch, it's the opposite of how you would expect a transmission like this to behave.
Traditionally, dual-clutch transmissions result in a jerky ride at low speeds, not to mention the possible need for transmission repairs if you've been in bumper to bumper traffic for most of your life.
I can't speak for the longevity of this transmission, but at least you have a 7 year warranty just in case.
I can, however, speak for the performance of the gearbox. Even though this is an 8-speed transmission, shifts are smooth and decisive. It doesn't jump around trying to figure out which gear it needs to be in.
Crawling in traffic didn't phase the Sorento - instead, it handled peak hour with ease.
Out on the open road, the Sorento was able to cruise without the need to hold revs excessively, and was able to drop a gear as soon as you needed it to.
There were paddle-shifters fitted to the Sorento, I'm not sure why you'd ever feel the need to shift yourself in a car primarily focused on comfort.This car does have a 'Sports Mode, so I can only assume the paddles are there just for those looking for a bit more thrill when they drive.
Comfort is a key requirement in the new Sorento, and the gearbox's performance goes a long way in achieving that.
Suspension & Handling
4.5 out of 5.
The Sorento will conquer the potholes and speed bumps that you'll most likely encounter when rushing for the school pick-up or drop-off.
Even when riding on wheels as big as these, this SUV offered absolute comfort across a variety of surfaces. Whether it's traversing tarmac, gravel or snow; the Sorento tackles it all.
The suspension offers a more firm yet forgiving ride, allowing you to feel the road a little more but without the body roll.
The Sorento fails to wallow or dip in corners, which can be typical of larger SUVs. Instead, there's a confidence-inspiring amount of grip through corners thanks partly to the AWD system.
If you plan on heading off-road to a campsite or through the snow, the Sorento has a selection of terrain-response modes that help provide more grip for when you need it most. A feature like this is rare around this price point and is usually reserved for the likes of a Land Rover.
Fuel Efficiency
4.5 out of 5.
Kia claims a combined consumption figure of 6.1L/100km. I managed to average around 9.5L/100km, which was impressive nonetheless.
This was achieved predominantly in urban areas with plenty of heavy acceleration, and even then, the car was well under 10L/100km. For a modern four-cylinder diesel, it's surprisingly efficient.
The Sorento possesses a 65L fuel tank, which should give you anywhere from 600-1000km of range. You can expect to pay around $87 for a full tank.
Interior Design
4.8 out of 5.
If you think the exterior looks a little restrained, the interior design is sure to win you over. This is the standout upgrade for the fourth generation Sorento.
I'm of the mindset that interior design is always more important than exterior design as it's where you'll be spending most of your time with the car.
The instrument binnacle is akin to that of a Mercedes setup with an instrument binnacle that stretches from the centre display through to the driver's display. A pair of 10.3 inch displays are placed adjacent to one-another and are the main focus point of the cabin.
Along the dashboard and doors are diamond shaped cut-outs that add not only visual flair during the day, but at night, are backlit in a colour of your choosing from 64 options.
The touch-capacitive climate controls reduce the number of physical buttons placed on the dash,bringing down the amount of visual clutter in the cabin.
Below that, your eyes are drawn to the cylindrical shifter, which also appears to be a leaf out of a Land Rover's book. It works well to bring a level of class into the cabin without feeling cheap.
Seats are blissfully bolstered with quilted stitching, adding more visual flair to this cabin.
There are a generous amount of USB ports, 8 to be precise. This leads me to what this cabin represents:
The Sorento's interior is meant to give adults the space to relax, unwind and enjoy, while leaving the kids and passengers with plenty of space and amenities such as rear heated seats or third-zone climate control for comfortable long journeys.
Boot Size & Comfort
4.7 out of 5.
The Sorento features a minimum of 187L boot space with all 7 seats up, 616L with 5 seats up and a massive 2,011L with all seats folded flat.
When all the seats are upright, there isn't much space left for more than a couple of backpacks.
Having driven a 7-seater most of my life, I can assure you that the rear seats will mostly be folded down and out of the way, which gives you a far more usable boot.
The boxy design and flat-folding nature of the seats mean you have a large rectangular space with no awkward obstacles to avoid in the name of style. It's easy to fold the middle row, too. With an electronically controlled one-touch button, you can fold either side of the seats in the middle row, all from the boot. However, it's annoying that in a car this big, you still have a 60:40 split in the middle row. This can be a nuisance when you want to make the most of the interior space whilst carrying 4 people.
In relation to comfort (there are front heated/cooled seats, middle row heated seats and third-row climate controls), the middle row is extremely versatile.
The Sorento's construction has led to a relatively flat floor for middle seat occupants, making it easy for people to move around in the back seats. You can seat 5 adults comfortably without feeling like you're in a sardine can.
Additionally, the front passenger seats have controls that can move the front seat for the rear left passenger. You're able to move the front passenger seat out of the way, making the rear left seat the most comfortable in the entire cabin.
The middle row can slide forwards and backwards and tilt upright or recline. It means that long trips in the Sorento with your passengers will be a comfortable affair.
Add adaptive radar cruise control, active lane-keep assist and active steering assist and you can make either the daily commute, or that long day of road tripping, just that little bit more relaxed.
Don't forget, this has Kia's 'Sounds of Nature' feature which allows you to relax by listening to the sounds of a rainforest through to the sounds of a busy cafe.
Features
4.8 out of 5.
Part of the reason why the Sorento is best in it's class is its long list of features.
From safety tech, convenience, through to its engine and drivetrain - the Sorento does it all exceptionally well for its asking price.
The best feature? Smart park! You can move the Sorento forwards and backwards without having to be in the car at all. Which seems like a gimmick at first, after using it, I didn't mind parking so close to a wall, instead, the car could just drive out for me without having to contort myself into the Sorento.
Here's a list of these features below:
Engine
2.2L 4-cylinder Diesel
148kW@3,800rpm
440Nm@1,750-2,750
8-Speed DCT Automatic Transmission
Infotainment
10.25 inch colour touch screen
Driver Talk in-car intercom
Apple CarPlay and Android Auto
DAB Radio
BOSE premium sound system (12 speakers)
Safety
Blind Spot Cameras
Blind Spot Collision Avoidance Assist
Active Lane Keep Assist
Active Steering Assist
360 degree Camera
Radar Cruise Control
Trailer Stability Assist
Towing Performance
750kg Towing Capacity (unbraked)
2,000kg Towing Capacity (braked)
200kg Towball Download
Convenience
Front Heated and Cooled Seats
Rear Outer Heated Seats
Automatic Headlights and Wipers
Wireless Phone Charging
Total of 8 USB ports
Interior Mood Lighting (64 colours)
Colour Heads-up Display
12.3" TFT Drivers Display
Should you buy one?
The Sorento is a wonderful family machine.
Any seven seat family car needs to be reliable, comfortable, enjoyable and capable - all of which the Sorento achieves.
The Sorento has the warranty and capped price servicing to cover you in the running costs department. You won't need to stress about finding another car for a while once you've chosen the Sorento.
Being comfortable is what the Sorento does very well. From its relaxed yet direct ride, through to a long list of creature comforts, including heated seats for four.
It's an enjoyable car. It looks good, purposeful in its design, and it's usable as a large family car so you won't ever have to stress about space or whether your occupants are comfortable.
Finally, it's capable. Not only on road, but off-road. With a selection of off-road modes, the Sorento will take you and your family on adventures that would have other front-wheel drive alternatives shaking in their tires.
You should buy a Sorento if you need the space of a seven seater, and comfort. If you want a lot of room for four people, this also offers a great alternative to the more expensive and larger SUV's on the market.
About the author
Cameron is your typical car nut, but also drives and writes about cars for ProductReview.
As I travel in excess of 40th per year looked for a vehicle that was safe and comfortable.
Kia fitted the criteria that I wanted with more. Safety is covered comprehensively
Driver Assistance very comprehensive , Lacking Auto wipers
2000kg towing cap a bit low,
Fuel economy very good ( Mostly freeway driving )
Extra rear sets great for grandchildren a bit tight for adults.
Purchased in at Kia Dealers for $51,000.
Build Quality

Value for Money

See all answers
Similar opinion? Write a review on ProductReview.com.au!
Safest vehicle I have ever driven
Long trips talking my grandchildren to sporting events often 400k round trip weekly
Short trips shopping 3 times per week….
Serviced as per manufactures recommendations + intermediate services if travelled on flooded or excessive dusty roads
Purchased in for $74,000.
Build Quality

Value for Money

See all answers
Similar opinion? Write a review on ProductReview.com.au!
As a mechanic obviously my experience working with all sorts of makes and models has a big impact on what we buy when time comes to upgrade.
We were looking for an SUV, didn't need a 4WD, just something large enough for a family of 4 (plus 2 dogs) and all our luggage for family holidays.
The Sorento is a good car, even a very good car. For me the most impressive thing is the driveline. The R series diesel is a cracker, a proven performer that does everything well and unlike a lot of other brands stands the test of time. 8 speed auto is perf...
Read more
ectly matched to the engine, space, safety and tech, not to mention class leading warranty. Hard to see a reason to buy anything else. Good deals on run out Sorrento"s made our decision easier when comparing to it's cousin Hyundai Santa Fe.
Purchased in at Berwick Motor Group for $49,990.
Build Quality

Value for Money

See all answers
Similar opinion? Write a review on ProductReview.com.au!
An absolutely excellent machine.
I have recently received a new GT Line as a company car and was going to leave a review earlier about just how great this machine is. Everything works, everything is in the right place, all controls make sense, it's extremely comfortable, easy to drive - its just a seriously great SUV. We love it. Then last week my son was T-boned in the drivers side door at an intersection. All side airbags went off and the car flipped on its side sliding down the highway till it came to an abrupt halt, smashing the rear window (he climbed out the back). So ...
Read more
with 5,000 km on the clock, it's written off. Without a doubt the front side airbags, the side curtain airbags and the KIA's super solid construction, saved him from even getting a scratch. So thankful! We've just picked up our next GT Line Sorento! Hope to get more than 5,000 km out of this one....
Purchased in .
Build Quality

Value for Money

See all answers
Similar opinion? Write a review on ProductReview.com.au!
Find out how Kia Sorento AWD Diesel GT-Line compares to other Large / 7 Seater SUVs
Know better, choose better.
Compare all
All the bells and whistles and such a delight to drive
We have the top of the line GT Line so you would expect everything in it but even the base model comes packed with features. Great to drive and even though it's diesel you can hardly hear it or notice it. If on really coarse bitumen there can be quite a bit of tyre noise at times and if you want to tow with it I'd do my sums first ( mainly due to the tow ball weight) but they would be the only negatives I can think of. Everything else is brilliant and far outweigh these 2 things that aren't really an issue. I'd happily buy another one
Purchased in .
Build Quality

Value for Money

See all answers
Similar opinion? Write a review on ProductReview.com.au!
55000 KM UPDATE (1/06/2022)
---------------------
Had to replace original Kumho tyres at 40000KM as the side walls started cracking. Driver seat was replaced under warranty as one of the sensors started coming up through seat. Door seal and sunroof noise has mostly gone away....whatever was causing the noise mush have worn out or weathered!
Other than that dealer is updating maps during every service. Have an issue where driving mode automatically changes from sport to comfort when car is restarted. This does not happen in Eco or comfort mode...
Read more
s. 20000 KM UPDATE (10/07/2019) --------------------- Isolated the noise source to rubber seals on doors and sunroof. From other Kia forums I also found out that this product (rubber care stick) fixes this noise for a few weeks. https://www.velind-aerosol.de/en/car-care-more/care-care/gummipflegestift
Purchased in .
Build Quality

Value for Money

See all answers
Similar opinion? Write a review on ProductReview.com.au!
I'm a Kia owner. Get over it.
After much research for over a year, I changed from wanting a second hand Discovery or Audi Q7 to purchasing the Kia Sorento GT-Line, and I'm glad I did.
Ask me 5 years ago if I'd have purchased a Kia, let alone any car made in South Korea I'd have likely punched you in the face. It took a lot of reading, MANY test drives and some sleepless nights grappling with becoming a Kia owner, but common sense kept putting the Kia on top of the list.
This is the first brand new car I've ever bought. I've always owned Holden's and Fords, an archaic min...
Read more
dset that others should be released from the shackles. I thought if I'm going to buy a Kia, it has to be the best damn one they've got. So I went the GT-Line variant. The Kia is a pleasant surprise.we have two small kids, there is ample room and the quality of the interior is good, leather seats are comfortable and the overall feel is refined. There is enough torque down low in the 2.2 Diesel engine to give it some punch, but is very good on fuel. I'm very happy I bought the diesel. When it came down to what cars I was going to buy it was between the Mazda CX-9 and this one. The Mazda, also a very good car just didnt compete in included extras. The Kia has heated seat and steering wheel, emergency braking, adaptive cruise control, GPS, huge sunroof, lane departure warnings, cross traffic warnings and I'm probably forgetting a couple but to have received all that in the Mazda I'd have spent an extra $20K on top of the Kia.
Purchased in at Col Crawford for $56,000.
Build Quality

Value for Money

See all answers
Similar opinion? Write a review on ProductReview.com.au!
Related Articles
Amazing car! Best automobile decision.
Great performer on road, Highway drive provides me a great fuel economy too.
Apple play not available even in the top most model (GT version), Only disappointment I have!
Never an issue and the 7-year warranty is the best in market anyway. Interiors dual tone could be extended into other colours to attract more attention.
Badge

GT Line

Transmission

Automatic

Date Purchased
Similar opinion? Write a review on ProductReview.com.au!
See all Kia Sorento reviews
Questions & Answers
Sorry, there are no questions about Kia Sorento AWD Diesel GT-Line (2016-2022) but you can read 25 questions about Kia Sorento.
Get an answer from our members
Details
Compare all 14
Kia Sorento
Category
Large / 7 Seater SUVs
Starting

Price

$67,290.00
Warranty

Distance

Unlimited kms
Transmission
Dual-Clutch (DCT)
Drive Type
All Wheel Drive (AWD)
Fuel Type
Diesel
Wheels
20" Alloy (Dark Chrome Finish)

Doors

4

Seats

5 to 7
Fuel Consumption
6.1 L/100km
Fuel Tank

Capacity

67 L
Engine
2.2L Diesel SmartStream In-line 4 Cylinder E-VGT CRDi 16 Valve
Max Power
148 kW @ 3,800 rpm
Max Torque
440 Nm @ 1,750-2,750 rpm
Boot Capacity
187 L
Country of Manufacture
South Korea
Maximum Towing Capacity (unbraked)
750 kg
Manufacturer Warranty
7 year(s)
Release date
Compare all 14
Kia Sorento
Visit official website
ProductReview.com.au has affiliate partnerships. These do not influence our content moderation policies in any way, though ProductReview.com.au may earn commissions for products/services purchased via affiliate links.