1 photo
Subaru Outback Touring (2020-2022)
Also referred to as: Subaru Outback Touring 2021 and Subaru Outback Touring 2023.
4.3

from 3 reviews ·

View Statistics
Listing monitored by Subaru Australia
Expert Review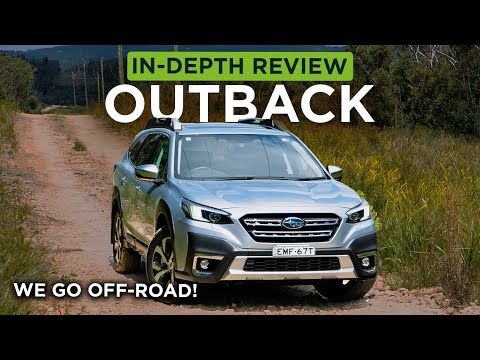 4 out of 5 stars
Introduction
The humble Subaru Outback is a staple vehicle in the Australian car scene. Its latest generation is used by everyone from the police to adventure seeking individuals.
Starting life as a subtly lifted wagon, the Outback has a name many Aussies can associate with. Subaru has evolved the Outback into a SUV crossed with a wagon. That means it's got plenty of space and it's high enough off the ground to appeal to SUV buyers.
This is the first Subaru I've tested, and I want to find out why everyone loves the Outback, as well as see if the latest generation has what it takes to convince me to love it too.
---
Build Quality
4.2 out of 5.
Subaru's build quality isn't as solid as some of its competitors; that's the short of it.
The panels feel a little tinny, and the whole car certainly feels lightweight and not as hefty as its European competitors. This doesn't mean that it's a poorly constructed car, it just means Subaru hasn't placed additional weight behind the panels in this car to increase the perception of build quality on the exterior.
A big plus goes to the Enkei alloy wheels, which can be found on cars like the Toyota GR Yaris, going to show an excellent partnership ensuring a quality set of wheels.
Interior build quality is certainly above expectations, and is a little above my expectations from what the asking price of this SUV is. The displays, materials and fitment of trim pieces are all thoroughly well-built, although the thickness of the leather seats did feel a little on the thin side. I was a little worried that over time, these seats could be more susceptible to small tears created by unruly passengers or sharp corners from your cargo.
Value for Money
4.6 out of 5.
This is the top trim Subaru Outback; it's called the Touring. Personally, it feels a little too family-friendly compared to the Sport trim for me.
I want my Subaru to look and feel like an off-roader, and that's where the Sport trim comes in. It's a little more affordable and loses some comfort features, but I personally think it has a little more 'cool factor'.
For $54,198 drive-away, the Touring packs an almighty value punch for the features you get. Ignore my wants if I was to buy an Outback; the Touring is the logical better choice and lives up to its trim name.
With a sunroof, dual memory Nappa leather accented seats, Harmon Kardon speakers, heated steering wheel and strangely, a CD player, it's the family hauler that'll add a little more comfort for long road trips.
Missing out on a turbocharger, the engine could use a kick up the bum for a little more power, however it's still enough power for many. Additionally, Subaru's tried and tested AWD system is a reliable performer when tackling snow, gravel, light sand and a bit of mud.
Subaru's price is sharp for an off-road capable and very refined road car.
Maintenance
4.5 out of 5.
Servicing over a 5-year period will set you back $2490, around $490 per service. If you're wondering if that's good, yes, it is. Compared to low-cost cars like Kia, that on average cost-per-service is as expected.
Additionally, you have Subaru's 5 year/unlimited kilometre warranty as standard with the purchase of any of their cars.
Noise Level
3.7 out of 5.
Although panels appeared to be more lightweight compared to the likes of Kia and Hyundai, the Outback did an excellent job of shielding most wind noise and almost all road noise.
Travelling around town, there were minimal noise intrusions into the cabin. Even when pushing the car through a corner, the symmetrical AWD system prevented any awkward tyre noise being generated.
At highway speeds, the Outback does have a little bit of wind noise generated from its roof rails, however outside of that, you get a refined cabin noise experience.
I really enjoyed the sound that the naturally aspirated flat-four boxer engine produced. Under heavy acceleration far more bass sound was produced, rather than a higher pitched whine that an inline four-cylinder would generate. It was almost reminiscent of a Porsche flat six in its sound profile.
The upgraded Harman/Kardon speaker system was a welcome addition, however it didn't exactly feel like a massive step above its competition. Improved sound quality? Absolutely. A world's difference from the base sound system? Not exactly.
Braking
4.3 out of 5.
I was really impressed with the braking ability of the Outback. There wasn't a hint of jerkiness as you started to slow down this SUV/Wagon.
The smooth transition from the speed limit down to a complete stop makes this a very comfortable daily driver. Additionally, Subaru's 'Eye Sight' camera system was able to do a far better job than some other radar systems at judging distances when operating during cruise control.
You can even adjust to three different types of driving modes when using cruise control, changing how relaxed you want the car to react during acceleration and braking.
You can bet the Outback's braking system is one of the best for a family car under $60,000.
Acceleration/Power
3.5 out of 5.
Subaru's iconic boxer engine is found right under the hood of the Outback. It's a 2.5L non-turbocharged petrol four-cylinder engine. Sadly, we don't get a turbocharged option for this generation. That's something that Subaru needs to bring here, as the US-spec car gets just that.
Naturally aspirated motors are not always ideal, as they require high revs to achieve peak power. 138kW at 5800rpm and 245Nm at 3400 - 4600rpm shows just that. You'll need to push that accelerator closer to the floor to get the most out of the motor.
Without a full load, the Outback is just fine with the power provided to it via this motor. Although, I can imagine once you've got the family loaded up with all of their luggage, it's going to struggle a little up some steeper hills.
I would love to see Subaru finally throw some turbochargers across its range, especially in the larger Outback which would benefit the most from an upgrade like this.
Gear Shifting
4 out of 5.
It's a little controversial, but the only transmission option for the Outback is a CVT automatic gearbox.
For most, it's suitable, comfortable and smooth. For others, it's a little odd compared to a conventional automatic. CVTs operate along a continuous gear, with the occasional fake gear shifts programmed into the transmission in some cars.
Subaru has a lifelong commitment to these transmissions, which means you're more than likely to have to use a CVT if you want an automatic Subaru. You can 'manually' shift, meaning you can hold revs when you need to; It's something that might help to squeeze more power out of the motor. However, the benefit of a CVT motor means that the peak power is constantly delivered through to your top speed, and the car never has to change gears.
Alongside its braking ability, the smooth operation of the CVT gearbox made me forget about the debate that exists around this transmission. It never missed a beat, and simply added to the comfort level of the Outback. That's another reason why this is a great family car option.
However, the operation of the gearbox via paddle shifters seemed redundant as there aren't really any 'gears' found in this gearbox. This CVT is great for comfort, but it's far from being a good sporty gearbox.
Suspension & Handling
4.4 out of 5.
The softer suspension setup rounds out the comfort experience in the Outback. Speed bumps, potholes and uneven road surfaces were no match for the Outback.
Even on our fire trail off-road test, the Outback was still relatively composed, although larger holes pushed the car to its absolute limits. It's a wagon that's been turned into an SUV over years of evolution, so it struggles with proper off-road clearance. That's where the Wilderness edition comes in, which is sadly only sold in the US for now.
Handling on-road was confidence-inspiring, although steering felt a little disconnected from the road at times. There were plenty of rotations found in the steering, meaning I occasionally had to guess where my wheels were pointing.
Subaru's iconic AWD system never faltered, even when pushed to its limits by yours truly. You can even drift this family wagon on some loose gravel, in true Subaru rally car form.
Fuel Efficiency
3 out of 5.
With no turbocharger, diesel or hybrid option, this car had a tendency to be a little thirsty with its petrol consumption.
Expect daily consumption figures to average between 10-12L per 100km, which isn't the worst consumption figure imaginable, but it's still a little thirsty, especially when just driving yourself around.
I think Subaru would benefit greatly from throwing that Forester hybrid powertrain into this thing, as it'll prove to be more popular for the suburban crowd.
Interior Design
3.8 out of 5.
Spending time inside the Subaru Outback is a lot more pleasant thanks to a new update, the party piece obviously being the vertically mounted 11.6-inch infotainment display. Thank goodness there's no base option for this screen, because the new WRX has been shown with this Nintendo DS-like split screen.
This screen uplifts this cabin and unlike VW's new touch screens, it doesn't prove to be a detractor. There are still physical volume knobs and climate controls that never move. Excellent.
I'm not a fan of the abundance of gloss-black plastic, but I can say that the simple interior design is minimalist, not spartan - at least upfront that is.
The leather seats, well-sized steering wheel, stitching and glowing driver's display are at home here. It's a light-filled cabin, it's practical and it's family friendly.
Boot Size & Comfort
3.9 out of 5.
522L for a medium sized wagon/SUV like this with all the seats up is respectable. A flat load floor and automatic tailgate makes life a lot easier when loading items in and out of the boot space.
A 60/40 split seat configuration is a bit of a let down, seeing as the middle seat is a little tight for comfort. Folding these seats down does reveal a lot more usable space, and the overall shape of the Outback is part of the appeal of buying this car. There are no odd lines or design choices, emphasizing the practicality of a wagon, but it's lifted high up off the ground like an SUV.
Overall, the Outback is a comfortable family car that doesn't just do a great job of tackling the daily grind, but also will live up to its 'Touring' trim name for those long road trips.
Features
4.6 out of 5.
For $54,198 as a recommended drive-away price, there's plenty here to justify that. From the mechanical elements, like off-road modes and symmetrical AWD, through to comfort and convenience features like an upgraded speaker system, a large infotainment system and heated elements, you're getting value for money. Not to mention, there's a suite of safety features included with this car, including special airbags that prevent occupants from slipping under the seat belt and Subaru's patented 'Eye Sight' camera system.
You can see why it's a popular off-road capable SUV of choice, and you can also see all the features you get with a Subaru Outback Touring below:
Engine
2.5L non-turbo flat-four petrol engine
138kW at 5800rpm and 245Nm at 3400 - 4600rpm
CVT automatic transmission
Symmetrical AWD
Infotainment
11.6" vertically mounted touch screen
4.2" driver's display
Apple CarPlay and Android Auto
9 Harman Kardon speakers, subwoofer and amplifier
TomTom satellite navigation integration
Safety
Electronic Stability Control (ESC)
Traction Control System (TCS)
Active Torque Vectoring system
Driver Monitoring System
Reversing camera
EyeSight® Assist Monitor
Blind Spot Monitor (BSM)
Lane Change Assist (LCA)
Rear Cross Traffic Alert (RCTA)
Reverse Automatic Braking (RAB)
Performance
Off-road drive modes
Paddle shifters mounted to steering wheel
2000kg towing capacity
Full-size spare tire
Convenience
Power tailgate
Power mirrors and windows
Smart key and push-start ingnition
Illuminated sunvisor vanity mirrors
Rear heated seats
Sunroof
CD player
Leather seats
x4 USB charging ports
Birthday and anniversary reminders in infotainment unit...yes it has this
Should you buy one?
In a world where small to medium SUVs are focused on being high-riding and comfortable for road use, there's an obvious lack of attention for those that are off-road capable.
The Subaru Outback delivers everything you'd want in a modern-day SUV, but in the form of a lifted wagon. It's practical, it's comfortable and it's more capable than competitors like the Toyota RAV-4 when it comes to tackling routes where the tarmac might not be the only way to get to your destination.
About the author Cameron is our resident car expert. Aside being a source of knowledge about the automotive industry, he has also driven a wide variety of cars. From Porsche 911 GT2 RS's, through to a 1998 Toyota RAV4, Cameron has not only seen it all, but has most likely driven it.
Excellent car but technology puts off my wife
Now, this is my third Subaru Outback which I purchased with 11 000km on the clock in November 2021. Why am I such fan of Outbacks? Simple answer: because they are excellent cars satisfying all our needs. Reliable, sophisticated and, above all, very safe. Its safety has actually earned me an unexpected discount from AAMI insurance! To my pleasant surprise I paid less to comprehensively insure this car compared to my three years old Outback!
Exterior of the 6th generation of Outback is not much different to the car it has replaced. Only it is ha...
Read more
ndsomer and slightly bigger. The new plastic cladding and beautiful 18inch alloys give the car rugged and sporty look. It is the interior dominated by a huge 11.6 inch vertically located screen similar (but bigger) to that one finds in Volvos, which has got the wow factor! Mine is the top of the range silver Touring model boasting beautiful ebony premium Nappa leather seats which, combined with black, give the car the luxurious appearance and feel. They, as well as the rear seats and the leather steering wheel, are heated. Much appreciated on those miserable Melbourne cold winter days. The car is packed with technology to the point that you wonder whether it is really necessary. For example, some information is unnecessarily duplicated ( the fuel consumption data on the infotainment screen is also given on the screen between the main dials; however, for some inexplicable reason the readouts differ.) The infotainment system is so comprehensive that it is challenging to use to it. With the exception of two knobs controlling the radio, there is absence of any other ones. You control everything via the touch screen like on your iPad. And believe me, there is so much to control that my wife finds it off puting. I wonder how older people navigate through it. The previous model was not that complicated and everything worked perfectly well. There is a myriad of commands which incidentally has one undesirable effect-all that takes your eyes away from the road!! Actually it is almost comical. It is illegal to use a mobile while driving and here you take your eyes of the road more often and for longer! The inclusion of the DAB (digital radio) is much welcome addition. In Touring model you also get pretty decent Harman Kardon speakers and a single CD player. Thank you Subaru for keeping it as so many people have collections of CDs and most modern cars no longer include CD players. Another technological marvel is the face recognition which allows a number of drivers' faces to be automatically recognised and pre-selected seating adjusted accordingly. Body hugging seats on driver's and passenger's side are electrically operated. So is the sun roof. Because of its size, the car is very comfortable. You get ample knee, shoulder and hip room and the rear seats accommodate large people in comfort too. There is plenty of storage throughout the car. However, there is regrettable omission of wireless smart phone charging. There are front and rear USB ports. Self levelling LED lights are sheer delight at night driving. The boot is huge and there is a full size spare alloy wheel-another congratulations to the manufacturer.
Purchased in November 2021 for $11.50.
Similar opinion? Write a review on ProductReview.com.au!
Good level of tech. heavy steady car, a bit slow in acceleration
Tech: good level of cameras, blue tooth, USB , driver assist etc... but no knobs that you need to take your eye off the road to make changes. Would have been to have speed projection on the wind screen. For some reason the automatic breaking doesn't seem to work too well, always does an emergency stop 5-6 meters out.
Speed: Outback is never going to be a WRX. I have upgraded to outback touring from my Toyota Corella, and I can definitely feel the slow start from traffic lights, and even on the motor way I can feel the heaviness. Stea...
Read more
dy and smooth but feels heavy and a little sluggish. Comfort level: Lots of room, customisable seats. Internal design: good spacing but potential blind spots at the fronts when turning so you will need to really move around to check for traffic coming around the corner. Power: I drive daily up and down a steep hill so I can feel the power from the x-drive. grips well even in the rain and wet slippery slope.
Purchased in September 2021 at Suttons for $53,500.
Similar opinion? Write a review on ProductReview.com.au!
Silent, competent, head turning, safe.
I've read earlier reviews on Subaru Outbacks and having recently bought one, I wanted to perhaps balance some of the negatives mentioned about earlier versions. Firstly, we owned a 2000 manual Outback that served us well. It was traded on a zippy little Golf TDI, a wonderful little car, but no longer produced in diesel, had a costly drive belt replacement at 100,000 intervals ($1500), a space saver spare. So, the new car had to have - a timing chain (yes), standard fuel (yes), a full sized spare with a fifth mag wheel (yes), decent towing capa...
Read more
city (yes). It needed to be fully up to date with safety technology, stylish to look at, finished in clean, attractive lines, and have an easy, but reliable driving feel. It's been a revelation. Firstly, it's extremely well sound insulated, has beautiful visibility, outstanding lights (no more worrying about good spread on the road edges to spot those roos in time), steering with good feel, excellent brakes and good fuel economy. We drive around town a lot, but also do long distances and our first tank returned 7.1l/100. Outstanding, remembering that constant 4 wheel drive has always been thirstier than 2 wheel drive. The vehicle is able to switch modes to suit mud and snow, as yet untried, but the original one handled bush driving more than adequately, including one hair raising trip when we got to the point of no return on a back road and had to continue in mud and flood waters almost up to the door sills. No problem, this one will do as well, if not better. The ground clearance is outstanding, although if you are serious off roading, departure and approach angles are not designed for that. You need to go full height SUV, but we will never be winching our Outback up a rocky mountain or crossing Queensland rivers in flood. The safety features are excellent, and if there are situations where you find some feature annoying (for instance lane departure on a narrow country track), these things can be switched off. Admittedly, the start/stop is ludicrous and we switch ours off as part of our 'pre flight check'. Just put a short cut on your infotainment screen and its three pushes each time you start the car. Not convenient, but better than being irritated. The front, back and side cameras are good resolution, and we have everything we need to counter some of the hazards, like supermarket car park lunacy. I'd have liked a bird's eye camera, but that's not a deal breaker. Drawbacks? Yes, I know many people bemoan the CVT, and I was afraid it would annoy me. There's no kick down, just a gentle upward curve of the throttle. That's how a CVT is designed to be. However, live with it. It's going to be the norm. Yes, there's no rocket like forward propulsion like my Golf turbo, but this is not a boy racer car. It's a car to be enjoyed, to be relaxed in, to do what you ask of it without fuss. It also has paddles, and '8 speed manual function' but if you want a rocket, buy a WRX. I'm not impressed with the SatNav, which is below par. I won't be paying for updates. I'm not alone there, and will probably be using our stand alone old one. A minor disappointment is no courtesy lights in the foot wells. Small thing, but not a deal breaker. That's all I have found. The streets are full of soft roaders, but I have been absolutely stunned at how much attention our car has got from the townspeople who noticed we no longer drive the Golf. Almost universally terms like 'gorgeous', 'wish I could afford one', 'you must have won the Lotto'. No negatives on the looks, the interior blows people away, with those crisp lines, the lovely soft upholstery, the panoramic windscreen, and those extra protective bits of black. It's the first time we have owned a car that others drooled over and asked a million questions. Finally, on the subject of Subaru customer service. VW were not exactly friendly or helpful when we encountered problems. Tends to be the norm these days. However, if I were locked into a dispute with Subaru Australia and got no satisfaction, I would be inclined to go straight to Subaru Japan. They value their good name, they value good manners and consideration. They would most likely move heaven and earth to help, and most likely have a few pointed words to say to their Australian counterparts.
Purchased in May 2021 at Baker Motors Albury.
Similar opinion? Write a review on ProductReview.com.au!
See all Subaru Outback reviews
Questions & Answers
Sorry, there are no questions about Subaru Outback Touring (2020-2022) but you can read 38 questions about Subaru Outback.
Get an answer from our members and Subaru Australia representatives
Details
Compare all 11
Subaru Outback
| | |
| --- | --- |
| Category | Large / 7 Seater SUVs |
| Release date | Jan 2020 |
Compare all 11
Subaru Outback
Visit official website
ProductReview.com.au has affiliate partnerships. These do not influence our content moderation policies in any way, though ProductReview.com.au may earn commissions for products/services purchased via affiliate links.