1 photo
Kia Cerato Sedan Sport+ (2018-2021)
Also referred to as: Kia Cerato Sedan Sport+ 2020 and Kia Cerato Sedan Sport+ 2022.
4.9

from 9 reviews ·

View Statistics
Brand Manager for Kia?
Register now
and take advantage of ProductReview's Brand Management Platform!
Expert Review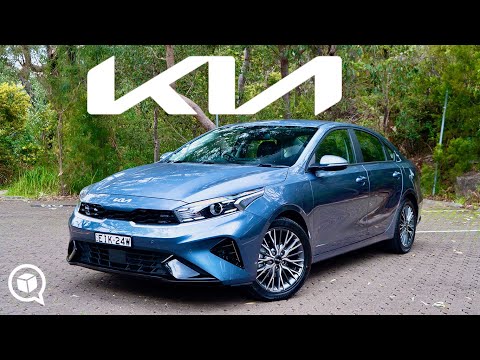 4 out of 5 stars
Introduction
Look, I'm not going to pretend that the Kia Cerato Sedan is the most exciting car in the world. It isn't. In a world dominated by hatchbacks and SUVs, the Kia Cerato Sedan isn't going to be at the top of many people's list.
This is one of the more sensible daily drivers you can buy today. However, I believe after my week with this recently updated sedan, that it's a car for those shopping with their head, rather than their heart.
Here's why.
---
Build Quality
4.3 out of 5.
What was immediately apparent about the Kia Cerato Sedan was its great build quality.
Compared to the Hyundai Venue I had on loan at the same time, the Kia felt solid and taut, compared to its Korean cousin.
Both inside and out, it's hard to fault this Kia for poor build quality. Sure, it's a little cheap with the materials used (this is still a $30,000 car after all) - but that only influences perceived quality, the actual production is up to scratch here.
Value for Money
4.6 out of 5.
Priced from $31,690, the Cerato Sedan Sport + represents fair value for money.
For the price, you have everything you need for a comfortable daily driver. With heated leather seats, a large 10.25-inch centre infotainment display, radar cruise control with active steering assist, it has everything you need and more.
Overall, the Cerato Sedan with its styling, added space in the second row (compared to the hatch) and features is a hard-to-beat proposition on paper. Sadly, the lack of an emotion evoking design applied to the exterior and interior where the Cerato, in its sedan configuration, sees form following function. While this sedan may be practical, its flat design language isn't going to be turning many heads.
Maintenance
5 out of 5.
The Cerato Sedan comes with a 7 year/Unlimited kilometre warranty, which only further proves my point that this is a car to buy with your head, not your heart. It's the best warranty you can get with any new car on the market, and helps justify choosing a Kia Cerato Sedan for the long term.
Included with this 7 year warranty is a capped price servicing program, with the cost per service and a total cost outlined below:
| Interval | Cost |
| --- | --- |
| 1 Year or 15,000 km | $275 |
| 2 Years or 30,000 km | $469 |
| 3 Years or 45,000 km | $339 |
| 4 Years or 60,000 km | $623 |
| 5 Years or 75,000 km | $309 |
| 6 Years or 90,000 km | $596 |
| 7 Years or 105,000 km | $328 |
| Total | $2,939 |
For 7 years of servicing, it's a fair deal and it's helpful to help you prepare for upcoming costs for every service.
Noise Level
3.9 out of 5.
With a solid build quality, the Cerato returned few squeaks and rattles during my drive.
Sound isolation from outside noise was certainly impressive for the price, with a surprising lack of road and wind noise emanating into the cabin.
Listening to music and podcasts wasn't exactly immersive, however, the sound isolation in the Cerato made up for the lack of clarity and power in the speaker department.
Braking
3.7 out of 5.
The Cerato Sedan is a light car, so pulling up to a stop isn't a challenging task for this car.
The brake feel was predictable and progressive, there was nothing out of the ordinary here. With four disc brakes, the braking ability certainly matched my expectations of a non-performance car like this one.
Additionally, you have AEB (Autonomous Emergency Braking) as standard, and of course radar cruise control. Both systems provide additional peace of mind in case you're not usually the first one to react to an emergency braking situation.
Acceleration/Power
3.9 out of 5.
The Cerato Sport + misses out on Kia's turbocharged motor, instead it features a 2.0L non-turbo petrol four cylinder. This motor produces 112kW @ 6,200rpm and 192Nm @ 4,000rpm.
The Cerato Sport does drone a little, as it needs to rev out to higher rpms than the turbocharged model to squeeze all the power it can from this motor.
However, the lightweight construction and responsive 6-speed automatic gearbox means I never felt the Cerato was down on power for daily driving.
The on-paper figures aren't that low compared to other cars in this segment, as the Cerato's power is actually closing in on power figures of small hot hatches. What you do need to recognise is that the Cerato isn't going to sprint to 100km/h. Instead, it's a simple motor that should prove to be reliable over a long period of time.
Gear Shifting
4.3 out of 5.
The 6-speed automatic transmission was a fantastic breath of fresh air in a CVT dominated market.
This is a traditional torque converter automatic, providing the experience you'd hope for. There's no weird rev hang, oddly placed shifts or odd jerks at low speeds.
It's not a memorable transmission, which is a good thing, it just works away without making itself known via any questionable actions.
Suspension & Handling
4.1 out of 5.
The new Cerato feels taut. It was a strange conclusion to come to, but that's the truth.
Around the suburbs, the Cerato is quick to react, yet unphased by rough sections of road. Heading through corners, the Cerato uses its lower centre of gravity to remain flat through these sections. That's until the comfort-orientated suspension begins to lean harder, since you can't have it all in non-adjustable suspension like this.
Drive modes are offered in the Cerato Sedan Sport +, but these won't do a whole lot to help with handling and suspension. Instead, these are far more in tune with the engine and gearbox, if anything.
The Cerato Sedan is a comfortable car, able to provide a handling experience that feels far more premium than the price would suggest.
Fuel Efficiency
3.5 out of 5.
To fill the Cerato up from empty, expect to pay close to $70. You might be visiting the pump a little more often than you would in a turbocharged alternative, as combined fuel consumption is around 7.5L/100km.
If you live in a hilly and undulating area like I do, you can see that fuel consumption hits as high as 11L/100km.
Interior Design
3 out of 5.
The Cerato interior wasn't made for the wow factor. Instead, it was created with practicality in mind.
Headlining the features is the large 10.25 inch display, and a user-friendly interface that encourages you to use the system, rather than feel like bloatware. A swath of physical buttons and storage space means that the interior isn't going to annoy you for the sake of design.
It's not an inspiring space, but it works, and it works well. I can't complain about the interior, it makes the driving experience fuss-free. However, I'm still drawn to the interior space of the i30 Sedan, simply because it does exactly what this interior does, but with its unique design form following function.
Boot Size & Comfort
3.6 out of 5.
Part of the deal you make with yourself when you purchase a sedan is that you've concluded you don't need to haul a lot of large items.
With 434L of cargo space, the Cerato is a practical car. It even has seats that fold, allowing you to place long items through to the second row. Unfortunately, the small trunk opening and even smaller pass through restricts oneself from being able to make the most of this space.
Sure, you can fit bike racks and find other solutions for large items. However, you will have to understand that the boot space in the Cerato Sedan is going to be limited compared to the hatchback.
What was impressive was the additional second row space provided by the Cerato Sedan. Sedans are sometimes preferred as they not only isolate the cabin from the boot space, but also offer more rear legroom.
Head room was a little restrictive for passengers measuring in over 6'1", but legroom and knee room was excellent for a small sedan just like this.
Features
4 out of 5.
Kia's new Cerato range is a little crowded, but that also means there's plenty of variants to choose from across a range of prices.
This Sport + is just below the Cerato Sedan GT, meaning you get a lot of features but you're just missing out on a few creature comforts.
Here's a list of features you get when you buy a Cerato Sedan Sport +:
Engine
2.0L non-turbo petrol four cylinder engine
112kW @ 6,200rpm and 192Nm @ 4,000rpm.
6-speed torque convertor automatic
Infotainment
10.25-inch touchscreen
Apple CarPlay/Android Auto
Bluetooth connectivity
Sat-nav
Safety
Autonomous emergency braking
Blind spot collision avoidance assist
Rear cross traffic alert and avoidance assist
Reversing camera
Convenience
Front heated seats
Keyless entry/exit and start/stop
Leather seats
Radar cruise control
Electronic hand brake
Should you buy one?
If you're in the market for a small sedan, there are a few options.
What the Kia Cerato Sedan offers is a practical, sensible, well built and well equipped vehicle for a reasonable asking price.
It's for those looking for the most logical and unassuming vehicle, while also driving a premium feeling product. For them, the Cerato Sedan is an excellent choice.
For someone like myself, who likes a little more flair and sporty driving dynamics. The i30 Sedan stood out a little more than this did. If you're looking for a little more excitement in your drive, then I'd opt for the Hyundai.
About the author
Cameron is our resident car expert. Aside being a source of knowledge about the automotive industry, he has also driven a wide variety of cars. From Porsche 911 GT2 RS's, through to a 1998 Toyota RAV4, Cameron has not only seen it all, but most likely driven it.
Hard to find better value for money!
We've had this car for just over a year now and put over 30,000km on it.
The first thing we were impressed with and continue to be impressed with is the fuel economy. In the first month it averaged 5.8l per 100km . We do a mixture of suburban and freeway driving and it never goes above 6.1 even fully loaded with adults and gear in the boot. I also run roof rails and kayak racks which create drag. We recently did a 14 hour trip from Perth to Newman return fully loaded with the aircon on all the way and it averaged 5.9l sitting on 120km/hr.
I l...
Read more
eave the drive mode in smart mode and if I ever feel the need to get away from traffic lights quickly to get out in front of traffic I flick the transmission into sport mode and it really changes the cars responsiveness. The seat warmers are fantastic and I find all other controls easy to understand and operate. The lane change warning system is excellent and makes freeway driving so much easier. The led high and low beam lights are very good compared to previous Korean made cars I've owned, huge improvement. It tows a small box trailer really well and towing package is well integrated with cars systems. Reverse camera is excellent. As I am very tall I do find the drivers seat a little low and if you're reading this Kia a seat tilt would be handy, also a lumbar support would be nice for long trips. The only complaint about this car is the collision avoidance system can be very conservative and brake when a car in front moves into a turning lane , so while it's no longer in your lane the system still sees it as a threat. I would definitely buy this car again, it's such great value for money!
Purchased in September 2019 at Kia Dealers.
This is one of those gems in the car market which you really need to try before buying a new small/medium sized car. My car has been an absolute pleasure to own and now 16000km's there's been no major issues. I hope this is the case for many years to come. Its a very well kitted our car with numerous features and safety perks. I own the Sport+ model, and the automatic anti fog system comes in handy for the colder states here in Australia. Drives exceptionally well and is easy to park and handle around the streets. Plenty of space in the car, I'...
Read more
m quite tall and fit comfortably in both the front and back. To summarise, I'll keep it sort and sweet, but this car is hard to beat for its price and what it offers. I highly recommend trying one of these especially with the other competitors such as Toyota, Hyundai, Subaru, etc. If you're on a budget though the base sport is still a good pick, but if you have the funds go with the sports+, or better yet the GT you won't be disappointed. Cons: Slightly higher than average fuel consumption I average roughly 8.5l/100km in the Comfort mode on mix highway and city driving, there can be a little road noise heard in the car at times especially if road quality isn't the best. This could be down to tyres currently on car.
Purchased for $27,000.00.
We have multiple Kias and this is my wife's car. It's loaded with features that puts premium brands to shame. More loaded than a $60k Audi in fact.
It's smooth, comfortable, handles safely and we love it. It has a few hard plastics around the cabin but that just makes it harder wearing. 100% recommended this car.
Purchased in March 2019 for $26,000.00.
High end specifications at an affordable price
I use my KIA for daily commuting for work, grocery and road trips. This KIA cerato Sports+ comes with many safety features such as smart cruise control, collision warning and braking, lane departure warning and lane keep assist. All these features would be very expensive in other brands car but KIA managed to price it affordably. Love this car. Other high-end features included are seat heating, keyless entry, dual-zone climate control, front and back sensors and reverse camera. With all these features mentioned, you would not want to miss to check it out. The latest BD design is sleek, sporty and classy too.
Purchased in June 2018 at Kia Dealers.
I've had my Cerato Sport+ for 18 months and love it. It is such good value, with exclusions usually seen in much more expensive cars. It has keyless entry, heated front seats, smart cruise control, speed limiting so you don't accidentally speed, lane departure warning, automatic braking.The communication system is fabulous and easy to use. The boot is very large too. I looked at others in the class but cerato was the clear winner
Purchased in October 2018 for $26,000.00.
Bought the new 2019 model hatch and am so pleased with it I'm now buying the GT version of the car. My only gripe is that there's a bit too much engine noise when one puts their foot down
Purchased in June 2019.
Best value for your money
I paid 27k aud for sports plus safety pack.. I believe it's best value of money as it got fully loaded features like lane change control, steering assist , hill start assist, blind spot monitoring, forward and backward park assist , leather seats, air bags, navigator, posh steering controls, cruise control, 3 drive modes and much more to offer..
Purchased in February 2019 for $27,200.00.
Related Articles
2019 Kia Cerato Sedan Sports +
Overall happy with the car. But the radio drops out at times and the navigation GPS could be a lot better, it wont accept address` at times. We are told it is a software issue, still waiting for the update. should be better in a new car. Shouldn`t have to wait.
Outstanding example of motoring value, safety, live-ability and satisfaction
I was looking to replace my 2010 Ford Fiesta with a comfortable and slightly larger daily driver. It needed to be big enough so when my 2 children (currently 8 and 5) sit in the back, they have enough room to be comfortable, but also as I plan on keeping the vehicle for 5+ years, it will need to be big enough for them as they continue to grow like weeds. I was very focused on ease of use features, like adaptive cruise control, AEB, Lane keeping assist, blind spot monitoring, reversing camera, rear cross traffic alert, Sat Nav, Android Auto ETC....
Read more
The Sport + I think represents outstanding value across the board. The 2.0 litre natually aspirated engine delivery smooth and responsive power (considerable better than the Impreza I had it pitted against). The leather interior is very comfortable and stylish, and the outstanding 8.0 infotainment system is very responsive, easy to use and see. The car is soo easy to drive, a very nicely balanced 6 speed auto transmission delivers very very close to the ticketed 7.2-7.4L/100Km advertised on the sticker. It looks amazing in white, and even though I've not applied any tint as yet, it keeps reasonably cool, even over the 35+ brisbane day's we've had over the recent weeks. I'm still early into the ownership, but so far, with the 7 year warranty, the dealer discounts on the capped price servicing, the very reasonable entry price, and the very stylish new look of the BD version, I couldn't be happier. Cons so far really only as follows: Boot liner looks a bit flimsy (the part that sits on top of the tyre). I can see this possibly deteriorating? Boot it a bit fiddly to close, needs a bit of force, if you close it gently to catch, it kind of just bounces (but nothing you can't get used to) Officially in love with it, very much looking forward to years of trouble free motoring.
See all Kia Cerato reviews
Questions & Answers
Sorry, there are no questions about Kia Cerato Sedan Sport+ (2018-2021) but you can read 107 questions about Kia Cerato.
Get an answer from our members
Details
Category
Cars and Sedans
Starting

Price

$27,740
Transmission
Automatic
Wheels
17" Alloy
ANCAP Safety Rating
5 Stars
Fuel Consumption
7.4 L/100km
Engine
4 Cylinder 2.0L
Max Power
112kW @ 6200rpm
Max Torque
192Nm @ 4000rpm
Release date
Jan 2018
Visit official website
ProductReview.com.au has affiliate partnerships. These do not influence our content moderation policies in any way, though ProductReview.com.au may earn commissions for products/services purchased via affiliate links.