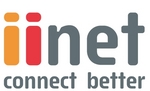 Listing details
iiNet was established in 1993 and listed on the ASX in 1999, growing from a small Perth business into the third largest Internet Service Provider in Australia. Our goal is to lead the market with the best Internet access products then differentiate with genuine, plain-speaking customer service.
---
OK
porkeys posted this on Apr 02, 2011
This review has been viewed 1 time
I would like to say that my experience with iiNet was all good but unfortunately that was not the case. While I like their products and they are a bit more of an innovative telecommunications company compared with the other big players, they are still only a small outfit in terms of the network they use. When anything goes wrong you still have to wait until Telstra can get around to fixing the problem. The other problem is that their call centre's are based in places like New Zealand and South Africa in the evenings and the accents can make it hard to understand when you are dealing with technical matters.
+ Have innovative products, often cheaper.
- Long waits to get things fixed.