1 photo
Tesla Model 3 Rear Wheel Drive (2022)
Also referred to as: Tesla Model 3 Rear Wheel Drive 2023.
Brand Manager for Tesla?
Register now
and take advantage of ProductReview's Brand Management Platform!
Expert Review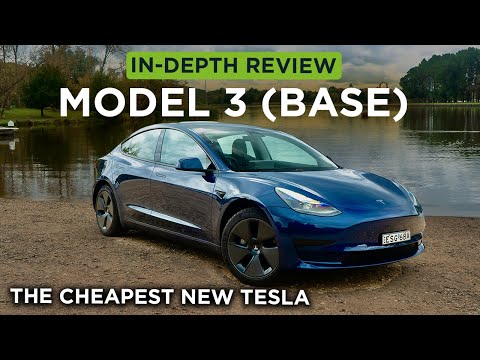 4.5 out of 5 stars
What is it?
This is the most affordable Tesla you can buy today. It's the Tesla Model, and well, doesn't actually have a model name.
On Tesla's website, it's simply listed as the only rear-wheel drive option from the American EV manufacturer.
It's the most popular EV here in Australia, due to its price, performance, features and ease of charging thanks to an extensive charging infrastructure network implemented by Tesla.
I wanted to see what the hype was about, and compare it to some seriously hot competition like the Hyundai IONIQ 5 and the Volvo XC40 Recharge to see if it has a reason to be the default EV of choice.
---
Build Quality
4.3 out of 5.
This is a controversial component of this review, as Tesla has had an infamous relationship with the build quality of its cars.
Simply put, early Model 3s were delivered with numerous quality issues, as many customers have recorded and posted about online.
In 2022, a lot has changed. The Model 3 is deep into its lifecycle, and is being built at a far higher scale than it was back in 2017.
I noticed nothing out of the ordinary on our test car. Even with plenty of poking and prodding, I really couldn't fault this particular car. I haven't heard an overwhelming amount of issues from newer customer cars either. Even if you do, Tesla is known for being quick to address any quality issues.
How Much Does it Cost?
4.8 out of 5.
This Tesla has been subject to a lot of price fluctuations recently. The new Model 3 is priced from $63,900 before on-road costs and incentives. Depending on which state you're in, you'll receive a varied amount of incentives.
This is a fully equipped car, complete with familiar features like a 360° camera system, radar cruise control, heated seats and more.
Against other competitors, the Model 3 is perfectly priced. This model exists intentionally as the entry point to the Tesla brand. It's not a "cop out" trim either, as its range and list of features are strong enough to be considered by most Australian EV buyers.
Warranty and Servicing
4.3 out of 5.
Tesla's warranty is 4 years or 80,000km (whichever comes first). Additionally, battery warranty is 8 years or 160,000km (whichever comes first) along with a guarantee of 70% battery capacity over that period.
Tesla doesn't have a regular service period, claiming that their cars don't require servicing and only need to be seen by a technician to replace consumable items like brake pads or air filters.
Running costs for this car should be relatively low against competitors. However, other brands hold a stranger factory warranty than what Tesla offers here. I would like to see Tesla match other auto manufacturers in offering a 5 year/unlimited kilometre warranty for peace of mind.
Noise Level
4.6 out of 5.
A low noise level is part of the reason why you'd consider an EV, which quickly becomes a major reason why you'd prefer driving one over a traditional ICE car.
It's silent inside the cabin of the Model 3. There are no fake sounds being generated, and it's clear that Tesla engineers worked hard to isolate every external sound that could interrupt this sanctuary.
That doesn't mean you won't hear some tyre noise as a result of this car weighing in at over two tonnes. It does mean that you won't be interrupted by any types of sounds that are normally encountered when operating an ICE car, like intercooler, turbocharger, exhaust or transmission sounds.
Braking
4.4 out of 5.
There are two ways to brake in the Model 3: regenerative and traditional disc brakes.
EVs are able to decelerate using their motors as a result of drive train resistance (sort of like braking using your gears). It's actually a good thing too, because depending on the terrain, you can actually reduce your range consumption or even increase your range by simply lifting off the throttle.
The brakes in here are nothing special, and work just as you'd expect them too. They do feel a little spongy, seeing as you're stopping a car that weighs more than an ICE equivalently sized vehicle.
I used to think that Tesla had a massive lead in the one-pedal driving experience, however despite still being excellent, many other cars are close to the marque (like the Volvo XC40 Recharge for example).
Acceleration/Power
4.3 out of 5.
Producing an equivalent of 357kW (480hp), this isn't a slow car. It's a base model by price, not by performance.
Sure, it's the slowest Model 3 you can buy, but it hits 0-100km/h in 5.8 seconds. That's as quick as more expensive EVs and more than enough 'oomph' for the daily drive. It's a healthy amount of power, regardless of how many passengers or how much cargo you're carrying.
Gear Shifting
5 out of 5.
There's just 1 gear that pulls from 0km/h through to a top speed of around 250km/h. It's a strange sensation to hear no noise and feel no gear changes as the world moves around you.
There's a column mounted shifter where you can simply engage all of your usual gears. An interesting change that is sure to hit future Model 3s is the deletion of this gear selector, as the Tesla Model S Plaid simply detects if there is an obstacle in front or behind of the vehicle, and automatically shifts the car into the appropriate gear.
Honestly, for daily driving I really enjoy not feeling any gear changes as it creates a far smoother driving experience. When upping the pace in some back roads, it can feel a little eerie when you're trying to judge your speed into a corner simply based on a number and how fast the outside world moves past your window.
Suspension & Handling
4.3 out of 5.
The soft suspension setup of the Model 3 offers relative comfort for a car that weighs over 2 tonnes.
There's plenty of travel in the ride, while avoiding feeling too wafty through general corners. However, I found that if you start to corner this Model 3 a little more aggressively, you end up leaning a little too much around these bends.
What does help combat that lean is the low center of gravity, due to the fact that the Model 3 is built on a skateboard-like chassis of lithium batteries.
What is apparent is that the base Model 3 is a great all-rounder when it comes to its suspension and handling. It's a premium ride that offers comfort first.
Fuel Efficiency
4.4 out of 5.
The base Model 3 claims 491km of WLTP range, a respectable and very usable amount for an EV in 2022.
I tested the full extent of this range over a road trip between Sydney and Canberra. On the way to Canberra, I used 83% of that range, and used 77% on the way back.
Charging is industry leading, thanks to Tesla's extensive investment into its proprietary charging network. It means you have access to fast chargers across the East coast of Australia (from Brisbane through to Adelaide) which are reliable, easy to use and integrated into the navigation of the Model 3.
Tesla's navigation will send you to each charger and ensure you spend the least amount of time at each station to get you to your destination on time and with charge.
Interior Design
4.6 out of 5.
There isn't a lot to say here, as minimalism is the number one priority of this interior. Extensive use of soft vegan leather both on the seats and steering wheel avoids a sense of conflict with this car's environmental sentiment.
Unlike many cars in this space, the Model 3's interior feels 'ground up' in its development. There's a lot of space to be found for all passengers, and you don't feel as if the battery pack under the floor impedes on interior space, unlike cars such as the Hyundai Kona Electric.
There's no conventional driver's display or instruments; instead there's a large centre screen that contains all of your car's information. A bonus is that this car receives regular updates 'over the air' from Tesla to ensure your car is up to date and bug free.
Boot Size & Comfort
4.6 out of 5.
There's 649L of storage thanks to the Model 3 possessing both a traditional sedan-like boot and a front boot (known affectionately as a frunk or froot).
Surprisingly, a lot of new EVs aren't incorporating this handy front boot, so this is a standout feature on the Model 3. Only cars like the Volvo XC40 Recharge offers a similar type of storage solution that'll fit more than just a charging cable.
There's a tonne of boot space to be had, but if you need more, you'll need to wait for the slightly larger Model Y that's due to land here later in the year.
Comfort is incredible in the Model 3. Over 1000km of driving, my back felt supported and comfortable in these plush seats. Additionally, adult rear passengers shouldn't feel anything but comfort thanks to the enormous amount of rear leg room they receive. The Hyundai IONIQ 5 offers a superior ergonomic seating solution.
Features
4.7 out of 5.
Despite the lack of visual flair, the Model 3 is flooded with features such as blind spot cameras, radar cruise control, heated seats, remote controls from the Tesla phone app - and not to mention the constant updates this car receives over its lifetime.
Updates saw the inclusion of the use of 'Sentry Mode' (which acts as a 360° built-in dash camera), the aforementioned blind spot cameras and novel features like a built-in Netflix app.
Here's a full list of features found on the Tesla Model 3 (base):
Engine
Single-speed transmission
Lithium-ion battery pack
Single electric motor
Infotainment
15 inch central touch display
Over-the-air software updates
Full-internet connectivity
Spotify, Netflix and Twtich connectivity
Google Maps integration
Safety
Eight surround cameras
Twelve ultra-sonic sensors
Forward-facing radar
5 Star ANCAP Safety rating in all categories
Performance
WLTP range of 491km
0-100km/h in 5.8 seconds (tested and verified)
Top speed of 250km/h
Convenience
Keyless entry, exit and vehicle operation via phone app
Parking cameras
Blind spot cameras
Automatic boot
Battery pre-conditioning
Access to Tesla Supercharger Network
Buy it, Consider it, or Leave it?
There's sharp EV competition to be found here in Australia for less than $100,000, although the entry-level Tesla Model 3 is one of the more affordable options at the time of writing. For the range you receive, performance, features and access to the extensive Tesla charging network, the Model 3 inches ahead of cars like the Hyundai IONIQ 5 and Volvo XC40 Recharge.
This is a close win over its competition, really only due to the Tesla 'Supercharging' network being so easy to use, reliable and quick to use. It relieves the pain of having to wait for a slow charger, and having to download and create different accounts depending on which third party charger you are using.
If the charging network isn't that important to you, I'd consider the Model 3 against its strong rivals. This is because some buyers might not appreciate Tesla as a brand, or its unique driving experience, where other brands offer a more traditional driving experience without the Silicon Valley flair.
About the author Cameron is our resident car expert. Aside being a source of knowledge about the automotive industry, he has also driven a wide variety of cars - from a Porsche 911 GT2 RS, through to a 1998 Toyota RAV4.
Questions & Answers
Sorry, there are no questions about Tesla Model 3 Rear Wheel Drive (2022) but you can read 3 questions about Tesla Model 3.
Get an answer from our members
Details
Compare all 4
Tesla Model 3
Category
Sedans and Electric Cars
Starting

Price

$63,900.00
Warranty

Distance

80,000 kms
Transmission
Automatic
Drive Type
Rear Wheel Drive (RWD)
Fuel Type
Electric
Wheels
18" Aero

Doors

4

Seats

5
Boot Capacity
542 L
Wireless Charger
Yes
Roof
Panoramic Glass
Companion

App

Yes
Acceleration

(0-100km/h)

6.1 seconds
Battery Capacity (Gross)
60 kWh
Battery Capacity (Net)
57.5 kWh
Range (WLTP)
491 km
Range (NEDC)
603 km
Efficiency
16 kWh/100km
Manufacturer Warranty
4 year(s)
Warranty Details
Basic Vehicle - 4 years or 80,000 km, whichever comes first. Battery & Drive Unit - 8 years or 192,000 km, whichever comes first
Keyless Features
Keyless Locking/Unlocking
Yes
Ignition
Keyless Start/Stop and Remote Start
Headlights
Type
LED
Driver Information
Gauges
Digital Only
Built-In Navigation System
Yes
Heads Up Display
Yes
Release date
Compare all 4
Tesla Model 3
Visit official website
ProductReview.com.au has affiliate partnerships. These do not influence our content moderation policies in any way, though ProductReview.com.au may earn commissions for products/services purchased via affiliate links.