6 photos
Volvo V60 Cross Country (2015-2022)
Also referred to as: Volvo V60 Cross Country 2021 and Volvo V60 Cross Country 2023.
Brand Manager for Volvo?
Register now
and take advantage of ProductReview's Brand Management Platform!
Expert Review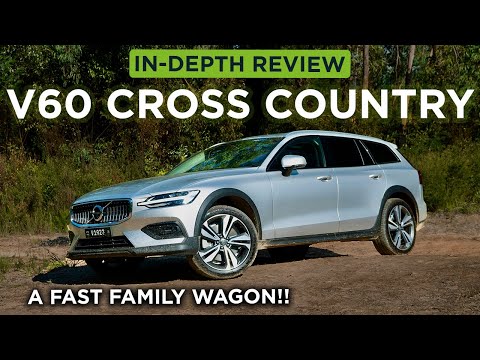 4.4 out of 5 stars
What is it?
SUVs are everywhere. They're the default choice for families looking for more space for people and cargo.
This means the humble station wagon has been cast aside as the appetite for a raised seating position has taken precedence.
However, there's been a wagon renaissance in the form of lifted wagons. It takes the best parts of a station wagon (space, styling and a lower centre of gravity) and provides the lifted driving experience most family car buyers crave.
This is Volvo's take on that trend. It's the V60 Cross Country, and it's the modern rendition of the family station wagon. It has more ground clearance, more durable exterior trim pieces and most importantly, it's cooler than your average SUV.
Here's why Volvo's wagon makes for one of the best ways to transport a family in comfort and luxury.
---
Build Quality
4.6 out of 5.
Volvo's build quality has been progressing in the right direction over the past few years so much that now we are met with a product that surpasses the likes of Mercedes Benz.
I'm a stickler for attention to detail in products that demand a more upmarket price. The V60 tickles all the right spots in my brain in demonstrating that every inch of this car was carefully considered.
This is apparent in the weighted doors, miniscule badging inside the exterior lights, the small Swedish flag attached to the front seats, or felt lining inside the front door bins. It feels as if this car was assessed by somebody with my level of scrutiny and added these small features that really go a long way, even if you don't notice it at first.
How Much Does it Cost?
4.2 out of 5.
The price tag for this particular V60 Cross country (before on roads) comes to $74,190. This specific car had a Lifestyle Pack ($5,700), an Advanced Air Cleaner ($500) and a Perforated Nappa Leather Interior ($3,000) thrown into the mix.
I'd certainly recommend that Lifestyle Pack for the sunroof, tinted rear windows and upgraded sound system. However, the other two options don't feel as necessary.
Compared to the Audi A4 Allroad and the Mercedes E Class All-Terrain, the Volvo stands out with a sharper price for its level of performance from its 2.0L MHEV engine, space, luxury amenities and safety features.
We are missing air suspension here, so if that's a must, you'll need to spend a bit more with the likes of Audi and Mercedes.
Warranty and Servicing
4.4 out of 5.
Volvo as a company has taken the Swedish route of customer service. Whether it's using the car itself or accessing information about their services, Volvo is transparent and seemingly above the competition.
Warranty is 5 years/unlimited kilometres which includes the option to purchase a service plan for either 3 years/45,000km or 5 years/75,000km (whichever comes first). This costs either $1,750 or $3,000 respectively.
In addition, you have over-the-air updates to your car, alternative transport, car wash and 8 years of 24 hour roadside assistance.
These small final touches certainly show that Volvo is working to create an after-sales service that matches the quality of the cars they produce.
Noise Level
4.8 out of 5.
Thanks to a mild-hybrid system, this petrol four-cylinder is a smooth and quiet operator.
The in-cabin experience is serene and allows you to focus on the comfort this car provides. Although, if you want to switch into Sport, you can get an intoxicating exhaust sound that burbles between shifts, just like a far sportier VW Golf R - an unexpected but welcome surprise during my test.
The upgraded Bowers and Wilkins speaker system is honestly a next-level upgrade. I thoroughly enjoyed hearing more detail in my music and podcasts than I could with my $400 set of earbuds. There's no unpleasant distortion to experience; instead, you have an audiophile's dream speaker set-up.
There are presets to mimic the sound profiles of the Gothenburg Concert Hall, Nefertiti Jazz Club, or a studio set-up. In addition to your usual equaliser adjustments, there's an advanced equaliser adjustment menu that mimics the sound board you'd find in Kanye's production studio.
I'd been looking to upgrade to the Lifestyle Pack purely for the inclusion of this speaker system, as it sounded like one of the best systems I've tested, alongside the $15,000 system in a Range Rover we briefly rode in.
Braking
4.3 out of 5.
Braking is buttery smooth to complement the primary purpose of this car, which is comfort.
A range of drivers can enjoy just how capable this larger station wagon can pull up, without having to worry about any awkward bites or jerks from these brakes.
In addition, there is autonomous emergency braking and a radar cruise control system called 'Volvo Pilot'. These enhanced the drive of this car without feeling too intrusive when a potential obstacle came into the path of the V60.
Acceleration/Power
4.1 out of 5.
You wouldn't pick it, but the V60 Cross Country isn't slow. If you have an appetite for fast estates but need the extra ground clearance, the V60 goes some way to satiate that.
There's a 2.0L MHEV turbocharger four-cylinder under the bonnet, producing 183kW at 5,400-5,700rpm and 350Nm at 1800-4,800rpm - all being sent to an all-wheel drive system.
That translates to a top speed of 235km/h and a sprint time to 100km/h in just 6.6 seconds.
Setting up for a launch is easy: simply stomp on the brake and accelerator and lift off the brake for a brisk run to 100km/h. Accompanying this rapid acceleration is a raspy exhaust note which 'farts' between shifts. I really loved the way this Volvo was able to match its streamlined and muscular looks with performance like this.
Gear Shifting
4.2 out of 5.
This automatic 8-speed transmission doesn't strain or hold gears like a wet towel hanging over this car's performance. Instead, snappy and rapid gear changes are had when deep in the accelerator pedal.
When cruising, there's a seamless transition between gears, which allows for a comfortable ride at speeds suitable for school zones.
Although you can change gears manually, you'll need to do that by wiggling the gear selector from left to right, rather than shifting up and down or via a set of paddle shifters. It's an all too Swedish solution to changing your own gears.
Suspension & Handling
4.3 out of 5.
Despite being lifted to have 210mm of ground clearance, the way this Volvo can tear up corners is as fun as it would seem.
On tarmac, the V60 is as composed and raised over the ground as a medium-sized SUV. Even though we have larger alloy wheels equipped, the V60 was never phased by potholes or other hurdles Australian roads could throw at it.
Cornering was a lot of fun, thanks to being able to put power through all four wheels via the AWD system. There was plenty of grip, with a hint of understeer at the limit.
When overlanding, the V60 was surprisingly able to replicate its cloud-like ride, even though it lacked air suspension. The larger alloy wheels did mean though that I needed to slow down for deeper ruts and large rocks.
However, it was the long wheelbase with relatively long overhangs both front and rear that limited the V60, preventing it from matching the ease of use that the likes of the Subaru Outback enjoy on tougher off-road sections.
Fuel Efficiency
3.9 out of 5.
Mild hybrid systems don't seem to save a whole lot of fuel. The range of vehicles I've driven that use this technology only benefit in straight line performance, highway cruising and seamless gear changes.
The same is said for the V60, which claims 7.4L per 100km as its combined consumption figure. I saw figures as high as 10L per 100km, yet this is what I'd expect for a car like this. It's a petrol-powered family wagon; it's not going to be the most economical choice compared to a less powerful but more efficient turbo-diesel power plant.
That being said, it's worth mentioning that this is the only engine option for the V60 Cross Country here in Australia.
Interior Design
4.6 out of 5.
Two screens adorn the interior of the V60, consisting of a large vertical centre screen and a well-contrasted instrument display.
A heads up display joins the tech in this cabin, which is an exercise in minimalist design. The centre display hides most of your controls, aside from the very basic media and climate controls which are found as buttons below this screen.
This system is slightly older than the one we reviewed in the XC40 Recharge, so it misses out on integrated Google Maps.
Once you're familiar with the sub menus and user interface, the V60 is extremely easy to operate and find its controls. I did find my initial contact a little confusing, however it only took me around 10 minutes to fully understand where all of my basic controls were.
Key points of interest included the amount of light that entered the cabin via these very square rectangular windows and the almost jewelry-like shifter knob and volume dial. Every touch point felt as if it was meant to be engaged with by a human, as there was always a sense of deep satisfaction when interacting with this car.
Boot Size & Comfort
4.7 out of 5.
The size of the boot is 519L with seats folded up and 1431L with all of the second row seats folded flat. The V60 is a true station wagon in its practicality.
It's a large, flat boot, with an equally-sized hatch opening that makes fitting multiple bags and other luggage along with it a breeze, especially when utilising the inbuilt cargo divider and cargo nets to secure smaller items from rolling around in the back.
The automatic tailgate is also more accessible for smaller humans to close, thanks to an inbuilt sensor for your foot found under the rear bumper that's used to open and close the hatch.
Folding the seats is easily done from the boot. Despite this being a 60:40 split seat, you can use a ski pass-through in the middle seat for longer items if you need to carry four people in comfort.
Rear seat room is plenty for adults, even those taller than 6 feet. That long roof doesn't need to taper down like many SUVs require, allowing for a uniform shape for more head room. A long wheelbase for passengers creates more leg and foot room, although the middle seat suffers from a lack of foot room from a large transmission and exhaust tunnel.
Features
4.4 out of 5.
Even with a few options added, the V60 is a well-equipped car. It's a complete package, with heated/cooled front seats, a suite of safety features and thoughtful touches like dedicated shopping bag hooks in the boot.
Here's a full list of features that come with the V60 Cross Country, making it close to being the complete family car package:
Engine
2.0L MHEV turbocharged petrol 4-cylinder
All-wheel drive
183kW at 5400 - 5700rpm and 660Nm at 1800rpm - 4800rpm
Infotainment
9-inch vertical touch screen
Harman/Kardon speaker system
DAB radio
Apple CarPlay/Android Auto
Safety
Pedestrian, Vehicle, Large Animals and Cyclist Detection
Intersection Collision and Oncoming Mitigation with Brake Support
Steering Support
Driver Alert
Lane Keeping Aid
Adjustable Speed Limiter function
Oncoming Lane Mitigation
Blind Spot Information (BLIS) with Cross Traffic Alert (CTA), Front and Rear Collision Warning with mitigation support
Run-off road Mitigation
Hill start assist
Hill Descent Control
Park assist Front and Rear
Drive mode with personal power steering settings
Emergency Brake Assist (EBA)
Frontal Airbags,Side Impact Protection System (SIPS) with airbags in front seats,
360° Camera
Performance
0-100km/h in 6.6 seconds (claimed)
Sport mode (complete with exhaust burbles between shifts)
Off-road mode
Convenience
Automatic boot
Door handle lights
Foot detection for opening/closing boot
Heated/Cooled front seats
Quad-zone climate controls
Keyless entry/start/stop
CleanZone interior air quality system
Windshield wipers with intergrated sprayers
Buy it, Consider it, or Leave it?
This was a difficult decision to come to. There's stiff competition from the Germans, leaving the Swedes to fight a hard fight in a niche market.
Where the Volvo shines is its quality in its ride, materials and performance. I found the V60 to tick most requirements for families who might not want an SUV and prefer something with a little more space and a lot more style. The V60 turns heads unlike its competitors; it's engaging to drive but also can relax over long distances.
If I had to pick a modern wagon for family duties, the V60 Cross Country would be one of my top picks to consider alongside rivals like the Audi A4 Allroad. Concessions come in the form of the one engine option and lack of air suspension that would make the most of this lifted chassis setup.
However, if you ask me, it's one of the best luxury wagons for less than $100,000. It makes you feel like you made the most of the money you spent on it, rather than lusting for another model above it, or wishing you had one less human to cart around. It makes having a family car look cool, and at the end of the day, that's a hard thing to beat.
About the author Cameron is our resident car expert. Aside being a source of knowledge about the automotive industry, he has also driven a wide variety of cars - from a Porsche 911 GT2 RS, through to a 1998 Toyota RAV4.
Sorry, there are no reviews about Volvo V60 Cross Country (2015-2022) but you can read 3 reviews about Volvo V60.
Write a review
Questions & Answers
Sorry, there are no questions about Volvo V60 Cross Country (2015-2022) but you can read 1 question about Volvo V60.
Get an answer from our members
Details
Category
Wagons
Starting

Price

$71,500.00
Warranty

Distance

Unlimited kms
Transmission
Automatic
Drive Type
All Wheel Drive (AWD)
Fuel Type
Hybrid
Wheels
19" Alloy
ANCAP Safety Rating
5 Stars

Doors

4

Seats

5
Fuel Consumption
7.4 L/100km
Fuel Tank

Capacity

60 L
Engine
B5
Engine Code
B420T10 or B420T2
Max Power
184kW @ 5400-5700rpm
Max Torque
350Nm @ 1800-4800rpm
Boot Capacity
529 L
Phone Connectivity
Bluetooth
Wireless Charger
Yes
Roof
Panoramic Glass
Acceleration

(0-100km/h)

6.5 seconds
Maximum Towing Capacity (braked)
1,800 kg
Maximum Towing Capacity (unbraked)
100 kg
Manufacturer Warranty
5 year(s)
Warranty Details
5 years warranty from the date of first registration. New Volvo passenger vehicles only. Warranty terms, conditions and exclusions below.
Keyless Features
Keyless Locking/Unlocking
Yes
Ignition
Keyless Start/Stop
Boot
Hands-Free Opening
Safety Features
Cameras
360°
Cruise Control
Adaptive (ACC)
Parking Sensors
Cross-Traffic Alert (Front), Cross-Traffic Alert (Rear), Front and Rear
Hazard Perception
Blind Spot Monitoring (BSM)
Lane Assistance
Emergency Lane Keeping (ELK) and Lane Keep Assist (LKA)
Speed Sign Recognition
Yes, read only
Dimensions
Ground Clearance
203 mm
Driver Information
Voice Control
Yes
Release date
Visit official website
ProductReview.com.au has affiliate partnerships. These do not influence our content moderation policies in any way, though ProductReview.com.au may earn commissions for products/services purchased via affiliate links.