4 photos
Genesis GV80 Diesel 3.0D AWD (2020-2021)
Also referred to as: Genesis GV80 Diesel 3.0D AWD 2020 and Genesis GV80 Diesel 3.0D AWD 2022.
Brand Manager for Genesis?
Register now
and take advantage of ProductReview's Brand Management Platform!
Expert Review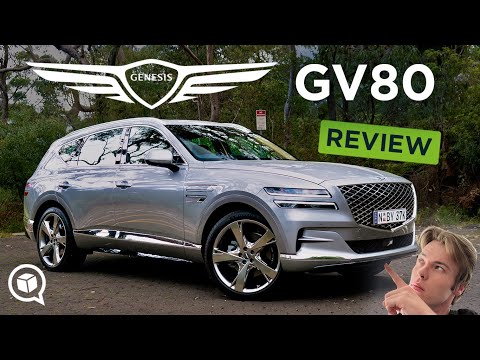 4.25 out of 5 stars
Introduction
Welcome Lexus 2.0, aka Genesis. Lexus was born in the late 1990s as a result of Toyota putting to work a bunch of talented engineers to create some of the best luxury vehicles to come out of Japan.
Genesis on the other hand, was a little bit lost upon its initial conception. Initially, Genesis was set up to be Hyundai's performance car arm, producing mediocre sports cars at best.
Hyundai has now given that job to the overachieving 'N' department, leaving Genesis with a clean slate. Rebirthed in the mid 2010's, Genesis is now devoted to producing the best possible luxury cars to compete against the likes of BMW, Mercedes, Audi and especially Lexus.
Hyundai is so devoted to Genesis's success in the Australian market, that there is a 'Genesis Studio' placed squarely in the heart of Melbourne and Sydney's CBDs.
Genesis faces two challenges: the first is becoming known in the market for making genuinely luxurious cars. The second challenge is becoming an aspirational brand that capitalises on buyers who are interested in spending north of $80,000 on a car.
What better way to start with Genesis's latest range than with their largest and most opulent SUV, the GV80. Alongside the recently launched GV70, I think joining the SUV trend might just be the best shot this brand has at success.
Let's jump into it.
---
Build Quality
4 out of 5.
A testament to Genesis's seriousness in creating a luxury product is the GV80 build quality.
There is no mistaking this car for a souped-up Hyundai. It takes the best parts of Hyundai's interiors and dials that up to 11.
From a suede headliner, precise headlight designs, sharp puddle lights, rich nappa leather and seemingly perfectly weighted buttons - it's all here.
I just wish there was a little bit more metal to compliment the plethora of leather and wood trim in here. Some plastic buttons occasionally distract from this plush interior.
Genesis opened a few 'Design Studios' around Australia's CBDs in order to expose the public to the Genesis brand and its products.
Genesis needs customers to experience this attention to detail in person in order to understand what the Genesis brand represents, otherwise it's going to be a harder sell just describing a GV80 on paper.
Value for Money
4 out of 5.
The GV80 range kicks off with a 2.5L turbocharged petrol four cylinder, in a 2WD configuration, for $99,416 driveaway.
This GV80 is the diesel 3.0L AWD Standard trim, asking $113,066 driveaway. To digest this seemingly enormous price, you have to look across to the competition.
Against the likes of an Audi Q7, a BMW X7 or a Mercedes-Benz GLE, you're getting a lot more features for less.
You won't look like you've bought a cheaper model, instead, combined with its design, 22-inch wheels, sunroof and trim, you certainly come out on top without having to tick expensive options.
Additionally, with the buttery-smooth driving experience, torquey diesel, 21-speaker sound system and plenty of interior space and comfort, I'd say the GV80 is nearly the complete package.
If you really want the cherry on top, you'll need to spend an additional $10,000 for the Luxury trim of the GV80. That'll bring you a GV80 with absolutely everything, no option missing, but for a harder-to-stomach $123,566!
In short, for a unique luxury SUV, purchasing a GV80 is an absolute win if you want your dollar to travel further than just a badge on the bonnet.
Maintenance
5 out of 5.
This is one of my favourite parts of the Genesis brand, as it's one of the best after-care services you can buy when purchasing a $200,000 car.
Depending on the dealership, some European brands offer these services, however it's not a blanket service. It can vary from dealership to dealership.
With Genesis, during the standard 5 year/Unlimited kilometre warranty, Genesis will pick your car up from your desired location, and swap it for a loan car.
That's the service you'd expect when paying for a luxury SUV, and that's exactly what you get when buying a GV80. From personal experience, that alone is a massive plus against traditional European SUVs.
Noise Level
5 out of 5.
A major strong suit of the GV80 is its noise level, or lack thereof.
Starting with the large 3.0L turbo diesel inline six, it's so insulated from the cabin that Genesis offers fake engine noise to pipe through the speakers under heavy acceleration.
Exterior exhaust sound is muted and quiet, allowing you to swiftly move away without causing a ruckus.
This 21-speaker system is a treat to experience in the GV80. It's branded as Lexicon, which is simply an upgraded audio system from Harman/Kardon.
I love the fact you have three audio presets that allow you to change the sound profile of the speakers. There's Stage, Audience and Reference available when using the Genesis's media player.
Stage throws the sound up front, like you're listening to a live band on stage. Audience mixes the audio throughout the cabin, as if you were in the middle of a room playing audio from a couple of different speakers. Reference is simply the most balanced version, offering the least ambient echo out of the three presets.
Aside from offering a rich, deep, powerful and balanced sound, these speakers also offer active sound cancellation, increasing cabin isolation.
How effective is active noise cancellation? Well, upon a slight electronic bug that was resolved soon after turning the car on and off again, I could hear a lot more road noise bleeding into the cabin with the system disabled.
Braking
4 out of 5.
The braking experience in the GV80 was a little surreal at first encounter.
The brake pedal offers a feel as if you're pushing against a sponge cake. That's not a bad thing, as it is easy to pull this SUV up to a stop. It's just a far more comfortable and controlled experience compared to your run of the mill brake pedal.
Large disc brakes adorn all four wheels, and they do a great job of bringing this SUV to a buttery-smooth stop.
I haven't experienced brakes as smooth as these in some time, which was an awesome experience and refreshing to see in a luxury car.
Acceleration/Power
4 out of 5.
You can get a four-cylinder petrol model in the GV80. However from experience, you either want 6 cylinders or more in a car of this proportion, or just go full EV.
The in-line 3.0L turbo diesel in the GV80 produces 204kW and 588Nm. You can expect a 0-100km/h time in around 6.8 seconds.
It's surprisingly not a massive amount of power from an engine of this size. But what I can hope is that a less strained motor means increased chance of reliability as the years roll on.
Acceleration is more than enough for a family car, helped by the AWD system and Michelin tires fitted to the GV80.
Off-the-line pull and mid-range acceleration is rapid - surprising for a non- hybrid diesel motor here.
Overall, I'd give the acceleration and power of the GV80 a 3 out of 5. For the money, I'd hope for a little extra power and speed. However, it's not a core requirement for this car. It isn't a GV80 'Sport' or performance orientated, first and foremost it's meant to be a luxurious driving experience. Don't think because it's not as fast as some other European SUVs, it isn't as good.
Gear Shifting
4 out of 5.
The GV80 is swift to respond to acceleration and great at keeping revs nice and low.
There are 8 gears to choose from, and all do a fantastic job at communicating with each other to avoid awkward shifts or even the occasional mis-shift.
The only fault comes in the form of manual shifting and the very occasional clunk you get from tapping the accelerator pedal.
For starters, you're not going to use the paddles in this car. I can just predict that right now. There aren't many gearboxes that evade that clunk feeling when tapping the accelerator pedal.
The GV80 gets a 4 out of 5 for a gearbox that perfectly compliments the luxury SUV driving experience. It isn't exactly perfect in every aspect that is offered - like having paddle shifters available to use.
Suspension & Handling
4 out of 5.
22-inch wheels have no right being able to iron out imperfections in the road like these do.
Normally, I'd roll my eyes at wheels this big. Because they're going to make my ride in a comfortable car a juxtaposed one, as they reveal every bump in the road. Add to this fact that these are magnets for curb rash.
I can't change the second part, but Genesis changed the first part. Amazingly, you can have your cake and eat it, too.
With the help of front-facing sensors that can prepare the suspension for bumps in the road, the GV80 offers a supple ride, with accurate road feel and a generous amount of comfort. Although, on sharp potholes and speed humps, those 22-inch wheels make themselves known.
The steering feel is a little artificial in its weight, but it compliments the driving experience quite well. The two-spoke design is a little chunky in the hand, but once used to that, the way the GV80 conducts itself in corners and on the straights is everything you'd want in a large SUV.
Honestly, the way the GV80 rides around town, it's almost driving like a car worth double what the GV80 is asking.
I'd give the GV80 a 5 out of 5 when it comes to suspension and handling, simply because there isn't much to improve here. It rides well on 22-inch wheels, which is an automotive miracle in itself. This would be one of the main reasons I'd grab a GV80 - it's a car that I'd actually look forward to driving simply because it's so comfortable and capable.
Fuel Efficiency
3 out of 5.
Now this isn't a hybrid, so fuel efficiency is going to be a little on the high side.
The benefit of opting for the diesel is the lower combined fuel efficiency rating of around 8.8L/100km, you'll be able to see a tank of diesel last a little longer than the petrol alternative.
Filling up the GV80 will set you back around $117 for a full tank of diesel. However, you should be able to travel around 800-900km from full to empty.
It is a little thirsty. For a large SUV, it still returns reasonable efficiency. And for that, it scores a 4 out of 5.
Interior Design
5 out of 5.
It's impressive to say the least, how a company like Genesis can come up with a unique yet familiar interior.
I appreciate the effort they've taken to avoid a copy and paste taken from competitors, instead going the extra mile to complement such an impressive exterior design.
There's an attention-grabbing 14-inch touchscreen infotainment, a smaller screen for climate controls and a large centre console.
I love the jewel-like bezel on each dial button found throughout the cabin, and especially love the glass rotary shifter dial. It helps generate a sense of attention to detail throughout the car.
Although unique, the two-spoke steering wheel looks good to me, but sadly feels a little bloated when holding the wheel at 9 and 3. I managed to get used to this wheel, but for some, it might be a little distracting.
Whether you're sitting up front, middle or back, there isn't a single small detail missed.
Boot Size & Comfort
5 out of 5.
The GV80 has a minimum boot space of 727L and a maximum boot space of 2144L.
That's excellent for a family SUV. The only issue is that if you want to constantly use the third row, you dramatically reduce your boot space.
Folding down the third row, you get a boxy, flat-load area, and single-button release to fold the second row. This is excellent and easy to use as a family car.
Additionally, the second row has a 40:20:40 split, with a nifty feature of a folding pin. This allows for easy access to fold the middle seat down and put cargo through that space.
The comfort level in this car is certainly close to class leading. The articulation of the second row is addictive. I love making the most of the space back there, that feels special thanks to the plush leather upholstered and stitched seats. There are blinds back here to help avoid making eye contact with the outside world too.
You can use controls on the front passenger seat, from the back, to provide yourself with an excessive amount of space. This makes the GV80 the ultimate road trip companion.
Comfort in the third row is improved compared to other 7 seaters, but limited headspace does make it a little hard to enjoy these seats for extended periods of time as an adult.
Overall for comfort and boot space, I'd give the Genesis a 4 out of 5. This is simply because it's not the most amount of space you can get in a large SUV. That third row is more of a set of jump seats, rather than a replacement for the likes of the 7 seater Hyundai Palisade.
Features
4 out of 5.
Throughout this review I've mentioned a few features. To keep it short, you're getting a lot, but not all the features you could have.
You'll need to spend a little more for the second row climate controls, and fully digital driver's display.
From actual wood grain trim, ambient lighting, the overall eye catching design, comfort and driving experience - the GV80 is a complete package.
However, for the price, I think you're getting more than you would with other European SUVs, and for that simple reason, it scores a 4 out 5. It misses out on a 5 out of 5 as this isn't fitted with every possible option you could get.
Engine
3.0L inline six turbocharged diesel
204kW/588Nm
8-speed automatic transmission
All wheel drive
Infotainment
14.5-inch infotainment display
21-speaker Lexicon by Harman audio system
Apple CarPlay/Android Auto
Bluetooth
Safety
Blind-spot cameras
Blind-spot avoidance assist
360-degree parking cameras
Surround view 3D camera system
Rear cross traffic alert and assist
AEB
Lane keep assist
Rear occupant alert
Lane follow assist
Highbeam assist
Performance
Drive Modes
0-100km/h in 6.8 seconds
Terrain Modes with off-road data via infotainment screen
Flappy-paddle gear selectors on wheel
Convenience
Heated/cooled front seats
Nappa leather
22-inch wheels
Three seats in third row
Automatic folding second row controls
Radar cruise control
Heads-up display
Roof rails
Panoramic sun-roof
Second-row climate controls
Second-row window shades
Puddle lamps
Should you buy one?
So Genesis scores 4.25/5. Under this scoring system, that's a definite buy.
I can't say more good things about this car. It offers what it sets out to do, and it does the luxury experience, right down to the welds in the door, really well.
The biggest issue Genesis faces is time. It needs to make sales, but it needs time to win over more and more of the market. It is a Lexus 2.0. Lexus has faced similar challenges, but now it's considered against the likes of Mercedes and BMW.
Patience will pay off for Genesis, as more people experience the brand, and more models like the GV80 and upcoming GV70 are offered.
I truly believe in 10 years time, Genesis will be just like Lexus. However, there needs to be a serious commitment by the brand to weather slower sales. Until buyers who have been waiting for the opportunity to spend over $100,000 begin to prefer a Genesis over German or Japanese alternatives.
The biggest challenge the GV80 suffers isn't it being competitive, it's the brand growing in recognition.
However if you're not a brand loyalist, or are exploring what's on offer in the luxury SUV segment, opt for a Genesis GV80. You won't only not regret it, but you'll fall in love with a luxury SUV experience that you'd hope you'd get for the money.
About the author Cameron is our resident car expert. Aside being a source of knowledge about the automotive industry, he has also driven a wide variety of cars. From Porsche 911 GT2 RS's, through to a 1998 Toyota RAV4, Cameron has not only seen it all, but has most likely driven it.
Sorry, there are no reviews yet. Be the first to write a review.
Write a review
Questions & Answers
Sorry, there are no questions yet.
Get an answer from our members
Details
Compare all 4
Genesis GV80
Category
Large / 7 Seater SUVs
Starting

Price

$112,990
Warranty

Distance

Unlimited kms
Transmission
Automatic
Drive Type
All Wheel Drive (AWD)
Fuel Type
Diesel
Wheels
22" Alloy

Doors

4

Seats

5 to 7
Fuel Consumption
8.8 L/100km
Fuel Tank

Capacity

80 L
Engine
3.0L In-Line 6 Cylinder
Engine Code
D6J III D3.0 FR VGT
Max Power
204 kW @ 3,800 rpm
Max Torque
588 Nm @ 1,500-3,000 rpm
Boot Capacity
727 L
Country of Manufacture
South Korea
Manufacturer Warranty
5 year(s)
Release date
Oct 2020
Compare all 4
Genesis GV80
Visit official website
ProductReview.com.au has affiliate partnerships. These do not influence our content moderation policies in any way, though ProductReview.com.au may earn commissions for products/services purchased via affiliate links.