1 photo
Isuzu D-MAX 4x4 LS-U+ (2022)
Also referred to as: Isuzu D-MAX 4x4 LS-U+ 2023.
Brand Manager for Isuzu?
Register now
and take advantage of ProductReview's Brand Management Platform!
Expert Review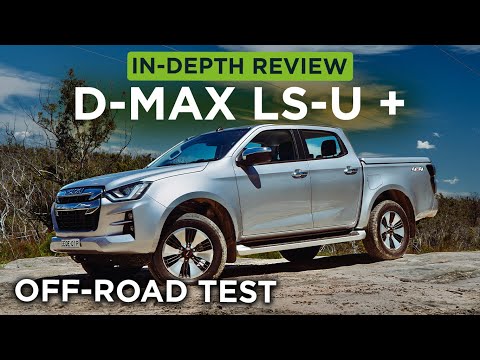 4.3 out of 5 stars
Introduction
It's no secret that the Isuzu D-MAX is a popular ute of choice for many Australians, especially since it received a handsome update only just last year.
In 2022, we're lucky enough to see a small refresh added to these utes with some additional options being added across the range, and a brand new model.
This is the Isuzu D-MAX LS-U+, and it's the bridging model between the LS-U and the off-road focused X-TERRAIN. It's meant to be the best of both worlds: a luxurious working truck that you enjoy using on your time off too.
I can already see the advantages of saving a bit of cash for a similarly equipped ute to the X-TERRAIN. However, will some missing mechanical upgrades impact the ability for this ute to be a comfortable daily driver and capable off-roader? Let's find out.
---
Build Quality
4.4 out of 5.
The D-MAX is no stranger to being built to withstand tough environments. The LS-U+ trim of this ute is no exception to that rule.
The doors, trim and overall quality of the exterior don't make me question the build quality of this truck. Standing up on those side-steps feels as sturdy as you'd hope, and closing and locking the tray inspired confidence that the exterior of the D-MAX could withstand the tests of time.
On the inside, I wasn't completely satisfied with the interior build quality of this particular D-MAX. The leather, stitching, buttons, plastics and trim all were up to scratch and felt extremely solid when touched. However, when traversing uneven terrain, the torque being sent through the chassis seemed to cause a fair amount of creaking and squeaking to emanate from the dashboard.
Out on the road, this creaking ceased, so hopefully it's only experienced when the body of the D-MAX is traversing particularly rough terrain.
Another thing I'd eliminate would be the gloss black plastic trim inside this truck. It's simply too much of a magnet for dust and scratches, something that this ute will be prone to considering it's intended for off-road use.
It's a tough truck, and despite packing a few more creature comfort features, it's just as capable at weathering a hard knock, like the rest of the D-MAX range.
Value for Money
4.3 out of 5.
At $61,900 before on-road costs, there's a lot to appreciate about not having to spend over $70,000 for additional features.
Although, for those focused on wanting a more aggressive looking ute from the factory, the LS-U+ might not cut it entirely.
To be honest, for the price, I think you've got the pick of the range if you like how this looks. I don't entirely love the looks of the X-TERRAIN, so this would be the ute I'd be opting for.
You have additional features, like a leather interior, tow hitch receiver, heated front seats, electronically adjustable drivers seat, dual vanity mirror lights, auto dimming rear view mirror, heated door mirrors, the Lane Support System Switch, a GCM of 6,000kg and a tub liner.
It's getting pricey for sure, so if those features don't appeal to you, then don't spend the extra money. If they do, then the LS-U+ will be the ideal middle ground in the D-MAX range.
Although, I wish we could opt for a set of disc brakes all-around and possibly get rid of those leaf springs for some more advanced suspension if we don't need the additional payload capacity.
Maintenance
4.5 out of 5.
As for maintenance, as standard, the D-MAX comes with a 6 years warranty/150,000km, 7 years roadside assistance and 7 years capped price servicing.
The new generation D-MAX also offers a 20% stronger ladder chassis, higher mounted suspension control arms, lighter but stronger leaf suspension and a claimed 4,000,000 kilometres of simulated testing over 6 years here in Australia.
Hopefully, this will translate into an increase in long-term reliability.
You can jump onto the Isuzu website to see what every service interval will cost you, as part of Isuzu's capped price servicing. Your cheapest service will cost you $299.00 at 75,000 km, and your most expensive service will cost $749.00 at 90,000 kms.
Service intervals are 15,000km apart.
Noise Level
4.1 out of 5.
Distinct to the D-MAX is the truck-like diesel motor noise that bleeds into the cabin under heavy acceleration.
Aside from that, the roar of tires and some wind noise are the only other sounds that will disrupt an otherwise quiet and calm cabin. Note the skinnier hybrid off-road tires do like to squeal a little when turning sharp corners, which may cause mild concern from pedestrians.
Despite not being branded by some well known third party audio company, the speaker system in the D-MAX is more than adequate listening experience for a variety of media. There's clarity, depth and range in what you're listening to, although that bass can sound a little muddy the more you push it in the equaliser settings.
Braking
4.2 out of 5.
The braking experience in the D-MAX never faltered, despite being used to descend from the heights of the Blue Mountains to sea level.
There's no strange sponge effect or excessive dead zone in the pedal feel; the D-MAX makes you feel as if you're in control, especially if you need to brake for an emergency.
What is noticeable is the autonomous braking system, which is extremely active in the event the car believes that you're not slowing down fast enough to prevent a crash. It's occasionally intrusive, however, it's rarely dangerous. It makes a comfortable safety net, just in case you miss the opportunity to be in complete control when you need to avoid hitting an obstacle.
Acceleration/Power
4 out of 5.
This is the more powerful 3.0L four-cylinder diesel engine option in the D-MAX range, producing 140kW and 450Nm from this turbocharged motor.
It's enough power if that's what you're thinking. Thanks to that large displacement, it's a motor that rarely feels strained.
Acceleration in the wet can be a little unnerving if you're in 2WD mode, as that surge of torque low in the rev range will spin those rear wheels with ease.
Once traction is gained, that turbocharger pulls strongly, however there's a distinct drop in acceleration if you're determined to change gears yourself once you're high up in the rev range.
It's an effortless feeling four-cylinder powerplant, and allows for a balance of performance alongside daily usability.
Accelerating from 0-100km/h, it's noticeably not a performance ute by any means, but it's fast enough to hustle up to speed without causing a traffic jam behind it. Mid-range acceleration feels even stronger, however a smidge of turbo-lag can occasionally stifle any sports ute aspirations.
Gear Shifting
4.3 out of 5.
The 6-speed automatic transmission found in the D-MAX does an excellent job of moving through gears without hesitation.
It's an easy-to-use transmission that rarely faults or makes itself known to you as the driver. Engagement with each gear is instant, and also allows for careful modulation of the throttle, for tight space manoeuvres.
However, the manual shifting experience leaves a lot to be desired, but at least you have an option to engine brake if that's something you desire.
Suspension & Handling
4.2 out of 5.
You can only battle the physics of a larger dual-cab ute like this for so long, without changing the suspension for a more road-focused set-up. For the money, you're getting a hybrid on-road/off-road suspension setup, so you'll need to expect compromises at the extreme ends of both experiences.
Around the city, and on tarmac, the D-MAX offers a comfortable ride. I found that you could launch yourself over speed bumps and potholes and never have to worry about any strange reactions from this truck.
Sharp cornering isn't something I'd recommended attempting, seeing as this higher riding ute isn't exactly tuned for canyon carving. What is noticeable is how the soft-sprung suspension begins to wallow into a corner, and that stiff leaf spring setup makes it harder to translate this ute's weight through bends.
However, turn off the beaten path and all is forgiven. The D-MAX can cruise across the top of a rough fire-trail with ease, ironing out what normally would give most cars a good shakedown.
Off-road, the D-MAX does take a little bit of time to get used to when it comes to its high centre of gravity. Once acquainted, you realise this work ute is ready to play.
Thanks to its tighter proportions, you can squeeze through smaller trails, and it's far from a daunting activity to navigate more challenging off-road stages.
Despite feeling a little compromised in its cornering ability, the D-MAX makes up for this with its on-road comfort and off-road capability.
Fuel Efficiency
4.3 out of 5.
Sure, it would be nice to have a higher output 6-cylinder motor, or if we can dream, maybe even an 8-cylinder motor. However, until Isuzu jumps on the impending electric truck/ute trend, a turbo-diesel 4-cylinder engine is the most sensible choice when it comes to reduced fuel consumption.
Combined fuel consumption is claimed at 8L/100km. I saw around 10L/100km during my week with the D-MAX, a respectable figure that'll allow you to travel a week without having to fill up your tank.
Expect to pay up to $135 for a full tank of diesel thanks to the D-MAX possessing 76L of diesel-carrying capacity.
Interior Design
4.5 out of 5.
Just as this interior was in the X-TERRAIN, the LS-U+ is a refreshing upgrade over the previous generation.
There are clean lines, a large touchscreen, easy-to-read analogue dials and simple buttons to operate the climate controls and 4x4 controls.
Thanks to the leather seat upgrade, the LS-U+ interior feels every bit as premium as the exterior. There's no doubt that the LS-U+ will stand up to the test of time, as there's a blend of soft touch materials, mixed with a healthy appointment of tough plastics.
It's a cabin I love spending hours in, with plenty of visibility and a relatively clean design. I really think this interior design best matches the clean exterior of the LS-U+ rather than feeling a little mundane against the aggressive exterior of the X-TERRAIN.
Boot Size & Comfort
4.7 out of 5.
This dual-cab's tray measures in at 1,570mm x 1,530mm x 490mm (length x width x depth), and is rated with a Gross Vehicle Mass carrying capacity of 6,000kg.
Towing is absolutely recommended, as the LS-U+ comes with a towing hitch right from the factory. Braked towing capacity is rated at 3.5T, making it more than capable of hauling whatever you want to throw at it.
When you need to head on that road-trip, you can rest assured that this ute's last problem is being uncomfortable. For the driver, you have radar cruise control and active lane-keep assist to help you feeling less fatigued over long distances. As for the passengers, the front occupants get heated seats and the rear passengers are left to fight over just one USB port. Although, the rear windows do fold down all the way, which is a major plus for airflow to the rear seats.
Travelling with four people will be ideal, however, just advise any passengers taller than 6'2" that they're going to suffer a little. Limited under-seat feet room, and limited knee room will impact those taller individuals. Additionally, the middle seat is strictly for temporary use. I wouldn't recommend three adults to drive further than a local destination in the second row seats.
Features
4.6 out of 5.
Already mentioned, the LS-U+ exists as a trim upgrade over the LS-U model in the D-MAX line-up. If you don't want the visual effects of the X-TERRAIN, added features like leather seats, heated seats, a tub liner, automatic dimming rear view mirror and a tow hitch receiver are valuable assets added to this ute.
This is the ute model created for the Australian market that requested these items to be included in a model that wasn't the X-TERRAIN. This makes the LS-U+ a value-packed and feature-added ute in the D-MAX range.
Here's a full list of what you get with the Isuzu D-MAX LS-U+:
Engine
3.0L Turbocharged 4 cylinder, diesel
140kW, 450Nm
6-speed automatic
Steel timing chain
Split camshaft
Double scissor gears
Infotainment
Android Auto and wireless AppleCarPlay with DAB+ digital radio and voice recognition, standard across entire range
9" Audio Display with sat nav
8 speaker audio system
Dual zone climate control
Rear Differential Lock button, engages only in 4WD-low
Terrain Command button
Push button start
SMART MID (Multi Information Display) standard across the range, providing a variety of vehicle information
Steering wheel controls, with Adaptive Cruise, and audio controls, adaptive cruise is only for automatic transmissions
Leather-accented upholstery with leatherette across interior trims
Premium leather steering wheel and gear knob
8-way power adjustable driver's seat with power lumbar support
Welcome light
Safety
Autonomous Emergency Braking (AEB)
Forward Collision Warning
Post-Collision Braking, brings car to a stop if an impact occurs
Turn Assist with AEB - detects a potential collision during a turn, emergency braking is applied automatically
Misaccerlation Mitigation, slow moving areas like a car park, stereo cameras determine whether accelerator has been applied accidentally. Should a potential collision be detected, brakes are automatically applied. Auto cars only.
Drive Attention Assist, has been designed to identify signs of fatigue or inaccurate driving behaviour
Trailer sway control, apply brakes to individual vehicle wheels to help bring the trailer under control
5 star ANCAP rating in 2020
Lane Driving Features
Lane departure prevention, is activated if the vehicle to depart from the drivers lane, will steer in the correct direction to help prevent lane departure
Lane departure warning
Adaptive Cruise with Stop and Go functionality, auto only
Emergency lane keeping
Lane Keep Assist, detect road markings and assist steering operation by keeping vehicle in the lane
Front and rear parking sensors
Reversing cameras
Rear cross traffic alert
Traffic safety features
Traffic sign recognition
Blind spot monitoring
Intelligent speed limiter, when active, prevents the vehicle from exceeding the signed speed limit
Passive safety features
Eight airbags
ISO fix in crew cab models
Impact absorbing chassis
Safety cabin shell
Performance
Rear Differential Lock
800MM wading depth
2WD High Mode
4WD High Mode
4WD Low Mode
Hill Start Assist and Descent Control
Steel underbody panels, which includes a steel sump and transfer case guard, which allows you to bash against rocks and other debris when offroading
Convenience
Walk Away Door lock
Coming home lights, stay on when you lock your car
Should you buy one?
Deeply impressed with the Isuzu D-MAX X-TERRAIN, I wasn't expecting a lot when it came to the more affordable and slightly less equipped LS-U+.
How wrong I was. Instead, I've found the pick of the range when it comes to looks, pricing and features. This is a capable 'out-of-the-box' ute. It's a great marriage of work and play, and something that I'm sure will sell well for Isuzu.
I appreciated the more subtle, yet muscular, looks of this LS-U+. It doesn't set high expectations with its exterior, but still proceeds to impress both on and off-road as the ute that has it all. Take it to work, and it's built for it. Take it away for the weekend, and it'll keep you rested and safe.
Unless you desperately want the hard tonneau cover, don't get it. It's wildly impractical, and a little embarrassing when a family SUV can carry larger items than a ute.
Aside from that, the LS-U+ gets my tick of approval, and is the ute I'd pick out of all the D-MAXs to choose from. Although Isuzu, can we get a cooler model name please? I feel like I've been typing out a chemical composition throughout this review.
About the author Cameron is our resident car expert. Aside being a source of knowledge about the automotive industry, he has also driven a wide variety of cars. From Porsche 911 GT2 RS's, through to a 1998 Toyota RAV4, Cameron has not only seen it all, but has most likely driven it.
Questions & Answers
Sorry, there are no questions about Isuzu D-MAX 4x4 LS-U+ (2022) but you can read 309 questions about Isuzu D-MAX.
Get an answer from our members
Details
Compare all 13
Isuzu D-MAX
Category
Utes
Starting

Price

$61,900.00
Warranty

Distance

150000 kms
Transmission
Automatic
Drive Type
Four Wheel Drive (4WD)
Fuel Type
Diesel
Manufacturer Warranty
6 year(s)
Release date
Compare all 13
Isuzu D-MAX
Visit official website
ProductReview.com.au has affiliate partnerships. These do not influence our content moderation policies in any way, though ProductReview.com.au may earn commissions for products/services purchased via affiliate links.