4
Subaru BRZ (2012-2023)
Also referred to as: Subaru BRZ 2022 and Subaru BRZ 2024.
Positive

vs

Negative
92% · 121 · 8%
Expert Review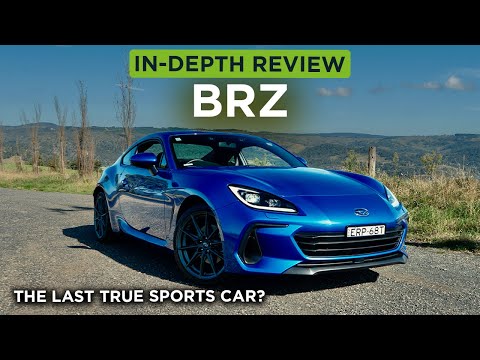 4.3 out of 5 stars
What is it?
It's the next generation of Subaru and Toyota's iconic affordable sports car.
The BRZ was built in conjunction with Toyota as a way to reduce costs for both manufacturers, while offering both brands a standalone sports car that doesn't share a chassis with any of their other cars.
This new BRZ has more power, new styling and other mechanical updates that make it appealing on paper for those looking for an upgrade from their old BRZ.
It's a rare beast too. There's no turbocharger, it's rear-wheel drive, and it's a two-door sports car, all for a reasonable asking price.
I want to explain why you need to compare the BRZ to every other performance car below $50,000, as this is the best driver's car for less than $100,000.
---
Build Quality
4.4 out of 5.
The BRZ was never known for being built like a luxury vehicle. It's an affordable sports car that puts it's R&D budget towards driving dynamics first, followed by everything else in this car.
The second generation BRZ has seen a big step up in quality in the form of additional padding, leather/cloth seats, new screens and even more stitching. The doors feel light, but close with a satisfying 'clunk'.
Overall, you're going to feel like you're stepping into a better built product than the last generation BRZ. However, it won't feel like a step above European hot hatch alternatives.
How Much Does it Cost?
4.5 out of 5.
The new BRZ starts from $40,290 for the entry-level manual transmission model through to this model. This is the BRZ S - it's the automatic, and it tops the range at $45,390 before on-road costs.
Despite recent price increases, the BRZ is a sharply priced product. There's a suite of safety features added to the new car and there are meaningful mechanical upgrades thrown in there too.
I wouldn't recommend buying this specific model, unless you really want the few safety features the automatic transmission brings to the BRZ.
This car is all about simplicity and a sharp focus on driver engagement. I'd simply opt for the entry-level manual model for that reason alone.
Warranty and Servicing
4.3 out of 5.
All Subarus come with a 5 year/unlimited kilometre warranty and a capped price service program.
Surprisingly, Subaru's sports car has better coverage over its capped price service program than the Forester.
You're covered for 5 years or 75,000km (whichever comes first). Here's the full breakdown of each service:
| Interval | Cost |
| --- | --- |
| 1 Year or 15,000 km | $344.62 |
| 2 Years or 30,000 km | $563.62 |
| 3 Years or 45,000 km | $431.16 |
| 4 Years or 60,000 km | $783.33 |
| 5 Years or 75,000 km | $351.52 |
| Total | $2,474.70 |
These are reasonably priced services, and anecdotal evidence suggests that servicing costs beyond this period should remain low. Thanks to that partnership with Toyota, Subaru BRZs are held to a high standard of reliability and are well known for this.
Noise Level
3.7 out of 5.
The speaker system in the new BRZ is a fine way to enjoy phone calls, music or podcasts. It's not going to create a sense of total immersion, but at least these speakers resist rattling or distorting the sound they produce.
Something you need to be acutely aware of is that road noise is very apparent on the highway. There aren't many cars that I make a point to inform potential buyers about excessive road noise. You need to know that the BRZ's tyres roar through the cabin when out on Australia's highways.
If you're looking for a shouty exhaust note, you'll need to go aftermarket. There's an artificial engine sound that can only be disabled at a Subaru dealership. This is all done to compensate for that extremely quiet exhaust sound, despite there being two very real exhaust exits.
Braking
4.7 out of 5.
Braking is a little more important in a car like this. I'm pleased to say that although these brakes look basic, they perform with few flaws.
The set up and initial bite is a smooth transition, allowing for steady control without upsetting the car's chassis, even at high speeds. For day-to-day use, and even track use, the BRZ's brakes are extremely in tune with what this car is trying to achieve.
The stereo cameras behind the rear vision mirror - known as Subaru's 'EyeSight' camera system - also offer a safety net in the form of autonomous emergency braking.
Acceleration/Power
4.5 out of 5.
Power and acceleration have always been a controversial point in Subaru's sports cars. The original 2.0L flat four motor produced a mediocre amount of power, and struggled to put power to the ground with its skinny economical tyres.
The big news with the new BRZ is its new motor. We now have 2.5L on hand, 174kW and 249Nm of power!
It's not just power that's good about this motor, it's the fact that Subaru flattened the torque dip around 4,000rpm to avoid any unnecessary impact to performance. That torque dipped has been flattened and raised so that its trough is higher than the peak torque produced by the previous engine.
For those looking for a turbocharger, this is still a naturally aspirated motor. I much prefer the characteristics of this motor, as it's reminiscent of Porsche sports cars of the past.
Acceleration is quoted at 6.3 seconds for the manual, and 6.8 seconds for the automatic - yet another reason to buy the manual.
Gear Shifting
3.8 out of 5.
The automatic 6-speed transmission isn't the most engaging option you can pick to complement the BRZ.
It's easy to use day to day, and it's a comfortable drive. There's even a set of paddle shifters on the steering wheel to add a little more engagement. Yet, this is still the dull transmission option for this car. It's slow to change gears, semi-responsive on downshifts and doesn't even have a sequential shifting pattern for manual mode.
I'm eager to drive the manual, as I really felt the automatic transmission was a let down for what this car was trying to accomplish. Unless you physically cannot drive a manual, you should only get the BRZ with the 6-speed manual transmission.
Suspension & Handling
4.9 out of 5.
The underlying reason why anyone would buy a BRZ over any sports car below $100,000 would be its chassis' design and construction.
There's been a rework in rigidity - so much so that the new BRZ is 50% more stiff than the previous generation. Add in the fact this has one of the lowest centres of gravity in any front-engined sports car and you have a recipe for handling success.
Sending power solely to the rear wheels allows the front wheels to focus on steering, and encourages the driver to exit corners at a higher rate of speed.
The BRZ is able to translate what's happening with the car and how it's interacting with the road through to your seat and steering wheel. It's a sensation that's so rare to find in cars these days, as more and more cars become disconnected from the actual drive and focus more on comfort.
I was especially fond of the suspension setup in its ability to keep the car flat through hard corners, while also being softly sprung enough to not feel like a weekly trip to the chiropractor was needed.
This is an addictive car to drive, and you'll want to find roads with plenty of turns to exploit what makes the new BRZ so great. When you combine the added power, a naturally aspirated motor, a rigid chassis and rear-wheel drive, you end up with a recipe no other car can match at this price point. That is, unless you want two fewer seats and a soft top convertible.
Fuel Efficiency
4.2 out of 5.
With a claimed consumption of 9.5L per 100km, the BRZ is relatively fuel efficient if you're not heavy on the throttle.
With no turbocharger on hand, fuel consumption might look a little high on occasion. However, we achieved figures around 9-10L per 100km of driving during our week with the BRZ.
What's not so appealing is the fact this motor only accepts 98 octane fuel, so you're going to be buying top shelf fuel. It's a little strange considering higher output engines from other brands can accept lower octane and cheaper fuels.
Interior Design
4.5 out of 5.
The interior design of the new BRZ is sparse, but not without meaningful changes.
A digital driver's instrument cluster in the shape of a boxer engine design starts the experience with a unique starting animation. There's a centre touchscreen that looks like it came straight from 2008, however it sports Subaru's infotainment software, which is wildly useful.
I especially appreciate how you can turn off the screen to focus solely on the drive.
With plenty of visibility out and a traditional circular steering wheel, I can't help but feel this is a no frills interior that's designed to present nicely, but not distract from what the BRZ is all about: driving enjoyment.
Boot Size & Comfort
3.9 out of 5.
Long hours in the BRZ aren't an issue, despite it being so low to the ground.
Seat design up front is excellent for a stock seat. There's plenty of lateral support, and adjustability to get comfortable for a range of conditions.
Add in the fact that you have Apple CarPlay/Android Auto connectivity, heated seats and radar cruise control, and you can see why the BRZ appeals to such a broad range of owners.
Rear seats are not to be used for adults. That's the short end of it. I tried fitting different people in the back seats, only to have them crammed with heads pressed against the roof and knees jammed into the back of the front seats. There are child seat ISOFIX points, making it okay to put smaller people back here.
Fold the rear seats down, and you have one of the best features of the BRZ. The car is designed to house another set of wheels and tyres with the space the boot and folded seats provide. Although, I really wish there was a cover for the spare tyre that's bolted and exposed in the rear boot.
Features
4.4 out of 5.
This is the S model of the BRZ, which simply brings heated leather seats and added safety features if you choose the automatic version.
On paper, there's a bare minimum of creature comforts and features. However, you need to understand that this is a driver's car, and there's no fancy list of quirky features.
For my basic needs, and for many other drivers, this feature list is extensive enough without feeling like you've bought a stripped out sports car.
Here's a full list of features you get with the new BRZ:
Engine
2.4L non-turbo flat-four petrol engine
174kW and 249Nm
6-speed automatic transmission
Rear wheel drive
Infotainment
Centre touch screen
Digital driver's display
Apple CarPlay and Android Auto
Safety
Electronic Stability Control (ESC)
Traction Control System (TCS)
Active Torque Vectoring system
Reversing camera
EyeSight® Assist Monitor
Blind Spot Monitor (BSM)
Lane Change Assist (LCA)
Rear Cross Traffic Alert (RCTA)
Reverse Automatic Braking (RAB)
Performance
Drive modes
Paddle shifters mounted to steering wheel
Full-size spare tire
Convenience
Power mirrors and windows
Smart key and push-start ingnition
Rear heated seat
Sports bucket seats
USB charging ports
Buy it, Consider it, or Leave it?
I'm certain that this is the pure benchmark for driver engagement and enjoyment for under $100,000. There's only one other car doing the same thing, and that's the Mazda MX-5.
If you want a hardtop and the option to have a second row of seats, there's only this and the upcoming Toyota 86.
When this car launched, I was convinced that I needed to buy it. I would have too if it wasn't for this job.
For me, it's the combination of a unique engine, rear-wheel drive, the sweeping design, mechanical improvements and the ultimately purity of the fun this car provides. We don't have many sports cars like this anymore, as naturally aspirated motors are left for uninspiring base model cars or high-end supercars.
Amongst a plethora of turbocharged hot hatches, the BRZ is the driver's choice, as you're able to feel connected to it in all the right ways.
I hope just as many buyers order the new one as they did with the previous generation, as we need to send a message to automotive manufacturers to continue to make affordable sports cars just like this - just make sure you order it as a manual.
About the author Cameron is our resident car expert. Aside being a source of knowledge about the automotive industry, he has also driven a wide variety of cars - from a Porsche 911 GT2 RS, through to a 1998 Toyota RAV4.
Reviews
Best value for buck sports car on planet?
Z1 tS (2017-2023)
My daily driver and weekend fun toy.
My full felt review here:
https://youtu.be/wAteD7YT0Ek
In this YouTube video review I drive the car and explain how I feel while driving it which completely immerses me in the fun factor and engagement offered by this little sports car that has re-enlivened my passion for Subaru that I had when the first WRXs came out. Since then I've had two WRXs ( one was STI) and a Liberty by STI. I have owned a mustang, Volkswagen sirocco golf GTI , Boxster.
Hard to get but get in line!
Show details
Overall
Build Quality
Value for Money
Cleaning & Maintenance
Noise Level
Jim C

 Greater Melbourne (Inner), VIC · 6 posts
Old school sports car sensations in modern package, but not for everyone.
Z1 Sports Pack (2017)
My frank appraisal, 8000km in to ownership.
I've been mildly obsessed with the Toyo-baru twins since their 2012 launch after having read widely on them, seen them collect numerous international awards, and having briefly driven a 2012 86.
I thought it wise to delay my purchase until the car reached the latter part of its life cycle, bringing with it the usual range of updates and changes, and sometimes limited edition models with extra goodies:
As soon as the Performance Pack was released with the 2017MY upgrade, I knew this was the car to
...

Read more
go for. It is my wife's daily driver, and she is fond of it. She considers it as easy to drive as a Fiesta, a doddle to drive around town, she thinks it looks fabulous in crystal pearl without looking pretentious or too bling and its accurate and precise to drive. The bluetooth has been at times problematic, not detecting a pre-paired phone. Irritating.
Overall
Build Quality
Value for Money
Noise Level
Amy c

 Sydney, NSW · 6 posts
Perfect for the younger crowd
BRZ (2012-2023)
Currently I use this car to get to work and cruise it on the weekends. Great for national parks. I drive almost every day. Needs to be serviced every 9 months or when it hits a certain amount of ks (can't remember how much because the 9 months always comes first for me). never any issues with the car, is certainly a beast of a thing. Hard for older members of life to get in and out.
Show details
bigmac

 FAIRFIELD WEST. SYDNEY
It seemed like a good idea at the time but...
BRZ (2012-2023)
When it came time to replace my beloved 2007 Alfa GT I test-drove several new cars including the Alfa Romeo Giulietta, Honda Civic RS, Hyundai Elantra Sport, Holden Insignia and Subaru BRZ. I opted for the BRZ because I didn't need a large car or one with a lot of power and it was the closest match to the Alfa GT in layout.
My BRZ came with the upgraded 152 kW motor and a very welcome 5 year warranty period but apart from that and the excellent driving position, sleek bodywork and beautiful white pearl paintwork the rest of the car was a to
...

Read more
tal disappointment. Problem 1: The 2.0 litre flat four engine is simply awful. It idles "like a diesel", pings unexpectedly whenever the throttle is opened and has been given a deliberately mapped flat spot right in the middle of the power and torque bands! Who designs and then builds a motor with an "engineered built-in" flat spot. Subaru - that's who. Problem 2: The engine, gearbox, tail shaft and differential mountings are completely inadequate for the work they have to do. Whether its accelerating from rest, decelerating to standstill or changing gears up or down, the harmonic motion set-up through the drive train is enough to make the driver and unfortunate passengers nauseous, dizzy and on long trips "seasick". Problem 3: Simply put - the brakes are completely inadequate given the car's power to weight ratio. The upgrade to 4 piston calipers in the tS model would be a huge help but only if the rest of the car was better and you didn't have to pay extra for something that should be standard.
PP07

 Greater Melbourne (Inner), VIC · 19 posts
THANK YOU VERY MUCH FOR A BEAUTIFUL CAR
Z1 (No Badge) (2012-2023)
Bought this car from Furntree Gully Nissan. It was a fantastic service. Sales team was really good and cooperative to get the car on time. They even came to my place to take the car giving a loan car for our private use and bought the car following day. It is a fantastic little car and a very fun car to drive. Fuel economy is very good. Thank you very much.
Show details
Great car at a good price point
BRZ (2012-2023)
Really enjoy this car, has a smooth sporty ride. It is fun but also economical and reliable. The handling is great, although it could do with a little more power. Dashboard is quite boring and basic - I have added my own aftermarket display unit. Great value for money as it is a lot cheaper than a lot of other sports cars
Show details
renault megane

 sydney · 4 posts
Great perforamnce and handling for a cheap price
BRZ (2012-2023)
Look this is a sports car. This isnt something you get if you value practicality. That being said I daily drove this thing for 2 years with no issues. The rear seats are too small to seat adults they are very useful for storage.
Great handling, rear wheel drive, slow acceleration but this thing is made for corners - not the 1/4 mile
Show details
Jenny

 Leederville · 6 posts
Better than a Go Kart !
BRZ (2012-2023)
Bought this little car about 3 months ago now and have never been as happy to drive ! It is so fun and easy to drive even on the tiniest roads.
It's incredibly low consumption as well which is surprising for a sports car. Only issue would be the lack of space at the back if you have passengers !
I fully recommended it if you like fun cars and don't want to spend too much money.
Show details
Great Car albeit a little slow
BRZ (2012-2023)
Great handling, not too fast but quick enough around town
Decent legroom, Not that great entertainment system for the money you pay but alright for me.
Reliable from the day I purchase so I can't comment on that.
Will I buy it again if I had the chance.
Some qualms but I would.
Show details
Perfect car for everyone.
Z1 (No Badge) (2012-2023)
Nothing better than SuBaru BRZ, I have one and my other two friends have one each. All second hand but still great performance. Fully recommend for sport car people. All my friend love this BRZ. For me BRZ compare to 86, BRZ more reliable than 86 and way cooler sport car. My second hand 2014 BRZ very worth for $27k. I'm so happy to drive it.
Show details
Fun to Drive
BRZ (2012-2023)
What a great car to drive on a twisty road. So far have done 10k kms and it has been excellent.
Issues:
Gear box oil needed replacing at first service - selling dealer refused to even look at the gearbox after my complaint about it so another local dealer stepped in thank fully.
Paint: Very easy to scratch even with Opticoat applied.
Negatives:
A Little boring to drive around town and lack of power is noticeable especially in stop start traffic.
Positives:
...

Read more
An extremely fun and engaging car to drive once you get out of the city and onto some back twisty roads, i have taken mine onto gravel roads and its great. Once your up and going the engine in fine power wise as plenty on tap once your moving. Would highly recommend if you enjoy driving.
MARK TILLER

 Melbourne · 3 posts
Fun to drive, great handling, i love twisty roads in this car, the steering feels fantastic, not as fast as a golf r good ride comfort for a sports car, could do with a grippy tyres, like toyo rir, don't bother with the satnav, the auto gearbox is excellent,from a lexus is.
Great car, well developed from Subaru and Toyota and very nice to drive
Z1 (No Badge) (2012-2023)
Bought a new brz in 2012, great car with good luxury equipment. Boxer Subaru 2litre naturally aspirated motor, Lexus 6 speed with Lexus LSD nice styling. Great car to drive, steering and handling very nice, power delivery adequate but more power would be welcome, drove up to Gosford in sixth gear along the f3 and didn't have to change gear! But my other car ce lancer 1.5litre I would be swapping gears like crazy but didn't mind too much ..lol.. The brz was a replacement car for my old reliable 2001 lancer coupe. However lancer has more back sea
...

Read more
t space, simple electronics, bigger boot and very cheap to run. Push button start, transponder key, digital speedo, dual zone digital climate control is a huge upgrade in tech. Leather seats are nice but sat nav was a rip off which I didn't take this option I suppose people get used to faster cars, like the s2000, 370z, evo x, sti wrx, m3 and golf r which comes with a more expensive price tag but speeding in straight lines isn't everything, cornering requires more skill.. Definitely a car for best bang for buck which is; rwd, fun, sports car and won best performance car under $100k in car sales website back in 2012. It even beat the megane 265, evo x, wrk sti and sorroco r Nice styling, rwd, boxer motor with direct injection, digital speedo, free servicing for 3 years, aftermarket support, Premium petrol diet, Pirus tyres that can be changed anyway, expensive gps sat nav $2100, reverse camera $500
Questions & Answers
Get an answer from our members and Subaru Australia representatives
Details
Compare all Subaru BRZ (2012-2023) listings
Category
Sports Cars
Sports Cars
Sports Cars
Sports Cars
Starting

Price

$37,490
$43,580
$39,050
Transmission
Automatic and Manual
Automatic and Manual
Automatic and Manual
Drive Type
Rear Wheel Drive (RWD)
Rear Wheel Drive (RWD)
Rear Wheel Drive (RWD)
Fuel Type
Petrol
Petrol
Petrol
Wheels
17" Alloy
18" Alloy
17" Alloy
ANCAP Safety Rating
5 Stars
5 Stars
5 Stars
Fuel Consumption
8.4 L/100km
8.6 L/100km
8.4 L/100km
Fuel Tank

Capacity

50 L
50 L
50 L
Engine
4 Cylinder 2.0L
4 Cylinder 2.0L
4 Cylinder 2.0L
Max Power
152kW @ 7000rpm
152kW @ 7000rpm
152kW @ 7000rpm
Max Torque
212Nm @ 6400-6800rpm
212Nm @ 6400-6800rpm
212Nm @ 6400-6800rpm
Country of Manufacture
Japan
Japan
Japan
Manufacturer Warranty
3 year(s)
3 year(s)
3 year(s)
Release date
Discontinuation date
Compare all Subaru BRZ (2012-2023) listings
Visit official website
Extra Information
Ford Mustang
Toyota 86 ZN6
Audi TT
Nissan Z-car
Lotus Elise
ProductReview.com.au has affiliate partnerships. These do not influence our content moderation policies in any way, though ProductReview.com.au may earn commissions for products/services purchased via affiliate links.