2 photos
Genesis G70 Petrol 3.3T RWD (2019-2021)
Also referred to as: Genesis G70 Petrol 3.3T RWD 2020 and Genesis G70 Petrol 3.3T RWD 2022.
Brand Manager for Genesis?
Register now
and take advantage of ProductReview's Brand Management Platform!
Expert Review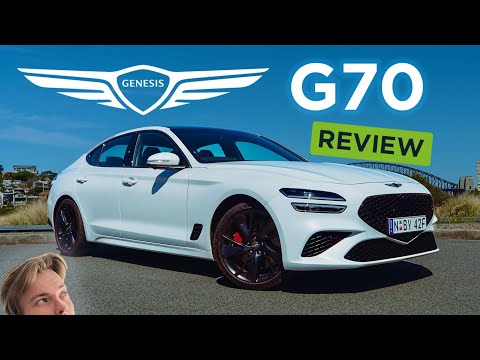 4.3 out of 5 stars
Introduction
I've mentioned that Genesis is Hyundai's latest entry into the luxury brand segment. With every new model it releases, Genesis's aim is to raise the bar when it comes to comfort and luxury.
Genesis used to make sports cars, like the Genesis Coupe, but they weren't exactly quick or luxurious.
That's where the G70 comes in. The top of the range, Sport Luxury trim is the sports car deviation from Genesis' luxury goal.
There's a twin-turbocharged V6 under the bonnet, it's rear wheel drive only, and it has a bi-modal exhaust. This seems very performance car-like to me, unlike the bigger G80 or GV80.
Its main competitor is the BMW 340i XDrive, which is priced at only a few thousand dollars more.
Is the Genesis G70 the ideal blend of sports-car and luxury car, or is it just short of justifying its luxury car price tag? Let's find out.
---
Build Quality
3.8 out of 5.
The G70 is relatively wellbuilt, with high quality leather, solid trim panels and heafty doors (both front and rear).
What wowed me was the quality of the matte white paint, the accuracy of the stitching in the seats and the feel of most major touchpoints in this cabin.
I was blown away by the accuracy in construction for the G80 and GV80, however, the G70 seems to have sacrificed some of that accuracy which helped impress me with the Genesis brand.
There are large panel gaps at the boot opening, visible sound-deadening foam in the door jams, and a few noticeable rattles when driving.
I want to praise Genesis for what I know they can achieve, but sadly it's not a shrunken down G80 in here. Instead, it just misses the mark for a higher build quality score with these detractors.
Value for Money
4.3 out of 5.
Priced from $94,460 drive away, our test model was priced out to $96,560, as it was dressed in the optional matte white paint.
The G70 range starts from $69,490 drive away for a 2.0L turbocharged four-cylinder model. However, for the best experience, you'll want that twin-turbo V6 to make the most of this driving experience.
A BMW 340i XDrive is priced from $99,900 before on roads. That's with an all-wheel drive system, twin-turbo inline six motor, more interior space and more horsepower.
The G70 at it's top-end price doesn't skimp on any features - it's all here. A 3-D drivers display, heads up display, sports exhaust system, Brembo brakes, 360 degree parking camera, heated/cooled seats and a sunroof are all standout features at this price.
In all honesty, I would find it hard to choose the G70 over the BMW. Personally, the styling, versatility of the all-wheel drive system, characteristics of the inline six motor and the larger second row space take the win for me.
I think the standard G70 Sport at $83,960 is a far better option and a better bang for buck than the more expensive Luxury trim. This is because it gets all the performance hardware for $20,000 less than the BMW.
Maintenance
5 out of 5.
Genesis, while offering it's 5-year comprehensive warranty and servicing package, will always score 5 out of 5 here.
The standard 5 year/unlimited kilometre warranty isn't what stands out (it's the minimum for what I'd expect for cars being sold in 2021).
It's the free servicing for 5 visits to the dealer, door-to-door pick up/drop off service and complimentary service loan car. That's applicable to all new Genesis models, and really seals the deal for those who've been burnt by subpar European brand servicing centres in the past.
For the price you pay, it's logical to have this level of service. Here's hoping other brands can catch and offer a similar service with their more expensive models, south of $120,000.
Noise Level
4 out of 5.
The Lexicon by Harman sound system is a crisp and powerful sound stage for all types of media you put through it.
Although not as impressive as the sound stage found in the BMW, it's certainly quite close. A little more clarity in the top end and a little less bass distortion would carry it over the line to win in that comparison.
Whilst driving, I wasn't greeted with the same isolating experience I have encountered in other Genesis products. That being said, I was happy to forgo some sound comfort in the name of performance.
The louder exhaust, rev-happy V6 and tire noise was acceptable when warranted. What wasn't warranted was the intrusion of whining from the limited-slip differential. As if you had a pair of skis on the roof, what sounded like wind noise at higher cruising speeds was in fact the differential whining away.
Additionally, creaks and rattles were plentiful, emanating from the roof itself. These are noises that really would detract from the pleasure of spending a smidge under $100,000.
These are problems I also encountered in the far less expensive Kia Stinger (which shares many mechanical parts with the G70). However, at $60,000, that's a little more excusable than what the G70 Sport Luxury is asking for.
Braking
4.8 out of 5.
Although there are some low points for the price, the G70 has plenty of highlights to overshadow these flaws.
One of these highlights are the Brembo brakes. These large rotors do a fantastic job of complementing the power delivered by the thumping twin-turbo motor up front.
They're not the soft set up brakes as found in the G80, but instead are sensitive brakes that have the same effect as biting into sharp cheddar cheese.
That instant engagement is intoxicating, and reliable too. During my first long, spirited drive out of lockdown, I was able to make the most of the brakes on the G70. Through 200km of convoy driving alongside a friend's BMW 340i XDrive, the brakes never showed a hint of fade. Cooling was on point, thanks to the visible side vents.
These are certainly a set of brakes that would reliably tackle a track day without throwing in the towel to overheating, where other larger luxury cars might.
Acceleration/Power
4.7 out of 5.
Here's the G70 Sport's strongest suit. Packing the formidable Lambda twin-turbo 3.3L petrol V6, this motor puts out 274kW at 6,000rpm and 510Nm at 1,300-4,500rpm.
The G70 boasts a 0-100km/h time of a brisk 4.7 seconds. That's impressive for a purely rear-wheel drive sedan.
Power takes just a smidge to kick into full effect, thanks to a slight lag in response from the turbos. Once spooled, this engine pulls hard. I have no doubt in my mind that this is a bonafide performance car.
Careful if you're in Sport + mode, which disables traction control, as I quickly became familiar with the concept of oversteer under rapid acceleration.
Although it's not quite as quick to 100km/h as the BMW, it's a lot more fun and playful through corners. You can easily modulate power through corners for a controlled exit, and continue to ride the torque until the next bend.
Around town, the G70's motor can calm down and become refined. It's relaxing at low speeds, and is a car I could be comfortable sharing with someone who might not be as performance car inclined as I might be.
Gear Shifting
4.7 out of 5.
A surprise for sure, was how engaging this gearbox was. It's an 8-speed automatic, and it's easy to throw into 'D' and get on with your day.
Shifts are smooth through the rev range, and downshifts are delightfully crisp, without an accompanying lurch.
What took me by surprise was how hard-at-work the engineers at Genesis have been, simply not throwing in the same gearbox software as they have baked into their other cars. Rather, they've made it so that shifting into Sport/Sport + mode awakens this gearbox into an ideal partner for this powerful motor.
Using the appropriately placed paddle shifters on the wheel, shifts hit hard on upshifts. This is an intoxicating experience, especially when the valves are open on that exhaust system.
Down-shifts are made on time when you're not in manual-shifting mode. You never have you aching for that needle to move when you need it to. The car does a great job of sensing the right time of moving down the gears, without compromising the sporty drive.
Suspension & Handling
4.5 out of 5.
Although the Genesis G70's wheels might look large, they're only 19-inch in diameter. That's not excessive by any means, and an ideal size for daily driving.
The G70's suspension is responsive to what's happening on the road. Meaning, if you're looking more of a plush/non sporty ride, you're on the wrong end of the price range, whether it's shopping with BMW or Genesis.
These sporty models offer a firm and purposeful ride, but are far from back-breaking.
Along the highway, and even on sweeping back roads, the G70 is capable of returning a relaxing ride (when you want to leave the driving up to the radar cruise control system).
When you want to dial it up to 11, the G70 feels a whole lot lighter on its feet than the BMW. It's chassis is a stand-out when it comes to performance driving.
The shorter wheel-base allows the G70 to feel more cohesive through corners, providing high accuracy when it comes to being predictable under high speed manoeuvers.
Steering feel is a little numb. However, the feel you get through the chassis of the car while under heavy braking/acceleration is 80% of what you need. It's not the perfect steering experience, but it's most of the way there.
If controlled oversteer on a track day, or traditional performance RWD sedan driving is up your alley, the G70's suspension and handling will fill that desire the instant you head into turn 1.
Fuel Efficiency
4.4 out of 5.
You're probably expecting me to say, '...but the fun stops when you have to empty your wallet at the pump.' However, that's far from the truth.
As I said, this was the first car that I was able to take on a long, spirited drive, outside of my lockdown zone. A coastal trip was in order to really give two performance sedans the shakedown, in the heart of a storm-chaser style downpour.
Heavy acceleration, constant shifting and open exhausts would normally result in a sky-rocketing level of fuel consumption.
At the end of this drive, and at the end of the week of thoroughly enjoying myself being at the wheel of this performance sedan, I only saw figures averaging as high as 13L per 100km.
To put that into perspective, a small, under-powered, FWD, petrol SUV would return just south of this figure around town - let alone being pushed through its paces over a 100km's of driving.
Quoted combined consumption is 10.2L per 100km and a full tank should cost around $116. I could comfortably say that the Genesis's Lambda V6 does an utmost job of keeping fuel consumption south of 15L per 100km for daily driving.
Interior Design
4 out of 5.
I hopped into the G70 Sport hoping for a miniaturised version of the G80's interior. What I was greeted with was a design that felt a little more like an upmarket Kia Stinger.
That's not a bad thing, but it felt a little far from Genesis's iconic interior designs in the G80 and GV80.
There's a smaller 10.25-inch infotainment display, which is a treat to use but not as impressive as the 14-inch display in the larger Genesis models.
A 3D instrument cluster (like a 3D movie but without the need for glasses) is a cool touch, a little gimmicky, but it's a unique touch nonetheless. Essentially working like the old displays on the Nintendo 3DS, it is quite literally a 3D drivers display.
I adored the stitching design along the dashboard, seats and door inserts. Additionally, the brushed aluminum accents felt right at home here.
Similar to BMW, the G70's interior offers functional luxury, rather than luxury with a 'wow' factor. This is perfectly fine here for the asking price.
Boot Size & Comfort
3 out of 5.
If it's practicality you're after, the G70 isn't the best bet to replace your family hauler.
There's limited boot space, as the hard boot parcel shelf and shorter wheelbase only allows for 330L of capacity. You can fold the second row in a 60/40 split for additional room, but it's limited in its height access.
Second row space is limited, too. Legroom, feetroom and kneeroom will be tight, even for someone like myself at 5-foot 11. Additionally, the rear right passenger gets an unpleasant surprise of a complete oversight of the middle seat's seat belt buckle. It's placed squarely in the left lower back of the rear-right passenger. This is a little unacceptable in any car, let alone a near $100,000 car like this one.
The rear-left passenger will have the best experience, with controls for the front-left passenger seat, if they require pushing it forward for more legroom.
Front passengers have an ample amount of space and will be more than comfortable for long trips.
Rather than using the G70 as a substitute for a family car, I see it more as a four-door sports car for those who need to occasionally use the rear seats.
Features
4.8 out of 5.
Despite its high asking price, you won't miss out on any features on the Genesis G70.
I only wish there was a little more boot space and second row room to add to the list as a feature, but despite that, I never missed any features that weren't on this car.
I will have to say that the wireless phone charger isn't as good as I'd hoped. I'm not sure why the design has to change for every single Hyundai product I drive, but they all feature a slightly different way of holding your phone. This G70 had one of the hardest-to-centre wireless phone chargers, making me wish I brought my cable. So, this car might have a wireless charger, but it's the only feature that doesn't live up to the hype.
Here's a full list of features you're getting when you purchase a G70 Sport Luxury:
Engine
2.5L six cylinder turbocharged petrol
279kW @ 5800rpm and 530Nm @ 1300-4500rpm.
8-speed automatic transmission
All wheel drive
Infotainment
14.5-inch infotainment display
Lexicon by Harman audio system
Apple CarPlay/Android Auto
Bluetooth
Two rear seat entertainment touch screens and controls
Safety
Blind-spot cameras
Blind-spot avoidance assist
360-degree parking cameras
Surround view 3D camera system
Rear cross traffic alert and assist
AEB
Lane keep assist
Rear occupant alert
Lane follow assist
Highbeam assist
Performance
Drive Modes
0-100km/h in 5.1 seconds
Flappy-paddle gear selectors on wheel
Convenience
Heated/cooled front seats
Nappa leather
22-inch wheels
Radar cruise control
Heads-up display
Roof rails
Panoramic sun-roof
Second-row climate controls
Second-row window shades
Puddle lamps
Smart park (key activated self driving)
Rear window blind
Side rear window blinds
Should you buy one?
The Genesis G70 Sport scores third place amongst a field of sub-$100,000 six-cylinder performance sedans. It's a brilliant sports sedan, but it just falls short of excellence.
The more practical and cheaper Kia Stinger GT would be my pick if budget is your main concern. It has all the performance features of the G70, with more internal space. Since Genesis hasn't built up as big a reputation as BMW yet, buying a Kia wouldn't be all that different to buying a Genesis (brand reputation-wise).
The BMW, on the other end, has slightly less torque. However, it also has more horsepower, an easier to use all-wheel-drive system (just in case you want to head to the snow) and has more interior space. Not to mention that the badge does resonate a whole lot more than Genesis's one at this time.
That's why the G70 takes a back seat in third place. It's a little steep in its pricing, but not exactly overwhelming in its offering to blow the Stinger GT out of the water.
The BMW 3 Series has a stranglehold on the medium sized sedan market, and continues to still. BMW resisted to raise prices north of $100,000 for the 340i XDrive, making it a potent contender against the G70.
Still, the looks of the G70 might catch your eye, and practicality may not be of utmost importance if you only travel alone or with only two more people at a time. If this is the case, certainly head to your nearest Genesis design-studio to check out a G70 Sport.
About the author Cameron is our resident car expert. Aside being a source of knowledge about the automotive industry, he has also driven a wide variety of cars. From Porsche 911 GT2 RS's, through to a 1998 Toyota RAV4, Cameron has not only seen it all, but has most likely driven it.
Sorry, there are no reviews yet. Be the first to write a review.
Write a review
Questions & Answers
Sorry, there are no questions yet.
Get an answer from our members
Details
Category
Sedans
Warranty

Distance

Unlimited kms
Transmission
Automatic
Drive Type
Rear Wheel Drive (RWD)
Fuel Type
Petrol
Wheels
19" Alloy
ANCAP Safety Rating
5 Stars

Doors

4

Seats

5
Fuel Consumption
10.2 L/100km
Fuel Tank

Capacity

60 L
Engine
3.3L V-Type 6 Cylinder
Engine Code
Lambda-II 3.3 T-GDi
Max Power
274kW @ 6,000rpm
Max Torque
510Nm @ 1,300-4,500rpm
Boot Capacity
330 L
Country of Manufacture
South Korea
Phone Connectivity
Android Auto (Wired), Android Auto (Wireless), Apple CarPlay (Wired), Apple CarPlay (Wireless) and Bluetooth
Wireless Charger
Yes
Security Features
Immobilizer
Roof
Hard-Top
Companion

App

No
Steering Wheel Adjustment
Telescoping (Electric) and Up/Down
Maximum Towing Capacity (braked)
1,200 kg
Maximum Towing Capacity (unbraked)
750 kg
Manufacturer Warranty
5 year(s)
Keyless Features
Keyless Locking/Unlocking
Yes
Ignition
Keyless Start/Stop and Remote Start
Boot
Hands-Free Opening
Headlights
Type
LED
Headlight Features
Auto High-Beam Dip, Auto-Dimming, Automatic On/Off and Delayed Off When Parked
Safety Features
Cameras
360°, Blindspot, Front and Rear
Cruise Control
Adaptive (ACC)
Parking Sensors
Cross-Traffic Alert (Front), Cross-Traffic Alert (Rear), Front, Rear and Side
Hazard Perception
Blind Spot Monitoring (BSM) and Forward Collision Warning
Lane Assistance
Lane Departure Warning (LDW) and Lane Keep Assist (LKA)
Dimensions
Kerb Weight
1,719 kg
Ground Clearance
130 mm
Driver Information
Gauges
Digital Only
Built-In Navigation System
Yes
Heads Up Display
No
Voice Control
Yes
Digital Radio (DAB+)
Yes
Release date
Jan 2019
ProductReview.com.au has affiliate partnerships. These do not influence our content moderation policies in any way, though ProductReview.com.au may earn commissions for products/services purchased via affiliate links.