2 photos
Genesis G70 Shooting Brake (2019-2022)
Also referred to as: Genesis G70 Shooting Brake 2021 and Genesis G70 Shooting Brake 2023.
Brand Manager for Genesis?
Register now
and take advantage of ProductReview's Brand Management Platform!
Expert Review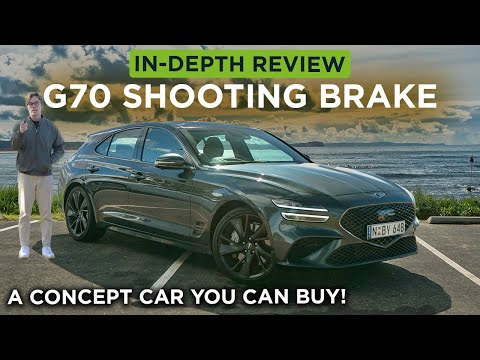 4.3 out of 5 stars
What is it?
The G70 is the entry level model into the luxury brand's line-up. The G70 sedan has proven to be a mild-success here in Australia, as it battles an Australian appetite for SUVs.
For 2022 the European exclusive 'Shooting Brake' body style has launched here in Australia. US buyers have already voiced their jealousy over our social channels.
The G70 Shooting Brake adds boot space and attention from bystanders. There's one slight issue. This only comes with the more mild four cylinder engine, and is not delivered with the spicy twin turbocharged V6.
Is it a recipe for success? Or should you buy a more spacious and well-known wagon from the usual German suspects?
---
Build Quality
4 out of 5.
Genesis build quality is a step above from what you can expect from a regular Hyundai. Leather seats, accenting trim pieces, headlights and the drivers display are all built to an obvious higher standard.
There are some hard plastics and panel gaps that show that the G70 isn't built as well as the rest of the Genesis range. It feels disconnected from the quality standards that the GV70 SUV has to adhere to. It comes down to this interior feeling older than the rest of the Genesis line-up.
I'm sure a facelift down the road will elevate the G70's quality into the next gear that it so deserves to be in.
How Much Does it Cost?
4.1 out of 5.
Landing in Australia at $79,000 before on road costs, this isn't going to be the budget wagon alternative. Mercedes and Audi offer similar power outputs and body styles at this price point.
You're getting a bunch of standard equipment, a sports-oriented drive and of course, the styling. A 15-speaker system and 16-way adjustable heated/cooled seats are some highlight inclusions.
The Genesis G70 Shooting Brake has a unique body-style. Although that comes at a cost when it comes to practicality. Thanks to that swooping roofline, you're losing boot room when compared to a more squared off design (like the Volvo V60).
Warranty and Servicing
5 out of 5.
The G70 Shooting Brake comes with 5 years/50,000km complimentary servicing. That includes a 'concierge' pick-up and drop-off service and a service loan car. Warranty is an industry standard 5 year/unlimited kilometre coverage.
If the pick up/drop off service wasn't impressive enough, you also have a comprehensive First Aid kit and Roadside Assistance kit in the boot. (It was tempting to steal these for myself).
Unlike some German rivals, there is a space-saver spare in the boot, to allow you to limp to the nearest tire store.
Noise Level
4.2 out of 5.
I got to experience the G70's sound isolation over 1000km of driving.
Sound isolation from the outside world is luxurious, achieving what Genesis as a brand is trying to do. There's a distinct lack of wind noise, and hardly a roar or drone from its tires.
I loved experiencing the 15 Lexicon branded speakers placed throughout the cabin. You can switch between presets that include 'Audience, Stage and Reference', altering your listening experience.
Sound is rich and with substance when played through these speakers. Being picky, it lacks high end clarity compared to the likes of the Volvo V60's Bowers/Wilkins system.
That four cylinder motor isn't going to improve the G70's drive with any sporty exhaust notes. Rather, there's a sound generator that can be controlled via the infotainment to generate a range of artificial engine sounds.
Braking
4.6 out of 5.
Compared to its competitors, the G70 will outshine them here.
These beefy Brembo brakes offer plenty of bite even when being pushed through fast-paced back roads. I found the tuning to suit a luxury driving experience, meaning these lacked a hefty initial engagement.
You have a pillow-like dead zone that allows for smooth deceleration. As you dip deeper into the pedal, those Brembos will do what Brembos do best, and anchor down hard.
When pushed through high speed corners, there was no obvious brake fade either.
Acceleration/Power
4 out of 5.
The easiest way to criticise the new G70 Shooting Brake is that the Lambda-II twin-turbocharged V6 isn't available here.
Instead, you're only able to opt the 2.0L turbocharged petrol four cylinder with the Shooting Brake.
It produces 179kW and 353Nm with power sent to the rear wheels.
A claimed acceleration time in the mid-7 second range didn't feel all too slow in person. A dramatic start can be had with traction control turned off, as the rear wheels slip for grip thanks to a wave of torque. It's not as dramatic or intoxicating to drive as the V6 was in the sedan, but it's still good for a bit of driving fun.
Mid-range acceleration is achieved for overtakes on high-speed sections of highway. Thanks to that large Garett turbo, this lack-lustre four cylinder has a little more play to it than the brochure suggests.
Gear Shifting
4.7 out of 5.
What came as a real surprise was the gearbox found in the G70. It's a ZF sourced 8-speed transmission that has a Jekyll and Hyde type personality.
Around town, there are rapid shifts to avoid high revs. It's an easy car to drive at low speeds and in traffic, making it a comfortable daily driver.
Move into Sport or Sport-Plus mode, and the gearbox evolves how this car drives.
Shifting either in 'Drive' or using manual mode via the paddle shifters, you'll feel every shift under heavy acceleration. Slamming the gears, this gearbox brings this G70 alive if driver engagement is your thing.
Suspension & Handling
4.4 out of 5.
A lower centre of gravity, combined with a rear wheel drive set-up is a driver's dream. The G70 Shooting Brake benefits by not being an SUV, rather, exploiting what makes wagons like this so great.
Steering feel, combined with a stiff yet supple ride makes cornering a lot of fun. The seating position offers an optimal view with both front wheel arches in sight. As this has power sent to the rear wheels, you can have a bit more fun with some slight power-oversteer too.
Once you're done corner-carving, the around town ride is smooth, buttery and what you'd expect from a Genesis. It isn't as plush as the GV70, G80 or GV80, but it avoids becoming upset over rough Sydney streets.
Fuel Efficiency
4.4 out of 5.
Claimed combined fuel consumption is 9.1L/100km. We saw figures as high as 13L//100km, and as low as 10L/100km after some extended highway driving.
It's a shame this smaller engine still requires 95 octane. Meaning you're more than likely going to be filling up on 98 instead of cheaper 91 seeing as (at least in my local area) most petrol stations rarely have 95 available.
Interior Design
3.9 out of 5.
This is the least inspiring Genesis interior when it comes to comparing it to other Genesis cars. There are good things like quilted stitching, suede headliners, a 3-D drivers display, metal-trim pieces and a bright centre touch screen.
But, the G70's interior is starting to show its age, and looks more like a fancier version of a Hyundai Sonatas interior and less like a bespoke luxury car.
Take a look at the GV70s interior and then look at this. There's no cohesion in design to the exterior like you'd find on the G70s SUV sibling.
It doesn't mean it isn't luxurious. What it does mean is that if you're looking for a 'wow' factor to concept car design, it isn't going to be inside the G70 Shooting Brake.
Boot Size & Comfort
3.7 out of 5.
There's over 100L more boot space when you order the G70 in wagon form, resulting in a total of 465L of cargo space.
The automatic tailgate is a major plus, besides this being a hatch instead of a sedan trunk opening. Allowing for taller items to fit inside this boot.
I especially love the 40:20:40 split rear seats, meaning you can maximise the amount of boot space you have, and ensure up to 4 occupants are still somewhat comfortable.
When it comes to comfort, the front passengers will enjoy every element of comfort the G70 has to offer. It's the rear occupants that won't be able to enjoy the G70 in the same way, thanks to limited knee and feet room. Adult middle seat passengers aren't recommended, as there is zero room for their feet.
The shooting brake provides more headroom than the sedan, but anyone over 6-feet might feel a little cramped back there.
Features
4.8 out of 5.
There isn't a feature missing here. You have everything from blind spot monitoring cameras to heated back seats.
It's hard to fault, although what you can't get is an AWD system, something that some snow-bound wagon buyers might need.
Seeing how many features the G70 Shooting Brake comes with will ruin your expectations with other European brands. Here's the full list:
Engine
2.0L four cylinder turbocharged petrol
179kW and 353Nm
8-speed automatic transmission
Rear wheel drive
Infotainment
10.25-inch infotainment display
15 Speaker Lexicon by Harman audio system
Apple CarPlay/Android Auto
Bluetooth
Safety
Blind-spot cameras
Blind-spot avoidance assist
360-degree parking cameras
Rear cross traffic alert and assist
AEB
Lane keep assist
Rear occupant alert
Lane follow assist
Highbeam assist
Performance
Drive Modes
0-100km/h in 7.6 seconds
Flappy-paddle gear selectors on wheel
Convenience
Heated/cooled front seats
Heated rear seats
Nappa leather
19-inch wheels
Radar cruise control
Heads-up display
Roof rails
Sun-roof
Puddle lamps
Buy it, Consider it, or Leave it?
I can't recommend the G70 Shooting Brake as a one size fits all wagon solution. A limited back seat and boot and mediocre power outputs means that this is up against stiff competitors that will offer more of both on paper.
I would say the G70 would suit buyers who were in the market for a small SUV or hatchback, and desire the looks of an attractive wagon. For individuals, couples or a small family, it's an ideal choice and will have enough space for these buyers.
Also, you have driving dynamics that won't have you wishing you bought a more sporty car. Mix in the luxury appointments, and you have yourself a more affordable version of what Mercedes and Audi offer in their more driver-oriented wagons.
You have to order it in this dark green metallic, as it's what this car needs to showcase this design. It's a unique vehicle, and it's not going to sell volumes. It's something that you'll buy with your heart, and you'll reward yourself with a sea of features and a driving experience to match these break-neck looks.
About the author Cameron is our resident car expert. Aside being a source of knowledge about the automotive industry, he has also driven a wide variety of cars - from a Porsche 911 GT2 RS, through to a 1998 Toyota RAV4.
Questions & Answers
Sorry, there are no questions yet.
Get an answer from our members
Details
Compare all 3
Genesis G70
Category
Wagons and Sedans
Warranty

Distance

Unlimited kms
Transmission
Automatic
Drive Type
Rear Wheel Drive (RWD)
Fuel Type
Petrol
Wheels
19" Alloy
ANCAP Safety Rating
5 Stars

Doors

4

Seats

5
Fuel Consumption
9 L/100km
Fuel Tank

Capacity

60 L
Engine
2.0L In-Line 4 Cylinder
Engine Code
Theta-II 2.0T-GDi
Max Power
179kW @ 6,200rpm
Max Torque
353Nm @ 1,400-3,500rpm
Boot Capacity
465 L
Country of Manufacture
South Korea
Phone Connectivity
Android Auto (Wired), Android Auto (Wireless), Apple CarPlay (Wired), Apple CarPlay (Wireless) and Bluetooth
Wireless Charger
Yes
Security Features
Immobilizer
Roof
Sunroof
Companion

App

No
Steering Wheel Adjustment
Telescoping (Electric) and Up/Down
Maximum Towing Capacity (braked)
1,200 kg
Maximum Towing Capacity (unbraked)
750 kg
Manufacturer Warranty
5 year(s)
Keyless Features
Keyless Locking/Unlocking
Yes
Ignition
Keyless Start/Stop and Remote Start
Boot
Hands-Free Opening
Headlights
Type
LED
Headlight Features
Auto High-Beam Dip, Auto-Dimming, Automatic On/Off and Delayed Off When Parked
Safety Features
Cameras
360°, Blindspot, Front and Rear
Cruise Control
Adaptive (ACC)
Parking Sensors
Cross-Traffic Alert (Front), Cross-Traffic Alert (Rear), Front, Rear and Side
Hazard Perception
Blind Spot Monitoring (BSM) and Forward Collision Warning
Lane Assistance
Lane Departure Warning (LDW) and Lane Keep Assist (LKA)
Dimensions
Ground Clearance
130 mm
Driver Information
Gauges
Digital Only
Built-In Navigation System
Yes
Heads Up Display
No
Voice Control
Yes
Digital Radio (DAB+)
Yes
Release date
Compare all 3
Genesis G70
Visit official website
ProductReview.com.au has affiliate partnerships. These do not influence our content moderation policies in any way, though ProductReview.com.au may earn commissions for products/services purchased via affiliate links.