2 photos
Genesis G80 Petrol 3.5T AWD (2017-2021)
Also referred to as: Genesis G80 Petrol 3.5T AWD 2020 and Genesis G80 Petrol 3.5T AWD 2022.
Brand Manager for Genesis?
Register now
and take advantage of ProductReview's Brand Management Platform!
Expert Review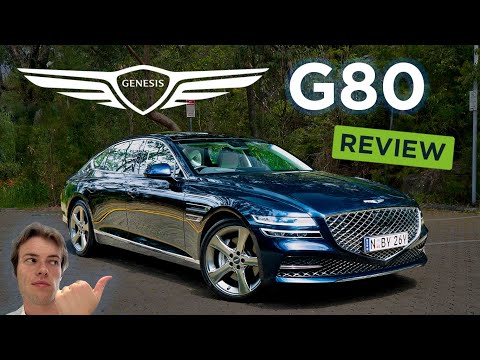 4.5 out of 5 stars
Introduction
You've most likely seen a few original G80's driving around on the road, usually fitted with hire car plates.
It was because that first generation of G80 was a great value-for-money proposition for hire-car drivers to impress clients. However, value wasn't strong enough to sell well amongst private Aussie buyers.
The G80 also arrived in the wake of the death of Holden and Ford producing large sedans, meaning a large luxury sedan wasn't exactly what the Australian market was looking for.
Things have changed for 2021 in big ways for the G80. Genesis has provided bespoke styling, quality upgrades and performance car levels of power to offer an antidote to the SUV craze.
Rather than making incremental improvements to slowly improve the G80 to its full potential, Genesis has leapfrogged and offered the strongest underdog to the likes of the BMW 7 Series and Mercedes S Class.
Does this generation G80 have what it takes to not just win over hire-car drivers, but also Aussie families? It just might.
---
Build Quality
4.8 out of 5.
While the original G80 was respectable in its build quality, the new G80 is next level.
The attention to detail is impeccable, and it's the sole reason why Genesis has established 'Design Studios' in Australia's largest CBDs. Genesis wants customers to be converted by interacting with their product, as the brand doesn't have a strong enough recall with buyers just yet.
That notion is slowly evolving, and hopefully soon enough for Genesis to survive the Australian market.
They're doing all the right things, like using plush nappa leather, forming a thoughtfully constructed exterior and plenty of soft-touch materials and even soft-close operating doors.
The G80 oozes luxury, and has the strongest chance yet of convincing buyers to own a neck-turning sedan like this. Although, for those who have owned an S-Class or another German sedan, the G80 is a little light on incorporating bleeding edge technology or an excessive use of materials like brushed aluminum.
I'm a little disappointed about the use of plastic paddle shifters, especially in a car of this calibre. To save money, I'd just remove them all together if I was Genesis.
Value for Money
4.7 out of 5.
This is the most expensive G80 you can buy, with a 3.5L twin-turbo petrol V6 motor and fitted with the optional $10,000 'Luxury' trim, bringing the total price to $122,703 drive away.
In this trim, we have luxury appointments such as soft close doors, rear reclining seats and rear seat entertainment screens. Additionally, rear passengers receive their own controls for the front passenger seat, and to use on the entertainment screens.
There's a rear automatic blind, sunroof, passenger blinds, machine learning radar cruise control, automatic adjusting suspension and AWD.
The driving experience alone goes above and beyond what I'd expect for over $120,000, more so in line with something that costs double this.
For a similar spec alternative, BMW, Mercedes or even Lexus would love for you to spend over $250,000 just to see screens in the rear seats.
It's not just the interior, the exterior design is an example of design mastery. I was blown away by the dimensions, presence and execution of this design. Whereas the previous G80 felt slightly stunted, even on its long wheelbase, this generation G80 has used its length to its advantage to provide a Bentley-esque refinement to the eye.
Maintenance
5 out of 5.
Instead of just offering the standard 5 year/Unlimited kilometre warranty I'd expect in 2021, new buyers with Genesis are provided capped price servicing, and a door-to-door pick up service.
To reiterate that this brand is serious about being a luxury brand, the after-care matches what you'd expect from an upmarket brand, and quite frankly goes beyond that expectation.
Genesis will send someone to pick up your car from your home or work, swap it out for a loaner vehicle, and then drop your car back to you.
If that's not service, I don't know what is.
Noise Level
5 out of 5.
Active noise cancellation, thicker sound deadening and a twin-turbo petrol motor - there's a lot to love about the sound experience in the G80.
Starting off with the upgraded Lexicon sound system (a subsidiary of Harman/Kardon), it's been engineered to provide the most quiet possible ride. Thanks to the G80 being a sedan, it avoids the boot creating more road sound, there's less ambient sound here than it is in the GV80 SUV.
When not solely being used for noise cancellation, the depth and clarity provided via these speakers are adequate for $120,000.
The active sound profile (aka fake engine sound) can be adjusted for this twin-turbo V6. If you prefer less engine noise, you can dial it down, and vice versa.
Similar to my experience in an EV, I desperately looked forward to spending time and relaxing in the seemingly silent cabin of the G80.
Braking
4.6 out of 5.
What I adore about Genesis is the way the pedal controls have been honed in to generate the smoothest possible ride.
The G80's enormous brakes are able to pull up two tonnes of metal with precision and accuracy. It's easy to waft around in the G80 while in Comfort mode and avoid disturbing the cabin when you need to bring this sedan to a stop
Acceleration/Power
4 out of 5.
Unlike the diesel, there's no holding back on the power delivered from this V6.
The 3.5L twin-turbo petrol V6 produces 279kW @ 5800rpm and 530Nm @ 1300-4500rpm.
Power is excellent, but what really matters is that torque figure. It provides effortless movement when squeezing the throttle, and is easily transferred to the ground via the AWD system.
Don't let that massive proportion and luxury orientation fool you, the G80 is quicker than most cars from 0-100km/h, covering that speed in less than 5.1 seconds.
That'll be enough to shift all of your passengers back in their seats and have them complain that their champagne is spilling from their flutes.
Gear Shifting
4.2 out of 5.
The 8-speed automatic transmission is faultless. Shifting through gears is as seamless and smooth as the rest of the inputs this car provides.
Shifts are buttery through all modes, except Sport. Sport will sharpen up the shifts and have them hold for longer to squeeze more power from this larger twin turbo motor.
Shifting via the paddle mounted shifters is an average experience - it really isn't the goal of this car to shift for yourself. The entire purpose is for this car to take care of everything while you drive. That's why I'm not convinced of needing these plastic paddle shifters, even if it makes the G80 just that little bit more engaging to drive.
Suspension & Handling
5 out of 5.
If you ever wanted to know what it's like to float over the road without having to purchase a Rolls Royce, the G80 is the best opportunity without having to imagine.
Even if it's wearing 21-inch alloy wheels, the suspension tuning in the G80 is one of the most impressive parts of the development of this car.
The G80 easily trumps the daily commute. It doesn't feel at all like it's touching the road at times, but rather just cruising along the tarmac.
When turning corners, you'd be under the impression that the G80 might have to sacrifice its ability to turn in at speed. The reality is, that in comfort mode, the Genesis will lean but then feel as if it's pushing back against the G-forces - avoiding feeling like a land barge.
If you want to test the performance of the G80, Sport mode goes a long way to further the ability of this sedan. Cornering is sharper and power is more instant, sacrificing a little bit of that comfort-oriented ride. What else is cool is that the bolstering of the seat will squeeze you tighter automatically, and relax when you change out of sport mode, all to keep you in place.
I found at sharp corners, even up to speeds of 80km/h, the G80 persevered to not just be a luxury sedan competitor, but also proved to be a luxury performance sedan when you needed it to be.
Fuel Efficiency
2.5 out of 5.
Sadly, the fun comes to an end when you have to pay for a full tank at the petrol station.
The combined fuel consumption figure of this large petrol motor is quoted as 10.7L/100km. Realistically, especially in the city, expect figures to cross 20L/100km. You can't expect a car this large and producing this much power to also return a low fuel consumption score.
Expect to pay around $108 for a full tank of petrol, which is still a lot better than driving around with a V8 under the bonnet.
What I'm really looking forward to is the electrification of cars like this, with the G80 being up there as one of the most suitable cars to go electric in the near future.
Interior Design
4.1 out of 5.
The interior of the G80 is certainly impressive, but it's not trying to blow you away with bleeding edge technology like the new S Class.
It's an exercise in classical interior design with a splash of technology to make it impressive to use in 2021.
The integration of the centre 14-inch touchscreen infotainment could have been a little more nuanced, considering it sits up and high on the expansive dashboard. That's really it when it comes to any real meaningful upgrades I could suggest for this interior.
The biggest tech feature is the 3D drivers instrument display. It utilises a technology that allows you to view a 3-D display - yes, like at the movies - without the need for 3-D glasses. It's awesome, even if it's a little gimmicky.
The front seats do feel suited moreso to a driver, while the rear seats receive a little extra luxury treatment. There's more legroom, individual rear screens and a seat divider filled with controls for those riding in the back.
The Eucalyptus wood trim and nappa leather is plentiful and great to look at and touch, adding to the luxurious atmosphere of this cabin.
Boot Size & Comfort
4.5 out of 5.
The Genesis G80 is set to be outsold by the larger GV80 SUV, 6 to 1, not just because it's a sedan, but also because it's fitted with a far smaller boot.
There's only 424L available in the decently sized trunk, and that's mainly due to the hard shelf that provides sound isolation between the cabin and the trunk space.
You can access additional space through the middle seat pass-through for longer items, like that nice set of skis for your next snow trip.
It's comfortable with a capital C in the G80. It'll be extremely hard to compete for a more comfortable car at this price point, unless you're ready to deal with the maintenance requirements of a used Mercedes S Class, BMW 7 Series or Audi A8.
I was able to recline the rear seats, interact with the rear screens (which actually can control the entire infotainment of the car) and throw on some heated seats for those long drives. It's such a shame I have to drive these cars sometimes, instead of being driven around in them.
I know the days of having a driver pull you around in a luxury car aren't as prevalent as they once were, but if you want to feel important and looked after, you should be driven around in a Genesis G80.
Features
5 out of 5.
Even if $120,000 is a lot of money, it buys you every possible option you might need for your daily driving needs.
You'll need to spend a lot more on a German brand like Mercedes to get the excessively luxurious features, like night vision or air scents.
What you have here are the best of the usable luxury features, like soft close doors, predictive suspension and remote parking via the key fob.
Here's full list of features:
Engine
2.5L six cylinder turbocharged petrol
279kW @ 5800rpm and 530Nm @ 1300-4500rpm.
8-speed automatic transmission
All wheel drive
Infotainment
14.5-inch infotainment display
Lexicon by Harman audio system
Apple CarPlay/Android Auto
Bluetooth
Two rear seat entertainment touch screens and controls
Safety
Blind-spot cameras
Blind-spot avoidance assist
360-degree parking cameras
Surround view 3D camera system
Rear cross traffic alert and assist
AEB
Lane keep assist
Rear occupant alert
Lane follow assist
Highbeam assist
Performance
Drive Modes
0-100km/h in 5.1 seconds
Flappy-paddle gear selectors on wheel
Convenience
Heated/cooled front seats
Nappa leather
22-inch wheels
Radar cruise control
Heads-up display
Roof rails
Panoramic sun-roof
Second-row climate controls
Second-row window shades
Puddle lamps
Smart park (key activated self driving)
Rear window blind
Side rear window blinds
Should you buy one?
The issue with cars that are a lot cheaper than their competitors is that they begin to fall outside the range of consideration of those who can afford more expensive alternatives.
This means that the G80 can be compared to a more expensive BMW 5 Series, Mercedes E Class or Audi A7 - even if it's more suitable to compare it on paper with the larger versions of each of these cars.
That's why I think you should give Genesis a shot and buy the G80 if you're in the market for a luxury car, and want a change from the SUV craze. At worst, you don't enjoy it as much as the Germans, but at least you'll never have to leave your own suburb to have it serviced during the first 5 year ownership period.
I doubt that you wouldn't enjoy this car; I actually think it's nearly impossible to not enjoy it. Those German alternatives will still exist after your ownership experience, but I'm not entirely sure if Genesis will be if their sales don't pick up soon.
I say if you want an Mercedes S class experience on a Mercedes E Class budget, the Genesis G80 is there to fulfil that need.
About the author Cameron is our resident car expert. Aside being a source of knowledge about the automotive industry, he has also driven a wide variety of cars. From Porsche 911 GT2 RS's, through to a 1998 Toyota RAV4, Cameron has not only seen it all, but has most likely driven it.
Sorry, there are no reviews yet. Be the first to write a review.
Write a review
Questions & Answers
Sorry, there are no questions yet.
Get an answer from our members
Details
Category
Sedans
Starting

Price

$108,990
Warranty

Distance

Unlimited kms
Transmission
Automatic
Drive Type
All Wheel Drive (AWD)
Fuel Type
Petrol
Wheels
20" Alloy

Doors

4

Seats

5
Fuel Consumption
10.7 L/100km
Fuel Tank

Capacity

73 L
Engine
3.5L V-Type 6 Cylinder
Engine Code
G6D III G3.5 FR T-GDi
Max Power
279 kW @ 5,800 rpm
Max Torque
530 Nm @ 1,300-4,500 rpm
Boot Capacity
424 L
Country of Manufacture
South Korea
Manufacturer Warranty
5 year(s)
Release date
Jan 2017
Visit official website
ProductReview.com.au has affiliate partnerships. These do not influence our content moderation policies in any way, though ProductReview.com.au may earn commissions for products/services purchased via affiliate links.