5 photos
Hyundai Santa Fe TM AWD Diesel (2018-2021)
Also referred to as: Hyundai Santa Fe TM AWD Diesel 2020 and Hyundai Santa Fe TM AWD Diesel 2022.
Active

,

Elite

,

Highlander

,

(No Badge)
Listing monitored by Hyundai
Expert Review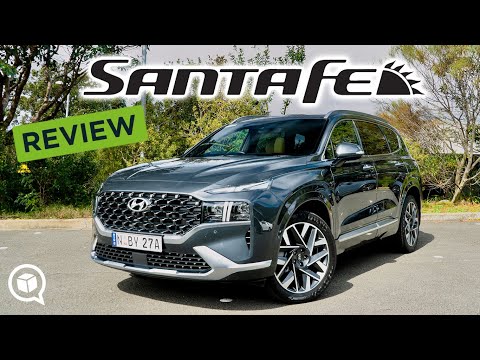 4.3 out of 5 stars
Introduction
It's official, the Hyundai Santa Fe has won my head and my heart as the best value family car under $70,000.
Hyundai has been killing it with its recent product launches, and it hasn't stopped with the iconic Santa Fe.
I think of Santa Fe as a little bit of an ugly duckling story. Early Santa Fes were certainly not that desirable, but made a great cheap SUV option in the mid to late 2000s. In the 2010s the Santa Fe received a major update which really set its desirability into the next gear.
Finally, in this most recent iteration of the Santa Fe, we have a roomy, luxurious and capable family hauler - it also looks great!
This top trim Highlander shows off all the goodies available with this car, and with this many features, it's extremely hard to justify spending money on anything else.
Here's why I was extremely impressed with Hyundai's mid-size SUV.
---
Build Quality
4.5 out of 5.
Exterior build quality is well executed in the Santa Fe, with relatively accurate panel fitment and high-grade alloy wheels being stand outs here.
Those coming from a European SUV will notice that the doors on the Santa Fe feel slightly lighter than what they might be used to, however this is far from being a deal breaker.
On the inside, the upgraded interior of the Highlander is a highlight. Nappa leather, quilted stitching, soft touch buttons and crisp digital displays all stand out on this family car.
It's a well built SUV, and certainly feels up to the task as a reliable family car.
Value for Money
4.3 out of 5.
The Santa Fe range starts from $49,046, and can cost as much as this model you see here at $70,574 drive away.
Honestly, for the price you pay, I'd say go as high up the range as you can afford, as you'll be rewarded with features along the way.
The feature-packed Highlander is my favourite of the range, as at this price point, you're still undercutting more expensive 7-seaters - unless your alternative is a Kia Sorento (the sister car to the Santa Fe).
Additionally, with Hyundai's respectable history of reliability, your choice of diesel or petrol engines, all-wheel drive, terrain modes, digital driver's display and one of the best radar cruise control systems in any car - the Santa Fe feels like it does it all for a reasonable price.
Maintenance
4.3 out of 5.
Hyundai offers their standard 5 year/unlimited kilometre warranty with the Santa Fe, which is standard practice in 2021.
Servicing can either be paid at intervals as a capped price service program, or you can prepay your service program up to as high as 5 years or 75,000km of driving for $2,295.
It's a decent price, however a little on the pricey side for those who travel more than 15,000km a year, especially since this will most likely be the main family car.
Noise Level
4.2 out of 5.
Inside the Santa Fe, you can expect a relatively quiet ride; it's peaceful and isolated from the outside world.
The only real intrusion is the 2.2L diesel motor whirring away on the other side of the firewall. Aside from that, wind and road noise are drowned out by the sound deadening in this cabin.
The upgraded Harman/Kardon audio system is the real winner here, with plenty of power, clarity and depth emanating from these speakers. It's obviously not close to reference quality by any means, but it certainly improves the driving experience for those who love listening along to a podcast or their favourite playlist.
Braking
3.7 out of 5.
I'm a fan of how Hyundai has tuned the brakes on the Santa Fe; it certainly complements all the premium looking visual updates of this car.
The brake pedal is accurate with plenty of opportunity to bring this family SUV to a smooth stop, without feeling like you're shifting a whole lot of weight forward.
Autonomous emergency braking is standard here, and what really stands out is just how smooth the radar cruise control is at operating in traffic. With active lane centering and being able to operate at speeds all the way down to 0km/h, the radar cruise system is a great help when all you want to do is relax in a giant traffic jam.
This cruise control takes the guesswork out of keeping enough distance in front of you, and gently reminds you when the car in front has taken off just in case you were looking elsewhere for a split second.
Acceleration/Power
3.5 out of 5.
This isn't the Santa Fe's strong suit, but that doesn't mean it's underpowered.
The familiar 2.2L turbo diesel four cylinder motor puts out a respectable 148kW and 440Nm of torque. It's not a performance motor in any sense, however with 440Nms to play with, it certainly does feel effortless to get up to the speed limit.
Additionally, the all-wheel drive system lives up to the challenge and offers plenty of grip. Sadly, due to a local lockdown, I couldn't push this AWD system to its limits off-road. I did spend time with the Kia Sorento off-road, and a similar AWD system did a great job of maintaining grip.
On the road, the AWD system provides all the grip you need. You don't want to opt for the petrol motor if you want AWD, as that only comes in front wheel drive.
Drive modes help change the power profile of the Santa Fe, with Sport being available if you really want to get the most out of this engine.
Gear Shifting
4.2 out of 5.
What I really enjoyed was just how seamless the 8-speed DCT gearbox was at transferring power through to the tarmac.
Operated by a series of buttons, like you'd find in the Palisade and Sonata, this gearbox offered a smooth and effortless experience that will certainly help busy parents relax when driving this SUV.
It rarely had a moment of weakness, instead it was just so smooth in its operation between gears. Additionally, you can change gears via the paddle shifters, but following a trend in non-sporty SUVs, I don't see any need to use these shifters. The gearbox isn't as responsive as a sports car using these paddles, and it goes against the whole comfort-concept.
Suspension & Handling
4.3 out of 5.
Despite being fitted with upgraded wheels, the suspension offered a relaxed ride.
What I loved about the Santa Fe is that it's not trying to be a sporty SUV (bar the paddle shifters). Priority is given to this car being comfortable, rather than compromised.
Driving around town and out on the highway, it's easy to relax and have the car iron out a lot of imperfections on the road ahead.
The main issue that arises with a ride this comfortable is that through corners, the weight does shift a little more than I'd like. Regardless, it's still capable of approaching sweeping turns, but it is a little more obvious that you have a softer setup for this suspension than some European rivals.
Fuel Efficiency
4 out of 5.
Claimed combined fuel consumption figures for the diesel are quoted at 6.1L/100km, with more realistic figures approaching 10L/100km in the city.
Being a diesel, you can expect a longer range than the petrol alternative, and hopefully cheaper fills from empty. Expect to pay nearly $100 per full tank of diesel in relation to running costs for the Santa Fe. A normal amount you should expect to pay for a 7-seat SUV like this.
Interior Design
4.6 out of 5.
Next to the Hyundai Palisade, this is my favourite Hyundai interior. That's simply because it's logically laid out but is designed in such a way that only the centre console beras all the visual clutter.
That means you have a Porsche-like centre console that meets the dashboard, there's a large instrument binnacle for the digital driver's display, but there's an appreciable absence of visual clutter away from these areas.
I love the plethora of physical buttons, as you will miss these if they ever get replaced with capacitive ones. As most of the time, physical buttons are easier to navigate without looking down and away from the road.
There's a significant absence of the fingerprint magnet known as gloss black plastic - in place is a matte silver plastic that looks excellent here. It does a great job at complimenting the dual tone interior and ambient lighting splashed throughout the cabin.
Little design cues in the form of stitching on the seats and a 3-D diamond pattern on the speakers are appreciated forms of attention to detail.
To finish it all off, I love the panoramic sunroof, which bleeds plenty of light into the cabin. It helps open up this space to the outside world.
Honestly, there isn't much I'd change. From the vertically-placed wireless charging pad through to the suede roof liner, I truly believe Hyundai have outdone themselves with this SUV's interior.
Boot Size & Comfort
5 out of 5.
There's 782L of boot space available with the third row folded. It's a massive space, as it's a boxy and flat load area that makes loading large items of cargo a lot easier.
If you must have the third row up and store a little bit more luggage, there's an underfloor storage area for smaller pieces to fit and provide additional space.
The third row comfort is pretty limited for adults. It's certainly usable, but not for adults to use on long trips. Instead, children will be most comfortable back here, especially with USB charging ports and controls for climate.
Second row comfort is sublime. I love how Hyundai includes the ability for the rear left passenger to move the front left passenger seat, with controls located on the seat to do so.
You have a fantastic amount of adjustability for the second row, making it possibly the strongest selling point for the Santa Fe against its competitors if you're shopping for a family that usually only uses the front two seating rows.
Features
5 out of 5.
Where to start! I'm interested in flagging three of my favourite features, which are the already-mentioned radar cruise system and second row comfort in the form of space, rear heated seats and rear sun blinds. The best show stopper feature goes to 'smart park.' It's a set of buttons on the key to remote start and remote control the Santa Fe to move forwards or backwards, just in case you need to do so from outside the car. Brilliant!
Apart from those features, here's a full list of equipment you get with the top of the range Hyundai Santa Fe:
Engine
2.2L turbo diesel four cylinder motor
148kW and 440Nm of torque
8-speed DCT automatic
All-wheel drive
Infotainment
10.35-inch touchscreen display
12.3-inch full LCD driver's display
Harman/Kardon 10-speaker audio system
Apple CarPlay/Android Auto and Bluetooth
Safety
Blind-spot cameras
Blind-spot avoidance assist
360-degree parking cameras
Rear cross traffic alert and assist
AEB
Lane keep assist
Rear occupant alert
Lane follow assist
Highbeam assist
Performance
Drive Modes
Terrain Modes
Flappy-paddle gear selectors on wheel
Convenience
Heated/cooled front seats
Nappa leather
Heated second row seats
Two seats in third row
Automatic folding second row controls
Radar cruise control
Heads-up display
Roof rails
Panoramic sun-roof
Second-row climate controls
Second-row window shades
Smart Park (remote parking ability)
### Should you buy one?
You're likely to be interested in buying a Santa Fe because you have to haul around people and luggage all in the form and comfort of an SUV.
If you're a die hard for a premium brand, I urge you to shift your perspective and take a Santa Fe for a drive. You need to see all these features working in person if you're not already convinced on paper - it's going to make it a lot harder to convince yourself that buying a more expensive car in this category is worth it.
Go and buy yourself a Santa Fe as your family car if you're not already looking at a Kia Sorento. It's the best bang-for-buck large SUV for an optimum mix of luxury, comfort and capability. It's the car I'd look forward to taking on a trip to the snow, and feel good about the money I spent on it, rather than wondering if it was worth spending.
About the author Cameron is our resident car expert. Aside being a source of knowledge about the automotive industry, he has also driven a wide variety of cars. From Porsche 911 GT2 RS's, through to a 1998 Toyota RAV4, Cameron has not only seen it all, but has most likely driven it.
Questions & Answers
Sorry, there are no questions about Hyundai Santa Fe TM AWD Diesel (2018-2021) but you can read 65 questions about Hyundai Santa Fe.
Get an answer from our members and Hyundai representatives
Details
Compare all 14
Hyundai Santa Fe
Category
Large / 7 Seater SUVs
Large / 7 Seater SUVs
Large / 7 Seater SUVs
Large / 7 Seater SUVs
Starting

Price

$56,590
$62,800
$70,590
$49,990
Warranty

Distance

Unlimited kms
Unlimited kms
Unlimited kms
Unlimited kms
Transmission
Dual-Clutch (DCT)
Dual-Clutch (DCT)
Dual-Clutch (DCT)
Dual-Clutch (DCT)
Drive Type
Four Wheel Drive (4WD)
Four Wheel Drive (4WD)
Four Wheel Drive (4WD)
Four Wheel Drive (4WD)
Fuel Type
Diesel
Diesel
Diesel
Diesel
Wheels
18" Alloy
20" Alloy
20" Alloy
17" Alloy
ANCAP Safety Rating
5 Stars
5 Stars
5 Stars
5 Stars

Doors

4
4
4
4
Fuel Consumption
6.1 L/100km
6.1 L/100km
6.1 L/100km
6.1 L/100km
Fuel Tank

Capacity

67 L
67 L
67 L
67 L
Engine
2.2L 4 Cylinder CRDi
2.2L 4 Cylinder CRDi
2.2L 4 Cylinder CRDi
2.2L 4 Cylinder CRDi
Engine Code
D4HIII 2.2 VGT
D4HIII 2.2 VGT
D4HIII 2.2 VGT
D4HIII 2.2 VGT
Max Power
148kW @ 3,800rpm
148kW @ 3,800rpm
148kW @ 3,800rpm
148kW @ 3,800rpm
Max Torque
440Nm @ 1,750-2,750rpm
440Nm @ 1,750-2,750rpm
440Nm @ 1,750-2,750rpm
440Nm @ 1,750-2,750rpm
Country of Manufacture
South Korea
South Korea
South Korea
South Korea
Manufacturer Warranty
5 year(s)
5 year(s)
5 year(s)
5 year(s)
Release date
Jan 2018
Jan 2018
Jan 2018
Jan 2018
Compare all 14
Hyundai Santa Fe
Visit official website
ProductReview.com.au has affiliate partnerships. These do not influence our content moderation policies in any way, though ProductReview.com.au may earn commissions for products/services purchased via affiliate links.