1 photo
Hyundai Venue Elite (2019-2021)
Also referred to as: Hyundai Venue Elite 2020 and Hyundai Venue Elite 2022.
4.0

from 2 reviews ·

View Statistics
Listing monitored by Hyundai
Expert Review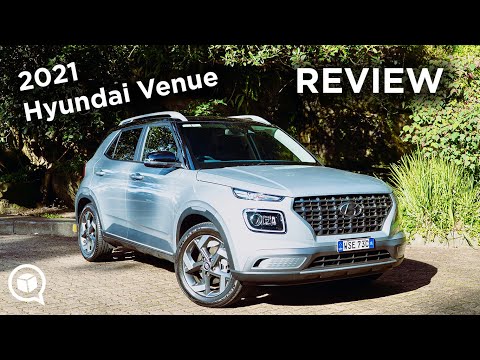 3.9 out of 5 stars
Introduction
It's Hyundai's cheapest and smallest car - hatchbacks are no longer the talk of the town. Instead, our insatiable hunger for SUVs has gone on for so long that now an SUV is the cheapest car you can buy from Hyundai today.
The Venue offers a far more conventional boxy SUV design over the lifted hatchback design of its competitors.
I personally love the way Hyundai has embraced the boxy nature of this small SUV, so I decided to get my hands on one to see if it was worth owning.
I wanted to find out if the phrase 'cheap and cheerful' really could apply to this affordable faux offroader.
---
Build Quality
4.3 out of 5.
Hyundai's increased attention to detail around build quality is noticeable and appreciated.
I was expecting something a little more cheap and not so cheerful for the price, but was instead met with a surprising amount of quality.
This came in the form of panels that looked as if they were put together with care rather than with haste, little to no rattling or creaking from the interior and materials that feel like they are suited for a pretend off-roader.
I loved the attention to detail in the design, with little plus symbols being found at the front, rear and grill design, as well as the square theme in the design of the air vents and dashboard layout on the inside.
In this top spec variant, the combination leather and cloth seats felt high end and had a profound impact on lifting the interior quality.
Value for Money
4.4 out of 5.
The Venue range kicks off at $24,000 drive away, however this is the Elite model, which has a few more features, and is priced from $30,517.
At the entry level price, the Venue is fairly affordable, if you're simply after the basic looks and space that the Venue offers.
In this Elite trim, you're provided with a few more features and luxury appointments that transform the Venue into what feels like a Hyundai version of a baby Land Rover Defender.
There's a two-tone roof, two-tone alloy wheels, two-tone interior, partial leather seats, LED lights and a sunroof.
I believe if this is your first car, or you don't plan on owning the Venue for a long period of time, skip on heading up the range and make do with the base model.
However, if you want to own the Venue for a long time, and appreciate the luxury features of the Elite, then certainly spend the extra money to make your ownership experience a bit more pleasant.
I could imagine that older Elite models will fall under $30,000 for a demonstrator or a model that's a few years old, which would make it a great purchase for those looking for a small, simple to run SUV.
Maintenance
4 out of 5.
The Venue is available with Hyundai's standard 5 year/unlimited kilometre warranty - a warranty that's right in the ballpark of where every new car should land in 2021.
Expect servicing costs to be roughly $300 a service over these 5 years too, under Hyundai's capped price servicing program.
To fill this car from empty, expect to pay on average $60 for a full tank.
Noise Level
3.5 out of 5.
There's a little price to pay for buying the Venue, and that's noticeable engine and road noise.
Unfortunately, when driving around town, you can hear the little 1.6L motor labour away to get up to speed, and road noise at higher speeds begins to bleed into the cabin.
It's not unbearable by any means; it's going to be a vast improvement from a similarly priced car sold 5 to 10 years ago. However, if you're chasing a cabin that's as close to silent as possible, the lightweight and boxy Venue won't offer that experience
The standard speakers in the Venue are fine, but they are a little murky and echoey when you're listening to music or podcasts. You'll just need to crank the volume a little higher to overcome the lack of punch these speakers provide.
Braking
3.7 out of 5.
This is a light car, meaning that coming to a stop isn't a problem. With four disc brakes all round and AEB, the Venue doesn't have any trouble pulling up to a stop, especially in an emergency.
With a few more passengers and a fully loaded car, I would expect these brakes to experience a little bit of fade under extended periods of braking, as they're not exactly the largest discs.
Acceleration/Power
2 out of 5.
In true SUV fashion, the Venue is a bit of a slouch in the acceleration department.
Producing 90kW and 151Nm from its petrol 1.6L four-cylinder powerplant, the Venue certainly could benefit from a turbocharger.
The Venue is quick to accelerate, but is also quick to run out of puff when encountering more challenging terrains. I found that up large hills, when hauling two passengers, the Venue wasn't going to perform any amazing overtakes in these conditions.
For daily driving, it's enough power, but don't expect it to be a powerhouse for those long road trips.
Gear Shifting
4.5 out of 5.
The 6 speed automatic transmission found in the Venue performed just as well as I'd hoped it would.
For a car like this, you simply want the transmission to do the shifting for you without having to stress about it being confused or struggling to get the car up and running.
Shifting was smooth, predictable and effortless, all helping concrete the Venue's ability to be a comfortable daily driver.
Suspension & Handling
4.1 out of 5.
A lifted driving experience, as found in the Venue, is a large part of why buyers lust after the SUV experience.
Being lifted off the ground with smaller alloy wheels, the Venue was able to glide over rough surfaces and iron out bumps in the road with ease. I was impressed with how the Venue was able to feel planted, despite it being lightweight.
Through corners, the Venue did itself relatively upright, despite its tall and skinny dimensions. Ultimately, physics does kick in if you take that same corner with greater speed, and that's when you'll feel the Venue begin to wallow through corners.
I could compare the Venue's suspension and handling to my old 1998 Toyota RAV 4 that I used to rock, and that's not a bad thing. It drives just like a golf-cart, despite looking like a car. It's beyond easy to manoeuvre, whether it's cruising on the highway, or attempting a parallel park.
Fuel Efficiency
3.8 out of 5.
Combined fuel consumption is around 7.1L/100km, so it isn't exactly ultra efficient with the fuel you put into it.
The lack of a turbocharger means you're going to use a little more fuel, especially when you load the Venue up with luggage and people.
The silver lining is that the Venue is cheap to fill up, and will take the cheapest petrol you can find.
Interior Design
4.7 out of 5.
The equivalent specced Venue sold in the US is affectionately called the 'Denim edition, because the Elite comes specced with a two-tone denim blue and cream interior.
I love this colour combination. It's something left of field, and who doesn't love denim blue?
Aside from looking like the inside of Jay Leno's closet, the design of the Venue is utilitarian.
All of your basic controls are easy to access and planted onto the upright dashboard.
You benefit from the boxy shape of the Venue with plenty of headroom, and what feels like a lot of space to ride around in, rather than feeling like you're sitting in a cockpit.
With plenty of storage compartments, and light emanating into the cabin, the Venue really does feel like a budget-friendly alternative to a Mercedes G Wagon or Land Rover Defender. This may come as a bit of a stretch, I know, but in a world of sloping roof lines, it's refreshing to ride around in a box like the Venue.
Boot Size & Comfort
3.9 out of 5.
The Venue only has around 355L of cargo space, with all the seats folded up. However, the boxy design comes in handy again as the square opening of the boot and subsequent cargo space allows for you to make the most of the space offered in the back of the Venue.
Additional points go to how clever the cargo cover is. You can simply slide the cargo cover along its guide rails to double as a divider between the folded second row and the boot. This is a feature that seems so simple, but is sorely overlooked in many other cars.
Aside from a smaller door opening for the second row, thanks to the Venue being a smaller SUV, passengers in the second row get plenty of space to relax. Taller passengers will be thankful for being able to actually sit upright. All that vertical space helps make the Venue feel far less cramped having three people in the rear (although I still wouldn't recommend this).
Features
3.8 out of 5.
There aren't an overwhelming amount of features for the top trim Venue, but there are still enough here to keep everyone happy.
I would have liked to have seen radar cruise control, maybe heated seats, and for some, the addition of a 360-degree camera would add far more value to the Venue at this price.
Although, it appears that Hyundai would prefer you to upgrade to the all new Tucson to get those features.
Here's a full list of features found on the Venue Elite:
Engine
1.6L non-turbo four-cylinder petrol engine
90kW @ 6,300rpm, 151Nm @ 4,850rpm
Infotainment
8-inch touch screen infotainment
Apple CarPlay/Android Auto
Satellite navigation
3.5-inch driver's display
Safety
Forward collision-avoidance assist (FCA)
Blind-spot collision warning
Lane keeping assist
Rear cross-traffic collision warning
Reversing camera
Driver attention warning
High beam assist
Performance
Drive modes
Terrain modes (Snow, Mud and Sand)
Convenience
Cargo divider
60/40 folding seats
Roof rails
Keyless entry/exit and start stop
Parking sensor
Sunroof
Should you buy one?
When cross shopping for small SUVs, the Venue Elite is still one of the cheapest.
It's stylish, well built, and has a unique design that stands out from other SUVs in this crowded segment.
Competitors like the Nissan Juke do offer a bit more punch in the power department. However, I do think for the money you save on opting for the Venue, you are getting enough car that makes it harder to justify spending any more money.
Unless you absolutely need an AWD system, the Venue offers a more traditional SUV experience without having to break the bank.
About the author
Cameron is our resident car expert. Aside being a source of knowledge about the automotive industry, he has also driven a wide variety of cars. From Porsche 911 GT2 RS's, through to a 1998 Toyota RAV4, Cameron has not only seen it all, but most likely driven it.
Great small SUV with very impressive interior space
I recently purchased my Hyundai Venue Elite, I compared it with two other small SUVs and found this to be the most spacious and best to drive in this class. I find the Venue to have great vision with its large windows and high driving position. The engine has ample power, I have had it up at hwy speeds and it's very comfortable and stable, and fairly relaxed. Heaps of safety features, the driver attention system is great. Very impressed with the head unit and the quality of the sound system. I cannot fault this car at all. Hyundai have done a g...
Read more
reat job with the local tuning of the suspension and steering of the Venue, it rides and steers better than any other competitors I have driven. Plus the service from my local Hyundai dealer was amazing. Very good roomy small SUV- I definitely recommend it.
Purchased in July 2021 at Hyundai Dealers.
Just one faulty thing that makes it unbearable.
Hi all potential Hyundai Venue buyers. We took delivery of our new Venue last week. Price is somewhat irrelevant if It is everything they say it is. And for the most part, it is, and suit my wife's needs perfectly. ....BUT.....It has one major imperfection if you want to rely on the reversing camera to reverse park in to a tight spot and you are partially disabled due to a back injury and it is the only way you can do so without being able to physically turn in your seat to see where you are going.
The camera favours the left hand side with its...
Read more
lines on the screen. You will not know so until you get out of the car and notice you are parked nearly on the white parking line on the ground on the drivers (right hand) side. and a long way away from the line on the ground on the passenger (left hand) side. This setup might work well in countries where you drive on the right hand side of the road, but here in Australia, the driver might have trouble getting out of the car if parked next to another vehicle or next to a wall or column. If not intentional, it is a major fault with the vehicle, especially a problem with people with limited back movements. I took it back to the dealership and made the service manager reverse park it, and to his surprise, he struck the same problem. I have contacted Hyundai about it, and waiting for them to get back to me about a solution. This might end up being a RECALL item we can expect from Hyundai. Good luck all. Still waiting.........
Purchased in May 2020 at North Lakes Hyundai for $30,000.00.
See all Hyundai Venue reviews
Questions & Answers
Elite (2019-2021)
I'm looking for a car for my daughter to drive. We live rurally, and drive a little bit of dirt road up a big hill each day, but the rest of the drive is hwy and town driving.
So we are looking for an SUV with a bit of ground clearance too. My questuon is, what's the difference with traction control versus AWD.
I know AWD uses a lot more petrol, but does it make it a safer ride. I figure the traction control will be good enough in wet weather going up the muddy dirt road. Is it worth looking into the Subaru's etc. Just for the 4wd/awd aspect?
1 answer
Hi there, the Hyundai Venue has good ground clearance, I haven't found any issues with ground clearance with mine. Also the Hyundai Venue comes in 2WD only, there's no AWD option for this car. It does have traction modes though as standard in the Auto which are Snow, Mud, and Sand. You don't need to buy a Subaru for dirt tracks, a 2WD will suit most of your needs, depending on if these roads get muddy ect though. The Venue is also good on the Hwy, and very good on fuel.
I'm very happy with my Venue Elite, it's a great small SUV.
See all

Hyundai Venue

questions
Get an answer from our members and Hyundai representatives
Details
Compare all 6
Hyundai Venue
Category
Small / Compact SUVs
Starting

Price

$29,297
Transmission
Automatic
Drive Type
Front Wheel Drive (FWD)
Fuel Type
Petrol
Wheels
17" Alloy
Fuel Consumption
7.2 L/100km
Fuel Tank

Capacity

45 L
Engine
4 Cylinder 1.6L
Max Power
90kW @ 6,300rpm
Max Torque
151Nm @ 4,850rpm
Country of Manufacture
South Korea
Maximum Towing Capacity (braked)
800 kg
Maximum Towing Capacity (unbraked)
500 kg
Manufacturer Warranty
5 year(s)
Dimensions
Ground Clearance
170 mm
Release date
Sept 2019
Compare all 6
Hyundai Venue
Visit official website
ProductReview.com.au has affiliate partnerships. These do not influence our content moderation policies in any way, though ProductReview.com.au may earn commissions for products/services purchased via affiliate links.