4 photos
Isuzu D-MAX 4x2 SX High Ride 3.0L (2017-2022)
Also referred to as: Isuzu D-MAX 4x2 SX High Ride 3.0L 2021 and Isuzu D-MAX 4x2 SX High Ride 3.0L 2023.
3.7

from 7 reviews ·

View Statistics
Brand Manager for Isuzu?
Register now
and take advantage of ProductReview's Brand Management Platform!
Expert Review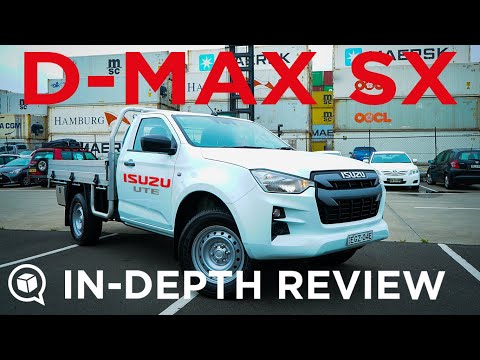 4.2 out of 5 stars
Introduction
Isuzu has been busy carving out a sizable slice of the ute market over the past decade, to become one of the top three best selling small trucks here in Australia.
I already had a go in the most expensive D-MAX you can buy, which you can read here, which goes over a few more details that won't be included in this review.
What you're looking at is the most affordable ute in the D-MAX range. This review will help you decide why you should consider the D-MAX SX amongst what feels like a sea of single-cab ute options.
---
Build Quality
4 out of 5.
You can rest assured knowing that the D-MAX SX is built to withstand the harsh conditions of a worksite or around your local campground.
The overall fit and finish of the D-MAX SX was certainly impressive, and felt solid all around. This was evident when driving the single-cab ute around town, as it produced little to no noise that would suggest poor craftsmanship.
Everything from the tray through to the cabin were as expected for this segment. There's some movement in the plastic centre console, and some flimsy feeling plastics around the door panels. This is the base model D-MAX, so the materials used aren't exactly going to blow your socks off, but in a car like this, that doesn't matter.
I certainly felt as if this ute would be able to handle plenty of abuse both inside and out, and come out relatively unharmed. All while still holding itself together and avoiding mishaps involving broken exterior parts or bits of interior trim.
Value for Money
4.4 out of 5.
When I tested the D-MAX SX single-cab, there was a special offer of $29,990 driveaway, which was a fair bit cheaper than the usual price of $32,200 before on-road costs, which is quite competitive in this segment. This is a strong price for a small truck in this segment, and can take the crown as one of the most powerful utes in this category.
For your money, you'll receive the same 3.0L four-cylinder diesel motor that produces 140kW of power and a torque of 450Nm, also found in the range-topping X-TERRAIN.
Additionally, you'll retain the same wading depth of 800mm that all D-MAX models possess, which is particularly impressive, seeing as many single-cab utes usually offer a reduced ride height, when compared to the more expensive versions of the same vehicle.
You'll also receive a swath of safety features with the base D-MAX, including reversing cameras, autonomous braking, blind spot monitoring, lane departure warning and automatic dimming high beams. All of these features made driving this base model ute feel far more advanced than driving cars even only a few years old.
There's wireless Apple CarPlay and (wired) Android Auto, which makes connectivity a lot easier than using a phone mount or relying on the native system.
Combine power, safety, and tech with the body of a single-cab ute, for the price of $29,990, and you have a seriously competitive truck.
Cleaning and Maintenance
4 out of 5.
Cleaning is basic, generally fuss-free, especially when cleaning out the rear tray. All three sides of the standard Isuzu tray can fold down 180 degrees, which makes hosing down - or in the case of the SX, power-washing grit and dirt from the tray - a simple task.
As for maintenance, as is standard, the D-MAX comes with a 6 year warranty/150,000km, 7 years roadside assistance and 7 years capped price servicing.
The new generation D-MAX also offers a 20% stronger ladder chassis, higher mounted suspension control arms, lighter but stronger leaf suspension and a claimed 4,000,000 kilometres of simulated testing over 6 years here in Australia - let's hope this translates into an increase in long-term durability
Isuzu is transparent about what scheduled services with them will cost. As part of Isuzu's capped price servicing, your cheapest service will cost you $299 at 75,000km while your most expensive service costs $749 at 90,000km.
Service intervals are 15,000 kilometres apart, which is normal.
Noise Level
3.8 out of 5.
You can certainly hear the sound of the diesel motor carry through inside the cabin.
Isuzu isn't hiding the fact that this is a diesel motor, nor should it. This is a working ute, so you're expected to hear every mechanical facet of a turbocharged, manual, diesel, single-cab truck.
However, when tested, the empty metal tray refused to rattle and shake to produce that distinct metallic sound you hear when a tradie-spec ute bounces past. Possibly over time, you'll get some noise emanating from the tray, but while the car is relatively new, you have no noise worries there.
The speaker system in the D-MAX SX can be tinny and lack some depth of clarity, but your ears quickly adjust, and this soon becomes unnoticeable.
Braking
4.3 out of 5.
As a single-cab ute, this vehicle saves on weight when it's not carrying up to 1.3T in the rear tray.
Braking is direct, to the point and confidence-inspiring, even though the rear brakes are drums. I could imagine under load, the D-MAX would still provide smooth and progressive braking, as these brakes felt more than capable when driven daily.
Additionally, all D-MAX cars receive autonomous emergency braking, which can help provide additional peace of mind.
Acceleration/Power & Gear Shifting
4.5 out of 5.
Same power, less weight. This is the same engine you'll find in the range-topping D-MAX X-TERRAIN. That means you'll receive 140kW and 450Nm from the same 3.0L 4-cylinder turbocharged diesel motor.
However, in the base D-MAX, a manual transmission is standard, which is an interesting inclusion. I can imagine that manual working utes are there to help cut costs, but I do think most drivers would appreciate a traditional auto instead.
Driving a manual diesel means you're shifting lower in the rev range, which can feel a little strange to those familiar with petrol motors paired with manual transmissions.
When moving off the line, the 1st to 2nd gear change can feel laborious. Since you are required to change rapidly, it can make getting up to 50km/h feel slower than it actually is. 0-100km/h times are estimated to be just under 10 seconds, which is plenty of speed for a ute of this calibre.
The mid-gear pulls are strong and are where you can definitely feel that range-topping torque come alive. I'm an absolute fan of this diesel motor as it drives mostly like a car, but with truck-like performance.
Suspension & Handling
4.5 out of 5.
For all the positives that the D-MAX brings, such as being easy to drive day-to-day, the suspension certainly announces that you should be using this as a working ute.
This single-cab has a drastically increased load carrying capacity compared to the dual-cab variant as a result of a revision of the leaf springs on the rear.
The big issue with revising suspension to carry more is that when the suspension is unladen, it can feel like a bounce house across bumpy surfaces.
The suspension will do a decent job at keeping the car flat through corners, it will wallow, but remain stable, which will keep items in the rear stay upright. Nevertheless, it is somewhat entertaining to bounce across speed bumps and potholes. I would definitely recommend that you buy a tray cover to secure smaller items from jumping and sliding out from the back.
The rear wheels can slide out from the back when driving on slippery surfaces. I wasn't the biggest fan of the tyres fitted on the base D-MAX as all this torque being sent just to the rear resulted in the slipping and sliding of the tyres.
All of this was appropriately managed when the traction control kicked in to save the day, but I would probably recommend seeking tyres with more grip to take advantage of all that power under the hood.
Fuel Efficiency
4 out of 5.
This is a 4-cylinder diesel, so fuel efficiency is going to be lower than petrol alternatives.
Efficiency is claimed to be 8L per 100km (combined), whereas I achieved around 9L per 100km around the city.
The tank capacity of the D-MAX SX is 76L which means it should cost you around $100 to fill the entire tank up.
The range should carry you up to 900km on a single tank, but more realistically, around 600-700km around town.
Interior Design
4.1 out of 5.
The interior is basic yet rugged. You hop into the D-MAX SX and you immediately know you're here to work and not to rest in luxury.
Everything here serves a purpose, from the two grab handles on each side through to the vinyl flooring that makes cleaning dust and debris a lot easier.
The dash in the base D-MAX misses out on the cubby holes found in the higher-end variants. Which means you're left with shallow tubs, from which small items like keys and coins will just slip out from.
There's a smaller 7-inch touch screen, which needed some tweaking to adjust for appropriate brightness and contrast, as this display looked a little washed out initially.
Responsiveness of the screen isn't amazing, but it does have wireless Apple CarPlay, which was a welcome addition, as you didn't have to pull your phone out every time you entered the cabin.
Dials are easy to read, and with speed-sign recognition, manual transmission gear indicator, and having a full colour 4.2-inch centre display, means driving the D-MAX is beyond easy.
Sure, there's plenty of scratchy plastics and basic appointments, but all you need to know is that this should withstand the demanding conditions of the work site.
Boot Size & Comfort
4.5 out of 5.
The tray fitted to this Isuzu was the factory metal tray, which was capable of carrying up to 1,300kg.
The size of this rear tray measured 2550mm in length, 1777mm in width, and just under 300mm in height.
All three sides of the tray were capable of folding flat, which should help with loading larger items, like pallets, in and out of the D-MAX.
You can tow up to 750kg unbraked with the SX, and up to 3,500kg braked, which is absolutely impressive for a two door ute.
Our test ute was fitted with an optional under-tray tool box, which could carry smaller items, and even lock them up to ensure nobody snags your valuables.
Another item under the tray that was an optional extra, was a water tank. This includes a hand pump for soap, sunscreen or even hand sanitiser. Funny addition, and quite useful if you need somewhere to store some fresh water...or whatever liquid you want to carry in this tank.
In the cabin, you can store toolboxes and backpacks behind the seats, which fold forwards to reveal interior storage. This is quite generous and accommodating for the largest of bags, and provides peace of mind for storing those extra-valuable items inside and away from the elements.
To my surprise, the D-MAX SX was actually very comfortable, thanks to its high riding position, isolated cabin and easy-to-shift transmission.
Sure, you will absolutely be bouncing up and down, but you get used to that pretty quickly, and it's really not that bad, as long as you slow down for more uneven sections of road.
Being able to jump into the cabin of the D-MAX SX and have your phone instantly connected is a feature many (with an iPhone) will appreciate.
Add a swath standard safety equipment included on every D-MAX, like lane keep assist, rear cameras and blind spot monitoring, all can help you relax a little more while commuting in the D-MAX SX.
Features
4.2 out of 5.
This is the base model D-MAX, so don't expect a long list of comfort features. However, check out how many standard pieces of safety equipment you have listed below, and you have jammed packed single-cab.
So what do you get for $29,990?:
Engine
3.0L Turbocharged 4 cylinder, diesel
140kW, 450Nm
3.5t towing capacity
6-speed manual
Steel timing chain
Split camshaft
Double scissor gears
Infotainment
Android Auto and wireless AppleCarPlay with DAB+ digital radio and voice recognition, standard across entire range
7" Audio Display with sat nav, standard on LS-U and X-TERRAIN
SMART MID (Multi Information Display) standard across the range, providing a variety of vehicle information
Safety
Autonomous Emergency Braking (AEB)
Forward Collision Warning
Post-Collision Braking, brings car to a stop if an impact occurs
Turn Assist with AEB - detects a potential collision during a turn, emergency braking is applied automatically
Misaccerlation Mitigation, slow moving areas like a car park, stereo cameras determine whether accelerator has been applied accidentally. Should a potential collision be detected, brakes are automatically applied. Auto cars only.
Drive Attention Assist, has been designed to identify signs of fatigue or inaccurate driving behaviour
Trailer sway control, apply brakes to individual vehicle wheels to help bring the trailer under control
5 star ANCAP rating in 2020
Lane Driving Features
Lane departure prevention, is activated if the vehicle to depart from the drivers lane, will steer in the correct direction to help prevent lane departure
Lane departure warning
Adaptive Cruise with Stop and Go functionality, auto only
Emergency lane keeping
Lane Keep Assist, detect road markings and assist steering operation by keeping vehicle in the lane
Front and rear parking sensors
Reversing cameras
Rear cross traffic alert
Traffic safety features
Traffic sign recognition
Blind spot monitoring
Intelligent speed limiter, when active, prevents the vehicle from exceeding the signed speed limit
Passive safety features
Eight airbags
ISO fix in crew cab models
Impact absorbing chassis
Safety cabin shell
Performance
Rear Differential Lock
800MM wading depth
Rear-wheel drive
Hill Start Assist and Descent Control
Convenience
Gear-shift indicator
USB and 12V ports
Should you buy one?
Here's the breakdown.
Don't expect the D-MAX SX to replace your daily driver, if you're buying this for personal use. Its suspension, manual transmission, rear wheel drive and limited interior storage space will drive the everyday man a little nuts.
The everyday man is better off with an extended or dual cab with an auto, and 4X4 capability.
If you're a business owner needing a truck to do a lot of heavy lifting in, or working in a field where you need a reliable work-horse that doesn't feel like a death trap, you're looking at the right ute.
I would grab yourself this ute, if you own a business or work a trade, you grab yourself this ute, especially at its $29,990 special drive away price.
For your money, you're getting one of the safest, most powerful and capable single-cabs on the market.
About the author
Cameron is your typical car nut, but also drives and writes about cars for ProductReview.
Pity about the manual gearbox
Fantastic Ute - tech is first rate & vehicle really does the job but why oh why with all this effort
Do we have to put up with notchy sometime so difficult gearbox,??? At least in 1st/2nd/Reverse so far. Bargain price though all the same so glad i did not drive one before purchase,!! Might have ended up spending a heap more!!
C'mon Isuzu.... you're almost there.
Purchased in at Isuzu Dealers.
Similar opinion? Write a review on ProductReview.com.au!
Great truck apart from minor issues
Hi bought this in late 2017 to replace a Toyota Hilux I had owned for 10 years.
When I first test drove it I bought it. Suited me perfectly.
Only 2 issues one is important to me the other not so much.
1. The bluetooth connection to my phone is almost unusable, so I have a separate unit to make calls etc. This means I have an AUX cable to play music from my phone but that doesn't always work. It's a PITA.
2. Turn off the radio and the road noise is quite bad. This is a minor issue for me.
It's done 60ks with no issues. Great truck.
Purchased in at Online for $35,000.
Similar opinion? Write a review on ProductReview.com.au!
Bottom of the range ute, Space Cab 4x2 ---- 2017 model
First thoughts, being the bottom of the range work ute, one cannot expect too much.
Was driving it around for about a month as its my workplace/office, virtually my home away from home.
The interior itself is severely lacking, no real comfortable place to rest your right arm. The blind spots through the A-pillar's are embarrassing. Have to be extra wary at pedestrian crossings and even cyclists/motorcycles are easily obscured.
Talking on the phone using Bluetooth is beyond a joke, ...
Read more
voice sounds robotic, even peaky, with the system picking up more road noise than your actual voice. Bluetooth has gone backwards considerably, a car 10 years old has a much better system. Lastly the seats. Completely lacking any support whatsoever, going around a corner, you'll move around considerably in your seat. Whoever designed these seats completely forgot about ergonomics as the lower back support is non-existent. Its a really soft lower back cushion region that sinks in considerably. You do however get a fantastic metal bar that extends across the lower back that digs into you considerably.
Similar opinion? Write a review on ProductReview.com.au!
Tried to claim a fault in vehicle but have been denied due to a warranty that is formed to suit company not consumer. Treated like I was lying about cause of damage and then when i requested to talk to actual people who make warranty decisions at Isuzu was advised those that make decisions won't talk to you.
Similar opinion? Write a review on ProductReview.com.au!
Find out how Isuzu D-MAX 4x2 SX High Ride 3.0L compares to other Utes
Know better, choose better.
Compare all
Comfortable and economical
My Dmax drives like a car and is very economical even towing the caravan around Tasmania it pulls up the hills effortlessly giving me 10.9L/100km. The only dislike is the console is too small, there are 2 glove compartments which are also too small and a lack of storage space
Similar opinion? Write a review on ProductReview.com.au!
2017 Auto Trans problems.
When towing 2,700 kilo caravan on level ground,(after 1100 km run in period no load), 6 speed auto either travels in 4th gear at approx 26-2800 revs, or drops into 6th to around 1600 revs. Moves between 4th and 6th gears without staying in 5th. Using manual shift, will not stay in 5th but goes into 6th which is too high for it, so changes back to 4th. Traveling on the plains using manual mode causes gearbox overheating light to come on. Service Plus Driving report gives grade of 44 out of 100, trying to put blame on driver. I chose auto over...
Read more
manual on advice from dealer, as auto supposed to know best gear selection. It would appear that auto gearbox not capable of supporting manufacturer's claims of ability to tow 3,500 kg. This was stated by Service Manager. Using almost twice the fuel when towing. Not Happy, Jan. Response please from Isuzu Australia.
Similar opinion? Write a review on ProductReview.com.au!
Love the Ute, hate the service cost
Fuel economy good, seats comfortable- I can drive 4 hours to a job, get out work and drive home, crook back still OK. AC is great, window washer bottle big, lights good enough. Carries a load well, indeed better with 200-300kg in the back- suspension is truck like but one cannot have real work horse that drives like a rear coil spring show pony (Navara is proof). My vehicle is the basic Extra cab so trim is rudimentary, radio is good, hands free is great, clear and good microphone reception even on the freeway- the phone service provider is the...
Read more
weak link there. Hate the fact that the car beeps when the keys are in the ignition so one cannot listen to the radio while working near the vehicle, beep bloody beep! Worst thing is the service requirement. The Warranty and Service book says one thing (3000, 10 000, 60 000, 70 000km etc), the dealer (and Isuzu) say every 10 000kms, I am told that I have to take it in for a service at 10 000 for diff oil ($ 20 per litre), 20 000 for engine oil ($ 20 per litre), 30 000 for ? "Inspected Right/ Left Turn Radius", "Shift on the Fly system gear oil"? (Actually it is a 2WD so there isn't one but they did check it at 20 000 km). I would definitely buy another but the fact that they treat the customer like a Muppet is irritating. I called Isuzu, they were polite but said my Warranty Service Book was a misprint and I need to take it to a dealer for replacement- everything else is good. It is not. Oil is too dear, service interval too close and the number of crap things that they supposedly check is wrong. I am glad I am not a non-mechanical person- they would just get skinned and not know that they are being done like a dinner- at least I can whinge about it. I would like variable wiper and climate control but not worth the big price jump, the tyres are a hard compound and on country roads are a little skittish at speed and in particular in the wet, but seem to hang on despite feeling a little light, aqua-planing on the Hume is common but that is as much the puddles as the compound. On balance happy enough, like I said I would buy another but to get a receptive response from Isuzu Ute would be better than "computer says no!"
Similar opinion? Write a review on ProductReview.com.au!
Related Articles
See all Isuzu D-MAX reviews
Details
Compare all 13
Isuzu D-MAX
Category
Utes
Starting

Price

$38,513.00
Warranty

Distance

150000 kms
Transmission
Automatic
Drive Type
Rear Wheel Drive (RWD)
Fuel Type
Diesel
Wheels
16" Steel
ANCAP Safety Rating
5 Stars

Doors

2 to 4

Seats

2 to 5
Fuel Consumption
7.7 L/100km
Fuel Tank

Capacity

76 L
Engine
3-litre turbo-diesel, in-line 4-cylinder, DOHC, 16-valve with Diesel Particulate Diffuser (DPD)
Engine Code
4JJ3-TCX
Max Power
140kW @ 3600 rpm
Max Torque
450Nm @ 1600-2600 rpm
Country of Manufacture
Thailand
Maximum Towing Capacity (braked)
3,500 kg
Maximum Towing Capacity (unbraked)
750 kg
Tray Type
Cab Chassis and Pick Up
Cab

Options

Dual, Extra and Single
Maximum Payload
1,300 kg
Ground Clearance
225 mm
Manufacturer Warranty
6 year(s)
Dimensions
Ground Clearance
225 mm
Release date
Compare all 13
Isuzu D-MAX
Visit official website
ProductReview.com.au has affiliate partnerships. These do not influence our content moderation policies in any way, though ProductReview.com.au may earn commissions for products/services purchased via affiliate links.