2 photos
Isuzu MU-X 2nd Generation 4WD 3.0L Diesel LS-T (2017-2022)
Also referred to as: Isuzu MU-X 2nd Generation 4WD 3.0L Diesel LS-T 2021 and Isuzu MU-X 2nd Generation 4WD 3.0L Diesel LS-T 2023.
3.0

from 2 reviews ·

View Statistics
Brand Manager for Isuzu?
Register now
and take advantage of ProductReview's Brand Management Platform!
Expert Review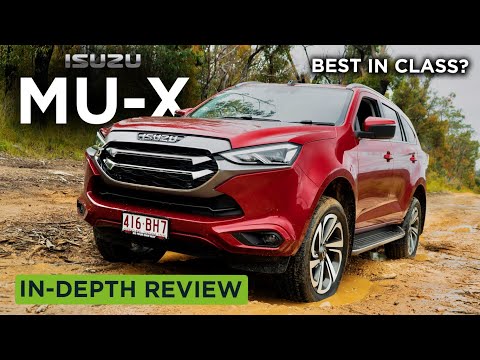 4.3 out of 5 stars
Introduction
Adventure 4x4s are an interesting category of vehicle. If you're shopping for a 7-seater SUV that can do the school pick up on a weekday and tackle the 4WD-only trail on a weekend, you've been offered a disappointing range of vehicles below $100,000.
Are these offerings capable? Without a doubt. Do they feel modern inside and out? Not really.
Apart from cars like the Suzuki Jimny, Land Rover Defender and Mercedes G Wagon, the other 4x4 SUVs have been left to dry and age for a little too long.
The current Ford Everest and Mitsubishi Pajero Sport are starting to feel very long in the tooth. So is the Isuzu MU-X, as reflected by our lower score compared to the current crop of cars on offer today.
That changes with the all-new MU-X. It's a breath of fresh air in this 7-seater 4x4 SUV market. It's comfortable, modern, has plenty of safety features, and is more capable than ever.
---
Build Quality
4.3 out of 5.
Sub-$100,000 4x4s pour their R&D budget into off-road capability first, followed by on-road development, then features, then build quality.
The MU-X's doors are a little tinny; some materials are a clear carry over from the commercial sister car to the MU-X - the D-MAX. It's not luxury-level refinement, but there's an obvious amount of care that's been taken to improve the quality of the MU-X.
Everything feels solid in how it's been put together. I feel confident putting my body weight on the side steps and the buttons feel like they'll resist failing even when covered in dust and dirt. Additionally, panel gaps are somewhat minimal, and all the exterior trim lines up nicely.
Add leather seats, a bit of stitching and attention to detail in construction, and the MU-X feels a lot better finished than rivals with similar features. The new interior and exterior design mixed in nicer materials, which really helps lift the quality of the new MU-X, especially when parked next to the previous generation's car.
Value for Money
4.4 out of 5.
Maxing out at $65,900 for this LS-T variant, the value for money proposition could be high or average, depending on how you look at this SUV.
On one hand, it carries 7 people comfortably and has enough features to keep everyone safe and entertained. It'll also comfortably tackle a steep rock shelf with all of its 4x4 tech and capability.
On the other hand, for the money, there are cars with more features, are better at cornering and are easier to get into a multi-storey car park. If that's more appealing to you, this isn't the car for you.
This 4x4 SUV is valued as it packs a reliable turbo-diesel powertrain, tried and tested off-road handling and has plenty of space to pack for that long road trip.
It's a little on the pricey side when fully loaded, but I'm convinced that the price is justified for the above reasons. Additionally, with its new exterior, it stands out in all the right ways, especially with this Magnetic Red Mica paint.
Maintenance
4.8 out of 5.
What's curious is that Isuzu offers not a 5-year, but a 6-year/150,000 kilometre warranty with the MU-X. There's also 7 years of roadside assist and capped price servicing available too.
The kilometre cap on the 6-year warranty is a little annoying for those who want to own the MU-X long term, and would be close to an industry-leading offering if it was unlimited.
Here's a breakdown of every service interval and cost for the MU-X:
| Interval | Cost |
| --- | --- |
| 1 Year or 15,000 km | $389 |
| 2 Years or 30,000 km | $409 |
| 3 Years or 45,000 km | $609 |
| 4 Years or 60,000 km | $509 |
| 5 Years or 75,000 km | $299 |
| 6 Years or 90,000 km | $749 |
| 7 Years or 105,000 km | $409 |
| Total | $3,373 |
Cost of ownership looks really reasonable for 7 years, but it won't cover any accidental damage when pushing the MU-X off-road.
Noise Level
3.8 out of 5.
There were two surprises in the sound department for the new MU-X.
One, the sound system really was a massive improvement over the previous car. I found myself really enjoying the sound produced, rather than having to play around too much with the equaliser settings. Although, it wasn't an amazing experience with some select songs I played for some strange reason - would love to narrow down a genre, but it was a little hard to narrow down.
Additionally, the way revs were kept low once up to speed meant there was no need to compete with a noisy diesel motor. Instead, it sounded like additional deadening was placed to keep the cabin a more family-friendly environment (especially compared to the D-MAX).
There is a but; because this is a large, high-off-the-ground 4x4 SUV, there were some shortcomings. There was noticeable wind noise at higher speeds, and a lot of tire noise when turning sharply. I'd associate both sounds with a large 4x4 like this, as it's really part of the compromise that happens when you trade quietness for off-road capability and space.
Braking
4 out of 5.
Braking performance in the MU-X was enough to provide plenty of confidence in bringing all 2 tonnes of 4x4 to a stop across a variety of scenarios.
There's an autonomous emergency braking system fitted to intervene when the car's safety system believes you're not going to react in time. When activated, it reflects a red bar of light onto the lower segment of the windscreen in front of the driver. Beyond that, it'll start to brake. It wasn't overly sensitive, but worked when met with a hint of not stopping in time.
Acceleration/Power
3.6 out of 5.
This is the same power plant found in the new D-MAX. 140kW at 3,600rpm and 450Nm at 1,600-2,600rpm produced from a 3.0L turbo-diesel four cylinder - this is the short and early rpm access for peak torque is a major plus for off-road enthusiasts. It allows for almost no need to jump hard on the throttle and give you better control at low speeds on difficult surfaces.
It's not a terribly fast car, but perception of speed is warped a little when you're riding higher off the ground. I never felt underpowered in the MU-X, but I did experience turbo-lag in moments where the car was faced with a large hill. A slight delay in power delivery was felt when slowing down on a hill, then needing to quickly accelerate. Outside that, I felt confident that the MU-X packs the grunt it needs to be an ideal road-trip and off-road vehicle of choice.
Gear Shifting
4.6 out of 5.
Initially, I was a little let down that more gears weren't added to the MU-X's 6-speed automatic transmission. This feeling was quickly forgotten when operating this 4x4 from rock-crawling speeds through to highway velocity.
Revs are almost always kept below 2,500rpm, providing a pleasant and refined-feeling experience. Considering most cars are offering automatic transmissions in excess of 6 speeds, I was impressed with how well this transmission handled every task you threw at it.
Suspension & Handling
4 out of 5.
In traditional, non-adjustable suspension fashion, you're trading comfort for cornering ability. Outside of hard corners, the suspension really floats the body of the car above the road. It feels like Jello-O on top of sponge cake. I just couldn't help but notice the way the body operates just a little more softly on top of its chassis. It's by no means a bad thing, it's just a very softly sprung car.
All of that comfort and soft suspension makes a whole lot of sense when out on a tough trail. The old MU-X wasn't this refined off-road. The new MU-X simply ironed out a lot of the bumps and undulations on our off-road track, so you could feel the track, without being violently thrown around the cabin.
By far, the off-road comfort is the biggest positive change for the MU-X. It's not just comfortable over the road, but it's relaxing when heading to your favourite secluded camping spot too.
Fuel Efficiency
4.5 out of 5.
Claimed fuel efficiency is 8.3L per 100km combined, and costs on average $127 for a full tank of diesel.
That tank will easily see you travel distances as far as 1000km. My consumption averaged around 10L per 100km over a couple of hundred kilometres during a week. I was pleasantly surprised to see 7 days of driving only require half a tank of diesel.
It's an efficient motor, helping convince those worried about the fuel consumption of a 7-seater that it isn't all that bad.
Interior Design
4.4 out of 5.
Arguably the most important update, along with off-road comfort, for the new MU-X, is this interior. This interior is clearly taken from the new D-MAX, but with some slight tweaks to make it suited for a family car.
From the driver's display, centre infotainment and layout of buttons, it's all a big step up from the last generation. Even though there's no digital driver's display, the analogue buttons and supporting 4.3-inch information display do look great.
The 9-inch drivers display has been executed in such a way that allows for easy navigation and viewing of the content on the screen. Apple CarPlay/Android Auto takes full advantage of the square shape, and you can even connect wirelessly if you use Apple CarPlay. Just note that your phone will take a few minutes to connect, but it's usually up and running by the time you've started and pulled away from where you parked.
Visually, it's modern, up-to-date and takes it a step up against what is still being offered by the competition.
Boot Size & Comfort
4.6 out of 5.
Boot space is a minimum of 311L with all seats upright, and 2138L with all the seats folded flat.
The versatility of the boot space is a lot of fun to play around with. It's conventional when you fold away the third row, however, the second row can either fold flat, or tumble forwards. This means you can fit taller items into the car by sliding said items through the passenger doors.
A power tailgate, second row climate controls, front heated seats, automatic headlights, automatic wipers, radar cruise control with lane keep assist and wireless Apple CarPlay really highlight just how comfortable the new MU-X is.
There's plenty of space for adults in all three rows, however that third row isn't ideal for long trips. I could certainly imagine 5 adults travelling comfortably with plenty of cargo, although there is one caveat.
The towing capacity for the MU-X is rated at 3.5 tonne (braked). Keep in mind that once you load up 3 tonnes, it only gives you a few hundred kilos to load up with people and cargo on the inside. Against key rivals, the MU-X isn't able to carry the most (both towing and cargo load), so make sure you rate what you tow and carry against this SUV's max carrying capacity.
Features
4.3 out of 5.
Fully loaded in its LS-T trim, there are enough options here to make the MU-X not just a great looking SUV, but also full of usable features.
Peppered throughout this review have been mentions of some of these features, but for me, a nice update was the clearer reversing camera and radar cruise control. This makes parking and highway driving just a whole lot easier.
Here's a full list of options available on the new MU-X:
Engine
3.0L turbocharged diesl 4 cylinder
140kW, 450Nm
3.5t towing capacity
6-speed automatic
Steel timing chain
Split camshaft
Double scissor gears
Infotainment
Android Auto and wireless Apple CarPlay with DAB+ digital radio and voice recognition
9" Audio Display with sat nav
Dual zone climate control
Rear Differential Lock button, engages only in 4WD-low
Terrain Command button
Push button start
SMART MID (Multi Information Display) standard across the range, providing a variety of vehicle information
Steering wheel controls, with Adaptive Cruise, and audio controls, adaptive cruise is only for automatic transmissions
Leather-accented upholstery with leatherette across interior trims
Premium leather steering wheel and gear knob
8-way power adjustable driver's seat with power lumbar support
Welcome light
Safety
Autonomous Emergency Braking (AEB)
Forward Collision Warning
Post-Collision Braking, brings car to a stop if an impact occurs
Turn Assist with AEB - detects a potential collision during a turn, emergency braking is applied automatically
Misaccerlation Mitigation, slow moving areas like a car park, stereo cameras determine whether accelerator has been applied accidentally. Should a potential collision be detected, brakes are automatically applied. Auto cars only.
Drive Attention Assist, has been designed to identify signs of fatigue or inaccurate driving behaviour
Trailer sway control, apply brakes to individual vehicle wheels to help bring the trailer under control
5 star ANCAP rating in 2020
Lane Driving Features
Lane departure prevention, is activated if the vehicle to depart from the drivers lane, will steer in the correct direction to help prevent lane departure
Lane departure warning
Adaptive Cruise with Stop and Go functionality, auto only
Emergency lane keeping
Lane Keep Assist, detect road markings and assist steering operation by keeping vehicle in the lane
Front and rear parking sensors
Reversing cameras
Rear cross traffic alert
Traffic safety features
Traffic sign recognition
Blind spot monitoring
Intelligent speed limiter, when active, prevents the vehicle from exceeding the signed speed limit
Passive safety features
Eight airbags
ISO fix in crew cab models
Impact absorbing chassis
Safety cabin shell
Performance
Rear Differential Lock
800MM wading depth
2WD High Mode
4WD High Mode
4WD Low Mode
Hill Start Assist and Descent Control
Steel underbody panels, which includes a steel sump and transfer case guard, which allows you to bash against rocks and other debris when offroading
Improved approach, departure and ramp over angles
Convenience
Remote engine start, air conditioning can be activated prior to entry
Walk Away Door lock, 3M radius
Coming home lights, stay on when you lock your car
Should you buy one?
If you want to go off-road and carry up to 7 people, this is the SUV for you. It's the best option out of the current crop of competition, as it doesn't look like it's out of date.
Some other competitors offer the same features, but they offer them in a way that's just not as attractive. It's like buying your iPhone from the Facebook marketplace rather than the Apple Store. You get the same thing at the end of the day, but it's about the experience.
The new MU-X gives you a modern experience, with modern features. It looks great both on and off-road, and has plenty of space to carry everyone and everything with you.
The big mechanical upgrades to the suspension mean off-roading is a lot more comfortable. It no longer feels like you're compromising comfort for capability, like the old generation MU-X did.
For less than $100,000, this is one of the best 7-seater off-roaders you can buy. If you don't need the space, then you could consider the likes of the Suzuki Jimny.
About the author Cameron is our resident car expert. Aside being a source of knowledge about the automotive industry, he has also driven a wide variety of cars. From Porsche 911 GT2 RS's, through to a 1998 Toyota RAV4, Cameron has not only seen it all, but has most likely driven it.
The beast was purchased to be the tow motor infront of our new Jayco 19.5 outback caravan. The MUX is well renowned as a strong work horse for towing Caravans and trailers upto 3 tonne. With lockdown soon to be over ours is sitting waiting to commence a few years of travelling. My brother bought his a few years ago and has circled Australia and then some without missing a beat. Biting at the bit to go!!!
Purchased in at Isuzu Dealers for $64,000.
Build Quality

Value for Money

See all answers
Similar opinion? Write a review on ProductReview.com.au!
Bought a brand new Isuzu MU-X LST about 5 months ago and i must say i am thoroughly disappointed! The automatic transmission is easily the worst i have ever driven. driving downhill on a normal bitumen road ( not 4wding) at 80kms an hour it will change down gears and rev high so you need to accelerate down a hill, but then wont change up! ( i checked hill descent was not on). going up hill is just as bad, it cant decide what gear to be in, it is constantly trying to work out if it wants to be in 5th or 6th. gear changes are not smooth either, y...
Read more
ou feel every single one! I had read that they can be noisy but i still wasn't really prepared for just how loud, the motor is VERY noisy. The seats are so uncomfortable it is hard to describe. There is no support at all, they are just completely flat. What car in 2021 doesn't come with adjustable lumber support? and this is supposedly the top spec model. And there are myriad ergonomic foibles inside the cab too that drive me insane!!! so many im not going to list them all here. Ive had it back to Isuzu 3 times regarding the auto but they say there is nothing wrong. I had read about how well they tow but i find it feels very underpowered. I couldn't imagine attempting to tow a caravan with it, it would be awful. Ill never purchase another Isuzu.
Purchased in at Isuzu Dealers.
Build Quality

Value for Money

See all answers
Similar opinion? Write a review on ProductReview.com.au!
See all Isuzu MU-X reviews
Questions & Answers
MU-X 2nd Generation 4WD 3.0L Diesel LS-T (2017-2022)
Hi,
We get our new 2022 MU-X LST 4 x 4 in August.
We bought the vehicle to be our tow vehicle for our caravan.
Our caravan (Essential C Class Tourer) comes with a camera on the back of it and with a Safety Dave, SD-0109 Rear view LCD monitor for inside the car. Needs to be hard wired.
We know that in the past there was a module you could get installed to have the caravan camera connect to your MU-X screen inside the car.
So my questions are:
1. Can you plug in like normal with your caravan plug to the car and automatically connect with the screen inside the car from the camera on the caravan?
2. If you cant do 1, can you fit a module that will allow you to do this?
3. Has anyone done this to their MU-X LST 2022 model?
3. If you have what parts did you need and do you have photos please?
Appreciate what ever feedback you can give me.
Cheers, John.
MU-X 2nd Generation 4WD 3.0L Diesel LS-T (2017-2022)
I have fitted a Scan Guage to my 2020 mux to keep an eye on the automatic transmission temp but can someone tell me how hot is too hot. I believe there is an alarm or warning light that comes on at a certain temp but i dont know what temp that is. It would be nice to know when that alarm comes on so i can slow down or stop before it does. I assume the temp sender unit would be preset at a set temp.
2 answers
David, I have a 2019 LST. As far as I can tell, from hundreds of hours of online searching, there is no reliable method. I am considering simply replacing the head unit down the track as aftermarket...
Read more
units offer far greater compatibility with media types and screen choices.
Which head units have you seen that would be suitable
See all

Isuzu MU-X

questions
Get an answer from our members
Details
Compare all 12
Isuzu MU-X
Category
Large / 7 Seater SUVs
Starting

Price

$65,900.00
Warranty

Distance

150000 kms
Transmission
Automatic
Drive Type
Four Wheel Drive (4WD)
Fuel Type
Diesel
Wheels
20" Alloy
ANCAP Safety Rating
5 Stars
Fuel Consumption
7.9 L/100km
Engine
3.0L turbo-diesel, in-line 4-cylinder, DOHC, 16-valve with Diesel Particulate Diffuser (DPD)
Engine Code
4JJ3-TCX
Max Power
140kW @ 3600rpm
Max Torque
450Nm @ 1600-2600rpm
Country of Manufacture
Thailand
Maximum Towing Capacity (braked)
3,000 kg
Maximum Towing Capacity (unbraked)
750 kg
Manufacturer Warranty
6 year(s)
Dimensions
Kerb Weight
2,175 kg
Ground Clearance
235 mm
Release date
Compare all 12
Isuzu MU-X
Visit official website
ProductReview.com.au has affiliate partnerships. These do not influence our content moderation policies in any way, though ProductReview.com.au may earn commissions for products/services purchased via affiliate links.