5 photos
Jaguar F-Pace P400 R-Dynamic SE (2021-2022)
Also referred to as: Jaguar F-Pace P400 R-Dynamic SE 2021 and Jaguar F-Pace P400 R-Dynamic SE 2023.
Brand Manager for Jaguar?
Register now
and take advantage of ProductReview's Brand Management Platform!
Expert Review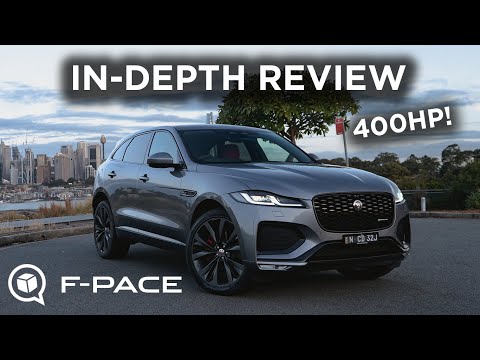 4.3 out of 5 stars
Introduction
The electric car evolution is upon us - that makes this particular F-PACE a special car.
This is the P400 SE trim of Jaguar's larger SUV, and it's now equipped with Jaguar Land Rover's turbocharged inline six cylinder motor. For those who don't know, the inline six engine is integral to Jaguar's history. It's the motor that was the heart of one of the most iconic cars to ever be produced: the E-TYPE.
It's luxurious, it's powerful, it has space, but does it have Jaguar's requirements of having grace and pace?
Let's find out.
---
Build Quality
5 out of 5.
I've had plenty of personal experience when it comes to build quality on Jaguar Land Rover products, being lucky enough that they have been my family's car of choice for over a decade. Over time, quality has been carefully improved, and here in the F-PACE, it's close to peak build quality for the money.
The F-PACE's interior build quality is next level. From the bottom of the doors, through to the control to put the transmission into park - it uses some of the highest grade materials found at this price point.
Rivalling Lexus' attention to detail, the Jaguar oozes luxury from the quality of its leather seats to its button presses and accuracy in stitching and embroidery.
To highlight this attention to detail, there are little 'easter eggs' littered around the cabin in the form of Jaguar logos in the seats, door sills, in the headlights and embossed into the air vent controls.
On the exterior, there are nice and tight shut lines between the panels, weighted doors, and flawless paint which all add to the perception of a well-built car.
I can say with confidence that those who have a deep appreciation for detail will be thoroughly impressed and satisfied with this English SUV; it's quite proper.
Value for Money
4.2 out of 5.
The Jaguar F-PACE P400 SE is priced from $98,654 before on-roads, which will get you a bit more standard equipment and more importantly, this 400hp motor.
It's certainly on the upper echelon in terms of affordability (and in recent news, cars like this from Jaguar are reported to only get more expensive over time).
Jaguar offers a plethora of options for any vehicle it provides - and some see that as a bad thing, while others will see that as a way to truly customise your ride with what really matters to you.
Our tester had a fair few options on it, including the 22 inch wheel and Pirelli tyre package, panoramic sunroof, Meridian sound system and the 'Activity Watch Key'.
The total price including options and on-roads was $117,498 for this particular vehicle. You can find the entire list of options fitted to this vehicle below in the 'Features' section of this review.
For some, an extensive option list can be daunting or irritating as we're used to having all the features included in the purchase price. Jaguar has taken the Porsche route in providing an extensive list of individual features that some could see as unnecessary and others see as personalisation for their vehicle.
Overall, the value for money of the F-PACE is quite good for the performance and dynamic ability of this performance luxury SUV. The P400 motor is a welcome engine option and breathes life into a capable SUV like this.
In addition to the premium materials and high standard of build quality employed in the F-PACE, you're certainly going to feel like you're driving in a car well worth the price you paid for it.
Cleaning and Maintenance
4.3 out of 5.
After experiencing the Jaguar's Coventry wet weather for most of the week I had the F-PACE for, there was plenty to clean before I handed back the SUV.
Particular caution to those taking this car to the drive-thru car wash, as that metallic paint will certainly look rough if not cared for properly. Additionally, be careful when parking if you opted for the same 22 inch wheels found on our test vehicle, as those will lose their lustre if they're being used as parking guides.
Recently, Jaguar and Land Rover have upped their warranty offering from 3 years to 5 years/unlimited kilometres; this also includes 5 years of roadside assistance. That's a much needed improvement in peace of mind to help address the elephant in the room that is reliability.
Noise Level
4.8 out of 5.
I was lucky enough to experience the F-PACE with a Meridian audio system which was an optional extra, as it also housed active noise cancelling for added ride comfort.
At any speed, the Jaguar dampened every element of exterior noise to the point where you really didn't want to leave this cone of silence.
There was a hint of engine noise emanating into the cabin in Comfort and Eco driving modes. However, in Sport mode the Jaguar made sure you knew you had 400hp under the bonnet, in the form of additional exhaust noise (both real and pumped in).
What you get from this motor is a rich and rewarding sound under heavy acceleration, completing the sports car experience that you expect from a Jaguar. On occasion, you can even get some pops and bangs on overrun or shifts which are subtle enough to avoid feeling obnoxious, but reward some spirited moments of driving.
The Meridian 400W 13 speaker set-up was an absolute highlight when driving this SUV daily. Initially, I wasn't as taken aback by the quality as I thought I might have been, however, after a few moments of listening to a wide variety of podcasts and music, the high levels of clarity and power with minimal distortion made this a memorable listening experience.
Braking
4 out of 5.
Front brakes measure in at 380mm and rear brakes come in at 325mm, providing plenty of stopping power for this SUV.
Painted red brake calipers were optional and highlighted these sizable brakes, helping bring a bit of dynamic colour to the exterior of this Jag.
Under light braking, the F-PACE was unbelievably easy to bring to a smooth stop. Operation of the brakes didn't need any excessive force, as braking was gentle in its initial bite. Heavier braking and trail-braking whilst driving with a little more enthusiasm is met with a confidence-inspiring stopping response from these brakes.
Acceleration/Power
4.3 out of 5.
With a claimed 0-100km/h time of 5.4 seconds, this isn't a slow car by any means.
Your school run just got a whole lot easier with this P400 motor, which is a 3.0L mild-hybrid, turbocharged inline six cylinder, and is also fitted with an electric supercharger.
In short, it's a complex but powerful motor. The complexity will be covered under your warranty, but what you will notice is the 294kW and 550Nm on tap. Peak kW can be accessed as soon as 5,500rpm and peak torque can be accessed as low as 2,000rpm.
The mild-hybrid system offers instant off-the-line acceleration, alongside better efficiency at highway speeds. You get the benefits of a hybrid for jumping off the start-line, without the additional weight of carrying around a large battery pack.
Once you're up and running, the inline six powers through to 100km/h without any hint of a struggle. Power is effortless, and plentiful for the daily commute - something I'm missing when driving less powerful cars.
Power and acceleration is the main reason you'd opt for the P400 motor in the F-PACE. If you don't see a reason to have this much power, look towards the diesel and four-cylinder petrol options available for a little less cash and both with respectable performance.
Gear Shifting
4.5 out of 5.
Fitted to the F-PACE is an 8-speed automatic transmission, similar to the one we tested in the Defender.
Here, the transmission is more performance oriented, with the option to manually shift via steering-wheel-mounted paddle shifters, which are some of the most rewarding and beautiful looking paddles I've seen in this segment.
The shifter not only looks great, but it also feels good in the hand with its ergonomic design. Shifting is seamless and there's a reassuring separation of the 'P' function in the form of a tactile mechanical button.
Suspension & Handling
4.2 out of 5.
This is one of the harder elements to value when pricing the likes of an F-PACE vs less powerful and more feature-filled 5-seat SUVs.
Compared to some cheaper competitors or even some direct competitors in the same price bracket, the F-PACE was designed from the ground up with performance in mind.
Upon its initial release, the largest question that every journalist set out to answer was if the F-PACE drove like a Jaguar. Everyone was a little worried a heavier, taller and larger Jaguar might not be as compelling to drive as other Jaguar models.
From what I experienced, it not only drove like a Jag, but it provided a rewarding and compelling driving experience when pushed right to the knife's edge.
The F-PACE's dynamic ability was phenomenal. This is where a more powerful motor is appreciated, to really highlight the ability this SUV has to settle into corners, and quickly pivot out of an apex and into the next section of road.
You're able to sit lower in the cabin, and really feel more in-tune with the machine, than some other SUVs. The F-PACE is the family car for those seeking performance and flavour in their drive. At lower speeds, the F-PACE did occasionally feel a little busy over bumps and grooves in the road, which I put down to riding on 22-inch wheels. If you want a more dampened ride, I'd opt for either a 19-inch or maybe a 20-inch wheel for a dramatic difference from these 22's.
Fuel Efficiency
3 out of 5.
Similar to what I experienced with the Land Rover Defender, this six-cylinder motor can be a little on the thirsty side.
The claimed fuel efficiency is 8.7L/100km combined.
In the city, I was seeing figures as high as 14L/100km, which led to me burning through half a tank of fuel in less than two days. The total cost of fuelling this SUV's 82L tank from empty is $123 on average. This is all a part of the performance payoff from a powerful petrol inline six.
Interior Design
4.6 out of 5.
This is by far the easiest way to spot the new facelift F-PACE amongst the previous generation.
There's been a dramatic overhaul in the name of quality and minimalism inside the Jag.
Let's start with the curved centre 11.4-inch touch display, which is certainly a statement piece. An ultra crispy, bright and well saturated display, it's certainly a high quality display.
The way Apple CarPlay is displayed generates a sense of satisfaction, as your phone's display takes up all the screen real-estate unlike some other vehicles with larger infotainment displays.
The infotainment's UI is clean and easy to use, with an app layout that makes it simple to access an array of features.
There are touch capacitive climate buttons below the screen, which I appreciate for their ability to reduce the number of buttons in the cabin. However, they have a tendency to be a little difficult to turn on and are a magnet for fingerprints. Some people will like these buttons, but for me, I wasn't falling in love with this element of the cabin.
The steering wheel design is another highlight, complemented by beautifully designed flappy paddle shifters.
The view out of the cockpit is met with a fully digital driver's display that is fully customisable, along with a heads-up display. At night, the interior comes alive with accent lighting that shifts to red if you're in 'Dynamic/Sport' mode.
With streaks of aluminum, a lot of stitched leather and a selected use of technology, the Jaguar F-PACE feels classy yet contemporary. I really do believe that both visually and in use, the F-PACE's interior design was a step up from other rivals like Audi and BMW.
Boot Size & Comfort
4.4 out of 5.
The Jaguar has a minimum boot space of 744L and a maximum boot space of 1804L.
That's a lot of space, and plenty for a family of four. I mention a family of 4 as this is who the F-PACE is designed for. With the seats folded up, you're able to get a couple of suitcases in the boot, alongside any accessories that are coming along on the trip.
With all the seats down, there is more than enough space to remodel your kitchen and pick up large items from IKEA.
Rear seat comfort is experienced best on the outer seats, as they are bolstered and sunken into the rear bench for exceptional headroom, knee room and feet room.
The middle seat suffers the most, with a very high transmission tunnel and raised seat, which makes it only suitable for small trips when carrying 5 people.
For long trips, the Jaguar offered supreme comfort thanks to its adaptive suspension.
Front occupants are held in with heavy bolstering and plenty of adjustment from the electric seats. My only complaint about the long-term comfort was the pain I experienced with the embossed Jaguar logo in the front headrests! Anyone with short hair will feel this pouncing Jaguar logo rub against the back of your scalp, which creates a pain point for those who rest their head back on their seats.
Another issue for long-term comfort was the omission of heated seats and USB ports for the rear seats. The USB issue can be sorted by purchasing a $15 12V adapter from Supercheap Auto, but the heated seats were sorely missed during the more harsh winter mornings. You would expect at this price point, these features would have been included.
Features
4 out of 5.
The Jaguar F-PACE P400 SE is the middle trim of the P400 motor option. It's certainly got plenty of features that are standard. However, you'll need to spend a little time with the options list to truly get a car that's best suited for you.
Here's a list of all features and options fitted to this car.
Engine
3.0L Inline 6-Cylinder Turbo-Charged Petrol MHEV with E-SC
294kW @ 5,500-6,500 rpm
550Nm @ 2,000-5,000 rpm
8-speed Automatic Transmission
Infotainment
11.4" Touchscreen
Interactive Driver Display
Apple CarPlay/Android Auto
Meridian Sound System - 400W, 13 speakers incl Subwoofer + Active Noise Cancellation (Option)
DAB+ Radio
Satellite Navigation
Wireless Device Charging (Option)
Head-up Display (Option)
Interactive Driver Display (Option)
Safety
Adaptive Cruise Control
Keyless Entry
Push Button Start
Tyre Pressure Monitoring System (TPMS)
Emergency Braking
Blind Spot Assist
Clear Exit Monitor
Lane Keep Assist
Front and Rear Parking Aid
Rear Collision Monitor
Rear Traffic Monitor
Traffic Sign Recognition and Adaptive Speed Limiter
Trailer Stability Assist (TSA)
Driver Condition Monitor
Interior front door handles with separate locking switches
Power operated child locks
Seat belt reminder
Passive front head restraints
Rear ISOFIX
Valet Mode
Performance
0-100km/h in 5.6 seconds
Drive modes
Paddle Shifters
Dynamic information (G-Force meter and laptimers)
Convenience
Keyless Entry/Exit and Start/Stop
Electric tailgate
Puddle Lamp Lights
3D Surround Camera
Should you buy one?
The new F-PACE certainly represents the all-in-one family car. It can do it all, and more importantly, provide more than enough fun in the driving department.
I really do love this SUV, and would recommend it for those looking for a performance SUV, without the drama that AMG, SVR, M or even Audi's S models can bring. It has 400hp, and is a little more conservative on fuel than more expensive performance V8 trims and rivals.
The P400 motor certainly is the highlight here, however you don't necessarily need to opt for it if you don't need all-out performance paired with your F-PACE. Diesel and four cylinder motor options for this SUV will allow you to save a little at the pump and leave more space in your wallet for additional options from that extensive list.
At the end of the day, the F-PACE has plenty of road presence, and is a fantastic example of a luxury performance SUV.
Overall, you certainly should buy an F-PACE P400 if you're in the market for a performance SUV, as it offers the old school Jaguar sports car formula, packaged into the shape of an SUV.
About the author
Cameron is your typical car nut, but also drives and writes about cars for ProductReview.
Questions & Answers
Sorry, there are no questions yet.
Get an answer from our members
Details
Category
Midsize / Medium SUVs
Starting

Price

$98,654.00
Warranty

Distance

Unlimited kms
Transmission
Automatic
Drive Type
All Wheel Drive (AWD)
Fuel Type
Petrol
ANCAP Safety Rating
5 Stars
Fuel Consumption
8.7 L/100km
Fuel Tank

Capacity

82 L
Engine
3.0L Inline 6-Cylinder Turbo-Charged Petrol MHEV with E-SC
Max Power
294kW
Max Torque
550Nm
Boot Capacity
1,804 L
Country of Manufacture
England
Phone Connectivity
Android Auto (Wired), Apple CarPlay (Wired), Bluetooth and USB
Wireless Charger
No
Security Features
Immobilizer
Companion

App

No
Steering Wheel Adjustment
Telescoping (Electric)
Acceleration

(0-100km/h)

5.4 seconds
Maximum Towing Capacity (braked)
2,400 kg
Maximum Towing Capacity (unbraked)
750 kg
Manufacturer Warranty
5 year(s)
Keyless Features
Keyless Locking/Unlocking
Yes
Ignition
Keyless Start/Stop
Boot
Automatic Close and Automatic Open
Headlights
Type
LED
Headlight Features
Auto High-Beam Dip, Auto-Dimming, Automatic On/Off, Delayed Off When Parked and Self-Cleaning
Safety Features
Cameras
360°, Front and Rear
Cruise Control
Adaptive (ACC)
Parking Sensors
Cross-Traffic Alert (Front), Cross-Traffic Alert (Rear), Front and Rear
Hazard Perception
Blind Spot Monitoring (BSM) and Forward Collision Warning
Lane Assistance
Emergency Lane Keeping (ELK), Lane Departure Warning (LDW) and Lane Keep Assist (LKA)
Speed Sign Recognition
Yes, read only
Dimensions
Kerb Weight
2,028 kg
Ground Clearance
213 mm
Driver Information
Gauges
Digital Only
Built-In Navigation System
Yes
Heads Up Display
Yes
Voice Control
Yes
Digital Radio (DAB+)
Yes
Release date
Visit official website
ProductReview.com.au has affiliate partnerships. These do not influence our content moderation policies in any way, though ProductReview.com.au may earn commissions for products/services purchased via affiliate links.