1 photo
Kia Niro EV Sport (2021)
Also referred to as: Kia Niro EV Sport 2022.
Brand Manager for Kia?
Register now
and take advantage of ProductReview's Brand Management Platform!
Expert Review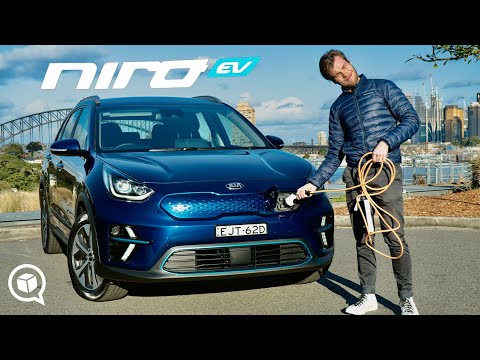 4 out of 5 stars
Introduction
If I say EV, you say Tesla.
What if you didn't want to go down the Tesla route when buying an EV? You might not really be sold on the build quality issues, beta-style testing of self-driving software or you might simply dislike the look of a Tesla.
Thanks to an industry-wide movement to shift from fossil-fuel powered vehicles to battery-operated ones, there have been plenty of big brands now offering competitive EVs.
Kia has released their first mass market EV in the form of the Kia Niro.
The Kia Niro is one of the most conventional ways to transition into the electric vehicle market. However, just because it's a conventional way to transition, doesn't make it the best way to get yourself into an EV.
Let me show you the pros and the cons of spending $70,000 on Kia's first electric SUV.
---
Build Quality
4.5 out of 5.
Kia has stepped up the build quality game for the Niro EV.
The doors feel heavier, the leather is of a higher grade, and there's a clear absence of rattles and squeaks when driving. The Niro feels premium compared to other Kia products. The centre console construction, dashboard and buttons all felt solid and fitted well inside this interior.
Compared to the likes of Mercedes and Tesla, the interior does have some cheaper materials used in its construction, however that doesn't take away the fact that this is a well-built car. It simply means the perception of quality might not match rivals within this price point.
Value for Money
3.7 out of 5.
I opted for the Niro EV Sport for this review, which is priced from a whopping $70,990. Add the premium 'Yacht Blue' paint splashed on the exterior, and that price is brought up to $71,510 drive away.
Immediate reactions will be the stereotypical "$70,000 for a Kia?", and I would agree. At this price point, the Niro EV isn't trying to win over skeptical buyers, and nor will it.
Buyers with a tight budget, or who aren't looking to purchase an EV, won't give the Niro EV a second thought at this price.
This price is aimed at those looking to be 'early adopters'.
For the price, you get every option under the sun. However, it's not going to be enough to woo buyers away from brands they might be cross-shopping with at this price. Buyers looking for an EV around this price point might settle for the base Tesla Model 3, starting from $64,662 drive away - or, they might spend a little more for a Mercedes EQA.
The Niro EV is going to appeal to those looking for a discreet, reliable and practical alternative to EVs at this price point.
Kia's perception as a brand with these qualities will benefit from first time EV buyers who are unsure of the long term reliability of a Tesla or Mercedes. Add on Kia's 7 year warranty, and you have the longest EV warranty in the market. For some, that might be the most appealing selling point for relatively new technology.
Overall, it's an expensive price point, and it might be the limiting factor for the Niro EV to succeed against cheaper rivals. However, it is the price to pay for early adopters to enter the market in 2021.
Maintenance
3.5 out of 5.
The Niro EV comes with Kia's 7 year/unlimited kilometre warranty, which is an industry best. You won't get this warranty on any other EVs currently available here in Australia.
Kia offers a capped price servicing program for the Niro EV, which you can either pre-pay over 3 years ($1,164), 5 years ($1,728) or 7 years ($2,803). Or, you can 'pay as you go', which services up to 7 years or 105,000km detailed below:
| Interval | Cost |
| --- | --- |
| 1 Year or 15,000 km | $87 |
| 2 Years or 30,000 km | $444 |
| 3 Years or 45,000 km | $633 |
| 4 Years or 60,000 km | $472 |
| 5 Years or 75,000 km | $92 |
| 6 Years or 90,000 km | $980 |
| 7 Years or 105,000 km | $95 |
| Total | $2,803 |
Overall, this is on the expensive side directly compared to Tesla. Tesla doesn't have servicing intervals, instead they will advise you to change brake pads, filters and tires when needed.
Although, compared to other conventional car manufacturers, the cost of servicing over 7 years is relatively cheap.
Noise Level
4.4 out of 5.
This is an EV, so you're going to be far more exposed to road and wind noise when on the move.
This is where the Niro EV excelled, not only in keeping out unwanted noise, but also with it's upgraded JBL speaker system. Thanks to an aerodynamic design and flat underfloor, there was minimal wind noise emanating into the cabin.
Tire noise was also kept to a minimum due to the use of Michelin tires specially designed for EVs, with low roll resistance for better range and reduced noise. Tire squeal was very clear under heavy and sudden acceleration derived from all 395Nm being instantly delivered to the front tires.
At higher speeds, you can hear tire noise start to ramp up, however it never reaches a point that becomes overwhelming. Rather, it's noticeable when you're not having a conversation or playing any media through the speakers.
Talking about the speakers, the upgraded JBL system was a welcome addition to this interior. These speakers offered improved clarity, power and bass throughout the cabin. Without the additional noise of an internal combustion engine, playing podcasts and music through the speakers certainly sounded like it was improved.
Braking
3.5 out of 5.
Weighing in at 1,791kg, this is certainly a hefty small SUV. Coming to a stop, you certainly begin to notice this weight when coming down from high speeds.
At regular speeds, the brakes do a great job of being able to be smooth to operate. In emergencies, you can rely on active rear-cross traffic assist and autonomous emergency braking to avoid collisions.
When coming to a stop from speeds of 60km/h and above, you begin to notice that you are a lot heavier than the physical size of this EV would suggest. Add luggage and 4 more people in this car, and you'll become even more aware of the additional brake pressure you'll need to apply to stop.
Fitted to the steering wheel are a pair of paddle-shifters, but instead of being used to change gears, they help adjust the strength of the regenerative brakes.
For those foreign to the concept, regenerative braking is when an electric car will use the rolling resistance of its electric motors to help slow down the car.
Using these paddles, the regen can be as light as regular coasting, through to more aggressive feeling regen, which can result in car-sick passengers.
In Level 3 (the highest and most aggressive setting), you don't need to be on the brakes all that much, helping you extend the life of these brake pads over a longer period of time.
However, I found myself not relying on the regenerative braking ability of the Niro, even if it saved a little more battery life, as it was a little too aggressive for my liking. The Tesla Model 3 did a far better job avoiding the need to use the brake pedal all that much, as it was a lot smoother applying the regen when decelerating.
Acceleration/Power
4 out of 5.
The Niro offers the acceleration you'd expect from an EV in 2021. It delivers instant torque and it feels powerful.
This EV makes do with a single electric motor that produces 150kW and 395Nm. That's plenty of power, even in a petrol-powered equivalent vehicle.
Unlike a Tesla Model 3, the Niro is slow to apply all the power at the very instant you accelerate, making it obvious that there are active traction systems helping prevent the tires from spinning on the spot.
Although, I found the Michelin Primacy tires to lack grip when placing power down through turns. This resulted in loud chirping from the tires as they screamed for grip momentarily.
Once you're up and running, especially in Sport mode, the Niro's instant access to nearly 400 Nm of torque makes movement up to any speed limit beyond effortness.
Gear Shifting
4.5 out of 5.
This is an EV, so you're likely to encounter only one gear (as found in the Niro), or on occasion two gears.
It's a single continuous gear that helps the Niro to sprint through its acceleration, rather than having to shuffle through several gears.
Power is provided exclusively to the front wheels, something I'm not a fan of in the Niro. It results in more understeer and a distinct lack of grip, compared to the rear wheel drive system found in a Tesla Model 3.
Suspension & Handling
4.3 out of 5.
Again, here's another EV advantage for the Niro, and that's because it has the lowest centre of gravity of any Niro variant.
There's a massive battery pack under the floor of the Niro EV, and it certainly helps with the handling of this small SUV.
A low centre of gravity allows you to hook through corners with less physical body roll, and instead be met with a more direct response to swiftly move through curves in the road. However, there still is a hint of body roll as a result of this being a small SUV, and not a hatchback or sedan.
I found the ride to be relaxing in the Niro, as it managed to smooth out a lot of bumps and divots in the road. I assume this is down to the massive weight gain this Niro has experienced when being transformed into an EV. It's a lot more comfortable than an equivalent petrol-powered small SUV, feeling planted rather than a little busy over coarse sections of tarmac.
Fuel Efficiency
4.4 out of 5.
No fossil fuels are coming out of the non-existent tailpipe of this SUV. Instead, I'm focusing on range.
The great news is that the Niro EV offers a respectable 455km of WLTP range, and a consumption rate of 159 Wh/km.
Simply put, you will be able to make longer drives in the Niro, as long as you plan ahead on where to charge.
The Niro offers an in-built charger map, which won't just show you where the nearest available charging stations are to you, but it will also show you just how far you can go on your current range (as the crow flies).
If you want to make your range last as long as possible, you'll need to enter ECO plus mode, which will inform the Niro to keep energy consumption low.
Interior Design
4 out of 5.
The Niro EV isn't out to make a statement. It's here to make EV's look more conventional and less daunting than having to rely on a single monolithic screen on the inside.
The interior uses a simple layout which would be familiar to anyone who enters the cabin. Really, the main event is the centre console, where the rotary shifter dial is found.
Aside from that, if you've been inside of a modern SUV, you've been inside the Niro.
I wasn't a fan of a lack of electronically adjustable front seats seeing as other cars at this price would have automatic seats, but I did appreciate all of the other features like the easy-to-use infotainment screen and the heavy use of physical buttons.
For some, the only EV specific part of the interior is the information overload found in the driver's display. As great as it is to be informed about where your energy from your battery is being sent, it's not necessary. Instead, a reduction or simplification of this information would go great lengths to further improve the conventional layout of this interior.
That's the appeal, if you're a little technophobic, or simply don't want to buy a car that requires a slight learning curve or adjustment to get used to it - the Niro will offer one of the best conventional car interiors in the EV market.
Boot Size & Comfort
3.9 out of 5.
The Niro offers 451L of cargo space, and a maximum space of 1405L with the second row folded.
I personally found the Niro to be spacious enough for a few bags but it'll feel a little snug with four people's worth of luggage.
It's a boxy shape, offering a tall and wide entry into the boot. However, for $70,000 we still don't have a power tailgate - a little annoying for families who have been used to a feature like this in their previous car.
Rear seat comfort is adequate, but as an adult, I noticed how the battery pack ate up all of my leg room. This meant my feet sat noticeably higher than other cars in the second row, which makes longer trips a little uncomfortable as my knees felt as if they were pushed closer to my chest.
Features
4.2 out of 5.
The biggest challenge the Niro EV will face in this EV market is the asking price for the features it offers.
It's priced above a base Model 3, which already has a few more features and a wider range than what the Niro offers.
However, if you're happy to forgo a few creature comforts, in return for a well-built, reliable conventional EV from a well established automotive brand - the Niro might just win you over.
Here's a list of all features you can expect to get from the Niro when spending over $70,000.
Engine
64kWh battery
455km WLTP range
Front wheel drive
Infotainment
10.25-inch display
7-inch driver's display
Apple CarPlay/Android Auto
Bluetooth
Additional EV range and trip information
JBL premium sound system
Safety
Blind spot detection
Rear cross traffic alert
Land keep assist
Lane follow assist
Drive attention warning
Exterior noise generator at low speeds
Performance
Regenerative braking (3 stage)
Charge cable lock
Fast charging, 0-80% with 100kW DC charge takes 53 mins
Convenience
Keyless start/stop and entry/exit
Radar cruise control
Front heated seats
Automatic headlights and wipers
Ambient lighting
Leather seats
Should you buy one?
I've made the point throughout this review that the Niro EV is aimed at the conventional crowd. The Model 3 represents the bleeding edge of interior design and EV technology, which is why it's the best selling EV here in Australia.
The Niro EV isn't trying to compete directly with the Tesla Model 3, you'll have to wait for the EV6 to arrive sometime in 2022 for Kia to attempt that.
The Niro EV will be a great stepping stone for those willing to pay the early adopter price for a fully electric car. It's not going to force you into updates or make you beta test software for future cars.
It's the small SUV EV that'll be a great addition for you to own for a longer period of time, until the next generation of EV's enter the market in the near future.
Although, its biggest challenge is trying to convince those who are committed to entering the EV market a little early to not jump from a conventional style EV to something similar to a Tesla Model 3.
About the author
Cameron is your typical car nut, but also drives and writes about cars for ProductReview.
Sorry, there are no reviews yet. Be the first to write a review.
Write a review
Questions & Answers
Sorry, there are no questions yet.
Get an answer from our members
ProductReview.com.au has affiliate partnerships. These do not influence our content moderation policies in any way, though ProductReview.com.au may earn commissions for products/services purchased via affiliate links.