4 photos
Kia Sorento AWD PHEV GT-Line (2022)
Also referred to as: Kia Sorento AWD PHEV GT-Line 2023.
Brand Manager for Kia?
Register now
and take advantage of ProductReview's Brand Management Platform!
Expert Review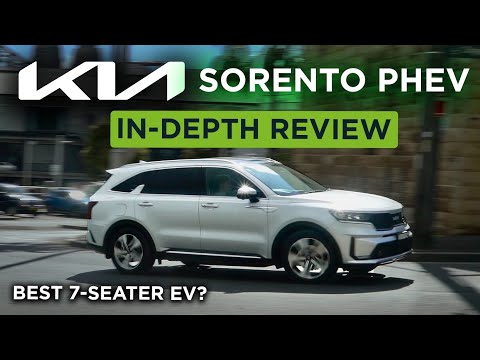 4.4 out of 5 stars
Introduction
I've already reviewed the all-new Kia Sorento. It's one of the best seven-seater SUV's you can buy for less than $80,000. It's feature packed, it's capable on-road and a little bit off-road too.
Kia decided for 2022 to introduce a new top-of-the-range model to the Sorento line-up, and that's the Sorento PHEV.
It demands a near $15,000 price jump over its sister model, the GT-Line diesel, coming in at $79,330 before on roads.
That's quite the jump for a car offering almost the same features as the diesel powered model (barring being able to control your car remotely via your key FOB). Is it worth paying for the ability to reduce your fuel consumption AND be able to run this SUV as a pure EV for just over 60km of range?
Let me explain what you're getting, and if it's worth paying an early adopter's fee.
---
Build Quality
4.4 out of 5.
Kia's build quality is better than ever. It's solid, there's a conscious elimination of that 'tin' sound in the doors, and there's never a squeak or rattle out of place.
Some scratchy hard plastics exist on the interior. However they're part of an element that's there for utility rather than luxury. Buying this trim of the Sorento does not necessarily bring any additional 'build quality' to the already impressive Sorento GT-Line.
However, adding extra weight via the form of a battery pack provides an illusion that the car is heavier on the road. Heavier cars are usually perceived as more luxurious, and this is a tactic used by brands like Bentley and Mercedes Benz. It works here for that same effect, even if you're driving around in a Kia.
Value for Money
4 out of 5.
Is it worth spending $15,000 more for a $79,330 (before on roads) Sorento that's able to reduce fuel consumption and run as a pure EV?
The answer depends on your needs and wants for your next family SUV. If you want to reduce your fuel consumption, CO2 output and have the ability to drive partly as a pure EV - this is certainly the best option out at the moment for a 7-seater PHEV.
The Sorento PHEV isn't cheap, but as far as electric vehicles that are this big go, it's a lot cheaper than the competition. Tesla Model X and Volvo XC90 Recharge are the only other 7-seater SUVs able to run as pure-EVs. Sure, the Model X is only an EV, but the point still stands.
If you don't care about any of the above, then don't waste your time, and just jump into the diesel powered Sorento GT-Line.
Maintenance
3.5 out of 5.
Two drivetrains prove to be a little more expensive than GT-Line diesel over 7 years of servicing. Kia has reduced the number of kilometres between each service, resulting in coverage for only 70,000km (or 7 years) vs the diesel's 105,000km (same period).
Your total cost of servicing over 7 years comes to $4,903 compared to the diesel's $3,463 total cost of servicing over 7 years. Maybe all that money you save on fuel can go towards beating the difference in servicing costs between the other two engine options over this period.
Here's a full breakdown of the services for the Sorento PHEV:
| Interval | Cost |
| --- | --- |
| 1 Year or 10,000 km | $323 |
| 2 Years or 20,000 km | $633 |
| 3 Years or 30,000 km | $720 |
| 4 Years or 40,000 km | $1010 |
| 5 Years or 50,000 km | $356 |
| 6 Years or 60,000 km | $1168 |
| 7 Years or 70,000 km | $655 |
| Total | $4,903 |
Noise Level
4.5 out of 5.
Under electric power, the faint whir of an electric motor can be heard under acceleration. When slowing down, an artificial whir is generated. This is done not just to exaggerate the electric motor's sound, but also to alert pedestrians you're moving down the road.
When reversing, you get a rounded- sounding reverse beep, like the ones you hear on a reversing truck. However, this sound is a lot quieter and not nearly as piercing as what you're used to hearing.
Road noise and wind noise is virtually non-existent. Even pushing the Sorento hard through corners, you're never shocked with tire squeal, despite the extra weight on board.
The 1.6L turbocharged four cylinder unit can feel abrupt in the sound it creates. All of a sudden you're reminded that engines are made of metal that rubs together to operate, as that's exactly what this motor sounds like. It's a coarse sound that only makes me wish the battery on the Sorento PHEV was larger so I could go longer without having to hear this motor.
It's not unbearable, but it's not pleasant right after experiencing just how quiet this car can get.
Braking
4.2 out of 5.
I couldn't help but notice the same brakes used on the Sorento PHEV felt a little more stressed than the ones on the diesel.
There's just over 100kg in additional weight added to the Sorento PHEV compared to the diesel. Brakes are easy to modulate for a smooth operation, but the harder you push when traffic suddenly stops in front of you, the more you can't avoid feeling there's additional mass onboard.
Acceleration/Power
4.4 out of 5.
The Sorento PHEV scores a petrol 1.6L turbocharged four cylinder unit producing 132kW at 5,500rpm and 265Nm at 1,500 - 4,500rpm. It's paired with a permanent magnet synchronous electric motor, producing 67kW at 2,100 - 3,300rpm and a whopping 304Nm at 0 - 2,000rpm.
Total output delivered through the AWD system is 195kW and 350Nm. This is a unique set-up, as the electric motor provides a hefty punch. This produces more torque than the petrol motor, and more kilowatts than the diesel engine.
The bulk of the torque delivered at 0 rpm is noticeable, and allows the Sorento to hustle off the line a lot quicker than its diesel counterpart. It's silent and quick to react to acceleration. However, you can't win against physics in a car this big. Speed begins to fall and you can feel the Sorento 'run out of puff' once that petrol motor kicks in.
I thought the way the petrol engine remained accelerating, despite me lifting off the accelerator for an additional second, was a terrible characteristic of this motor. It's something that I hope Kia can eliminate from future Sorento PHEVs.
That electric motor is great for low-speed acceleration, but it's no substitute for performance. It's not going to be a budget Porsche Cayenne E-Hybrid unfortunately.
Gear Shifting
4.6 out of 5.
Surprisingly, you lose the brilliant 8-speed gearbox for the more expensive PHEV model, and instead receive a 6-speed automatic. Nonetheless, it still does a great job of managing revs in a car like this.
Shifts never really missed a beat, although this gearbox occasionally missed opportunities to shift into a low enough gear to take full advantage of that low-down torque. Instead, it preferred the high rpm power of the petrol engine. Personally, I prefer the torque of the electric motor every day of the week.
Don't bother choosing gears via the flappy paddles on the back of the steering wheel - it's not worth the effort, as it's far from feeling crisp. I'm not entirely sure why they included paddles on a car like this if they omitted them from the dual-clutch Seltos AWD (which is arguably more sporty if you do a side-by-side comparison).
Suspension & Handling
4.4 out of 5.
Adding weight actually improves the luxury feel of the Sorento's ride. It dampens the suspension in a way that avoids any additional jumps or upsets in the road to the cabin.
Over speed bumps, you might want to slow down, as it's not like a Range Rover in its ability to fly over sharp bumps. Instead, the weight does disturb the front wheels, and can cause a crashing sensation when those wheels rebound a little too quickly against this large SUV.
The Sorento is more than capable through corners, where it never faulted thanks to the batteries being lower down in the car's body. It only enhances the cornering ability of this Kia.
The bottom line is that it's extremely comfortable.
Fuel Efficiency
4.9 out of 5.
I'm sure you're interested in this part, as it's the main selling point for the Sorento.
1.6L per 100km was as low as I could get for the total consumption for the Sorento, and reached as high as 4.6L per 100km when the battery was depleted.
You can get up to just under 50km of real world range with the pure EV mode in the Sorento, and rely on the petrol motor to run this car as a hybrid when you run low on electrons.
The battery pack on board is a 14kWh battery, so it's not enormous. That means if you want to charge from home, you can charge the battery from 15% to 95% in 3 hours and 25 mins using a type 2 charger. It's going to be even quicker at larger charging stations away from home.
But, at least with a plug-in hybrid, you don't have to rely on plugging in the car to charge up the battery. The onboard charger can charge the battery with speeds of up to 3.3kW, so it's more like a trickle charger rather than something that can charge over just a few minutes of driving.
You can use a Tesla charger, but you can't use a Tesla SUPERcharger station. I still think the disjoined third party charging system is a little annoying and convoluted, with stations either failing to have the right connector or simply not working at all. To make the most of the Sorento PHEV, you need a place to charge either at home or at work.
Interior Design
4.8 out of 5.
This is the same interior you get in the diesel GT-Line Sorento, meaning you get stitched leather, plenty of room and lots of tech and features.
It's comfortable and you're certainly well looked after in all three rows inside the Sorento.
The only difference comes in the form of additional information around the electric drivetrain in the driver's display and infotainment. There's another button located near the shifter which allows you to switch between hybrid, pure EV mode and auto (where the car chooses between the two modes depending on your driving style).
There's plenty of light and great visibility out from the inside of this car. It's still one of the most impressive interiors this side of $100,000.
Boot Size & Comfort
4.4 out of 5.
You do lose boot space and interior comfort to the battery pack located under the rear seats.
Boot space is down to 175L with all the seats up, 604L with the third row folded away and 1988L with all the seats folded flat. It's now got less than 2000L of total space compared to the diesel's interior boot space. Towing is also down, meaning that if you need a car to haul a trailer, get the diesel.
Suspension is comfortable, seats are comfortable and there is still enough interior space to feel like you're in a large vehicle. The battery pack is noticeable under the rear floor, meaning your knees feel a little closer to your chest in the second and especially in the third row.
Luckily features like a rear blind, front-left seat controls, rear heated seats and rear air con controls all help increase comfort inside the Sorento.
Features
4.7 out of 5.
I expected to get the same amount of equipment as the diesel GT-Line Sorento, however, you do miss out on one feature. That's the 'Smart-Park' self-driving feature, which is a remote control to start and drive the Sorento forwards and backwards via the key. It's a great feature that was weirdly omitted from the more expensive PHEV model.
However, you do have features surrounding the electric powertrain in place of that feature, and still have a tonne of equipment that'll never have you missing any creature comfort.
Here's a full list of features:
Engine
1.6L 4-cylinder turbo-petrol motor electric hybrid
132kW at 5,500rpm
265Nm at 1,500 - 4,500rpm
8-Speed DCT Automatic Transmission
Infotainment
10.25 inch colour touch screen
Driver Talk in-car intercom
Apple CarPlay and Android Auto
DAB Radio
BOSE premium sound system (12 speakers)
Safety
Blind Spot Cameras
Blind Spot Collision Avoidance Assist
Active Lane Keep Assist
Active Steering Assist
360 degree Camera
Radar Cruise Control
Trailer Stability Assist
Performance
Flappy paddle shifters
Sports mode
All wheel drive
Convenience
Front Heated and Cooled Seats
Rear Outer Heated Seats
Automatic Headlights and Wipers
Wireless Phone Charging
Total of 8 USB ports
Interior Mood Lighting (64 colours)
Colour Heads-up Display
12.3" TFT Drivers Display
Should you buy one?
You're paying the early adopter's fee for this type of vehicle. It's two powertrains designed to reduce emissions and taxes for those overseas. Here in Australia, we don't have any emissions regulations that mean we'd benefit from a car that pollutes any less than a supercharged HEMI V8 petrol motor.
The only real incentive to buy this car in Australia is to either reduce your carbon footprint or to reduce your fuel bill. That means justifying paying $15,000 more than the diesel upfront to own and drive a car that still pollutes, but at a significantly lower rate. If you have a place to charge most nights, you can run on pure electricity for most of your daily commute.
It's a solid hybrid-powered, 7-seater SUV, and it's great value in that particular market. However, it's going to be best suited for those motivated to buy one for the first reason, not the second. Ultimately, it's for those who want a taste of the electric car life, without the range anxiety.
About the author Cameron is our resident car expert. Aside being a source of knowledge about the automotive industry, he has also driven a wide variety of cars. From Porsche 911 GT2 RS's, through to a 1998 Toyota RAV4, Cameron has not only seen it all, but has most likely driven it.
Sorry, there are no reviews about Kia Sorento AWD PHEV GT-Line (2022) but you can read 53 reviews about Kia Sorento.
Write a review
Questions & Answers
Sorry, there are no questions about Kia Sorento AWD PHEV GT-Line (2022) but you can read 23 questions about Kia Sorento.
Get an answer from our members
Details
Compare all 14
Kia Sorento
Category
Electric Cars and Large / 7 Seater SUVs
Warranty

Distance

Unlimited kms
Transmission
Automatic
Drive Type
All Wheel Drive (AWD)
Fuel Type
Hybrid
Wheels
20" Alloy (Dark Chrome Finish)

Doors

4

Seats

5 to 7
Fuel Consumption
1.6 L/100km
Fuel Tank

Capacity

67 L
Engine
1.6L T Petrol PHEV Smartstream In-line 4 Cylinder. DOHC T-GDI D-CVVT/CVVD 16 valve
Max Power
132 kW @ 5,500 rpm
Max Torque
265 kW @1,500 - 4,500 rpm
Boot Capacity
175 L
Country of Manufacture
South Korea
Maximum Towing Capacity (unbraked)
750 kg
Battery Capacity (Gross)
38 kWh
Range (NEDC)
68 km
Efficiency
161 kWh/100km
Manufacturer Warranty
7 year(s)
Release date
Jan 2022
Compare all 14
Kia Sorento
Visit official website
ProductReview.com.au has affiliate partnerships. These do not influence our content moderation policies in any way, though ProductReview.com.au may earn commissions for products/services purchased via affiliate links.