1 photo
Kia Stonic GT-Line (2021)
Also referred to as: Kia Stonic GT-Line 2022.
Brand Manager for Kia?
Register now
and take advantage of ProductReview's Brand Management Platform!
Expert Review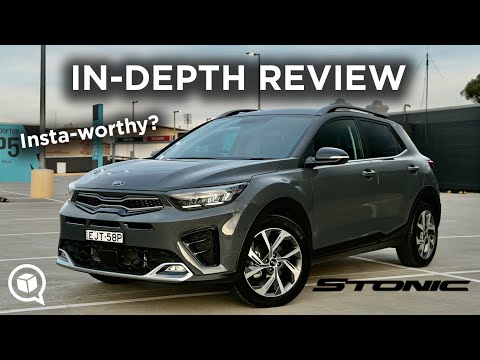 3.7 out of 5 stars
Introduction
This is Kia's smallest SUV.
Reading through the marketing materials on Kia's website, I came across the dot-point explaining how this tiny SUV was 'Insta-worthy.'
It's a phrase that's rung throughout my head and stuck with me whenever I think of this car. It made me curious about what that means, and who this car is targeted towards.
From what I can tell, this Kia is designed to target first time drivers, or those seeking a smaller but more roomy hatch for inner-city driving.
So I put on my best pair of Converse, jumped into the driver's seat of the Stonic, and imagined what it would be like to have this car as my 'first car.'
---
Build Quality
4 out of 5.
I tested the GT Line variant of the Stonic, which is the range topper, offering more premium materials like a leather styled steering wheel and seats.
Build quality on the outside is solid. You can push, push and knock everything from the centre console through to the doors, and you'll be comfortable knowing this car can withstand some rough encounters.
On the outside, it's all standard practice. There's accurate panel gaps, easy to operate doors and plenty of tire walls to prevent constantly worrying about those 17-inch wheels scraping the curb.
A small factor when it comes to the side skirts, just make sure you don't step on them (as indicated by a warning sticker) as they aren't rated to carry a person if you intend to use them as a step to access the roof.
Value for Money
4 out of 5.
This is the range topping Stonic, priced from $30,490. This is quite a step up from the base price of $23,490.
For those lucky ones that are grabbing the GT Line, you'll find plenty of features for the price. These features include keyless entry/exit, partial leather seats, a sunroof, upgraded wheels, more power and a dual clutch automatic transmission.
If you're a parent looking to buy a new car for your child or don't like spending all that cash for those upgrades, the base Stonic's space and styling will be plenty for a first car. As a Gen Z baby, all I'd really care about is if my phone can connect to Apple CarPlay for maps and music, which the base car already offers.
If you're looking for a larger hatch and this isn't your first car, the GT Line will make life a lot easier with all the creature comforts found here.This Stonic feels more premium, with a more up-market cabin than its base model counterparts.
As a small SUV, the Stonic is right in the affordable bracket for a new car, as the top-of-the-range model barely tops out above $30,000. It represents value in the form of an easy-to-drive and more spacious alternative to a lower-to-the-ground hatch.
Maintenance
4.5 out of 5.
The Stonic comes with a 7 year/unlimited kilometre warranty, which is very impressive.
And to fill the Stonic up with a full tank of fuel? That'll set you back around $65 on average. It's not exactly cheap, but you shouldn't see the Stonic chew through that fuel unlike some heavier SUV's.
You also get capped price servicing, with the total cost of these services over 7 years or 70,000km of driving coming to $3,299.
Here's a year-by-year and kilometre break-down of the total servicing costs for the Stonic:
| Interval | Cost |
| --- | --- |
| 1 Year or 10,000 km | $283 |
| 2 Years or 20,000 km | $484 |
| 3 Years or 30,000 km | $338 |
| 4 Years or 40,000 km | $704 |
| 5 Years or 50,000 km | $319 |
| 6 Years or 60,000 km | $602 |
| 7 Years or 70,000 km | $569 |
| Total | $3,299 |
Noise Level
3 out of 5.
For daily driving, and for a road trip, you're going to be happy with the sound system on the Stonic.
It's clear, with an acceptable amount of depth and volume to the sound played out of these speakers - this is a far better alternative to a car's stereo from 5-10 years ago.
Connecting to these speakers via Apple CarPlay is a safe and legal way to interact with your podcasts or music while on the move. Again, this is an improvement from having to pull-over or queue your music on your phone to just interacting with the screen.
The engine in the GT Line was an interesting one, as it's a turbocharged three cylinder. Under heavy acceleration, it'll provide V6-likeness with the sound it produces, which can be a little more fun than listening to a straining inline four.
Road noise was present, but nothing too overbearing. Wind noise, even with roof-rails fitted, was never a present issue when driving around in the Stonic.
Braking
3.5 out of 5.
This is a really simple section.
This isn't a performance car, it's just meant to be comfortable, and that's what the brakes did so well.
This is a very light car in the modern world, weighing in at just over 1,200kg. Being lightweight didn't affect the braking ability of the Stonic to be too sudden or sharp. Rather, you could be easy and smooth on the brakes, with little effort.
Acceleration/Power
2.5 out of 5.
On paper, this is a disappointing power plant. This is a 1L turbocharged three cylinder producing 74kW @ 6000rpm and 172Nm @ 1500-4000rpm.
The power to weight ratio however, is around 60kW per tonne, which isn't the worst ratio in the world, but it's certainly nowhere near enough for a 'sporty drive.'
Here's the best part: that's not what the Stonic is meant to be. It's not meant to be a sports car, instead, reading these specifications for the engine is only going to persuade parents to purchase this car to drive their child in. It's enough power to get around, but certainly not enough to get in big trouble.
Accelerating off the line, and powering up the Stonic GT Line, you do have to dig deeper into the accelerator pedal to really get it going. Simply due to a lack of an AWD system, and the fact it's missing some additional power.
It's not going to win any drag races, but the powerplant does make for a good economical and sensible choice to save money on fuel. You have a choice of three drive modes, with Eco being the mode the car always starts up in. A personal pet peeve I have is when a car starts up automatically in the worst drive mode, but it's easy enough to change.
I never found myself driving around in Sport mode, as I didn't see a point to this. Instead, I drove around in Normal mode, and found myself with enough responsiveness from the engine and gearbox to get from A to B with no fuss.
Gear Shifting
3.8 out of 5.
Dual-clutch transmission in small SUVs have become more prominent in recent years, with the worst example found in the Nissan Juke.
These can be jerky and awkward at low speeds, but really shine when you need the gearbox to be responsive in shifts - something you certainly don't need in traffic.
In the Stonic, I actually found that the gearbox offered the relaxed experience of a dual-clutch, while also being crisp to shift when getting up to the speed limit.
I never felt the need to shift manually as it's certainly not a car designed to benefit from you shifting your own gears.
I liked the fact that the Stonic GT-Line came with a dual-clutch, as it drove with greater sophistication than a CVT, however it did lack the smoothness of a traditional automatic.
This was noticeable during low-speed manoeuvres, especially when reversing. At low speeds, when tapping the throttle, the transmission was on occasion just that little bit too jerky for a seamless experience.
Suspension & Handling
3.7 out of 5.
Being a lifted hatchback, the Stonic did have noticeable body roll, and certainly was designed to be comfortable.
On my initial drive back home, I really wasn't loving how numb the steering was, and at higher speeds through corners, you'll be guessing where the wheels are more often than not.
However, it's going to be comfortable for long trips and across potholes, and is really smooth out the road.
When it comes to how the Stonic drives, the vehicle is moreso a bit of a box on wheels; it'll get the job done and do it comfortably, however it just won't match it's sporty styling.
Fuel Efficiency
3.8 out of 5.
The combined fuel consumption of this vehicle is claimed to be 5.4L/100km.
I averaged around 7L/100km whilst driving around town, where you're most likely going to be driving the Stonic most of the time.
It's a fuel efficient car, however it does have a small 45L tank. It might be good on fuel, but on long trips it might not go as far as you'd hope.
Interior Design
3.9 out of 5.
The interior of the Stonic is basic, that's for sure. What I did enjoy in the GT-Line were the additional little design cues that carried on from the exterior.
Kia has a design cue called the 'Tiger Nose', and it's found almost everywhere on the Stonic, from the windshield, the grill to the pattern on the seat and the dashboard. It's a nice little detail that feels like some attention to detail has been spent here.
The infotainment and dash layout is all very standard - there's nothing special to note here, apart from the easy operation.
An intriguing touch is the faux carbon fibre weave adorning the dashboard, which could be a little out of place in a car with seemingly no intention to be mistaken for a sports car.
It really does feel like a lifted-up hatchback on the inside, as that's what this car truly is. The main advantage this cabin has over a traditional hatchback is your view out. Apart from that, you've got yourself a fairly standard Kia interior with a modern design that adequately meets what you'd expect from a $30,000 car.
Boot Size & Comfort
4 out of 5.
There's a minimum of 352L of boot space, and if you fold the 60:40 split seats down, you'll get a maximum of 1155L. A thoughtful shelf can also be found back here to stop loose items rolling around in the boot.
It's a fairly large boot even without the seats folded down, and when you do open up the interior space a little more, there's definitely enough space to head away on a long road trip.
Front seats offer chair-like comfort, with plenty of cushion and support, however the rear seats might feel a little tight for those taller than 6 feet. To help with this, there are cutouts in the roof that will help with headroom, but those with longer legs will feel the brunt of the smaller proportions of this SUV the most.
For two people, the Stonic will be more than adequate for longer road trips. With a 60:40 split, you could even take 3 people and their luggage away comfortably.
Features
3.5 out of 5.
If you're looking for radar cruise, heated seats or all-wheel drive, unfortunately the Stonic won't deliver there.
Instead, you get enough features to make daily driving as well as longer drives comfortable enough. However, you'll need to spend a little more if you're looking for more luxury appointments here.
Here's a list of features you can expect to find on the Kia Stonic GT Line:
Engine
1.0L turbocharged three-cylinder petrol engine
74kW, 172Nm
Infotainment
8-inch colour touchscreen
Apple CarPlay/Android Auto
Bluetooth connectivity
Safety
AEB
Rear view camera
Lane Keep Assist
Lane Following Assist
Driver Attention Warning
Performance
GT specific body kit and interior
17-inch alloy wheels
Drive modes
Convenience
Push button start/stop
Heated and electric folding side mirrors
Sunroof
LED lights
Should you buy one?
As a viable and sensible option for a first car, the Stonic delivers. It's cheap to run, well-built, safe and easy to drive.
It's well suited for a new driver, and also for anyone looking for a small SUV that's easy to park in the inner-city. Outside those buyers, the Stonic is a tad under-powered and possibly lacks a few features you could find on a regular hatchback, like a Hyundai i30.
It's a cute and attractive SUV - and is certainly Insta-worthy - but I'll leave it up to you if you think it'll look good on your feed.
About the author Cameron is your typical car nut, but also drives and writes about cars for ProductReview.
Sorry, there are no reviews yet. Be the first to write a review.
Write a review
Questions & Answers
Sorry, there are no questions yet.
Get an answer from our members
ProductReview.com.au has affiliate partnerships. These do not influence our content moderation policies in any way, though ProductReview.com.au may earn commissions for products/services purchased via affiliate links.