1 photo
Land Rover Defender 110 3.0L Petrol MHEV P400 (2019-2022)
Defender L663, 110 · 

See All

Also referred to as: Land Rover Defender 110 3.0L Petrol MHEV P400 2021 and Land Rover Defender 110 3.0L Petrol MHEV P400 2023.
Listing monitored by Land Rover
Expert Review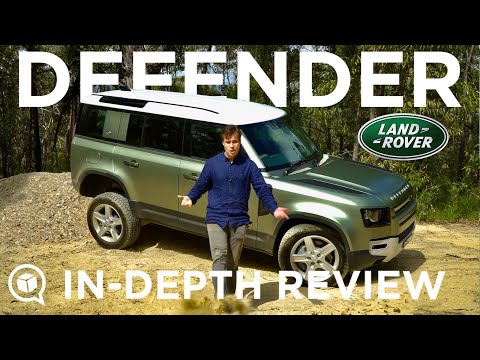 4.5 out of 5 stars
Introduction
Land Rover had a bit of a conundrum on their hands; on how to go about evolving the Defender for the 21st Century.
You can instantly recognise the old Defender on the road, from its exposed rivets through to its rectangular, almost child-like, boxy design.
It was an off-road icon, and in many cases, it still is.
Why couldn't Land Rover just keep making the Defender just like this?
Well, it's down to a range of factors which included a prehistoric diesel motor paired only to a manual transmission, it wasn't exactly safe, and was often compared to riding and driving like a tractor...not exactly a great place to be if you intend for a wider audience to consider your vehicle.
Land Rover absolutely needed to overhaul this long-lasting off-road hero.
In 2019, in true automotive icon revival fashion, the new Defender was launched into a fair bit of controversy regarding its completely new design. However, this has been short-lived, as more individuals met face-to-face with this new Defender, and critics quickly became fans of this new design.
Coming from a Land Rover family, I've seen these cars at their best and their worst. So when I was handed the keys to the new Defender, I was keen to see where Land Rover was heading with their newest vehicles and discover if they have finally nailed the balance between a luxury car and a serious off-roader.
---
Build Quality
4.6 out of 5.
The new Defender has moved away from its traditional body-on-frame design, the usual suspect off-road design of choice. Now utilising an all-new aluminium body, which is designed to provide increased rigidity and safety.
Increased rigidity also helps reduce squeaks and rattles that usually plague off-roaders when traversing across uneven terrain, which certainly helps the Defender remain isolated from what's happening under the wheels.
Additionally on the exterior, helping with the build quality, we had a $6,500 satin polyurethane wrap applied above the paint. I cannot express how impressed I was with the fitment of this wrap, as it was only into my third day with the Defender, where I actually noticed the edge lines of the plastic wrap.
Inside the Defender, I was genuinely impressed by the build quality. With additional rigidity aided by the plentiful appointment of exposed bolt heads that run on the inside of the doors, and along the centre console. I couldn't help but feel that over the course of your ownership experience, you can just tighten these bolts when you come across any rattles.
The way the dashboard, seats, doors, plastics, buttons and panels are constructed, you can rest assured that your Defender will withstand all sorts of conditions, including having to weather the ultimate test of build quality...children.
Value for Money
4.5 out of 5.
The P400 SE is the second-best Defender you can buy, meaning you are paying for one of the most powerful, spacious and feature-packed models that Land Rover offers until the new supercharged-V8 model arrives.
The Land Rover Defender P400 SE starts from $102,736 (before on-roads). This isn't exactly the bargain of the century, especially if you add on the options that saw our test vehicle priced at $116,116 (before on-roads) - That's until you compare it to its competition.
Placing the Defender in the market, you're up against the likes of Toyota's Land Cruiser, the Lexus LX, Mercedes G-Wagon and Jeep Wrangler.
To analyse these competitors, you start with the most affordable large off-roader, the Jeep Wrangler. This is far more affordable with a standard amount of features both inside and out, but certainly has compromised on-road manners and with its ANCAP safety rating.
The Toyota Land Cruiser is certainly going to be on the cross-shopping list of many serious off-roader buyers, as it's one of the most capable and most reliable large SUV's on the market. However, it's certainly showing its age inside, with limited features and clunky ergonomics.
As for the new Lexus LX, this is your luxury alternative to the Toyota Land Cruiser, and has seen the necessary improvements that the Land Cruiser so desperately needs. Yet, the prices start at just under $138,000, which means you're well and truly moving away from the price range of the Defender.
Finally, let's look at the most direct competitor to the Defender, the Mercedes G-Class. Mercedes, up until this year, only offered its top of the range G63 AMG, which started at just below $239,000. Mercedes appears fully aware that the new Defender will swipe plenty of sales from under them, as they introduced a more 'affordable' version of the G-Class, the G400d, now priced from $196,000.
To summarise, after placing the price of the new Defender into perspective, it certainly does represent value for money for its performance both off and on road, space, safety features, and the overall fit and finish.
Cleaning and Maintenance
4.6 out of 5.
This is a massive vehicle, there's no way around that. It measures just a hair over 5 metres in length, thanks to that rear-mounted spare tire.
During my test, I did have to give the Defender a wash after giving it a shake down off-road, and I noticed a few quirky things when cleaning.
First was the use of fabric wheel-well linings. These help to reduce road noise and tire-drone when on road but can withstand a bit of mess as well.
Getting mud and dirt mixed in with this cloth lining isn't an issue, as it does not hold in dirt or other contaminants. You can also raise the Defender into its off-road setting to help with washing under the vehicle, or lower it to its access setting, which can help with cleaning the rest of the body.
This Defender you see pictured was fitted with a $6,500 satin polyurethane wrap, which plays a very important role when cleaning and maintaining your Defender. This wrap not only provides the matte finish to the Pangea green metallic paint, but it also possesses self-healing properties. This means that if you encounter small scratches on your paint, either from braving the great outdoors or braving your local shopping centre, these shallow scratches can be repaired by simply parking under the hot sun, or applying a light amount of heat to the wrap.
As someone who is a perfectionist when it comes to the quality of my cars paint, this wrap is certainly very close to being the best option you can tick for the Defender.
Recently announced, the new Defender, and all Land Rover products for that matter, will now receive a 5 year/unlimited kilometre warranty. Far more substantial than the previously offered 3 year/100,000 kilometre warranty.
Compared to its competitors, this is a seriously impressive warranty offer over other European rivals.
Noise Level
4.6 out of 5.
I can see why Land Rover incorporated a mild-hybrid system into their new line of Ingenium motors, it doesn't just help reduce fuel consumption, but it also helps with reducing noise bleeding into the cabin.
Yes, as this is an inline-six there is engine noise that becomes apparent when under heavy acceleration, generating a very BMW-eque sound. This engine sound will certainly go a long way to fulfill your inner performance car nerd, as it sounds pretty good from both inside and outside the cabin.
Combining a mild-hybrid system to this powerful inline-six, and you'll notice reduced engine noise at highway speeds and when coasting. This system allows the motor to rest at far lower rpm's compared to a conventional petrol motor, which can also have a positive effect on fuel consumption over long distances.
This car had off-road tires fitted, and during my week I hardly noticed them apart from the occasional roar of these tires making their presence known under sharper turns.
The speaker system in the Defender was certainly a highlight, as this vehicle was fitted with a Meridian sound system. The depth, clarity and fidelity of the sound emanating from these speakers is close to class-leading. They make long road trip podcasts and day-to-day listening an absolute treat, and immerse you into whatever you're listening to.
Combine all of these elements, and you have your home away from home, on wheels.
Braking
4.4 out of 5.
There isn't much to mention in this section, as the new Defender is exceptional in it's on-road and off-road braking abilities.
On-road, the Defender inspires confidence, despite weighing in at over 2 tonnes. You'll be able to stop both smoothly and in an emergency thanks to four large disc brakes and the addition of autonomous emergency braking.
Off-road, the Defender is able to come to a stop and hold on slippery surfaces, and on sharp descents that feature limited to no grip.
Overall, the brakes on this Land Rover are certainly brakes you can trust and rely on, even when carrying around 2 tonnes of metal, people, and all the adventure gear that goes with owning a Defender.
Acceleration/Power
4.5 out of 5.
When you opt for a Defender fitted with the P400 motor, these are the headlines: 294kW, 550Nm and a 0-100km/h time of just 6.1 seconds.
Powered by an all-new turbocharged petrol inline-six mild-hybrid motor, the P400 trim possesses what Land Rover refers to as its Ingenium motor, and it could not be further from what previously powered the old Defenders.
The old Defender was famously compared to a tractor or a work-horse. However, it's 2021, and it's time to finally have a Defender that performs just as well on-road as the old one performed off-road.
The inline-six is astonishingly quick to accelerate and will catch other road users by surprise, especially if you're driving around in the highest setting that your air-suspension offers you, as off-roaders aren't known for their on-road prowess.
On-road, you can have an absolute blast on some back roads when you settle the car into its lower suspension setting. Shift the car into the sport setting, and lay into that accelerator pedal, and you'll certainly have yourself a performance SUV. The way this Defender sprints up to speed is quite entertaining because you'll feel as if you're maneuvering a small studio apartment's worth of space around the road.
Off-road, the mild-hybrid system really shows itself off, it provides the necessary low-down power that traditional diesel motors offer by comparison. It allows for a further spread of torque. From 2,000rpm through to 5,000rpm, you'll receive all 550Nm to help you out of those stickier spots.
If you really crave that torque to be available lower than 2,000rpm, you'll need to opt for the diesel engine options. From 1,400rpm to 4,000rpm, you'll receive all 440Nm.
Gear Shifting
4.4 out of 5.
Coming from a family whose main mode of transportation for 15 years were Land Rovers, it's safe to say I've experienced the evolution of these transmissions. I've driven Land Rovers and Range Rovers which used a conventional 6-speed torque converter through to the use of a modern-day 9-speed automatic.
How's this relevant to the Defender?
Well, it's to justify how good this 8-speed automatic is. I was a little hesitant to express my enthusiasm for the transmission used in the Defender thanks to my past experiences.
Land Rovers I've driven either had to deal with a sluggish and unresponsive automatic that was 'just fine', or an overly busy 9-speed automatic that was quite indecisive of what gear it wanted to be in.
Over the evolution of these gearboxes, Land Rover has certainly learnt and improved, which leads us to this 8-speed automatic. I was brought to a sort-of zen moment when I began to drive the Defender and experience this gearbox.
Finally- Land Rover has a gearbox that blends a higher number of gears without feeling too busy and is far more responsive than gearboxes of the past.
This is the case whether it's changing manually using the sequential shifter pattern, relying on the car to downshift to the right gear at the right time, or revving out the inline-six to redline in sport-mode.
There is one main downside; the responsiveness from throttle input being translated into vehicle movement. I'm not sure if this is a manufactured lag, or something that is specific to Land Rovers but every Land Rover I've driven, even Range Rovers, have had this lag.
To quickly describe the feeling, it feels like a turbo lag that takes around half a second to respond, compared to other European luxury SUVs that don't really replicate this sensation.
I used to just put it down to the responsiveness of the diesel motors, or lack there-of. Piloting a mild-hybrid turbocharged petrol motor, you'd expect acceleration from a stand-still to be rapid, and it is. However, there still was that momentary lag, between throttle input and acceleration.
Overall, the gearbox used in the new Defender is smooth, decisive, quick to adapt to change and is genuinely responsive, both when in auto and shifting manually.
All I can say I'm very relieved Land Rover resisted putting plastic paddle shifters on the steering wheel.
Suspension & Handling
4.5 out of 5.
If you like air-suspension, you've come to the right place. This is key to the new Defender's ability to transform from the school runner into a formidable off-roader.
There are three settings for your air suspension on the P400 SE, these include:
Access Height: This is the Defender's lowest setting, which can be locked, allowing you to enter underground car parks or multi-story complexes. This reduces the Defender's height by 20mm to 1950mm of total height.
Normal Height: This is the Defender's standard setting, and is used for all on-road applications and high speed driving scenarios. The Defender's standard height is 1970mm.
Off-road Height: This is the Defender's highest and most impressive setting. It enables the Defender to utilise it's 900mm wading depth and overall class-leading combined approach, ramp-over and departure angles. Off-road 1 setting will raise the Defender to 2020mm in total height, off-road 2 setting will raise the Defender to 2045mm in total height.
It's the sheer change in height and ground clearance that completely justifies the use of air suspension, and becomes a great promotion for this sort of suspension.
Even while riding in off-road setting 2, clearing 291mm off the ground, you can feel confident that the Defender will not roll and wallow into corners. Of course you're going to have a go riding in this off-road setting around town, and yes, it's an absolute blast as you look down on fellow commuters from your ivory tower. You'll come to realise how small a Mercedes G-Class looks when riding in a 2045mm tall car.
Off-road, this suspension soaks up bumps, rocks and ruts with ease, and provides additional confidence when traversing off-road trails. The Defender absolutely resists tilting and twisting, thanks to it's impressive articulation of all four wheels.
Fuel Efficiency
3.8 out of 5.
What took me by surprise was the amount of fuel you can consume when driving around congested inner-city streets.
I was fully prepared to see an increase in fuel efficiency from this mild-hybrid system, but was ultimately a little disappointed in this category. On the highway, great, you see the mild-hybrid system working as it should.
Revs drop to as low at 1,100rpm, while driving at speeds of up to 110km/h, returning an average consumption figure of 10L/100km. This is pretty much on target with Land Rover's claimed 9.9L/100km figure for this P400 engine.
It was day-to-day driving in the city, egged on by a few strong moments of acceleration, where this consumption figure soared. On average, over 5 days of driving, I saw figures as high as 20L/100km as an average for daily driving.
Now, this would be a figure I'd expect of a supercharged V8, however, from a mild-hybrid inline-six, I was a little disappointed. Although, it's a harsh reminder that you are driving a four-hundred horsepower petrol-powered SUV that weighs 2,286kg, and the main reason why a lot of buyers living in the inner city suburbs should opt for the diesel motors.
To fill half a tank in the Defender, I fueled using 98 premium, as this is a high performance petrol engine fitted with a petrol particulate filter, which benefits from higher octane fuel. My bill for 45 liters of fuel was $80, not exactly great, seeing as I spent half a tank in just over half a week.
This motor has a time and a place, and maybe, over a longer period of time I'd be able to see more conservative figures, making it possible to daily this inline six, however, simply put, it is a thirsty engine around town.
Interior Design
5 out of 5.
Step into the Defender and you're greeted with Land Rover's best example of blending luxury and ruggedness together, without compromise.
You can immediately tell this was going to be a point of focus for the redesign of the new Defender - it was going to make or break the success of what was always going to be a polarising vehicle.
Starting from the bottom of the interior, you have no carpet to be found. Instead, it's all hard plastic, making it easier to wash and wipe down when covered in dirt, dust and sand. Rubber floor mats also help to preserve the floor of the Defender.
I am particularly a fan of these seats, a mix of leather and cloth, fittingly coloured in Khaki green. The leather inserts help with comfort and heat dissipation, while the cloth lining the edge of these seats reduces wear when sliding in and out of this massive vehicle.
The dashboard is something that I dearly miss when driving any other vehicle, as it truly is a practical element inside the Defender. Acting as a parcel shelf that runs most of the width of this dash, you can store plenty of items here, including water bottles. You can charge your phone using the dash-mounted USB port, all while being overlooked by the embossed Defender branding on the dash.
This parcel shelf runs behind the 10 inch media screen, creating a 'floating' effect to this display. This touch-responsive display contains all the usual suspects we expect from modern cars, including media controls, DAB+, Apple CarPlay and Android Auto.
This isn't your only screen, as you also have a full digital drivers display that can be customised to prioritise either: 4x4 information, maps, media or vital driving information.
Additional to these features you have additional 4x4 information found in the centre screen, which include a comprehensive camera system with live feeds of wheel angles, body roll and pitch, and vehicle dimensions which change when you adjust your air suspension.
The camera system found here is quite impressive as this car was fitted with a towing and touring pack, which gives access to three different camera modes.
On-road cameras provide a 360° view of the car, and rear view camera. Part of this 360° view is the ability to see your vehicle from the third person perspective and 'fly' around the car to navigate in 3-D space. This feature isn't exclusive to Land Rover, but it's cool nonetheless.
Off-road cameras provide views of your front wheels, helping you navigate tougher terrain and avoid obstacles that are hiding low to the ground. Another view you can find here is a view through the bonnet of the car, providing a perspective from your driver's seats through the front of the vehicle to what may lay underneath your engine bay.
Land Rover developed this innovative feature a few years ago, and is now being rolled out on production vehicles. This camera view through the bonnet, isn't just unique to this segment, but it's unique to Land Rover.
Finally, you have a dedicated towing mode for your cameras, aiding with hitching and seeing out the back of the vehicle while towing up to 3.5 tonne. There is a camera mounted to the shark fin antenna on the roof which Land Rover calls 'Clear Sight' which provides an additional view out the back of the vehicle. Simply flick the rear vision mirror's toggle up, and you have a live camera feed replacing your traditional mirror, helping you see past big heads, cargo or trailers.
Oh, and there's a third sun visor that folds to cover distance between the passenger and driver's visors which is a little bit quirky.
This gear selector reminds me a lot of Dodge's 'HURST' shifter, popular in the 1970's as it was reminiscent of a gun handle - certainly a compliment, and reiterating how nice this shifter feels in the hand.
There are two dials underneath the centre screen which serve multiple purposes. They are conventionally the controls for the dual zone climate control, yet with quick press of these dials, they convert into the heated seat controls. If you tap on the terrain response button, you use these dials to select your terrain response mode. Pretty cool, and very versatile, helping keep tactile buttons to remain as an option to interact with your vehicle, rather than having to resort to using hidden menus in the touchscreen. All a result of Land Rover reinforcing it's interior design purpose of allowing users to interact with their car, while wearing thick gloves.
There's just so much storage and places to connect your devices in here. There's large cubbies in the centre console, and just below the dashboard. Plenty of space for just about anything you intend to carry inside the Defender.
Rear seat occupants will be fighting to get a ride in the Defender, as you can clearly see where 5 metres of car is spent - on the legroom, head-room and width of these seats. Just have a look at the width between the driver and passenger's seat, we're closing in on Hummer H1 levels of interior width.
Middle seat occupants will have no issues here, which means you can carry five adults for longer periods of time without many complaints.
If you need to connect devices from the rear seats, you have access to four USB ports and two 12V sockets. Two of these USB ports are mounted on the rear of the seats next to a mount used to position iPads, while the other two USB ports and the two 12V sockets are located between the front seats.
All four doors receive blind-spot monitoring indicators which light up if there is an obstacle just outside your door to help avoid those nasty collisions with cyclists, other cars or motorbikes.
To summarise this interior: it is rugged yet plush, full of tech, has plenty of space, and most importantly, it's safe.
Boot Size & Comfort
4.7 out of 5.
There is a mammoth amount of storage space available in the Defender 110 when in the five seat configuration.
With all seats in their usual positions, you have a total of 972L of usable space! That's enough to take four people's worth of luggage and carry those individuals too.
The rear seats fold in a 40:20:40 split, allowing you to pass through longer items, like skis or a couple of surfboards, between two rear occupants.
If it's just yourself or the two of you, you can have up to 2277L of cargo space loaded onto a relatively flat floor, without any awkward drops or lips to maneuver around.
2277L is almost rivalling some minivans, and enough space to even place a roll-out bed in the back for when you're out camping seeing as when you drive a Defender, tents start to look a little pedestrian.
Helping with ingress and egress of items, you can lower and raise the air suspension from the rear, to allow you to customise the entry height of the rear cargo space depending on your needs.
Additionally, there's plenty of storage for small, loose items in the back, with nets and elastic found against the sides of the rear cargo space. There's a rear 12V socket to help with powering small electrical items, however, you can increase the usability of the Defender by ticking the options list for a rear, built-in air compressor allowing you to fill up anything that requires compressed air.
To top it all off, the lining of the rear boot is covered in a hard plastic that is scored with tiny hamburger-looking grips, which add to the ruggedness and durability of the interior, without having to stress about attacking plush carpet or scratching the back of some expensive leather seats.
Boot space and comfort would be a top three reasons as to why you'd consider a Defender. It's the vehicle without compromise when it comes to carrying passengers and cargo, all in the same vehicle.
Features
4.3 out of 5.
This is the Defender P400 SE, and it's the second from the top of the range Defender you can buy, missing out on different style wheels, and a panoramic sunroof.
So what do you get for $102,736?:
Engine
8-speed Automatic Transmission
All Wheel Drive (AWD)
3.0L turbocharged MHEV (mild-hybrid) inline-six petrol engine (294kW, 550Nm)
0-100km/h in 6.1 seconds (claimed)
Infotainment
10 inch Touchscreen
Interactive Driver Display
Click and Go Integrated Base Unit
Meridian Sound System
Android AutoTM
Apple CarPlay®
Connected Navigation Pro
Digital Audio Broadcast (DAB)
Online Pack
Safety
Traffic Sign Recognition and Adaptive Speed Limiter
Clear Exit Monitor
Rear Traffic Monitor
Driver Condition Monitor
Blind Spot Assist
Lane Keep Assist
Autonomous Emergency Braking
Customer Configurable Autolock
Perimetric Alarm
Emergency Brake Assist
Anti-lock Braking System (ABS)
Electronic Brake-force Distribution (EBD)
Trailer Stability Assist (TSA)
Electric Power Assisted Steering (EPAS)
Dynamic Stability Control (DSC)
Performance
Wade Sensing
Off-road tires
Electronic Active Differential w/- Torque Vectoring by Braking
Low Traction Launch
Electronic Traction Control (ETC)
Roll Stability Control (RSC)
Cornering Brake Control (CBC)
Hill Descent Control (HDC)
Brake Hold
Terrain Response
Electronic Air Suspension
Twin-speed Transfer Box (high/low range)
Convenience
360 degree Parking Aid
Cruise Control and Speed Limiter
Adaptive Cruise Control
3D Surround Camera
Tyre Pressure Monitoring System (TPMS)
Keyless Entry
12V Power Socket in Loadspace
ClearSight Interior Rear View Mirror
Electrically Adjustable Steering Column
Dual-Zone Climate Control
Auto-dimming Interior Rear View Mirror
Durable Rubber Cabin and Loadspace Flooring
Push Button Start
20 inch Full Size Spare Wheel
Heated, Electric, Power Fold Door Mirrors with Approach Lights and Auto-dimming
Heated Rear Window with Timer
Alpine Lights
Puddle Lights
Auto High Beam Assist (AHBA)
Automatic Headlight Levelling
Premium LED Headlights with Signature DRL
LED Tail Lights
Automatic Headlights and Rain Sensing Wipers
Front Fog Lights
Rear Fog Lights
Follow Me Home Lighting
Heated Front seats
Hill Launch Assist
Brake Pad Wear Indicator
Satin Wrap
All-Terrain progress Control (ATPC)
Terrain Response 2
Configurable Terrain Response
Tow Hitch receiver
Advanced Tow Assist
Should you buy one?
Contextualise the price, and yes, you absolutely should. When in the market for a luxury SUV that has proper off-roading capabilities that will even impress those who spend every weekend knee deep in the mud, you're looking at prices starting at $150,000 and above.
Sure, you can source capable, comfortable off-roaders as low as $70,000, however, we can't kid ourselves that these are of equal status to the likes of a Defender, G-Class or the revised Lexus LX. Capability, yes. Status, interior features and power, not really.
The Defender really does represent decent value, for not only being a great go-anywhere vehicle, but also making you feel special, with unique features and luxury appeal.
About the author
Cameron is your typical car nut, but also drives and writes about cars for ProductReview.
Questions & Answers
Sorry, there are no questions yet.
Get an answer from our members and Land Rover representatives
Details · 
Compare all 9
Land Rover Defender L663
| | |
| --- | --- |
| Category | Small / Compact SUVs |
| Transmission | Automatic |
| Drive Type | All Wheel Drive (AWD) |
| Fuel Type | Petrol |
| Doors | 4 |
| Seats | 5 to 7 |
| Engine | 6 Cylinder 3.0L |
| Engine Code | P400 |
| Max Power | 294kW |
| Release date | |
Compare all 9
Land Rover Defender L663
Visit official website
ProductReview.com.au has affiliate partnerships. These do not influence our content moderation policies in any way, though ProductReview.com.au may earn commissions for products/services purchased via affiliate links.