1 photo
Land Rover Defender 90 2.0L Petrol MHEV P300 (2019-2022)
Also referred to as: Land Rover Defender 90 2.0L Petrol MHEV P300 2021 and Land Rover Defender 90 2.0L Petrol MHEV P300 2023.
Listing monitored by Land Rover
Expert Review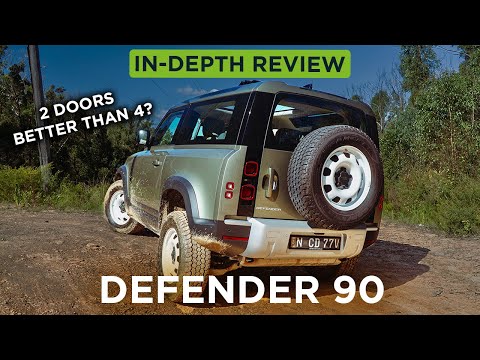 4.4 out of 5 stars
What is it?
It's the smallest Land Rover Defender you can buy, as it's missing two doors. It's the short-wheel base, more affordable and slightly more capable off-roader from this iconic brand.
This is hands down the most appealing Land Rover that the marque makes. The two door defender is an icon, and it lives on in 2022 in a sculpted and modern form.
We're missing the pop rivets and sheet metal; instead, this is like the leap Ford made with its GT sports car. It's controversial in its design, but it is by far a necessary step in the right direction.
Is the next step in the Defender's evolutionary tree worth considering? Or should you just shop for a more affordable two door off-roader like the Jeep Wrangler or Suzuki Jimny?
---
Build Quality
4.6 out of 5.
This isn't your rough and tough farm car anymore. There's a lot of luxury touches that draw a clear lineage to Range Rover.
Land Rover has moved upmarket in its build quality, and that's clearly found on the new Defender. There's not a single panel out of place, nor is there a questionable bit of trim found both inside and out of this off-roader.
Although I wish things were buttoned up a little more on the inside, as there were some squeaks and rattles found while driving around in this particular Defender.
Unlike its competition, the Land Rover stands out like a Mercedes S Class in its materials and overall feel in a carpark full of Kia Stingers.
How Much Does it Cost?
4.4 out of 5.
You're buying the equivalent of a Porsche Cayman of the off-roading world. There are more affordable options in the two door off-roader space, but none offer the capability and luxury that this Defender offers.
Pricing for the Defender 90 S P300 starts from $87,073 before on-road costs. However, if you add a folding fabric roof, digital rear view mirror, activity key and an electronic active differential, you have a final drive away price of $95,172 before on-road costs.
That's a lot of money for just two doors, however this is the equivalent of the weekend sports car, or suitable for those not looking to step into the behemoth dimensions of the Defender 110.
Warranty and Servicing
4.5 out of 5.
Land Rover offers a complementary 5 year/unlimited kilometre warranty and a servicing plan that covers 5 years or 102,000kms for $1,950.
Coming from a two time Land Rover owner, post-warranty servicing can be expensive, so at least there's an option to cap that pricing over the first 5 years.
This won't be a cheap car to service over a long period of time - that's where the likes of a Jeep Wrangler or Suzuki Jimny would come into play if you're looking for a more budget-friendly long term solution.
Noise Level
4.3 out of 5.
Usually, these types of vehicles are noisy and prone to plenty of road noise intruding into the cabin. This off-roader is an exception to that rule.
The P300 engine option in the Defender line-up offers little cabin intrusion, and actually burbles and pops when you drive it a little harder than it has any right in being driven.
It's a subdued cabin, offering a quiet ride and allowing you to enjoy the passing scenery or whatever is playing over the speakers. However, a distraction that I hope was an anomaly was a harsh base rattle emanating from said speakers.
Braking
4.5 out of 5.
Less weight certainly translates into increased braking performance.
The mass, size and dynamics of the Defender 90 makes it brake like a large hatchback. It's nimble by comparison to its larger four door sibling. You still feel as if this is a large vehicle, however it's as easy to bring to a stop as a smaller SUV.
Acceleration/Power
4.2 out of 5.
This P300 motor is a 2.0L inline turbocharged petrol 4-cylinder motor producing 221kW at 5,500rpm and 400Nm from 1,500rpm to 4,500rpm.
Usually diesel would be the pick for a vehicle like this, however the P300 motor produces peak torque at a low enough figure that I'd almost pick this engine with the added benefit of extra straight line performance.
It's reactive and moves a larger two door off-roader like this with absolute ease. You can cruise at low rpm, and swiftly move up to speed in a mere 7.1 seconds - respectable for a car not designed to win drag races. If you want to do that, you'll have to order the far more expensive Defender 90 V8.
Gear Shifting
4.4 out of 5.
Paired to this motor is an 8-speed automatic transmission. It's smooth, quick to react, and feels well suited for daily driving in the city and tackling rock crawling on the weekend.
There's a low range option in this gearbox that feeds power smoothly and predictably, offering greater capability than simply cruising on tarmac.
There are no paddle shifters to change gears, instead a sequential pattern can be found on the physical gun handle-like shifter up on the dashboard of the Defender. I'm a big fan of this particular shifter, it suits the car nicely and the lack of paddle shifters is a welcome one for a vehicle intended for off-road use.
Suspension & Handling
4.4 out of 5.
Riding on coil suspension instead of the optional airbag suspension, this Defender feels fairly different in its handling.
There's no adjustability to be had. Instead, you're set with the one height and stiffness option unless you opt for air suspension.
The fixed height allows for ease of access into most car parks and will still allow you to cross 850mm of water. However, I did miss the ability to raise and lower the car for ease of entry for some shorter passengers and being able to clear some slightly more aggressive sections of our off-road test track.
On the road, the coil suspension offered a strange sensation of relative rigidity, but also appeared to wallow when it came to abrupt changes in direction. I'd put that down to the lifted shorter wheelbase combatting this softer tuned suspension.
Again, for sharper cornering dynamics on road, that Defender V8 would be a tantalizing option.
Fuel Efficiency
4 out of 5.
The fuel efficiency of the P300 motor is average. This is a heavy, 2 tonne off-roader, so you can expect an average consumption figure of 10.1L per 100km.
I saw figures as high as 13L per 100km, however I wasn't surprised. With no electric hybridisation and the fact that a petrol engine is usually less efficient than a diesel motor, these figures are what I'd expect from an engine like this.
Filling up the Defender isn't too cheap in today's climate either, costing well over $100 for a full tank of petrol.
Interior Design
5 out of 5.
I was thoroughly impressed with the Defender's interior when I first reviewed it last year. This year is no different; I'm still just as smitten when spending hours at a time inside this car.
Handy placements of storage cubbies, handles and large buttons make interacting with this cabin feel logical. There's no lack of places to store loose items, and you won't struggle to find a spot to hold your oversized metal water bottle.
The 'floating' centre display is easy to read and has an excellent UI known as 'Pivi Pro'. As I experienced first hand, you receive regular over-the-air updates to keep your Land Rover packed with the latest digital features.
It's a rugged feeling interior, with no carpet found anywhere to allow for easy cleaning, all complemented by the exposed bolts along the doors and centre console.
What I'd seriously consider opting for would be the large fabric folding roof, which would add another dimension to enjoying this interior. With it, you could either stand up in the back seats and eat your dinner from the roof of the car while enjoying an elevated view, or soak up that Sydney sun while driving. It also makes for an excellent star gazing view from the comfort and security of a large Land Rover.
Boot Size & Comfort
4.5 out of 5.
There isn't a whole lot of boot space compared to the Defender 110, but the Defender 90 is still a wildly practical car.
Sure, the large tailgate that opens to one side is a little annoying to operate compared to a traditional powered liftgate, but it's something that Land Rover insists on implementing here.
Additionally, there's a sizeable height you'll need to lift heavy objects up in order to access the boot. And, there's a large metal barrier that prevents a flat load floor from being achieved when you fold all the seats flat.
You can fold the seats in a 40:20:40 split though, so it makes carrying four people and as much cargo as possible a lot more comfortable.
Front seats are what you'd expect for a large two door car like this, with plenty of comfort and space. However, the rear seats, despite lacking their own entrance, are extremely spacious and roomy. There are two windows and that large fabric roof to let more than enough light into the back. It's one of the very few two door cars where four, maybe even five adults could enjoy spending lots of time over a long drive.
Features
4.2 out of 5.
Land Rover is known for having an extensive laundry list of options that you need to tick in order to comfortably spec a car. However, the Defender 90 comes with plenty of standard equipment that makes its options look like options, rather than missing pieces that should be included in the purchase price.
You pay more for the Defender 90 over some apparent competitors, but you certainly get a lot more car for what you're forking over.
Here's a full list of what's included with a Land Rover Defender 90 S P300:
Engine
8-speed Automatic Transmission
All Wheel Drive (AWD)
2.0L turbocharged inline-four petrol engine (221kW, 400Nm)
0-100km/h in 7.1 seconds (claimed)
Infotainment
10 inch Touchscreen
Interactive Driver Display
Android AutoTM
Apple CarPlay®
Connected Navigation Pro
Digital Audio Broadcast (DAB)
Online Pack
Safety
Traffic Sign Recognition and Adaptive Speed Limiter
Clear Exit Monitor
Rear Traffic Monitor
Driver Condition Monitor
Blind Spot Assist
Lane Keep Assist
Autonomous Emergency Braking
Customer Configurable Autolock
Perimetric Alarm
Emergency Brake Assist
Anti-lock Braking System (ABS)
Electronic Brake-force Distribution (EBD)
Trailer Stability Assist (TSA)
Electric Power Assisted Steering (EPAS)
Dynamic Stability Control (DSC)
Performance
Wade Sensing
Off-road tires
Electronic Active Differential w/- Torque Vectoring by Braking
Low Traction Launch
Electronic Traction Control (ETC)
Roll Stability Control (RSC)
Cornering Brake Control (CBC)
Hill Descent Control (HDC)
Brake Hold
Terrain Response
Twin-speed Transfer Box (high/low range)
Convenience
360 degree Parking Aid
Cruise Control and Speed Limiter
Adaptive Cruise Control
3D Surround Camera
Tyre Pressure Monitoring System (TPMS)
Keyless Entry
12V Power Socket in Loadspace
ClearSight Interior Rear View Mirror
Electrically Adjustable Steering Column
Dual-Zone Climate Control
Auto-dimming Interior Rear View Mirror
Durable Rubber Cabin and Loadspace Flooring
Push Button Start
Heated, Electric, Power Fold Door Mirrors with Approach Lights and Auto-dimming
Heated Rear Window with Timer
Alpine Windows
Puddle Lights
Auto High Beam Assist (AHBA)
Automatic Headlight Levelling
Premium LED Headlights with Signature DRL
LED Tail Lights
Automatic Headlights and Rain Sensing Wipers
Front Fog Lights
Rear Fog Lights
Follow Me Home Lighting
Heated Front seats
Hill Launch Assist
Brake Pad Wear Indicator
Satin Wrap
All-Terrain progress Control (ATPC)
Terrain Response 2
Configurable Terrain Response
Tow Hitch receiver
Advanced Tow Assist
Air Compressor
Fabric Folding Roof
Buy it, Consider it, or Leave it?
Look, I'm going to be honest. The Land Rover Defender 90 is purely a product for those who are looking for the best of both worlds, those being luxury and capability.
It's the peak of the ladder when it comes to two door off-roaders that are in the realm of affordability for some.
It's the equivalent of a Porsche Cayman, where everything is and should be compared to this as the shining example of what the ultimate two door off-roader should be.
There are cheaper alternatives out there, but with a reduction in price also comes a sacrifice in either capability or creature comforts.
It's not for everyone, but for those who want the off-road equivalent of a weekend sports car, that's where the Defender 90 comes in.
I have to say, I think to add to the uniqueness of this vehicle, the Defender V8 would be the ultimate expression of what I'm talking about here.
About the author Cameron is our resident car expert. Aside being a source of knowledge about the automotive industry, he has also driven a wide variety of cars - from a Porsche 911 GT2 RS, through to a 1998 Toyota RAV4.
Questions & Answers
Sorry, there are no questions yet.
Get an answer from our members and Land Rover representatives
Details
Compare all 9
Land Rover Defender L663
| | |
| --- | --- |
| Category | Small / Compact SUVs |
| Transmission | Automatic |
| Drive Type | All Wheel Drive (AWD) |
| Fuel Type | Petrol |
| Doors | 4 |
| Seats | 5 to 7 |
| Engine | 4 Cylinder 2.0L |
| Engine Code | P300 |
| Max Power | 221kW |
| Release date | |
Compare all 9
Land Rover Defender L663
Visit official website
ProductReview.com.au has affiliate partnerships. These do not influence our content moderation policies in any way, though ProductReview.com.au may earn commissions for products/services purchased via affiliate links.