1 photo
Lexus RC 350 Luxury (2014-2021)
Also referred to as: Lexus RC 350 Luxury 2020 and Lexus RC 350 Luxury 2022.
Brand Manager for Lexus?
Register now
and take advantage of ProductReview's Brand Management Platform!
Expert Review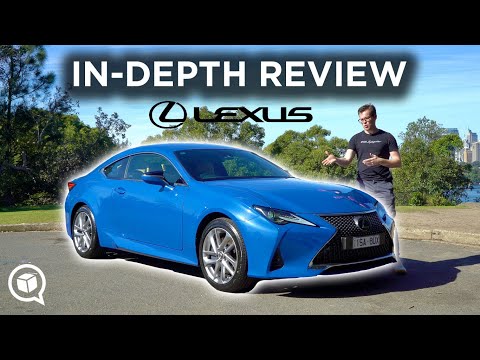 4.3 out of 5 stars
Introduction
Amongst a sea of SUVs, there are dwindling options within the traditional luxury coupe segment.
Main competitors in this space include BMW, Mercedes and Audi. These types of cars represent the old-school aspirations of those looking for a sporty car that can also allow you to commute to your job as a business executive, while providing both daily comfort and a bit of flair for the weekend drive.
Lexus, a relatively young brand with a stereotype for attracting older buyers, entered the two door market in the mid 2010s with the RC.
The RC is unique for its attention to detail and in nailing the basics of what a luxury car should be.
Let me tell you why it'd be at the top of my list against the likes of the BMW 4 Series, C Class Coupe and Audi A5.
---
Build Quality
4.8 out of 5.
Lexus' best foot forward is its build quality and high attention to detail. This is an essential part of Lexus' success in the luxury car market, and it's certainly a highlight in the RC.
The panel gaps are kept to a minimum, reflecting the high attention to detail on the outside. There's a considerate use of quality paint and materials that impress you before you even step inside.
The interior of the RC is the absolute highlight of this car.
The craftsmanship found throughout the cabin is divine, with the quality and accuracy of the stitching being the biggest giveaway.
The doors are trimmed with what feels like an art installation of leather with flowing stitches that just leave you gawking at the door trim.
No squeaks or rattles can be heard even when cruising over the bumpier surfaces.
Engaging with all the touch points in the car is a pleasant experience, whether it's a door handle, gear shifter or buttons to control the aircon.
This car is made by the same people who created the over-engineered and legendary LFA so you can be assured that the pride for building quality cars at Lexus translates to this cabin.
Value for Money
4.4 out of 5.
This is the RC350 Luxury, the entry trim that uses Lexus' 3.5L naturally aspirated V6.
Priced from $70,739 before on roads, it is a fair price for what you're getting.
I say fair, as even though this is a relatively special engine in today's world, not many people are going to appreciate the V6 over the similar performance they might get from a 2.0L turbocharged four-cylinder motor. Therefore, if you're not looking for a unique power plant, you might find a better deal on either the cheaper RC200t ($67,990) or even some cheaper european variants.
Additionally, many eco-conscious buyers might flag that a Tesla Model 3 is available at this price point, offering superior performance, economy, silence and technology.
If you're looking for the best traditional, petrol-powered coupe, it's hard to beat the Lexus RC as it gets so many of the basics right. It's underpinned by perfected suspension, through to possessing a V6 that stands out from the grey crowd of European alternatives.
Cleaning and Maintenance
4 out of 5.
After a week with the RC, I was especially careful of washing the Celestial Blue paint. If you care about how your RC will look in 5 years time, please get it washed by hand or by a professional. Otherwise, a paint job as bright as this will have plenty of surface area to display accumulated swirl marks, transforming reflections into spiderwebs.
Lexus offers a strange 'in between' warranty of 4 years/unlimited kilometers, which is more than the European 3 years, but less than others offering 5 years or more.
Additionally, Lexus includes with the purchase of every model a version of Encore which is Lexus's membership program that lasts over a 3 year period. This includes capped price servicing, service loan cars, and roadside assistance.
There's also benefits listed for Caltex fuel discounts, hotel partner discounts and invitations to cycling, drive day and track day events. This is a unique offering but I'll let you decide if that pushes you closer to choosing a Lexus.
Noise Level
4.7 out of 5.
Immediately after driving only a few kilometres, you can see why Lexus appeals to those who want a little more comfort in their life.
I was astounded at the level of sound isolation the RC was capable of.
You really are in your own world when driving around in an RC. There's minimal bleed of road noise and no wind noise intruding on the cabin's ambiance.
The RC's powerplant is able to remain at low revs when cruising, even under mild acceleration.
The gearbox does its job effectively to ensure that the V6 delivers a premium sound experience when you don't want to be listening to it roar.
When you do feel like going for a more sporty drive, you can induce the production of more engine sound via the Sport and Sport Plus modes. In these modes, the audio system produces a fake engine note to 'liven' the driving experience.
If you can hear through the pumped in engine sound, you're greeted with a throaty induction noise under heavy acceleration. This is what old-school naturally aspirated engines are all about, giving you authentic and engaging mechanical theatre.
That's why I have to deduct points from the 'sound score' due to that fake engine sound, as it doesn't really add all that much to the experience of listening to that V6.
On the other hand, I'll award those points back thanks to Lexus' premium audio experience via the infotainment system.
When listening to music, you're engrossed in whatever you're playing thanks to absolute clarity, depth and minimal amounts of distortion of this audio system.
Adjusting the balance of the system, you're able to get ridiculous levels of bass - enough to rattle your mirrors and shake your core.
For those who prefer listening to the uncompressed capabilities of a CD, you can throw in your old mixtapes into the CD player. This is rare to find these days in 2021.
Braking
4.6 out of 5.
I was certainly was impressed with the braking ability of the RC350.
There's enough brake feel in the Lexus to give you the feedback to come to a complete stop seamlessly. There's no need for a jerky initial brake bite, instead, you'll have a buttery smooth stop at the lights - how elegant.
This is a heavy car, weighing in at over 1700kg. This means under heavier braking you will start to feel the mass of this vehicle. Feeling the mass of the car is only a real problem when you're pushing the RC in a moment of extreme spirited driving, or out on the track.
Acceleration/Power
4.3 out of 5.
As I've alluded to already, the RC350 possesses a 3.5L naturally aspirated petrol V6, producing 232kW and 380Nm.
As per a few publications, 0-100km/h times are claimed to be in the low 6-second range; around 6.2 seconds to be precise.
Despite lacking a turbocharger, the V6 has plenty of get-up-and-go, as the engine rewards you when revving through to the redline, where you'll access all of this motor's power.
Induction sound is a-plenty when under heavy acceleration. There is a sense of being pushed back into your seat for what might seem like an aged motor design amongst a plethora of 2.0L turbo four-bangers.
Other cars will make do with a turbocharged four cylinder unit, which will be better for short launches off from the traffic lights. However, the V6's sound and top-end grunt is what really stands out from the rest.
Gear Shifting
4.5 out of 5.
The 8-speed automatic used in the RC was a perfect pairing with this engine and platform.
Similar to the brakes, you're able to get the RC to perform with relative smoothness and precision when driving around town or out on the highway.
The gearbox knows exactly where to be in order to give you a comfortable and relaxing ride. It's never stressing you out by holding gears, or being too slow to respond to immediate commands.
In Sport and Sports Plus mode, you're going to benefit from using the Manual mode and paddle shifters to control this gearbox.
These paddle shifters are rewarding to engage with, as they don't feel cheap or like a last minute afterthought. They offer a pleasant experience when you want to take over and feel more in control when getting the most amount of performance from the car.
A downside from this gearbox being comfort orientated is that you're not going to get the snappy or crisp changes that the likes of a dual-clutch would offer. For this type of vehicle, and with 'Luxury' in the name, it's fair to say that this isn't a necessary requirement from this gearbox.
Suspension & Handling
4.7 out of 5.
What really sells the driving experience in the RC is its suspension and handling. This suspension setup is one of the best I've been in a while.
Almost magic in its performance, you are kept in total comfort travelling down a bumpy street- you glide over speed-bumps, and traverse driveways seamlessly.
I've been in plenty of cars down my own street, but none have performed quite as well as the Lexus RC did.
It surprises me, as in tighter corners, you're able to have the RC show off its performance chops as it can become direct in its handling. This is all thanks to possessing adaptive suspension, which changes depending on which drive mode you're in. This allows for that duality of comfort and cornering performance.
I also adore the traditional experience of having rear wheel drive, and a front engine. The RC has predictable balance in corners, without having to worry about too much under-steer.
In slippery conditions, make sure to not stab that throttle. The responsiveness of this engine will provide slippage of the rear tires when you dig a little deeper into that right pedal when traction isn't optimal.
Fuel Efficiency
3 out of 5.
Unfortunately, a unique motor like this is not long for this world due to its ability to guzzle petrol.
This V6 was able to return some respectable consumption figures, but not without its moments.
There's a claimed consumption of around 9.1L/100km, but I just don't think many city-dwellers will see this figure. Most of the time I was in the realm of 16L/100km, and only after some more conservative driving and highway stints, I saw that figure rest at around 10L/100km.
It's an expensive car to fill up too, costing on average around $100 to fill from empty!
In the end, it's the price to pay for a motor like this.
Interior Design
4.6 out of 5.
There's a sense that Lexus employed some serious ergonomic designers when creating the RC's interior.
You step into the coupe via the large LC500-inspired doors, which open slightly upwards to avoid scraping the curbside. You can't help but feel like you're in something a bit more special than your average car - you start to appreciate what Lexus is all about.
The whole cabin allows the front passengers to almost be in a reclining position, never really having to lift an arm past their reach. All of your controls are easily reachable and found when driving, without having to strain yourself to reach for buttons or a distant touch point on a screen.
There's an infotainment display far off into what feels like the distance. In reality, it's a non-touch full colour display that possesses all the information you'd expect in a car like this (navigation, audio controls, DAB, and Apple Carplay/Android Auto).
Controls for the screen are found just in front of the arm rest, and you operate this system like you would a laptop. Swiping on the Lexus branded trackpad is greeted with a haptic response, to help confirm your input.
This traditional Lexus system looks to be nearing the end of its lifecycle, making way fora new system that favours touch inputs. I personally liked the way you engage with this system via the touchpad and what this did visually for the cabin, but I can understand why this might not work for most people.
The way the dashboard meets the centre console is all done in a very Porsche-esque way - they're angled up towards the driver, making it easier to find and use buttons.
The downside to opting for the RC350 Luxury over the F-Sport is that you miss out on the LFA-inspired gauge cluster. Instead, you have Toyota Camry-like analogue gauges that are missing the very basic feature of a digital speedometer.
This feels like something that could have been addressed in the facelift, but has seemingly been overlooked. If you're coming from a car with a digital speedo, this might be the small nuisance that pushes you towards the F-Sport models.
Boot Size & Comfort
4 out of 5.
You're greeted with 374L of boot space when you open the boot of the RC350.
The boot is manual in its operation, however you can release the boot from either the key, the latch or from inside and it'll 'spring' open. There isn't a bunch of room back there, as the opening for the boot space is limited, unlike some vehicles that possess a hefty trunk.
Rear seats can fold down in a 60:40 split, even though the second row houses only 2 seats. There's enough space in here for a couple of suitcases or golf bags, but not quite enough for more than 2 people to head away on a long trip.
Since this is a Lexus, there are some premium additions in the boot, like a first aid kit and a valet kit. The valet kit is made up of a Lexus-branded mat and gloves for when you're changing a tire, alongside a warning triangle.
As for comfort, the Lexus comes out on top in this department. I experienced nearly unparalleled levels of balance, precision and refinement over a variety of road surfaces.
For 2 people, the RC is a refined machine that will provide you with plenty of space, comfort and performance during a long road trip. However, the RC can't replace your more traditional 4-door sedan. This truly is a 2 + 2 coupe, with the rear seats needing to be reserved for children or smaller adults.
Legroom in the rear is compromised, along with little to no headroom for occupants taller than 5 foot 10 inches.
Barring the rear seat comfort, you're buying an RC because you want a sporting coupe. You're not buying a sporting coupe to carry around a family, instead, you're buying a 2 + 2 coupe for those rare moments when you need to carry more than 2 people to a nearby destination.
Features
4.3 out of 5.
Even though on a surface level the RC doesn't appear to have the flash tech that Audi or Mercedes might have, it doesn't mean that it's lacking in features. There's radar cruise control, 8-way adjustable seats, heated and cooled seats and of course... a CD PLAYER!
Check out all the features below:
Engine
3.5L V6 Naturally Aspirated (non-turbo)
Producing 232kW and 380Nm
Infotainment
10.3inch non-touch full colour display
Apple CarPlay, Android Auto, Lexus App Suite
Optional 17 speaker Mark Levinson audio system
Safety
Autonomous emergency braking with pedestrian detection
Reversing camera and sensors
8 airbags
Lane-departure warning
Performance
0-100km/h in a claimed 6.2 seconds
Sport/Sport+ drive modes
Paddle shifters
Snow mode
Convenience
Radar cruise control
Keyless entry/exit and start/stop
Automatic boot-release
Adaptive suspension
Full leather interior
Heated and cooled seats
Automatic sliding front seats (for rear occupant entry/exit)
Should you buy one?
You can look at the RC in two different ways.
One is that you're after a unique driving experience and a car with an engine that is soon to die out. The big displacement, non-turbo motors are not long for this world. If you're after unique sound, power delivery and performance compared to four-cylinder alternatives, you should certainly consider buying an RC350.
Secondly, you should buy an RC for its attention to detail, comfort and consideration for you as a driver, rather than you as a user. Lexus makes special cars, even though some of the tech in here isn't the best. When a car like this can get the basics of driving down pat like the RC can, it spoils driving anything else that compromises.
The RC offers you, the buyer, a financially more palatable version of the drop-dead gorgeous LC. For that, you get a car with style and plenty of substance.
I'd certainly recommend you go out and buy an RC against its current competitors for these reasons. If that fuel bill concerns you, I'd then skip any hybrid options and move onto getting an EV instead.
About the author
Cameron is your typical car nut, but also drives and writes about cars for ProductReview.
Questions & Answers
Sorry, there are no questions yet.
Get an answer from our members
Details
Compare both
Lexus RC 350
Category
Sports Cars
Starting

Price

$79,990
Warranty

Distance

150,000 kms
Transmission
Automatic
Drive Type
Rear Wheel Drive (RWD)
Fuel Type
Petrol
Wheels
18" Alloy

Doors

2

Seats

4
Fuel Consumption
9.1 L/100km
Fuel Tank

Capacity

66 L
Engine
3.5L V6 with Direct Injection and Dual VVT-i
Engine Code
2GR-FKS
Max Power
232kW @ 6600rpm
Max Torque
380Nm @ 4800-4900rpm
Boot Capacity
374 L
Phone Connectivity
Android Auto (Wired) and Android Auto (Wireless)
Wireless Charger
No
Roof
Hard-Top and Sunroof
Companion

App

No
Manufacturer Warranty
4 year(s)
Keyless Features
Keyless Locking/Unlocking
Yes
Ignition
Keyless Start/Stop
Headlights
Type
LED
Headlight Features
Auto High-Beam Dip
Safety Features
Cameras
Rear
Cruise Control
Adaptive (ACC)
Parking Sensors
Cross-Traffic Alert (Rear) and Rear
Hazard Perception
Blind Spot Monitoring (BSM) and Forward Collision Warning
Lane Assistance
Lane Departure Warning (LDW)
Speed Sign Recognition
None
Dimensions
Kerb Weight
1,680 kg
Driver Information
Built-In Navigation System
Yes
Heads Up Display
No
Voice Control
No
Digital Radio (DAB+)
Yes
Release date
Nov 2014
Compare both
Lexus RC 350
Visit official website
ProductReview.com.au has affiliate partnerships. These do not influence our content moderation policies in any way, though ProductReview.com.au may earn commissions for products/services purchased via affiliate links.