2 photos
Nissan Navara NP300 4x4 ST-X (2015-2022)
Also referred to as: Nissan Navara NP300 4x4 ST-X 2021 and Nissan Navara NP300 4x4 ST-X 2023.
3.3

from 71 reviews ·

View Statistics
Listing monitored by Nissan
Expert Review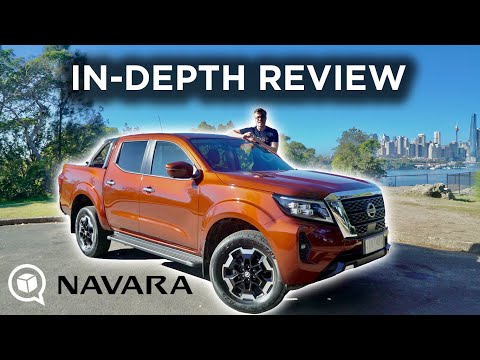 4 out of 5 stars
Introduction
The Nissan Navara is a household name in many Australian households.
This is a familiar ute, with a reputation for being a reliable workhorse for either the daily trade, or for hauling large trailers.
In recent years, the Navara hasn't been able to crack the top 3 best selling utes in Australia; trailing behind the Hilux, D-MAX and Ranger.
For 2021, the Navara has received a refresh that really brings out plenty of American influence in both design and overall comfort.
Has this redesign given the Navara the edge it needs to move closer to becoming one of the top 3 best selling utes in the country?
Let me tell you why it might.
---
Build Quality
4.2 out of 5.
I was thoroughly impressed by the build quality of this ute in particular. There's a lot of car influence in the new Navara, and less truck influence, which is a good thing!
A car-like construction means solid overall build quality, but without the rough edges and questionable corners being cut in the name of utility. There's no need for excessive force when closing the ute's tray, or overly heavy doors.
Instead, the Navara's construction makes it an approachable and excellent daily option for a wider variety of buyers than some other utes.
Inside this ute, you can see plenty of influence from Nissan's current range of passenger cars, as this interior, just like the exterior, certainly feels more car-like than any ute I've been in recently.
Our tester had leather-heated seats, carpeted interior and a familiar array of buttons found in other Nissan's.
Similar to Nissan's passenger cars, the Navara offered little to no squeaks or rattles even when off roading.
This is a thoroughly well-built truck, with substance to go along with its new style.
Value for Money
4.4 out of 5.
The Nissan Navara ST-X starts from $55,790 drive-away.
Adding a 4X4 drive-train, Forged Copper paint and a leather interior will push that price a lot closer to the $60,000 mark.
You're getting plenty of capacity for towing (3.5T) and a one-tonne load capacity, all without having to use leaf-spring rear suspension.
Against the top of the range competitors from other brands, the Navara certainly offers plenty of on-road refinement, while providing you with off-road capability to travel to most campsites off-road.
Although you have plenty of brand loyalists when it comes to the likes of the HiLux and Ranger, you won't be disappointed jumping into a new Navara over the current offerings from competitors.
Cleaning and Maintenance
4.2 out of 5.
Like many four-wheel-drives I review, the added ground clearance certainly helps access for cleaning away grime from vital components underneath the ute. Built-in side steps also help with accessing the roof and tray from above.
Against utes that include a built-in tonneau cover, the exposed bed of the Navara proved to be a location for loose dust and leaves to gather when parked outside. I'd recommend even a soft cover to avoid having a lot of dirt accumulate here over time.
Nissan includes a 5 year/unlimited kilometre warranty with the purchase of a Navara, and also includes capped price servicing and roadside assistance. This all provides good peace of mind for the ownership experience.
Noise Level
4.5 out of 5.
What is immediately noticeable compared to other utes is just how refined in sound this ute is. Not just in its audio system, but also the isolation from the 2.3L twin-turbo motor.
The infotainment system provided hours of entertainment over the 1000 kilometres I travelled with this ute.
Never faulting in its performance, there's enough clarity and power from these speakers with less distortion at higher volumes than you might expect from a ute.
Previous utes I've tested have had plenty of diesel engine noise bleeding through the cabin under acceleration, an experience the Navara failed to offer. Instead, the twin-turbo diesel engine was less ute-like, and offered refinement from the sound it produces. You're still going to have diesel engine noise, however it's a faint distant sound, rather than being immediately present.
Road and wind noise was extremely well isolated, and provided an excellent escape from the outside world during longer road-trips and day-to-day traffic.
Braking
3 out of 5.
Although the Navara has managed to do away with the traditional leaf-spring suspension setup found in many of its competitors, it still retains the popular use of rear drum brakes.
Drum brakes didn't really have an impact on the otherwise responsive and smooth brakes. Initial bite on the brake pedal wasn't harsh, and it made daily driving with passengers seamless and relaxing.
For additional peace of mind, there's the inclusion of autonomous emergency braking. However, it really proved to be a nuisance on my daily commute to the office as it picked the Sydney Harbour Bridge as a great place to randomly tap the brakes, preempting a non-existent crash.
This was unsettling, especially at speeds of up to 70km/h - it wasn't a rare occurrence either, as it often did this in the same location. Other publications have reported the exact same issue occurring, so this isn't an isolated incident or only relevant to this particular test vehicle.
Aside from occurring on this particular route, I never encountered this problem outside of driving across the Harbour Bridge. This is a bug that Nissan needs to update and fix as soon as possible.
Acceleration/Power
4.2 out of 5.
The Nissan Navara produces 140kW at 3750rpm, and 450Nm at 1500-2500rpm from a 2.3L twin-turbo four cylinder diesel power plant.
I was thoroughly impressed with the performance of this engine. Not only was it smooth, but it certainly felt capable and powerful, despite just being a four-cylinder engine.
The twin-turbo setup is a more elegant solution to the traditional large single-turbo setup. It allowed for off-the-line acceleration to be linear, rather than an initial lag and then power.
The Navara also performed well higher up in the rev-range and out on the highway. There wasn't a moment when overtaking where I thought that the Navara was running out of steam. Instead, the diesel motor provided enough power to give you confidence when operating across a variety of terrains, all while returning fuel economy figures in the low teens.
Gear Shifting
4.3 out of 5.
Connected to the twin-turbo unit was a 7-speed automatic transmission. Despite it's aged visual appearance of the shifter in the cabin, it translated that power and torque without the traditional 'jerky' experience.
This 7-speed auto was particularly delightful to use day to day and out on road trips. It rarely skipped a beat, and added to the overall smooth ride that the engine and suspension were capable of providing.
There was an option to shift gears manually, however, unless you're offroad and need to hold a particular gear, there's no need to shift yourself. Shifting yourself will only leave you disappointed in the responsiveness from this gearbox, whereas responsiveness when just left in 'D' was more than impressive for a ute like this.
Utilising 4X4 and 4X4-LOW modes in this gearbox was easily changed to provide better distribution of power, and provided plenty of confidence that the car was able to put 450Nm of torque to the ground with relative ease.
Suspension & Handling
4 out of 5.
Doing-away with a traditional leaf-spring setup, the Navara is fitted with a multi-link rear suspension with shock absorbers.
Traditional leaf-spring suspension is utilised for its ability to carry heavy loads while packaged in a simple yet relatively effective setup. The main trade-off for this load carrying capacity is the ride quality when unladen, leaving occupants to be thrown around the cabin when encountering bumps and ruts in the road surface.
The more complicated and sophisticated multi-link suspension setup in the Navara dramatically improves the ride quality when unladen, yet is still able to handle over a 1T payload.
This suspension setup doesn't completely eliminate a stiff ride when unladen, but it certainly smooths out the ride quality and helps improve comfort in a ute with a proper carrying capacity.
Off-road, the suspension setup on this Navara provides a total ground clearance of 224mm, giving plenty of height to traverse any small rocks and dips on a track. This height offers an approach angle of 32.7 degrees, a rampover angle of 23.2 degrees and a departure angle of 20.3 degrees. That approach angle figure is very good, thanks to a redesigned front-end, however the Navara will prove to be a bit more difficult to steer out of large dips with a lower departure angle.
Fuel Efficiency
3.9 out of 5.
The Navara has a claimed combined fuel economy figure of 7.9L/100km, which is the main advantage when buying a dual-cab ute with a four-cylinder, turbo-diesel engine.
Across 1000km of driving, I saw a fuel economy figure at 8.5L, however in the city, you can expect the 2.1T truck to return figures over 10L/100km if you're heavy on the throttle.
This ute has an 80L fuel tank, meaning that it'll cost you around $110 to fill from empty.
Interior Design
3.5 out of 5.
I previously mentioned that this ute feels a lot more car-focused than some other utes on the market, and you're going to notice this statement stand out in the vehicle's interior.
Stepping up and into the interior of the Navara, you're greeted with a familiar array of buttons and displays found in other Nissan products.
From the 7-inch touchscreen in the middle, through to the easy to use dual-zone climate controls and the steering wheel and driver's displays, everything in the Navara is familiar and - more importantly - easy to use.
Aesthetically, the dash design from the passenger side through to the centre isn't visually pleasing. It also isn't particularly pleasant to touch, as it's made from a robust plastic I'd imagine you'd find in an entry-level Navara.
Additionally, there's a significant lack of interior storage space that the likes of the Isuzu D-MAX possess. Instead, there's a small centre cubby (even smaller than that of a Hyundai i30) and an occupied glovebox that's filled with the owner's manual.
Aside from these 2 downsides to the interior, the Navara makes up for these shortcomings in its overall comfort and interior layout.
The steering wheel was well-sized and felt good to use and operate, as did using Apple CarPlay from the centre screen.
Front occupants are greeted with generous amounts of space, both in legroom and headroom. Outlook from the front seats is met with the almost 90 degree bonnet, which helps provide a commanding driving position. This is a unique perspective against other utes which make do with a sloping bonnet design, which looks rather dated next to the sharp angles of the new Navara.
The rear seat design also allows for interior storage space, as its a bench-seat design that can easily be lifted up to provide space for a couple of suitcases or any other valuables you might want to lock inside the cabin. For the extra valuable stuff, or just anything that needs to be hidden inside the cabin, you can remove two port-hole covers for some under-seat storage, where you'll also find your tire changing equipment.
Boot Size & Comfort
4.4 out of 5.
Boot size or tray space?
Anyway, the Navara's tray measures out at a size of 1509mm x 519mm x 1560mm - the tray is wider than its length. The total payload capacity of this tray is rated at 1024kg, which is bloody impressive for a high-end ute. This beats out the less than 1T rating on the top of the range D-MAX.
The tray provides plenty of space for several items including suitcases and bales of hay.
The bed-lining in the tray feels premium and robust, akin to a rubber/plastic hybrid, making it comfortable to sit in the back.
This tray also featured a sturdy set of tie-down points alongside a guide rail. The guide rail allows you to customise the placement of these tie-down points or add more points to secure a net or straps.
Operation of this tray's tailgate was exceptionally easy and stood out. It highlighted just how usable this ute will be to a wide variety of buyers. There is no need to shoulder charge to 'find the sweet spot' when opening this tailgate. Additionally, it was extremely light, which allowed children to close and secure it without the assistance of an adult.
Long-weekend traffic provided the ultimate test of comfort, even after enduring a day of off-roading. But the comfort of the Navara reigned supreme. With a crew of three packed into the Navara with overnight luggage, the ute provided plenty of comfort in the way of generously padded leather seats, adjustable lower back bolstering for the driver and front-heated seats.
Combining the benefits of a smooth gearbox, engine and improved ride quality, the Navara made the journey home an easy operation despite the lack of radar cruise control.
When heading into the city (or even offroad), the Navara proved to be a comfortable car to park with a 360 degree camera system alongside the front and rear parking sensors.
Features
4.2 out of 5.
This is the top of the range Navara even before you start adding off-road accessories found in the more expensive 4X-PRO model. There's plenty of standard options in the way of safety equipment and technology and even some quirky features such as the rear automatic window and offroad cameras.
However, the omission of radar cruise control and more active lane-keep assist and steering assists made this ute vulnerable against the likes of the D-MAX when it comes to choosing the best option.
A full list of features can be found below:
Engine
2.3L four cylinder diesel motor
140kW at 3750rpm, and 450Nm at 1500-2500rpm
7 speed automatic
Infotainment
8-inch infotainment
7-inch driver's display
Apple CarPlay and Android Auto
Bluetooth
Satellite Navigation including turn-by-turn directions
Safety
Autonomous Emergency Braking and Warning
Blind Spot Monitoring
Rear Cross Traffic Alert
Active Lane Keep Assist
Driver Attention Warning
Performance
4x4 drivetrain
4x2, 4x4 and 4x4 Low Modes
Rear differential locker
Hill decent control and Hill start assist
3.5T towing capacity
1T paylod capacity
Convenience
Keyless Entry/Exit and Start/Stop
Automatic rear window
360 degree offroad and parking cameras
Integrated bumper step
Utili-track channel system for securing cargo in ute bed
Cruise control
Heated seats
Dual-zone climate control
Should you buy one?
The new Navara offers the American truck experience in a dual-cab format.
Now streamlined with the North American alternatives in its design, the Navara is the best looking dual cab ute on offer today.
With sharp angles, aggressive LEDs and a bonnet design taken straight from the Nissan Titan, this ute is true to form in what it is - a small truck.
It's not just its looks either, with a powerful twin-turbo diesel motor, buttery-smooth 7-speed transmission and comfortable interior, the Navara is stacking up to be one of the better utes to buy at the $60,000 mark.
Performance on and off road is impressive, and you're going to really benefit from the multi-link rear suspension setup over leaf-springs. This is a point to consider if you're looking for a major reason to pick a Navara over its competitors.
However, the issue of the autonomous emergency braking system activating on my daily commute and the omission of radar cruise in 2021 are some pain points that would have me look at alternatives if push really came to shove.
Apart from those issues, I'd happily hop into a new Navara in a colour like this Forged Copper paint. It stands out from the crowd, but also packs a punch in its offroad performance and overall performance as a ute that can carry everything you might need.
About the author
Cameron is your typical car nut, but also drives and writes about cars for ProductReview.
Questions & Answers
Navara NP300 4x4 ST-X (2015-2022)
I have just purchase a 2021 ST-X Navara. I have had it 3 months and love it! I am thinking of updating my Caravan to something bigger with a GMV of 3100kg. I am a little worried as to the Navara handling it as there are some reviews saying that the technical max tow weights of 3500kg are very optimistic (this goes for a number of other 4x4 as well) i.e it's marketing spin and while technically possible may not meet our expectations.
There do not seem to be any reviews specific to the latest Navara towing a larger family Van. Does anyone have experience with this combination? How does it perform on cruising speeds, hills, handling, ride and fuel?
2 answers
Hi I have been towing a single axle 2744 kg GTM (290 kg ball weight) off road van with my new 2021 ST-X automatic and I am very impressed. I previously owned from a 2015 ST-X series 1 that I had no p...
Read more
roblems towing the van, but I have found the new series 5 is superior in almost all aspect specially with an improved towing capacity, engine performance and greater noise reduction. Love it....
Navara NP300 4x4 ST-X (2015-2022)
I have the series 2 STX but it has never done a burn that I know of and the has never been a light come on my dash. My daily drive consists of 20klm each mostly 80klm/hr zones
1 answer
Hi Deb J.
I'm not a mechanic simply an owner of a Nissan dual cab utility. I believe that if you're doing a daily commute of 20km there and 20 km back then that is enough to activate your diesel parti...
Read more
culate filter into doing its controlled 'burn-off'(clean) routine when it is required or dictated rather by your engine computer module. I do a run on the highway for about 20-30 km one way then turn around and return for every tank fill which is about 560-600 km of suburban (short-hop) driving to the local shops and my DPF is fine - according to my service technician. You are quite right to pay close attention to that as DPF problems can be expensive to rectify. Your local mechanic/technician can plug in and look at your engine computer DPF stats and tell you if your DPF is clogged or not. When you next get your car serviced write down the things you would like to find out about and tape that to the dash (ie: Please check status of DPF). Cheers Terry Mac.
See all

Nissan Navara

questions
Get an answer from our members and Nissan representatives
Details
Compare all 12
Nissan Navara
Category
Utes
Starting

Price

$47,990.00
Transmission
Automatic and Manual
Drive Type
Four Wheel Drive (4WD)
Fuel Type
Diesel
Wheels
18" Alloy
ANCAP Safety Rating
5 Stars

Doors

4

Seats

4 to 5
Fuel Consumption
7 L/100km
Fuel Tank

Capacity

80 L
Engine
4 Cylinder 2.3L Twin Turbo-Diesel
Max Power
140kW @ 3750rpm
Max Torque
450Nm @ 1500-2500rpm
Country of Manufacture
Thailand
Maximum Towing Capacity (braked)
3,500 kg
Maximum Towing Capacity (unbraked)
750 kg
Tray Type
Pick Up
Cab

Options

Dual and Extra
Maximum Payload
971 kg
Ground Clearance
228 mm
Manufacturer Warranty
5 year(s)
Dimensions
Ground Clearance
228 mm
Release date
Compare all 12
Nissan Navara
Visit official website
ProductReview.com.au has affiliate partnerships. These do not influence our content moderation policies in any way, though ProductReview.com.au may earn commissions for products/services purchased via affiliate links.