33
Nissan Z (RZ34) Coupe (2023)
Also referred to as: Nissan Z (RZ34) Coupe 2024.
Expert Review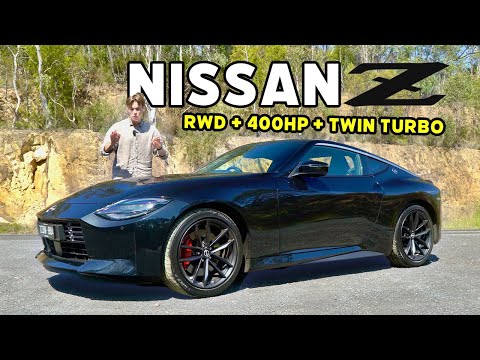 4 out of 5 stars
What is it?
It's Nissan's revival of its Z sports car line-up and a direct rival to the Toyota Supra. It packs a twin-turbocharged petrol V6, it's rear wheel drive and it's available with a six-speed manual transmission.
It's the most exciting Nissan you can buy ever since Australian crash safety standards killed off the R35 GTR.
This time around, Nissan have gone for a modern design filled with retro design cues from Nissan's performance past. It's a lot cheaper than the equivalent Toyota Supra, but is it worth saving your dollars on this Japanese sports car?
---
Build Quality
4 out of 5.
This is where Toyota's partnership with a premium auto-maker like BMW comes in handy. The Nissan saves costs with plenty of hard plastics on this interior, which is fine for the most part.
You aren't buying this Nissan for its supple Nappa leather. There are some nicer materials splashed throughout the interior, but overall it does feel like you've saved a little money with this interior.
It's a tightly constructed car throughout. I spent over 6 hours in the drivers seat of this Nissan and had almost zero complaints about build quality. My only issue was the use of hard plastics in the boot (which shares air with the cabin), meaning small items will hit this plastic and make a lot of sound when moving around while driving.
How Much Does it Cost?
4.4 out of 5.
Priced from $73,300 before on road costs, that's one hell of a deal for a sports coupe like this. You're getting a 400hp purpose built sports car for a lot less than something like a Supra ($87,000).
You get launch control, auto-rev matching, a digital gauge cluster, LED lights and even heated seats.
Sure it's not a completely new car underneath (a carry over from the previous generation 370Z), but it's hard to argue this isn't a well priced sports car.
Warranty and Servicing
4.2 out of 5.
You get a 5 year/unlimited kilometre warranty and roadside assistance as standard,
Servicing occurs every 12 months or 10,000km and will cost you $1,138 for three years of services, $2,012 for four years or you can prepay up to five years which will cost $2,491.
Noise Level
3.7 out of 5.
The 8-speaker BOSE audio system is not a bad way to enjoy hours of music, podcasts or even take important meetings at the track when you really should be at the office. But I didn't find it to be overwhelmingly impressive.
The same can be said for that exhaust noise too. Despite having a surging twin-turbo motor under the bonnet and two large exhaust exits out the rear of the car, the Nissan Z is fairly mute.
The first modification I would suggest is a valved exhaust to add a bit of that missing character this Z is begging for.
Braking
4.4 out of 5.
You get a large set of 355mm front brakes, which are clamped by a pair of red callipers. I never felt uneasy plunging into the brake pedal during some enthusiastic back road driving. I especially adore the smooth application of these anchors.
Although it's worth noting that despite its smaller footprint, it weighs in at a hefty 1,600kg.
It's an easy car to cruise in and have a passenger with you as these brakes offer a plush initial bite, before completely biting down on those rotors.
Acceleration/Power
4.6 out of 5.
Outside of the Ford Mustang, you're getting a fairly good deal in the power department. There's a 3.0L twin-turbocharged V6 under the bonnet producing 298kW (400hp) and 475Nm.
Power is sent exclusively to the rear wheels, and you have easy access to launch control in this manual model too.
Nissan doesn't offer a 0-100km/h time, but it's been rumoured to be around 4.6 seconds. That's plenty fast for a stock sports car like this.
Gear Shifting
4.6 out of 5.
The six-speed manual transmission option for this Z is a must. I've yet to test the automatic version of this car at the time of writing, but from what I've heard it's no Porsche PDK transmission.
The six speed has a great shifter feel and has the added benefit of auto-rev matching to make you look like more of a pro than you actually are.
Shifts aren't super slick unfortunately, and feel a little on the plastic side of things. However it wasn't that much of a detracter from being able to row through gears and feel engaged when driving the latest Z car.
Suspension & Handling
4.5 out of 5.
Daily driving isn't a complete chore in the Z. It's fairly smooth on rougher sections of road, offering a shockingly smooth ride. Maybe it's the weight, but the Z feels planted and sure of itself regardless of the road.
That does mean you're getting a little less twitchiness and feedback when pushing this car for some enthusiastic driving. A ride like this is good in a GT car, but in a sports car, you might dream of a little more movement and excitement from this car on back roads or even the track.
And I'm unsure if the incoming NISMO version of the Z will fix that, as it's just adding even more weight to the car for some reason.
That doesn't mean this car isn't fun to drive. I had a ball tearing through gears, and swinging through the rev-limiter. You just need to adjust your expectations. This is going to be as dynamic as a Supra or maybe even a Porsche Cayman. It feels a little more inline with something like a Ford Mustang.
Oh and yes, that rear end can become very playful when those turbos come on tap…so just make sure your stability control is turned on unless you plan on getting REALLY sideways.
Fuel Efficiency
3.5 out of 5.
Look away if you care about fuel economy, as this 3.0L V6 loves the dinosaur juice. Figures can range from 10L through to 20L per 100km depending on your driving. And yes, you need to fill it with Premium fuel too.
Interior Design
4.3 out of 5.
Haters of the Toyota Supra constantly remind the internet that the interior is pretty much a BMW interior with Toyota logos (that's mostly true). Whereas the Nissan Z feels unique and has one of the best steering wheel designs in the industry.
I wish there were some more exciting colours to choose from rather than straight black for this interior. Nissan was conscious enough to add in some colour in the form of contrasting stitching.
You also get three pod gauges that face the driver - a welcomed carry-over from the 370Z. Although the centre touch screen already feels dated in a car released in 2023.
The driver display looks every bit as exciting as it should be, especially when configured to have that large singular rev counter in the middle.
Here's the best part. The steering wheel is ripped straight from the R32 GTR. It's not just inspired by what the program manager for the new Z claims to be the 'best steering wheel Nissan has ever made' - it is the exact dimensions and shape as that wheel. No silly flat-bottom wheel business, instead it brings a classic feel to this modern-ish interior.
Boot Size & Comfort
2.5 out of 5.
The boot here is a measly 241L, and could possibly squeeze a set of golf clubs in the rear. There's a glass hatch to access the 'boot compartment' which really is just a shelf inside the Z.
Behind the seats there are additional storage compartments to secure smaller items, but I hardly used them as I'd easily forget what's in them and they weren't exactly the easiest to access.
These seats are inspired from the R35 GTR, so they're no just secure but they absolutely were comfortable for long road trips too. The Z makes for a great grand tourer, but just make sure you don't bring anything more than the essentials unless you want to put a suitcase in the passenger footwell.
Features
4.3 out of 5.
There's plenty of creature comfort and performance features here in the Z for the asking price. You have everything from BOSE speakers to auto-rev matching…I honestly don't think there was anything more I could have asked for in a purpose-built sports car like the Z.
Maybe some more exciting interior colours to choose from, or maybe a sports exhaust option? That would be it for my wish list.
Buy it, Consider it, or Leave it?
There are compromises to spending less on the Z compared to the Supra. For starters, the build quality is better in the Supra, the shifter feel is more crisp, and the aftermarket support is wider for a car built in conjunction with BMW.
However, those all come at a significant cost difference. Rather, I'd be cross shopping with a manual Ford Mustang GT. It depends if you need the additional seats in the rear, and simply prefer the sound of a V8.
After spending plenty of time in the Z I could confidently say that you won't be unsatisfied with this car. Although I would be running out to get a ever so slightly more vocal exhaust system for this car…oh and don't get this in black, it's probably the worst colour for this gorgeous exterior.
About the author Cameron is our resident car expert. He's here to show you around Australia's new cars and motorbikes and let you know if they're worth buying. If it has wheels and you can drive it, Cameron will review it.
Questions & Answers
Get an answer from our members and Nissan representatives
Details
Compare all Nissan Z-car listings
Category
Sports Cars
Sports Cars
Sports Cars
Sports Cars
Starting

Price

$82,395
$101,865
$55,059
$55,059
Warranty

Distance

Unlimited kms
Unlimited kms
Transmission
Automatic and Manual
Automatic
Manual
Automatic
Drive Type
Rear Wheel Drive (RWD)
Rear Wheel Drive (RWD)
Rear Wheel Drive (RWD)
Rear Wheel Drive (RWD)
Fuel Type
Petrol
Petrol
Petrol
Petrol
Wheels
19" Dark Metallic Forged Alloy Wheels by RAYS
19" NISMO Forged Alloy Wheels
19" Alloy
19" Alloy

Doors

2
2

Seats

2
2
Fuel Consumption
10.8 L/100km
10.4 L/100km
10.6 L/100km
10.4 L/100km
Fuel Tank

Capacity

62 L
62 L
72 L
72 L
Engine
3.0L twin-turbo; 2,997cc
3.0L twin-turbo; 2,997cc
6 Cylinder 3.7L
6 Cylinder 3.7L
Engine Code
VR30DDTT
VR30DDTT
Max Power
298 kW @ 6,400 rpm
309 kW @ 6,400 rpm
245kW @ 7000rpm
245kW @ 7000rpm
Max Torque
475 Nm @ 1,600-5,600 rpm
520 Nm @ 2,000-5,200 rpm
363Nm @ 5200rpm
363Nm @ 5200rpm
Boot Capacity
241 L
241 L
Country of Manufacture
Japan
Japan
Japan
Japan
Phone Connectivity
Android Auto (Wireless), Apple CarPlay (Wireless), Bluetooth and USB
Android Auto (Wireless), Apple CarPlay (Wireless), Bluetooth and USB
Security Features
Immobilizer
Immobilizer
Steering Wheel Adjustment
Telescoping (Manual)
Telescoping (Manual)
Manufacturer Warranty
5 year(s)
5 year(s)
3 year(s)
3 year(s)
Warranty Details
with 5 year 24 Hour Roadside Assistance Program
with 5 year 24 Hour Roadside Assistance Program
Keyless Features
Keyless Locking/Unlocking
Yes
Yes
Ignition
Keyless Start/Stop
Keyless Start/Stop
Headlights
Headlight Type
LED
LED
Headlight Features
Auto High-Beam Dip and Auto-Dimming
Auto High-Beam Dip and Auto-Dimming
Safety Features
Cameras
Rear
Rear
Cruise Control
Adaptive (ACC)
Adaptive (ACC)
Parking Sensors
Cross-Traffic Alert (Rear), Front and Rear
Cross-Traffic Alert (Rear), Front and Rear
Hazard Perception
Blind Spot Monitoring (BSM) and Forward Collision Warning
Blind Spot Monitoring (BSM) and Forward Collision Warning
Lane Assistance
Lane Departure Warning (LDW) and Lane Keep Assist (LKA)
Lane Departure Warning (LDW) and Lane Keep Assist (LKA)
Speed Sign Recognition
Yes, read only
Yes, read only
Dimensions
Kerb Weight
1,600 kg
1,679 kg
Ground Clearance
124 mm
125 mm
Driver Information
Gauges
Analogue Only
Analogue Only
Digital Radio (DAB+)
Yes
Yes
Release date
Discontinuation date
Replaced by
Nissan Z (RZ34)
Nissan Z (RZ34)
Compare all Nissan Z-car listings
Visit official website
Extra Information
Ford Mustang
Toyota 86 ZN6
Subaru BRZ
Audi TT
Lotus Elise
ProductReview.com.au has affiliate partnerships. These do not influence our content moderation policies in any way, though ProductReview.com.au may earn commissions for products/services purchased via affiliate links.