5 photos
Volvo XC40 Recharge Pure Electric (2020-2022)
Also referred to as: Volvo XC40 Recharge Pure Electric 2021 and Volvo XC40 Recharge Pure Electric 2023.
4.0

from 1 review ·

View Statistics
Brand Manager for Volvo?
Register now
and take advantage of ProductReview's Brand Management Platform!
Expert Review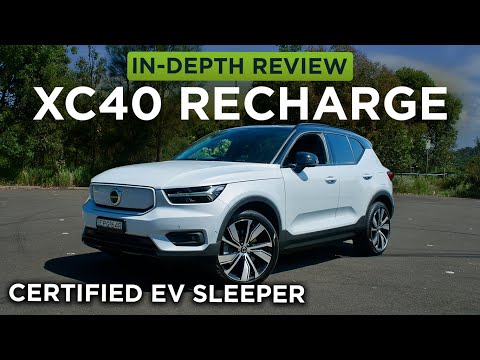 4.5 out of 5 stars
Introduction
Volvo's first electric SUV has hit the Australian market against some stiff competition. There are the likes of Mercedes, BMW and Tesla, who are dominating the premium EV market. Below that price point there are Hyundai, Mini and MG, who are offering somewhat affordable EVs in 2022.
There's certainly a lack of electric SUVs available for less than $100,000 Down Under. If you manage to pick one in that budget, they're normally lacking in refinement and feel like the EV powertrain was a complete afterthought.
That's where the XC40 Recharge comes in. I honestly was expecting this to be a little compromised, similar to the Hyundai Kona Electric, Kia Niro EV and Mercedes EQA.
Instead, what we have here is a fully electric SUV that could fool anyone into thinking the XC40 was built solely with an electric platform in mind.
It's an all-wheel drive sleeper of a performance EV. Let me explain what makes the Volvo XC40 Recharge possibly one of the best EV family car options below $100,000.
---
Build Quality
4.7 out of 5.
Immediately made apparent is Volvo's commitment to build quality throughout this vehicle. It's obvious both on the outside and inside of this Swedish SUV that you are buying a premium product.
Shutlines, panels and weighty doors all indicate a more upmarket vehicle when interacting with the exterior of this car. It looks tight, especially when rocking those almost oversized, 20-inch diamond-cut alloy wheels.
Interior materials are soft-to-the-touch, yet feel resilient against bumps and knocks. I especially loved the carpet material lining the door trim, which is something a little left-of-field but luxurious nonetheless.
Buttons, screens and even the shifter knob all provide a tactile and satisfying response when interacting with them. It's a reassuring nod to the fact that this superior build quality isn't just superficial.
Value for Money
4.6 out of 5.
There's currently one XC40 Recharge available, and it's this AWD, 78kWh capacity model. However, if you don't need the power, or the AWD grip, you can wait for the slightly more affordable 2WD model that's due later this year.
For $76,990 before on-roads, I truly think you're looking at a fair price for what's on offer here. There are some other EVs around this price point, including the Kia Niro EV I tested last year. Some of those EV brands can't really justify their prices, as I found the driving experience to be sub-par as to what you could get with Tesla.
Just a note though, from July onwards, the AWD model receives a $3,000 price increase. That's also when you can expect the cheaper 2WD model to arrive at $72,990.
However, the Volvo brings build quality, styling and a driving experience to match. Its only downside is its efficiency compared to the likes of Hyundai's IONIQ 5 and the Tesla Model 3.
Practicality isn't compromised either, and for that, the XC40 makes for a very convincing luxury SUV option, even if it's an EV. If driving an EV doesn't phase you, then you also have a certified performance SUV too for a reasonable price.
Maintenance
4.4 out of 5.
What's great with the Volvo XC40 Recharge is that you don't have to pay for the first three years of servicing or 100,000km, whichever comes first! That's inclusive of all consumables, so you won't be caught out paying for something additional during this period.
There's a 5-year/unlimited kilometre warranty featured here as well. This is a coverage that's bang on what I'd expect in 2022. Additionally, it looks as if the battery warranty is covered over 8 years.
Finally, you have 8 years of roadside assistance included too, which is something that might come in handy if you plan on testing the limits of your XC40 Recharge's range.
Noise Level
4.9 out of 5.
EVs are usually a rolling aural sanctuary, and there's no exception here. Personally, I found the XC40 to be my favourite of the two EVs I had for the week. The Hyundai IONIQ 5 offered a relatively silent driving experience, however a few squeaks and rattles began to annoy me just that little bit more than they should have.
The Volvo refused to flex, creak, rattle or create any annoying sounds while running over all of Sydney's roads. All the noise you receive in the cabin is a little bit of tyre roar, a smidge of wind sound and a distinct high pitch whir emanating from the electric powertrain.
The XC40 Recharge also features a surround sound Harman/Kardon speaker system. As we move away from engine sounds, I think we're about to experience a deep dive into high-end speaker systems to keep drivers entertained while driving an EV.
Cabin isolation from the outside world was sufficient enough to enhance the sound produced from these speakers in particular. You don't have that same problem as you do in a petrol car where you need to keep turning up the volume to counteract the sounds of the engine and drivetrain. It's a seamless listening experience here.
A cool feature is that you can adjust how much 'surround sound' you want produced from these speakers, on top of adjusting other elements of the equaliser. This is a great function for those who might not want to always experience a more immersive sound like this.
Braking
4.6 out of 5.
Astonishingly, Volvo's first electric SUV has nailed the single pedal driving experience. It's unlike any first gen EV I've tested, and it's certainly on a similar level to Hyundai and Tesla's single pedal driving experience.
This is a heavy car, but those brakes won't ever make you think it is. Braking is effortless here, but that's thanks to the rolling resistance provided by the dual motor setup. I'd always recommend new EV drivers to take the dive and get used to driving using one pedal.
As you lift off the accelerator, that one-for-one accelerate/brake experience is next-level relaxation while driving. When regen braking is as good as the one found in the Volvo, it forms a much smoother ride for yourself and your passengers. You quickly learn how to pull up to a stop without ever having to touch the brakes - brilliant.
Acceleration/Power
4.5 out of 5.
This is a certified sleeper. A sleeper is a fast car that looks far from what it's about to do to you at a set of traffic lights.
Volvo have created a performance SUV without ever branding it as one. You're looking at a combined output of 300kW and 660Nm! That's good for a 0-100km/h sprint in a brisk 4.9 seconds.
4.9 seconds! In a small family SUV! It's ludacris, even if it's a bit slower than what Tesla offers.
Grip is always available thanks to the AWD setup here, and mid-range acceleration is on another planet compared to your petrol-powered car. From 50km/h to 80km/h, the tachometer can hardly keep up with such a rapid change in speed.
Acceleration is certainly muted at lower speeds to avoid a feeling of 'lurching' around town. Off-the-line acceleration is also far from being as brutal as it is in a Tesla. Once you've completed the first 20km/h, the XC40 rapidly unleashes all of its torque, almost like it knows that this is what you're asking of it.
With no drive modes, I deeply appreciated the level of refinement this powerplant had. It doesn't need a mode to reduce its power: it only needs a competent driver to have some self control to avoid launching the car forward at every given opportunity.
Gear Shifting
4.9 out of 5.
There's no need for multiple gears when you can ride out just one all the way through to your top speed of 180km/h (which was recently artificially limited by Volvo in the name of safety).
Even the gear selector is missing a physical gate; it's just a button resembling a gear knob, which you push to engage the direction you want to travel.
There's no need to wiggle a shifter, or ensure you're pushing on the brake pedal to start this car. An absence of a start/stop button means you hop in and hit drive. Without hesitation, the car starts just as fast as you'd expect it to, and away you go. It was a brilliant execution that made me feel as if push button start cars were something from the past.
Suspension & Handling
4.3 out of 5.
Despite the additional weight, this might just be one of the better handling Volvos on sale today, with the key words being: a low centre of gravity. That's what you get when you make a chassis out of heavy lithium batteries.
Cornering was a lot of fun, but that lifted SUV look limited all the entertainment factor you could have had if this was a hatchback instead. Regardless, it's still very capable through the twisties.
AWD grip and a sticky set of tires always help, although I did notice the front wheels claw at the road in the wet. That means there is a hint of understeer when conditions get a little slippy, and you put too much of that 660Nm down on the road.
That additional weight provides 'big car' luxury when cruising. The XC40 feels stable and solid across all the imperfections it meets on the tarmac. If you weren't already convinced that this felt like a luxury car when sitting in it, driving it only helps convince you of that notion.
Fuel Efficiency
3.8 out of 5.
Volvo has nailed most of the EV assignment, apart from a class leading efficiency figure.
Consumption is rated at around 18.7kWh per 100km, however I did see figures averaging above 20kWh per 100km during my week with it. Truthfully, I drove calmly for most of the time I had this SUV, so this figure was reflective of someone living in the inner city.
The range is estimated to be rated at 418km, however I saw figures just above 400km when on a full charge. Real world range seemed to drain a little quicker than I would have liked, partly due to that higher consumption figure.
It's the weaker point for Volvo when comparing it to the best EVs on the market, but overall, it's still relatively efficient. It's just not efficient enough to make it truly close to class-leading.
Interior Design
4.5 out of 5.
This is the EV for the traditionalists. There's nothing Space Age happening in here; rather, it's conventional luxury at its finest.
I drooled over the materials in the 'Build Quality' section, but I want to focus on what makes this interior so great.
The traditional packaging of this interior is done with Swedish minimalism in mind. Whether it's the clean design of the digital driver display, vertical infotainment screen, or absence of buttons, it's a redux of what makes luxury car interiors so great.
It has everything you need, and everything else is conveniently hidden from view. I especially love how functions can be controlled via the Google Assistant built into this infotainment unit. That means all the voice recognition has been outsourced to Google, allowing for a vast and interactive voice assistance - so no more shouting and overenunciating your own name to the car.
Thanks to a uniform belt line around the windows, there's plenty of light and a minimal amount of blind spots. If you don't want an EV, you can still experience this high-end interior in the more affordable, petrol-powered alternative: the XC40. This clean interior is what makes modern Volvos so appealing.
Boot Size & Comfort
4.7 out of 5.
The boot space is the opposite of compromised here. It almost appears as if it benefitted from this EV powertrain.
There's plenty of vertical storage space, a folding boot floor to hold shopping bags, and plenty of storage underneath the boot floor.
Seats do fold in a 60:40 split, however if you need to store long items, particularly skiis, then you can fold a flap in the middle seat to reveal a little pass-through.
Additionally, the front boot is the best I've seen outside of what Tesla offers. Volvo has taken special consideration to trim and has fit a useful front storage solution under the bonnet of this SUV. Mercedes lazily bolts their bonnets shut, and Hyundai offers a mediocre front trunk solution. However, I found using Volvo's 'frunk' to be the best experience I've used in a long time, especially if you reverse park in a tight garage like mine.
Comfort is sublime here, although rear passengers with longer legs might notice the space increasing between their knees and seat. There is a battery pack under here, but it's not nearly as uncomfortable as the packaging in the Kia Niro EV.
For four adults, it's a comfortable ride. That middle seat passenger will suffer slightly as the physical size of this car doesn't really allow for them to enjoy this cabin as much as the other occupants.
Features
4.8 out of 5.
There's lots on offer at just under $80,000 for the XC40 Recharge. There's hardly an option missing here, which seems to be a running theme with EVs in 2022. It's almost like a bit of bait to attract the last of the first time buyers, before option lists grow for cheaper alternatives.
Here's a full list of equipment:
Engine
Dual electric motors
All-wheel drive
300kW and 660Nm combined output
418km (WLTP) claimed range
Infotainment
9-inch vertical touch screen
Harman/Kardon speaker system
DAB radio
Google Assistant integration
Google maps integration
Safety
Pedestrian, Vehicle, Large Animals and Cyclist Detection
Intersection Collision and Oncoming Mitigation with Brake Support
Steering Support
Driver Alert
Lane Keeping Aid
Adjustable Speed Limiter function
Oncoming Lane Mitigation
Blind Spot Information (BLIS) with Cross Traffic Alert (CTA), Front and Rear Collision Warning with mitigation support
Run-off road Mitigation
Hill start assist
Hill Descent Control
Park assist Front and Rear
Drive mode with personal power steering settings
Emergency Brake Assist (EBA)
Frontal Airbags,Side Impact Protection System (SIPS) with airbags in front seats,
360° Camera
Performance
0-100km/h in 4.9 seconds (claimed)
Regenerative braking
Convenience
Automatic boot
Door handle lights
Foot detection for opening/closing boot
Front trunk (frunk)
Keyless entry/start/stop
Glove box bag hook
Should you buy one?
Short answer is yes.
This is one of the best modern executions of an electric SUV this side of $100,000. It's built with attention to detail in mind, from luxury materials to packaging and through to the driving experience.
I shook down the XC40 Recharge to see if it would fault in any department, but outside of a bit of a 'meh' energy consumption figure, it pulled strongly in each category.
I'm desperate to get my hands on the likes of the Polestar 2 (Volvo's sister company) and the upcoming C40 Recharge to see what the future holds for this Swedish brand. That's because, if this is the level of product we're receiving in 2022, it's looking brighter than ever.
About the author Cameron is our resident car expert. Aside being a source of knowledge about the automotive industry, he has also driven a wide variety of cars. From Porsche 911 GT2 RS's, through to a 1998 Toyota RAV4, Cameron has not only seen it all, but has most likely driven it.
THE VEHICLE WAS NOT FIT FOR PURPOSE FOR SOME 2 MONTHS FROM DELIVERY.
a. The air conditioning only worked intermittently. Deal breaker in Queensland in summer. Had to routinely avoid using the vehicle.
b. Radio turned on intermittently for no apparent reason when entering the vehicle. On one occasion it turned itself on overnight when parked in home garage.
c. The electric adjustable headrests made a noise but did not move.
d. Voice navigation sounded like a Dalek on one occasion.
e. Rear door would not open on one occasion.
f. Occasional failur...
Read more
es of operation (i.e. blank) central screen. g. On one occasion lost all instrument displays and had to pull to the side of the road and re-boot the vehicle. Vehicle has been back to dealer twice now. Following service in January, dealer claims issues have now all been resolved following a software update they conducted. This appears to be the case in June.
Purchased in .
Similar opinion? Write a review on ProductReview.com.au!
Questions & Answers
Sorry, there are no questions yet.
Get an answer from our members
Details
Compare both
Volvo XC40 Recharge
Category
Electric Cars and Small / Compact SUVs
Starting

Price

$82,000.00
Transmission
Automatic
Drive Type
All Wheel Drive (AWD)
Fuel Type
Electric
Wheels
20'' 5-V Spoke Matt Graphite Diamond-cut Alloy wheel

Doors

4

Seats

5
Max Power
300kW
Max Torque
600Nm
Acceleration

(0-100km/h)

4.9 seconds
Battery Capacity (Gross)
78 kWh
Range (WLTP)
418 km
Efficiency
25.5 kWh/100km
Manufacturer Warranty
5 year(s)
Dimensions
Kerb Weight
2,158 kg
Release date
Compare both
Volvo XC40 Recharge
Visit official website
ProductReview.com.au has affiliate partnerships. These do not influence our content moderation policies in any way, though ProductReview.com.au may earn commissions for products/services purchased via affiliate links.