8 photos
3.2

from 37 reviews ·

View Statistics
Listing monitored by Land Rover
Expert Review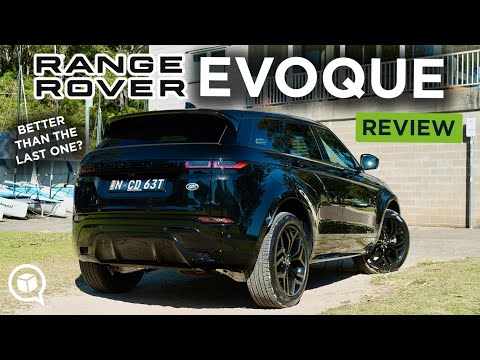 4.2 out of 5 stars
Introduction
Name a more iconic SUV that's come out in the past 5 years that's more popular than the Range Rover Evoque.
This is Range Rover's bread and butter at this point, it's one of the most popular models they sell and it's the most affordable way to enter the Range Rover family.
It's so popular that my Land Rover family jumped brands and hopped into a Range Rover Evoque for a 5 year ownership period. With its allure so strong, we downsized from the large 7-seater Discovery to this compact Range Rover.
We loved our time with the Evoque, however there were just a few things I wanted to see improved for the next generation.
So, has the 2021 Evoque gone ahead and changed for the better? Let's find out.
---
Build Quality
4.7 out of 5.
Never for a second did I doubt the build quality on our old Evoque in any sense. Doors felt solid, panels fitted together nicely, and the interior materials were made out of premium materials (for the most part).
My main gripe was with the cheap and nasty plastic paddles fitted to our Evoque. These were out of place and distracting from what was a beautifully crafted interior.
The 2021 Evoque repeats all of the above, but replaces the paddle shifters with the same aluminium ones I've encountered in the Land RoverDiscovery Sport and the Jaguar F-PACE.
There are no rattles and squeaks inside this car, it's as premium a product as the badge on the front of the car suggests.
Value for Money
4 out of 5.
This was actually my first encounter with an entry level specced Range Rover. This was the R-Dynamic S P200, with a few options thrown in. This exact model was $72,652 before on roads.
Besides missing out on a fully digital driver's display and panoramic roof (two options I would highly recommend getting), this Evoque definitely didn't feel like a base model.
Personally, with the simple option of going for upgraded wheels and a full black out of the exterior trim, I thought this looked around $10-$20,000 more than what it's actually worth.
Additionally, I had reactions from people surprised that the Discovery Sport I had the week before was actually more expensive than this Range Rover.
Instead, I think an Evoque is a far more attractive car to buy than any other European SUV based solely on the brand, design and surprisingly effective off-road capabilities this car possesses.
Maintenance
3.8 out of 5.
I'm not going to kid you that owning the Evoque was a cheap affair, as our family encountered some pricey visits to the service centre. After our warranty expired, we sought to jump out of the Evoque in fear of having another expensive maintenance experience as we did with the Discovery over a longer period of time.
Thankfully, Range Rover has acted fast on this. They've extended their warranty period to 5 years/unlimited kilometres, and have a servicing package for 5 years/102,000 kilometers costing only $1,950. This is a fair price to pay for servicing across this period.
If you're a first time Range Rover owner, or have been scarred by high maintenance costs from the past, this commitment from a maintenance stand point should make you feel a lot more confident when putting pen to paper to buy an Evoque.
Additionally, have a look around and check out just how many Evoques are out on the road. I can say that with less complicated parts like air suspension, the Evoque should stand the test of time and whatever you reasonably throw at it.
Noise Level
4.5 out of 5.
With the Evoque possessing the same audio system as the Land Rover Discovery Sport I tested, again I was met with what felt like a premium listening experience.
I'd put it down to the smaller size of this cabin and additional sound deadening which helped provide a positive listening experience. More fun can be had by upgrading this sound system, however I don't see that as being entirely necessary, as the base audio system is seriously impressive.
As for this petrol motor's sound, it's not my favourite. I actually prefer the sound of a diesel engine in Range Rovers, unless it's the fire-breathing 5.0L supercharged V8.
This was my first time with a four-cylinder petrol motor in a Range Rover. Although it sounded a little more refined than the diesel we had back in 2015, it did make itself known a little more than I'd like under heavy acceleration.
Braking
4.4 out of 5.
Similar to the Land Rover Discovery Sport I tested, the Evoque's brakes were the quiet achievers in this review. They perform with grace and are absolutely at home here on the Evoque.
Paired with autonomous emergency braking, the Evoque provides confidence-inspiring brake performance. With the Evoque weighing under two tonnes, with a low centre of gravity these brakes perform well even during moments of spirited driving.
Acceleration/Power
3.8 out of 5.
Although we're rocking a 2.0L turbo petrol four-cylinder, it's not exactly pumping out impressive performance figures.
We've got 147kW@ 5,500rpm and 320 Nm @ 1,200-4,000rpm available from this motor. It pairs better for off-roading, with that torque being accessible from very low rpms.
It's claimed that the 0-100km/h time is around 8.6 seconds, which is far better than the 9.9 seconds from my old Evoque.
It certainly doesn't feel slow by any means, but since it has less torque than the diesel engine alternative it certainly feels a little more strained translating power into speed.
Since the Evoque isn't about performance, and more focused on luxury, comfort and off-road capability, I personally would prefer a diesel engine over the petrol.
Gear Shifting
4.4 out of 5.
The 9-speed transmission in the Evoque has seen great amounts of improvement from the previous gen, providing a smoother shifting experience.
The higher number of gears allow for lower rpm's out on the highway, and around town, the improvements to this gearbox prevent it from feeling too busy at low speeds.
On occasion I did feel the gearbox take a moment to engage the next gear, but it was far from obvious.
The paddle shifters provide ample opportunity to manually shift, however even in the petrol model, it's not as fun to shift gears yourself. There's no real dual-clutch kick or urgency in these shifts, I'd rather leave the gearbox in 'S' and let it shift quickly without me interfering.
Additionally, the rotary gear selector has been replaced with the gun-handle-like shifter now fitted to all Range Rovers. I actually preferred the rotary dial, despite it giving me long-term reliability anxiety. It provided a little bit of theatre as it rose out of the dash into your hands, and it felt a little easier to navigate gears using it than this new shifter.
Suspension & Handling
4.6 out of 5.
What I love about the Evoque is its low centre of gravity. It's possibly the best handling Range Rover, simply due to its small physical size, short but wide stance and being closer to the road.
Your seating position is optimal to carve through corners, making the most of the all-wheel drive system. You can maintain a surprising amount of speed through said corners, and enjoy squeezing the throttle to get up to speed in this car. Just because you bought a Range Rover, doesn't mean you don't miss out on any on-road driving fun.
Although, those 20-inch wheels do feel a little jumpy around some difficult and uneven sections of tarmac compared to the Land Rover Discovery Sport.
Outside hard potholes and sharp speed bumps, this Range Rover does a fine job of providing a comfortable ride. Due to the Evoque possessing a wider wheelbase, it feels planted on the road and certainly provides a ride quality that's fitting for a Range Rover.
Fuel Efficiency
4 out of 5.
Missing the mild hybrid technology of the D200 motor, and being a petrol engine, the fuel consumption figure of the Evoque is a little higher than its diesel alternative.
Combined consumption figures come in at 8.1L/100km, and you'll certainly cross 10L/100km in the city with this motor.
It makes a case again for my personal preference of a diesel motor. The petrol can sometimes be cheaper to fill, however it's thirstier and won't go as far on a single tank as the diesel will.
Interior Design
4.6 out of 5.
The Range Rover Evoque is not only known for its striking exterior, but also for its unique interior.
There's a massive centre console which sweeps up to meet the dash, a la Porsche style. I love the cockpit style design for the front passengers, it feels very much like you're sitting down in the Evoque.
Compared to the previous generation, the design feels a lot cleaner here. There's a sleek display, capacitive buttons and sleek air conditioning vents, which all complement the smaller exterior headlamps.
As with the previous generation, there isn't anything impressive happening in the back seats, besides from ergonomic improvements allowing more space for passengers.
Boot Size & Comfort
4 out of 5.
There's 471L of cargo space in the back of the Evoque. Despite looking pretty tight, it's far more usable than it appears.
I've been on trips to the snow and have even moved between cities using this car. Despite its sloping roofline, it offers a boxy boot that allows you to make the most of the space provided to you.
One of my biggest complaints about the previous generation Evoque was the fact the second row only offered a 60:40 split. It made long road trips with lots of luggage an absolute pain.
Perhaps my favourite change inside the 2021 Evoque is the change from these 60:40 folding seats to 40:20:40 configuration. Now, you can have up to two adults in the second row, and fold the middle seat to allow for luggage to pass through. This is a much needed update for this luxury SUV.
Second row comfort is fairly good, however for tall adults the sloping roofline will become apparent. At 5'11" in height, I've never had an issue getting comfortable in the second row for trips in excess of 6 hours. It's a comfortable car.
Features
4 out of 5.
Finally the standout improvement comes in the form of a pop-out door handle. This is not entirely necessary, however it replaces the splash of theatre that was missing when the rising rotary shifter was removed for this update.
Cool fact, these handles are strong enough to bust through a layer of ice covering the exterior of the car, if you're ever worried about the performance of these door handles in cold winter climates.
The infotainment is also a standout feature in this cabin, it really is pleasant to interact with thanks to its revised UI and easy to navigate app layout; fitting for a car in 2021.
Here's a full list of features, including options you get with the 2021 Range Rover Evoque R-Dynamic S P200:
Engine
2.0L turbocharged petrol inline four cylinder
147kW @ 5,500rpm, 320Nm @ 1,200 - 4,000rpm
9-speed automatic
All-wheel-drive
Infotainment
10-inch touchscreen
Apple CarPlay/Android Auto
Bluetooth
Central TFT drivers display
6-speaker 180W sound system
Safety
3D surround camera
Wade sensing
Driver condition monitor
Emergency braking assist
Blind spot assist
Clear exit monitor
Lane keep assist
Front and rear parking sensors
Rear collision monitor
Traffic sign recognition
Performance
Terrain Response 2 (off-road driving modes)
Hill decent control
Low traction launch
Hill launch assist
Sport mode
Convenience
Power tailgate
Keyless entry/exit and start/stop
Heated rear window
Two-zone climate control
Auto-dimming rear mirror
Puddle lamp lights
12-way electric front seats
40:20:40 split rear seats
Should you buy one?
Look, if you're buying a Range Rover, I think you should expect to bring a little money to the table.
This specification is incredible, but what would make it a lot nicer would be the inclusion of a digital drivers display, a panoramic sunroof to bring extra light into the cabin and that new diesel mild hybrid motor. However, this would increase the price by a couple of thousand dollars.
That's what I would pick if I was you.
We loved our for 5 years, and I think anyone owning one of these will love it too.
I think the confidence these Land Rovers and Range Rovers provide when the road gets a little rough is something you can really look forward to and enjoy when owning an SUV like this.
So even in this base trim, I still think the Range Rover Evoque tops the small SUV market for it's styling, luxury and off-road capability. And with the improvements this update brings, it's cemented this position.
About the author Cameron is our resident car expert. Aside being a source of knowledge about the automotive industry, he has also driven a wide variety of cars. From Porsche 911 GT2 RS's, through to a 1998 Toyota RAV4, Cameron has not only seen it all, but has most likely driven it.
Questions & Answers
Range Rover Evoque
Hi,
I have LR Discovery Sport which is actually built on evoque platform and I experience loss of power, mostly on a highway when hit the break while in cruise control mode and than want to accelerate. The "D" on a board starts to blink and no matter how you push the gas paddle it deccelaters for a 2-3 sec. and then gear shifter kick in again and everything seems fine. This happens unpredictably and not all the time. I even tried to trigger the problem intentionally, while driving, but it didn't happen. It's a kind of unsafe situation at 130 km/h...
Any experience or a resolution of this kind of issue? LR service checked the vechicle and everything seemed to be fine.
4 answers
I had the same situation today at 130 km overtaking with a car coming straight for me with total loss of power
John
Very Dangerous it could have been a disaster
Absolutely! And LR is not giving any fix to this problem, at least I couldn't find the resolution so far. Obviously, it's a design/system flaw.
Regards,
Bojan.
Range Rover Evoque
hello , we have a 2014 Evoque, when its cold within 10 minutes of driving the 1st time you stop there is a clunk and the dash says Gearbox problem , you cannot move the central dial stays up but will not move , you have to turn everything off lock the doors then try again after several attempts it will start again and you do not have the issue again that day , some days its ok and does not do it , we have noticed its mainly when its cold , any suggestions , we took it to a garage and it came up with code P0978, thanks
Range Rover Evoque
My car is just stopping and then stays in drive I would love to no why 2014 I have to turn of car and the turn the knob and then go's back in to drive thank you steph
See all

Land Rover Range Rover Evoque

questions
Get an answer from our members and Land Rover representatives
Details
Compare all 24
Land Rover Range Rover Evoque
Category
Large / 7 Seater SUVs
Large / 7 Seater SUVs
Large / 7 Seater SUVs
Large / 7 Seater SUVs
Starting

Price

$91,100.00
$114,899.00
$86,300.00
$72,351.00
Transmission
Automatic
Drive Type
Four Wheel Drive (4WD)
Fuel Type
Diesel
Wheels
18" Alloy
ANCAP Safety Rating
4 Stars
Fuel Consumption
5.8 L/100km
Fuel Tank

Capacity

54 L
Engine
4 Cylinder 2.0L
Max Power
177kW @ 4000rpm
Max Torque
500Nm @ 1500rpm
Country of Manufacture
United Kingdom
Maximum Towing Capacity (braked)
2,000 kg
Maximum Towing Capacity (unbraked)
750 kg
Manufacturer Warranty
3 year(s)
Dimensions
Ground Clearance
500 mm
Release date
Compare all 24
Land Rover Range Rover Evoque
ProductReview.com.au has affiliate partnerships. These do not influence our content moderation policies in any way, though ProductReview.com.au may earn commissions for products/services purchased via affiliate links.