2 photos
Genesis GV70 Petrol 3.5T AWD (2021-2022)
Also referred to as: Genesis GV70 Petrol 3.5T AWD 2021 and Genesis GV70 Petrol 3.5T AWD 2023.
Brand Manager for Genesis?
Register now
and take advantage of ProductReview's Brand Management Platform!
Expert Review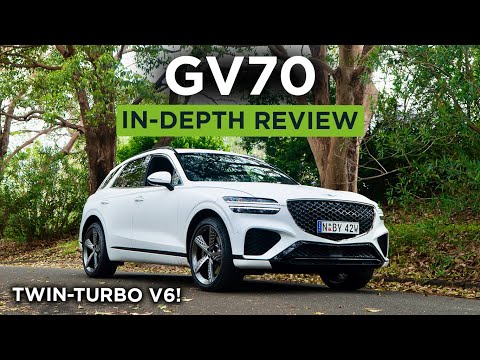 4.6 out of 5 stars
Introduction
Having just wrapped up reviewing every model Genesis offers, I believe the GV70 is the best car it offers.
It's the best shot at cracking the Aussie market, as it's in a price range and body shape that has the broadest appeal.
This is the SUV that Genesis had to get right in order to live on to see another 10 years Down Under and avoid the fate of brands like Infiniti.
It was recently awarded 'SUV of the Year' from MotorTrend (one of the largest automotive publications in the world). After being handed the keys, I found it my duty to verify that claim by putting the GV70 through its paces.
Here's why it deserves praise and should be a sales success.
---
Build Quality
4.8 out of 5.
After stepping out of the G70, I didn't have high hopes for the GV70 to blow my expectations out of the water like it did. I was under the impression that the GV80 and G80 were going to hog the R and D budget for quality improvements over the GV70 and G70.
While that felt true for the G70, the GV70 flipped the script. I almost felt as if it was better built than the more expensive and larger GV80.
On the outside, panels, doors and trim pieces all fit together neatly and accurately. There was a rewarding weight when opening and closing the doors, and panel gaps were a lot neater than they were on the G70 sedan.
A little quirk in the form of two 'fangs' protruding over the front bumper from the bonnet panel, made it appear as if there was some miscalculation when putting the GV70 together. Overhangs like this aren't usually seen on cars produced today. This is a design feature I'm not sure was the best choice when convincing new buyers that the GV70 is a well-built car.
Interior quality was superb. Rich leather, accurate stitching and quality displays came together to form an interior that felt a step above the rest. In comparison to the likes of Alfa Romeo who try to incorporate a 'flashy' design with a luxurious and practical interior, the Genesis manages to bring all of those elements together well, without sacrifice.
Value for Money
4.7 out of 5.
The base 2.5L turbocharged petrol four cylinder GV70 starts from $66,400 before on-road costs. There's a 2.2L turbo-diesel four cylinder on offer starting from $71,800 before on roads. However, what we have here is the range topping 3.5L twin-turbo petrol V6 motor, starting from $83,400.
Our tester was fitted with the 'Luxury Pack', so it was $90,000 before on roads.
That's quite a range for buyers to choose from, with the diesel option or base 2.5L turbo-petrol engine being my picks for the bestsellers in the range.
Those models fall into an easier-to-justify price point for those looking for a luxury SUV, but don't need the performance that the 3.5L motor offers.
The 3.5L twin-turbo V6 falls into the realm of consideration against performance-orientated SUVs like the Audi SQ5, Mercedes GLC 43 and BMW X3 M40i.
It's excellent value for money, if you want luxury in front of performance. There's no flashy carbon fibre trim or shouty exhaust note, instead the GV70 is a refined and very quick family car.
I think the value for money that GV70 offers leads, again without sacrificing anything in return. Albeit you will be sacrificing that brand recognition you get when driving a renowned European alternative. But don't let that stop you from owning an excellent SUV like this.
Maintenance
5 out of 5.
The major reason to consider a GV70 against European rivals is the longer 5-year/unlimited kilometre warranty, and complimentary servicing and service loan car during this period.
Your first 5 services are included with the purchase of a new Genesis. Not only will they include these services, but they will also pick up your car from wherever you specify, and drop a loan car in its place.
Additionally, there are plenty of amenities in the form of a Roadside Assistance bag, a well-equipped first aid kit, and spare tyre included in the boot.
It's more than what any European SUV will offer you, regardless of the price. So if you've been burned by a poor post-purchase experience, let's hope Genesis' offering might change that. As that's what they're banking on by offering all of this in exchange for you owning a GV70.
Noise Level
4.6 out of 5.
This cabin is an oasis from noise. There's clearly been a lot of effort thrown into sound deadening efforts in the GV70.
I'm so glad Genesis resisted the urge to turn the top of the range GV70 into an exhaust noise machine, rather, honing in on what makes their cars so enticing. It does this by creating a luxury experience, supported by a tidal wave of engine power.
You can start-up, accelerate and cruise the motorway all without disturbing a sleeping passenger in the GV70.
Active sound-cancellation helps reduce road noise roar, and there's certainly a minimal amount of wind-noise emanating from this slick exterior.
It might break a few performance car enthusiast's hearts when a twin-turbo V6 refuses to do its best impression of a Nissan GT-R. Instead, acceleration sound is very in-tune with what Rolls Royce achieves with its V12 motors. The engine allows the GV70 to move across the road in relative silence, like a gust of wind.
I just encourage you to turn off that artificial engine noise Genesis offers, as it's counter-intuitive as to what this car is trying to achieve - allowing you to catch a breath in a noisy world.
When you do feel like some noise, the Lexicon speakers do an impressive job of creating an immersive sound stage. It was intoxicating listening to some of my longer songs on my playlist. I was able to hear instruments usually only heard through headphones, right from these speakers. This is certainly up there as the best speaker-system I've tested this year, right next to what Lexus was offering in the RC350.
Braking
4.8 out of 5.
What the GV70 excels at is its ability to swiftly come to a stop, but without translating that 'lurch' to the cabin. It's what I call the anti-carsick brakes.
Here, alongside the refined suspension set-up, the brakes are pleasantly soft when you apply weight to the pedal. It provides what feels like an exponential reduction in speed, rather than an abrupt change in motion.
It's a unique but distinct set-up for Genesis, and part of what helps enhance the feeling of luxury - not just in materials but also the driving experience.
Acceleration/Power
4.5 out of 5.
0-100km/h in 5.1 seconds is brisk for a family SUV. It doesn't just allow you to effortlessly conduct overtakes on the highway, but it also allows for ghost-like acceleration from a set of traffic lights.
This particular 3.5L V6 twin-turbo V6 produces 279kW @ 5,800rpm and 530Nm @ 1,300-4,500rpm.
I found myself in a predicament when I was in the far right-hand lane, and quickly needed to make it to the far left-hand lane to make a turn. The choice was either to block traffic to slowly move across three lanes of traffic, or have a go at testing the 0-100km/h time in the GV70. I chose the latter.
Sport + allowed for an optimal launch, with turbo-lag feeling non-existent. I was already at my turn before the other two lanes even thought about leaving the lights.
This is a uniquely fast car. The 3.5L motor is a large displacement motor, so it doesn't need to string out the revs to get up to speed. Twin turbochargers provide that mid-range punch that pushes you back in your seat, all while any passers-by hear the faint noise of a working V6.
Frankly the 3.5L V6 is a little overkill in the sense that it's more than enough power, but I doubt many buyers opt for this motor as it's a niche powerplant.
It's old school performance, where buyers will probably be scared by its hefty fuel economy figures - and it doesn't create noises like those that the BMW X3 M40i produces to entice performance car fans.
Gear Shifting
4.6 out of 5.
There are 8 gears to choose from in the GV80, and transitioning between them is seamless while the car is in control.
You're never going to feel a misplaced shift, nor have the car hold gear where you'd rather it just move up or down a gear. Alongside the brakes, the gearbox only adds to what the GV70 is trying to achieve, in placing luxury first above all else.
Although, I can't recommend using the paddle shifters in this car. Even in Sport +, it's not what I'd hope for when shifting gears yourself. It's not as brisk as what the G70 was offering, and feels like an unnecessary option in a car like this.
Suspension & Handling
4.7 out of 5.
The combination of suspension and handling is what seals the deal for the driving experience in the GV70.
Suspension is cushioned but firm. However, take a speed bump a little too quickly and those 21-inch wheels transfer that movement into the cabin - all without a disturbing 'thump' that some other cars might make in this same situation.
Across rough road surfaces, this suspension makes light work of making the GV70 feel like it's cruising just above it all.
Take the smaller SUV into a corner, and it wants to keep pushing. There's additional bracing under that longer bonnet, providing Porsche Macan-like handling in a vehicle the shape of a family car.
Steering is pretty numb, with road feel almost non-existent, even when weighed up in the more sporty drive modes. I keep coming back to the point that this car is a luxury SUV, even if it has the chops to become a performance SUV. If you're after a more sports car-like experience, I'd be chasing down something in the form of a wagon (aka the Genesis G70 Shooting Brake that's launching in Australia next year!).
Fuel Efficiency
3 out of 5.
The lowest scoring section of this review goes to just how thirsty this engine can get.
During my test, I saw peaks as high as 20L per 100km. That's a hungry motor, but no prizes go to anyone who could have guessed that.
Averages are claimed to be around 10L per 100km, but if you're enjoying the 3.5L V6, you'll pay for it at the pump. It comes to precisely $128 per full tank, as luckily as this V6 can accept 95 Octane, unlike some German rivals.
Interior Design
5 out of 5.
As taken back as I was with how striking the exterior was, it's the interior that dialed that infatuation up to the next level.
It's a cohesive interior design. Every element in this cabin just works together so beautifully. There's nothing boring about a fully optioned GV70 interior, especially when dressed in red.
Stitching is a highlight, as it's absolutely everywhere. It's all real too, so that means there's a lot of leather used throughout this interior.
The star feature goes to the 14-inch touch screen that sits up on the dash and will have all of your friends 'oohing and ahhing' as they would with an 80-inch TV you bought just in time for Grand Final Day.
It's a blend of old school luxury (leather and metal) and technology (in the form of lighting and plenty of screens).
The light show provided by the GV70 at night is somewhat ridiculous - in a good way. It's opulent and obvious. Similar to what Mercedes is achieving with its interiors, it transforms the mood of the cabin as if you're riding around in the Museum of Modern Art.
Boot Size & Comfort
4.8 out of 5.
There's 542L of boot space here, and a maximum of 1678L with all the seats folded down.
That's plenty of room for a midsize SUV, and will get you plenty of places when you need to haul extra equipment along with you. Additionally, making room by folding the seats is easy, thanks to pull tabs in the back that automatically fold the seats flat.
I really wish brands included 40:20:40 seating in their cars more often, because that 60:40 split in the GV70 really took away from this being the ultimate road trip car for four people.
When you don't have to fold seats down in the back, all four occupants on the outside seats get the best experience. Taller adults will be just fine, as anyone up to around 6'3" will enjoy the additional knee room provided by the cutouts in the front seats.
There's heated seats, heavily tinted rear windows and panoramic sunroof for the back passengers, and of course window shades to increase comfort levels on long trips. Additionally, the seat backs can recline for a little bit of extra space, in case you need to catch some Zs.
Sadly, middle seat occupants lose in the middle seat, thanks to a large transmission and exhaust tunnel. If you manage to trade the middle seat and offer to drive the GV70, you'll get treated to not just heated and cooled seats, but also a massaging seat option. Yes, this massaging seat really does work to combat numbness in the lower back and the butt.
Features
5 out of 5.
Some might think paying $90,000 before on roads is a lot for a family car, and it is.
However, if you're chasing a luxury driving experience with some oomph, the GV70 doesn't just deliver there.
There's a plethora of features that come with the GV70 3.5L Luxury. Here's a full list of them:
Engine
3.5L twin-turbocharged V6 petrol
279kW @ 5,800rpm and 530Nm @ 1,300-4,500rpm.
8-speed automatic transmission
All wheel drive
Infotainment
14.5-inch infotainment display
Lexicon speaker system by Harman audio system
Apple CarPlay/Android Auto
Bluetooth
Augmented reality navigation option
Safety
Blind-spot cameras
Blind-spot avoidance assist
360-degree parking cameras
Surround view 3D camera system
Rear cross traffic alert and assist
AEB
Lane keep assist
Rear occupant alert
Lane follow assist
Highbeam assist
Performance
Drive Modes
0-100km/h in 5.1 seconds
Terrain Modes with off-road data via infotainment screen
Flappy-paddle gear selectors on wheel
Convenience
Heated/cooled front seats
Nappa leather
22-inch wheels
Heated second row seats
Second-row climate controls
Radar cruise control
Heads-up display
Roof rails
Panoramic sun-roof
Second-row window shades
Puddle lamps
Self-driving controls via key
Should you buy one?
Hands down, this Genesis gets my strongest recommendation as a luxury family car.
Ignore the lust of a carbon fibre cladded, sports exhaust-fitted shouty 'sports' SUV, and treat yourself to a luxury driving experience.
The GV70 makes me reevaluate packaging sports cars in with a luxury car; I don't think that it has to be the case. If you require two cars, a fun hot hatch should quench that sports car thirst.
There's plenty of driving fun to be had in the GV70, but it performed like an action sequence from an Academy Award winning film, rather than an action sequence from the Fast and the Furious.
There's refinement but still plenty of power, but it's delivered like one might enjoy a Rolls Royce V12.
If you want performance without the fuel bill, you'll have to wait for the hotly anticipated GV70 Electric. It's even quicker than the V6, and hopefully avoids sacrificing the brilliant driving characteristics of this SUV.
The Genesis GV70 is up there to contend for ProductReviews.com.au's Car of the Year award, that's for sure.
About the author Cameron is our resident car expert. Aside being a source of knowledge about the automotive industry, he has also driven a wide variety of cars. From Porsche 911 GT2 RS's, through to a 1998 Toyota RAV4, Cameron has not only seen it all, but has most likely driven it.
Questions & Answers
Sorry, there are no questions yet.
Get an answer from our members
Details
Compare all 4
Genesis GV70
Category
Midsize / Medium SUVs
Starting

Price

$91,790.00
Warranty

Distance

Unlimited kms
Transmission
Automatic
Drive Type
All Wheel Drive (AWD)
Fuel Type
Petrol
Wheels
21" Alloy
ANCAP Safety Rating
5 Stars

Doors

4

Seats

5
Fuel Consumption
11.3 L/100km
Fuel Tank

Capacity

66 L
Engine
3.5L V-Type 6 Cylinder
Engine Code
G6D III G3.5 FR T-GDi
Max Power
279 kW @ 5,800 rpm
Max Torque
530 Nm @ 1,300-4,500 rpm
Boot Capacity
542 L
Country of Manufacture
South Korea
Manufacturer Warranty
5 year(s)
Release date
July 2021
Compare all 4
Genesis GV70
Visit official website
ProductReview.com.au has affiliate partnerships. These do not influence our content moderation policies in any way, though ProductReview.com.au may earn commissions for products/services purchased via affiliate links.