3 photos
Hyundai IONIQ 5 2WD (2021-2022)
Also referred to as: Hyundai IONIQ 5 2WD 2021 and Hyundai IONIQ 5 2WD 2023.
Listing monitored by Hyundai
Expert Review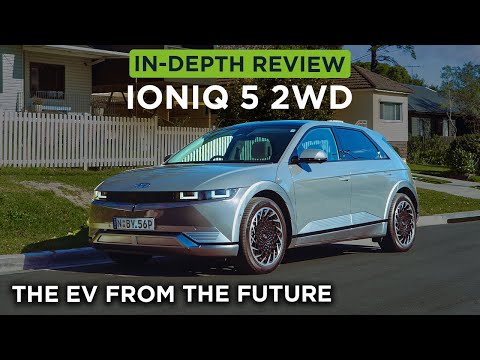 4.6 out of 5 stars
What is it?
It's Hyundai's latest electric car that's making waves around the world - so much so, that it won 'World Car of the Year' in New York just last month.
I first got my hands on the IONIQ 5 earlier this year for the first time. Since then, more orders have been placed, and cars have finally hit Australian roads.
Buyers are faced with a choice at the pre-order stage: to go all-wheel drive or to save $4,000 and opt for the two-wheel drive model which boasts slightly more range (430km vs 451km).
So, I took the less powerful and more affordable two-wheel drive IONIQ 5 home and on an extended road trip for the week to test how it drove.
---
Build Quality
4.4 out of 5.
Build quality is no different between the models, so expect the same high quality, recycled, materials throughout the cabin.
Our tester had travelled just under 10,000km and was a perfect example of what sort of wear and tear you can expect after some time with this car.
To no surprise, the light coloured door trim and leather sported some marks and scuffs. On top of this, the paperette trim pieces on the door were susceptible to tears.
The doors are weighty and panels fit tightly together, helping convince buyers that this certainly is a premium product.
I will add that both IONIQs we reviewed had noticeable rattles emanating from the rear seats. I just hope this is improved in future versions.
How Much Does it Cost?
4.7 out of 5.
Priced from $71,900 before on-roads and incentives (depending on which state you live in), this is on the more expensive side of entry-level EVs.
You're only losing a motor for that price compared to the dearer all-wheel drive model, so it really is a matter of whether you want to go faster and whether you need additional grip.
There are cheaper alternatives out there, like the Polestar 2 and the Tesla Model 3. However, they aren't as feature packed as the IONIQ 5. There really isn't a missing feature from this car for the price.
Warranty and Servicing
4.5 out of 5.
There's no difference in servicing between the two IONIQ 5 models, so it's the same score between the two.
The IONIQ 5 arrives with a 5 year/unlimited kilometre warranty and an 8 year/160,000km warranty for the batteries.
Servicing costs are $220 for the first three visits to the dealership, but the fourth visit will set you back $804. It's a lot cheaper to service this EV than a fossil fuel-powered alternative. However, it's more expensive than what you'd expect to pay for a Tesla.
Personally, I'm torn. On one hand, a regular yearly service is best practice to ensure everything is in working order. However, having to spend money on a service seems redundant unless items - such as air filters, tires, and brake pads - really need replacement.
Overall, it's a solid offering, and you'll at least feel covered during your time owning the IONIQ 5 and know you can easily forecast costs for your ownership period.
Noise Level
4.8 out of 5.
Again, there's no difference in sound between the two models. It's a serene, quiet and relaxing cabin.
As mentioned, there were some rattles that distinctly came from the rear seats. It sounded like the locking mechanism between the rear seat and the boot had a little play in it, causing it to rattle.
Aside from the occasional rattle, the speaker system and dense sound deadening created a more than ideal place to listen to whatever your taste desires.
There is an artificial sound generator that cuts out at speeds above 20km/h that's simply intended for pedestrian safety at low speeds.
Like a giant RC car, step on that accelerator and you'll hear the distinct high rev whirr of that rear engine start up.
Braking
4.9 out of 5.
Despite missing an additional engine, there wasn't any major improvement to the braking feel of the IONIQ 5.
It's a heavy car, and you certainly feel that when suddenly coming to a stop. Regenerative braking is a step forward in the daily driving experience. It's finely tuned here in the IONIQ 5, meaning you don't really have to touch the brake pedal at all.
If you're not a fan of the one-pedal driving experience, you can adjust how much regen occurs via the paddles on the steering wheel.
It's a doughy feeling brake pedal when used alone, tuned to soften the weight transfer of this heavier car when slowing down.
Acceleration/Power
3.5 out of 5.
Despite only having 160kW, 350Nm and a 0-100km/h time in the mid 7 seconds, this is a rapid family EV.
My Abarth 500 hot hatch pulls similar times to 100km/h, so I'm very familiar with what that feels like. However, in EVs, these numbers are a little irrelevant.
Instant torque delivery from 0 rpms means you'll be the first off from the lights, making merging a lot easier. Overtakes on the highway are as instant as the throttle input you give too.
Adjusting between Eco, Normal and Sport also makes a noticeable difference to the power delivery, ranging from "meh" to "woah" in reactions depending on which mode you're in. When at a steady speed or out on the highway, you won't notice a major change in power.
Gear Shifting
4.7 out of 5.
This is a single-gear gearbox, which is the ultimate preference when it comes to comfort.
From 0 to the IONIQ 5's top speed, you won't encounter a single change in pace. It's surreal at first, since you're subconsciously used to hearing or feeling a gear change when driving around town.
For its purpose as a family SUV, there's no better way to cruise than just using a single gear.
Suspension & Handling
4.4 out of 5.
Where I could feel a slight difference was in the handling section of this review.
A lighter front end meant that the IONIQ 5 two-wheel drive was a little more nimble on its feet and less prone to understeer. It's a rear-wheel drive and rear-engined car, which traditionally is reserved for the likes of supercars.
You can have a bit of fun in this family car thanks to instant power delivery at any rpm, and thanks to the battery pack being placed below the cabin for the lowest possible centre of gravity.
However, you're going to have to wait for the performance-oriented N version of this EV to get full driving thrills. As I quickly found, the disconnected steering feel and lofty suspension feel started to deteriorate my obsession with corner carving in this electric hatchback.
Fuel Efficiency
4.7 out of 5.
Possessing the very same battery pack as the all-wheel drive model, the two-wheel drive version trades performance for more range.
The estimated range on the IONIQ 5 is quoted at 430km for this particular model, with the 2WD squeezing in a few tens of kms more than that.
We don't measure litres per kilometre here; rather, we look at energy consumption in kWh. Hyundai claims around 18kWh per 100km of driving, which was actually dead on the money for what I was seeing when driving this EV around.
Built on a 800V architecture, this battery pack is one of the most efficient systems you can buy on the EV market now. Tesla and Porsche offer marginally more efficient batteries on top of what's offered here.
I did take the IONIQ 5 on a now famous road trip, from Sydney to Canberra and back in one day. I successfully completed this using a Tesla Model 3, with minimal issues thanks to the supercharging network that only Teslas can use.
I drove from Sydney and stopped in Goulburn to splash some extra charge to drive around Canberra and to have, just in case. I intended to fill up the rest of the way in Canberra and head home from there.
On average, to charge from around 20% to 90% it cost us $25-30.
The quoted range is 451km, however once we arrived in Canberra, we had an estimated 70km of range remaining. That means we saw 360km of real world range, taking climate and inclines into account.
Relying on a disconnected third-party charging network, I did my prior research and set off for the day. As reported by the New York Post, News.com.au and 7 News, my road trip wasn't all that successful due to a lack of avaliable third party chargers.
Knowing that there were plenty of chargers to choose from, I was hoping for a seamless experience, however I encountered the downfalls of early EV adoption here in Australia. With an initial roll-out of chargers being saturated with more and more electric cars, the issue was never the location of the chargers, but the availability and whether or not these chargers actually were functioning.
I was informed by a Mercedes Plug-in Hybrid EV owner that a charger I was trying to use had been "out for months". I found out Tesla wall chargers weren't compatible with the IONIQ 5 (although they seem to work on other EVs) and even encountered ICE vehicles parking in front of a fast-charger.
Ultimately, I found a slow charger at IKEA and one closer to some restaurants in Canberra to get enough charge to make it back to Goulburn, where I could fast charge for the rest of the way.
As of writing this article, and since publishing a viral video on Instagram (900,000 views) and TikTok (190,000 views), the NSW government has announced a rollout of third party chargers for around $38 million.
I'd like to say we had a bit of a part in pushing that decision forward (considering the media coverage). However, it's a necessity if Australians are going to face an ever shrinking availability of petrol-powered vehicles heading towards 2030 - especially to avoid a brand like Tesla to monopolise the EV market too.
Interior Design
5 out of 5.
There isn't a single difference between the two models of IONIQ 5 that are on offer. The rear-wheel drive was just as impressive to experience as the all-wheel drive model.
There's a lot of light (both artificial and natural), recycled materials, future-appropriate screens and 'zero-gravity' seats.
Plenty of light emanates into the cabin thanks to the large glass roof panel, windscreen and side windows. A flat greenhouse effect, thanks to a uniform belt-line around the windows, allows for an excellent view outside the IONIQ 5.
Similar to Tesla, Hyundai have employed a flat dashboard design, only interrupted by the infotainment and driver's displays.
Hyundai is also proud that almost all the trim inside the IONIQ 5 is sourced from some sort of recycled material, like recycled plastic. It doesn't feel nasty to touch either, rather, it looks and feels just as premium as you'd expect from any European brand doing the same thing with their eco-friendly, recycled material interiors.
I love the versatility of this cabin in how you can adjust it to fit more (or less) people. First of all, the front seats…holy moly. There's a lot of electric adjustment here, but the two coolest adjustments include the ability to move a calf rest up to provide relief for those dangling legs. AND, you're able to tilt the seat on its axis to lift both the seat and back rearwards.
It's called Relaxation Mode, and it's meant to be a seat position where you really can do just that. I can tell you it's the seat feature I'm desperately going to miss in other luxury cars I step into.
Boot Size & Comfort
4.7 out of 5.
The same is true for the boot size and comfort as it is for the all-wheel drive model too. There is the smallest of differences however, and that's found under the bonnet, with the front boot possessing a little more space for cables and adapters thanks to a missing front motor.
Rear seats can electronically slide forwards and backwards for quick adjustment to make more leg room or boot space. This is a feature that'll come in handy for bigger items that need to be placed back there.
Annoyingly, the higher boot floor means that the cut-back design on the rear of this car restricts taller items being placed near the entrance of this boot. It's still a practical car, but that's just one annoying limitation for those used to taller, more square boot shapes.
It's practical with a capital P in here. There's a 9.5L glove drawer- not a box, as it pulls out of the dash just like a drawer. There's a 60/40 split for the rear seats to reveal more internal storage space for two. It's flat as well, meaning that you could certainly camp in here, as Hyundai would like to suggest from some of their promo materials on this EV.
There is a 'frunk', or front boot, but it's not all that useful for larger items. It won't fit a bag, and it gets kinda dirty under the bonnet as it's not as well finished as some other frunks. It is, however, a great place to store the charger and other small essentials!
Finally, there's a moveable centre console, thanks to the absence of a gear shifter from between the front occupants. You can slide it forwards for more legroom for those in the back, or do just the opposite for those in the front. This is a very quirky and unique feature.
I will add that the seats did seem to cause me a little lower back pain, even after adjustment. This is a shame, seeing as I thought these felt extremely comfortable on short journeys. I think I'd need a bit more time to explore lumbar adjustment, or ask Hyundai for more lateral support in these seats.
Combine the cutting edge driving experience with a low centre of gravity, a spacious interior and plenty of tech to keep you occupied, and the IONIQ 5 offers supreme comfort for the price.
Features
5 out of 5.
There's hardly an option missing, and you don't have to choose anything but the paint you want on the car.
There is one especially unique feature, called 'Vehicle-to-Load'. It's a plug that is designed to hang out from the charge port of the car, and offers a conventional house plug on the other side. Yes, that means you could power items like a microwave, blender, chargers - maybe even a powerboard.
The IONIQ 5 might just be the perfect zero emission camping companion, without having to feel like you're too far off the grid.
Here's a full list of equipment you get with Hyundai's futuristic EV:
Engine
Single electric motor
Rear-wheel drive
160kW and 350Nm
72.5kWh
450km range (claimed)
Infotainment
12.3-inch infotainment screen
12.3-inch driver display
Apple CarPlay/Android Auto
BOSE Speakers
Safety
Blind-Spot Collision-Avoidance Assist (BCA)
Blind-Spot View Monitor (BVM)
Driver Attention Warning (DAW)
Forward Collision-Avoidance Assist (FCA) - camera and radar type, including:
Car/Pedestrian/Cyclist detection
Junction Turning (FCA-JT) functionality
High Beam Assist (HBA)
Lane Keeping Assist - Line (LKA-Line / Road Edge)
Lane Following Assist (LFA)
Leading Vehicle Departure Alert (LVDA)
Rear Cross-Traffic Collision-Avoidance Assist (RCCA)
Smart Cruise control (SCC) with Stop and Go
Safe Exit Assist (SEA)
Surround View Monitor (SVM)
Performance
0-100km/h in 7.4 seconds (claimed)
"i-Pedal" single pedal driving mode
Drive Modes
Adjustable regenerative brakes
Convenience
Rear heated seats
Panoramic sunroof
Keyless entry/exit and start/stop
Wireless phone charging
Blind spot cameras
Heated/cooled seats
Vehicle to Load converter
Remote parking via key fob
External charge acknowledgment announcement
Flush door handles (automatically open)
Automatic tailgate
EV specific Michelin tires
Buy it, Consider it, or Leave it?
All in all, there are two decisions to be made.
Firstly, against its competition, the IONIQ 5 is a solid product. If you want the practicality of a large hatchback in your EV, the IONIQ 5 wins. It's one of the only large hatchbacks in this segment, until the Model Y arrives here alongside the Kia EV6.
It's when you have to charge with fast chargers that the IONIQ 5 comes at a disadvantage against any Tesla. That's where I'd be opting for a Tesla for now if I had to constantly travel between major cities in Australia.
If you're rarely on the road like that, the IONIQ 5 is a slightly better choice simply for the cabin size. Mapping out where the better fast chargers are is something that comes with experience, and it'll open you up to EV options like this one here.
Against the all-wheel drive model, I'd say get this! You get more range, more money to buy at-home fast wall chargers and the exact same car, aside from grip and performance.
This is a strong contender for car of the year here at ProductReview for simply pushing the boundaries in automotive design, distinct efforts in EV technology and value for money. It's making the Tesla Model 3 quake in its boots, which is why we have the Tesla Model Y arriving quick to try and reinforce Tesla's dominance in the market.
About the author Cameron is our resident car expert. Aside being a source of knowledge about the automotive industry, he has also driven a wide variety of cars - from a Porsche 911 GT2 RS, through to a 1998 Toyota RAV4.
Questions & Answers
Sorry, there are no questions yet.
Get an answer from our members and Hyundai representatives
Details
Compare both
Hyundai IONIQ 5
Category
Electric Cars and Midsize / Medium SUVs
Starting

Price

$71,900.00
Transmission
Automatic
Drive Type
Rear Wheel Drive (RWD)
Fuel Type
Electric
Wheels
20" Alloy

Doors

4

Seats

5
Engine Code
NE.V1
Max Power
160 kW
Max Torque
350 Nm
Boot Capacity
527 L
Phone Connectivity
Android Auto (Wired), Apple CarPlay (Wired), Bluetooth and USB
Wireless Charger
Yes
Security Features
Immobilizer
Roof
Panoramic Glass
Steering Wheel Adjustment
Telescoping (Electric)
Acceleration

(0-100km/h)

7.4 seconds
Maximum Towing Capacity (braked)
1,600 kg
Maximum Towing Capacity (unbraked)
750 kg
Battery Capacity (Gross)
72.6 kWh
Max DC Charging Power
10.5 kW
Range (WLTP)
451 km
Efficiency
17.9 kWh/100km
Manufacturer Warranty
5 year(s)
Keyless Features
Keyless Locking/Unlocking
Yes
Ignition
Keyless Start/Stop and Remote Start
Boot
Hands-Free Opening
Headlights
Type
LED
Headlight Features
Auto-Dimming, Automatic On/Off and Delayed Off When Parked
Safety Features
Cruise Control
Adaptive (ACC)
Parking Sensors
Cross-Traffic Alert (Rear), Front and Rear
Hazard Perception
Blind Spot Monitoring (BSM) and Forward Collision Warning
Lane Assistance
Lane Departure Warning (LDW) and Lane Keep Assist (LKA)
Dimensions
Kerb Weight
2,020 kg
Ground Clearance
160 mm
Driver Information
Gauges
Digital Only
Built-In Navigation System
Yes
Heads Up Display
No
Voice Control
Yes
Digital Radio (DAB+)
Yes
Release date
Compare both
Hyundai IONIQ 5
Visit official website
ProductReview.com.au has affiliate partnerships. These do not influence our content moderation policies in any way, though ProductReview.com.au may earn commissions for products/services purchased via affiliate links.