4 photos
Hyundai Kona Electric (2019-2021)
Also referred to as: Hyundai Kona Electric 2020 and Hyundai Kona Electric 2022.
Highlander

,

Elite
4.8

from 5 reviews ·

View Statistics
Listing monitored by Hyundai
Expert Review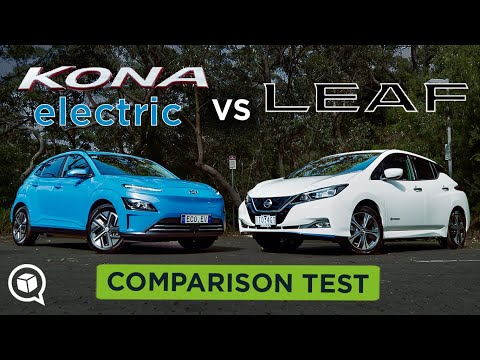 Introduction
The EV market is starting to get a little busy. If you have the cash, you're probably looking to spend it in the best possible way to make the most of buying what might just be your first EV.
You might not be so interested in a Tesla Model 3 - despite their popularity - and you may not be ready to jump into a new brand like MG for a lot less money.
For under $100,000 there are a few EVs to choose from. Narrowing this down to spacious and comfortable EVs removes cars like the Mini EV from the equation.
Now, you're left with Hyundai's popular Kona EV and the trailblazer known as the Nissan Leaf.
I got my hands on both of these cars to compare them side by side for a week, and to let you know which one comes out on top in this comparison review.
Let's get into it.
---
Build Quality
Starting with the Nissan Leaf, I have to say that I wasn't blown away by the overall construction and materials used both inside and out.
On the exterior, there was a 'tinny' feeling when opening and closing the doors on the Leaf, with certainly no manufactured weight found here. Apart from that noise, the overall construction of trim and panels was accurate and reflected a well-built product.
On the inside, the Leaf has plenty of hard plastics adorning the doors and dashboard. However, soft touch buttons, a unique ergonomic shifter design and familiar Nissan construction help uplift this interior perception of quality.
The Hyundai Kona EV, on the other hand, has a clear advantage in its construction, with a more obvious attention to detail applied here.
On the outside, the EV filler cap design and weighted doors certainly help the Kona feel a little bit more premium.
The interior fit and finish feels of a higher grade in the Kona. Leather seats, trim and even greater dampened buttons gives the Kona the lead in the build quality department.
Hyundai has been offering stiff competition across a variety of categories in the industry, and it's certainly playing hard to beat with its build quality.
The Kona wins here.
Value for Money
The Nissan Leaf E+ is priced from $64,990 drive away. For this price, you receive a 62kWh battery pack, 385km of range, front heated seats, rear heated seats, leather seats, BOSE audio and radar cruise control.
The Leaf range does offer a cheaper 40kWh battery version with 270km of range for $53,190. I'm not convinced this would be the best way to spend your money if you're planning on relying on the Leaf for personal use. If you can, I'd suggest opting for the Leaf E+ for that extra range.
The Kona EV Highlander Extended Range is priced from $69,311 drive away. For this price, you receive a 150kWh battery pack, 484km of range, front heated and cooled seats, rear heated seats, a heads up display, Harman/Kardon audio, and radar cruise control.
The Kona EV range starts from $59,336 for the Standard Range Elite model, which has 305km of range. You can get an Extended Range battery in the Elite model, with less features, which will set you back $65,636.
It's extremely close when it comes to value for money. You either receive less features but significantly more range for the Kona Elite Extended Range, or you buy the top of the range Leaf with more features but less range.
At the end of the day, range is the headline concern for most buyers new to EVs. I believe that opting for the 484km of range instead of 385km of range would win here. You'll be more comfortable driving an EV with as much range as the Kona EV, even if you realistically will never need that much range for 90% of your driving needs.
If this is your primary car, the Kona EV wins in this segment.
Maintenance
It's a tie here.
Both the Leaf and the Kona EV offer a 5 year/unlimited kilometre warranty and an 8 year/160,000km warranty for the battery pack.
Both EVs are comparable in their warranty, and as an EV, both cars have less moving parts which means less maintenance. Additionally, depending on how much you use the regenerative braking ability of either car, you can save your brake pads from wear you'd otherwise encounter in a traditional internal combustion powered car.
Whichever EV you choose from these two, you'll be covered by comparable warranty and servicing cost.
Noise Level
Both cars are required to produce external noise at low speeds, fulfilling your Jetsons-style goal of driving a car that sounds like it's from the future.
On the inside, both cars shield against outside noise, whilst the faint whir of the electric motor can be heard in the cabin under heavier acceleration.
I found that the Leaf provided the better experience of offering the quiet EV cabin, but the Kona won with a superior sounding audio system - most likely due to added sound deadening in the doors.
For me, the Leaf wins here as the BOSE audio system still offers a strong listening experience, but a quieter cabin is more important in EVs which is why the Leaf comes out on top in this category.
Braking
Braking is a little different in E's, thanks to the introduction of regenerative braking. This is a process where under deceleration, the motor of an EV can have its resistance modulated to act as a source of braking and energy recuperation.
The Leaf does its best between the two with the assistance of its 'e-pedal'. The Leaf's general braking ability leaves a lot to desire. The brake pedal simply feels a little too spongy for my liking; it's not exactly confidence inspiring for spirited moments of driving. However, by enabling the e-pedal, you're able to smoothly modulate the accelerator pedal on its own to brake the Leaf.
The Leaf has one of the best one-pedal driving experiences I've encountered in an EV outside of the industry leader, Tesla.
The Kona, on the other hand, is certainly a first generation EV product, purely because it's regenerative braking ability is a little too aggressive. I've had a few passengers complain about the regen braking in the Kona so much so that I usually turn it off via the paddle shifters.
The catch is that the Kona has a far superior brake pedal feel - exactly the same experience you'd find in an ICE powered car.
However, this is an EV comparison review, and for day to day driving, I want to enjoy that one pedal driving experience for the money I'm spending. Therefore, the Leaf wins this category as its regenerative braking system is clearly the product of refinement over years of development.
Acceleration/Power
Both cars are front wheel drive and have their electric motors positioned under the bonnet, the same way a ICE car would configure itself.
The Leaf's smaller capacity battery does offer a responsive yet muted acceleration experience. Its 0-100km/h times are claimed to be around 7.4 seconds - a respectable acceleration figure for a large hatch like the Leaf.
Without stepping into the Kona, the Leaf felt rapid between speeds of 15km/h through to 80km/h, with a slight reduction in acceleration beyond that. It's a quick car, and it's certainly fun to throw around.
The Kona possesses additional torque and a large battery, even in its base configuration. Its 0-100km/h times are claimed to be a second quicker, at around 6.5 seconds. That's a quick family car, especially from a brand like Hyundai.
The Kona has the most obvious disadvantage putting power down from a standstill, with the front tires occasionally screaming for grip. However, once you get going, especially in Sport Mode, the Kona is an exceptionally quick small SUV. It'll have even quicker cars struggling to pull as quick during mid-range acceleration, thanks to nearly 400Nm available from 0rpms.
The Kona wins on paper and in the real world when it comes to acceleration and power.
Gear Shifting
There are no gears to run through in both cars, as they both possess a single reduction gear that will pull all the way to their top speeds.
It's the way you change from park into drive which is a little unique in both cars.
The Leaf possesses a 2000s era ergonomic mouse in place of a shifter. It's a circular shifter that freely moves in place that you point towards which gear you'd like to select. To be honest, I kind of liked how easy it was to operate.
The Kona EV has a far more traditional feeling button system, which isn't layed out in the most logical way. I often found myself looking down to remember which button did what.
Here, I'd say the Leaf wins, not just for the most creative shifter, but also the one that looks great and is easy to operate.
Suspension & Handling
The lighter, lower to the ground Leaf has the advantage here, but does it offer a better ride?
The Leaf offered a comfortable and balanced ride across a variety of surfaces. Thanks to some advanced tech, the Leaf is able to read the road ahead and prepare the car for any major bumps ahead.
What really helped the Leaf was the way in which it didn't feel as heavy as its kerb weight would suggest.
That's where the Kona EV faltered: in its ability to hide its massive weight. The Kona EV is a comfortable car, and it handles all sections of road with ease. However, those batteries do feel heavy when you're driving, which can make the Kona feel a little bloated when braking or doing high speed corners.
Although you have less range, you get that added advantage of less weight in the Leaf, and that plays out for the better in its suspension and handling.
Fuel Efficiency
The Leaf E+ officially consumes 18kWh per 100km of driving, versus the Kona which consumes a more efficient 15.3kWh per 100km of driving.
Simply put, the Leaf will slightly chew through its range a little quicker than the Kona under the exact same driving conditions.
Both cars have an Eco mode, which will help extend the battery life for as long as possible, with a frequently updated range figure which changes depending on how you're driving and what accessories you're using in the car.
On paper, the Hyunadi Kona wins this section.
Interior Design
Starting with the Leaf, with the combination of leather, alcantara, a unique shifter, a flat bottom steering wheel and a part digital/part analogue driver's display - it's a great interior space.
Nissan has clearly made an effort with making the Leaf feel a little more special than just another large hatchback. The seats look great, especially with the blue highlighted stitching, and it feels a little as if Nissan are hinting that the Leaf is fun to drive.
However, it's the Kona which comes in swinging with a cabin that feels more modern, easier to navigate and more spacious up front. I preferred jumping into the Kona over the Leaf, as it feels familiar and easy to use, whereas the Leaf felt just a little dated with its infotainment and climate controls.
Additionally, the Kona was far better then the Leaf at accommodating USB charging ports and places to put your phone.
Hyundai's interior design has been on top of its game in recent years, and the Kona is no exception here.
Boot Size & Comfort
Despite being in the shape of a small SUV, the Kona actually has less boot space.
The Leaf offered a generous and deep boot compartment, although you'll need to be careful as to not damage the BOSE sound generator placed squarely on the boot floor. Fold the second row in a 60/40 split, and you have more room than you'd ever need for your daily driving requirements.
The Kona falters by offering what feels like a compact boot by comparison. It does have a cleaner way to organise charging cables under the boot floor. However, it won't feel as cavernous as the Leaf's boot. Seats fold in a 60/40 split, with the only real advantage being for those with sore backs, as there's a relatively flat load floor which helps in dragging luggage in and out.
The Kona suffers in the same way that the Kia Niro does, by shoving a battery pack under the floor of a car that's meant to also house an ICE engine. That means second row legroom feels significantly less spacious, as passengers will feel as if their knees are closer to their chest than in other cars.
The Leaf manages to make room for four with ease, with a weird inclusion of a massive transmission/exhaust tunnel despite lacking both. According to US publications, it's empty space, so who knows why Nissan included this lump in between the second row passengers.
The Leaf has a bigger boot and more comfortable seating for an additional two adults, which simply means it wins here.
Features
Both cars are extremely similar in price, so which one gets more features? Well, it's actually the Leaf, so it wins here with a longer list of features for the price. Although, I'll leave it up to you if these features count if you have to miss out on additional range.
Hyundai Kona Electric
Engine
150kWh battery pack
Single speed reduction gear
Front wheel drive
484km of range (305km of range in standard range configuration)
Infotainment
10.25-inch touch screen display
10.25-inch drivers display
Harman/Kardan audio system
Apple CarPlay/Android Auto and Bluetooth
Safety
Blind-spot cameras
Blind-spot avoidance assist
360-degree parking cameras
Rear cross traffic alert and assist
AEB
Lane keep assist
Rear occupant alert
Lane follow assist
Highbeam assist
Performance
0-100km/h in a claimed 5.6 seconds
Drive modes
Adjustable regen-braking
Convenience
Leather seats
Radar cruise control
Heads-up display
Roof rails
Remote engine start
EV drive information via infotainment
Charging cable
Nissan Leaf
Engine
40kWh powertrain standard range or 62kWh powertrain with e+
Single speed reduction gear
Front wheel drive
385km of range (270km of range in standard range configuration)
Infotainment
8-inch touch screen display
7-inch drivers display
BOSE energy efficient premium audio system
Apple CarPlay/Android Auto and Bluetooth
Safety
Autonomous Emergency Braking and Warning
Blind Spot Monitoring
Rear Cross Traffic Alert
Active Lane Keep Assist
Driver Attention Warning
Radar cruise control
High Beam Assist
Performance
0-100km/h in a claimed 7.4 seconds
Eco + drive mode
E pedal regenerative braking
Convenience
Keyless Entry/Exit and Start/Stop
Charging cable
360 degree parking cameras
Heated seats
Rear heated seats
Rain sensing wipers
Automatic headlights with auto-levelling
Which EV should you buy?
I think the Nissan Leaf is one of the best examples of refinement in the EV world. From a new kid on the block, very early entry into the EV market, it was the bridge between boring EVs and practical EVs.
It's done extremely well in becoming an EV that's reliable, packed with features and having one of the best EV driving experiences you can get this side of $100,000 that doesn't have a letter 'T' on the bonnet.
However, as your only car, I think the Leaf falls a little too short in the range department to make it your only car. It makes for a great second car, with another car provided for longer road trips. If you don't think you'll ever need those extra kilometres, the Leaf is a fantastic choice.
It's in the range where the Kona EV comes in to take the win. It's been punching hard in it's build quality, power, and interior design. However, in the price for price match with the Leaf E+, it's the additional range that will win buyers over, and it wins me over by a small margin.
The Kona EV Extended Range provides those extra kilometres of range which would make you feel a little more confident as having it as your only mode of transportation, as you'd make the extra distance on a road trip.
About the author Cameron is our resident car expert. Aside being a source of knowledge about the automotive industry, he has also driven a wide variety of cars. From Porsche 911 GT2 RS's, through to a 1998 Toyota RAV4, Cameron has not only seen it all, but has most likely driven it.
Updated Review after 21,000 KMS- STILL LOVE IT,
We posted a review a year ago, now we have 21,000 kms on the clock and we still love driving it. So quiet and peaceful to drive, so powerful and a great digital sound system on the Highlander.
We rarely drive my new Isuzu DMax as I much prefer driving the Kona electric.
We have taken it on 500km trips you just need to plan your route for a charging tops up along the way as continuous high speed running uses about 20% more energy than when driving under 80kph.
We only use the 10amp household power outlet and have never needed anything faster a...
Read more
s it will add about 180kms worth of energy to the battery overnight. We also have home solar panels so it's nice to think we are driving with energy from the Sun...it's a cool feeling. We are disappointed however in the attitude of the Australian Government, they seem to be very slow in recognising the importance that electric vehicles will play in the future. Some states are actually looking at penalising EV owners for not paying fuel excise despite the fact we pay a huge premium over a Petrol equivalent vehicle in our desire to reduce emissions and help usher in renewable technologies. Wake up Scomo, you and your government are starting to look like Dinosaurs and that is not what Australia needs.
Purchased in June 2020.
My usage: The EV is used for as much city driving as possible and minimise ICE. Commuting, errands, gardening products. I also use it for travel between SYD and CBR. It has the range, although I will stop to recharge for a bit and have a coffee, to ensure I have plenty of spare range at either end.
I've had it for 6 months and 7,000 km.
The load capacity with rear seats down will handle pots up to 50cm diameter. The self driving capability, especially distancing in stop and go traffic, is very stress reducing. The reliability and low maintenc...
Read more
e are positives. There are negatives. The lack of a power lift gate is surprising. The front parking sensor only comes on after reverse is selected which is great for parallel parking but useless for much car parking where one enters front forward (and charging points). The Lexen tyres are being replaced in future models. Good thing too. They create too much noise at speed. My normal pattern is to charge Sunday and I usually get a week before needing to charge again. I use a normal extension cord. I can always top up overnight if I need. High speed chargers when going longer distances, of course. The plan to travel to VIC and TAS was interrupted by COVID, so I cannot talk about longer trips, but 300km trips are comfortable.
Purchased in March 2020 at Lennock Hyundai for $72,000.00.
Most Fun and Technologically Advanced Car I've Owned in 42 Years of Driving!
WOW, only done 800kms so far but the EV efficiency is excellent. If careful with your regen paddles we can achieve energy consumption of around 12 kWh per 100 kms which gives a theoretical range of 750kms on a full charge from the 64 kw battery. This was a mix of uncongested city and highway driving of speeds between 50-90 kph.
Hyundai claim a range of 470kms driving normally without actively maximising your regen. You can actually use the left side regen paddle as a de facto brake pedal and rarely ever need to apply any pressure to the brak...
Read more
e pedal except in emergencies and in the last metre or two of stopping. Factory Nexen low resistance tyres are a little noisy but not enough to change them. When they wear out in the future we'll choose a quieter Low RR tyre. We traded in our 2013 WRX STI with 230kw at the wheels on this Kona EV and it is just as exciting to drive, the acceleration feels as good as the WRX and we don't have all the Bogan rev heads tailgating us and wanting to race. It's a win win situation. This car will spin the wheels if I push the go pedal down too quick. It is SMOOTH and quiet. WE LOVE IT!!!!! Early days yet but this is the most fun I've had driving a car in 42 years of driving having owned a variety of performance and hybrid cars. Well done Hyundai, the engineering is excellent. No more oil changes, no spark plugs, fan or timing belts, and best of all...NO PETROL. We are recharging via the 10amp home outlet and using our 5.5kw home solar to subsidise the recharge cost. Hyundai also gave us a Zero % finance deal which equates to about 1% AAPR. If you can afford it I highly recommend it or other EV's such as the Tesla.
Purchased in June 2020.
Wonderful range + features but lacks basics
I've been using my Kona EV highlander as a daily car for almost 8 months and it has been an absolute gem. The car is amazing and all with features like heated seats, heads up display, driver assist and all that but it lacks some basic things like a spare wheel (does come with a repatch kit tho) and the headroom and legroom in the back is pretty bad but apart from that its a small zippy little SUV to get around town with minimal costs for servicing and practically zero issues.
Purchased in November 2019 for $59,000.00.
Find out how Hyundai Kona Electric compares to other Small / Compact SUVs
Know better, choose better.
Compare all
Purchased this mid range version 6 months ago as I wanted a more economical but safe & comfortable ride in car. This company vehicle has out done itself with features, comfort, safety & servicing costs.
Love this car.
Purchased in March 2018 at Hyundai Dealers for $32,000.00.
See all Hyundai Kona reviews
Questions & Answers
Sorry, there are no questions about Hyundai Kona Electric (2019-2021) but you can read 18 questions about Hyundai Kona.
Get an answer from our members and Hyundai representatives
Details
Compare all 13
Hyundai Kona
Category
Electric Cars and Small / Compact SUVs
Electric Cars and Small / Compact SUVs
Starting

Price

$67,200
$71,400
Warranty

Distance

Unlimited kms
Unlimited kms
Transmission
Automatic
Automatic
Drive Type
Front Wheel Drive (FWD)
Front Wheel Drive (FWD)
Fuel Type
Electric
Electric
Wheels
17" Alloy
17" Alloy
ANCAP Safety Rating
5 Stars
5 Stars

Doors

5
5

Seats

5
5
Engine
Permanent magnet synchronous motor
Permanent magnet synchronous motor
Max Power
150kW
150kW
Max Torque
395Nm
395Nm
Boot Capacity
332 L
332 L
Country of Manufacture
South Korea
South Korea
Phone Connectivity
Android Auto (Wired), Apple CarPlay (Wired), Bluetooth and USB
Android Auto (Wired), Apple CarPlay (Wired), Bluetooth and USB
Wireless Charger
Yes
Yes
Security Features
Immobilizer
Immobilizer
Roof
Hard-Top
Sunroof
Companion

App

No
No
Battery Capacity (Gross)
64 kWh
64 kWh
Max DC Charging Power
100 kW
100 kW
Range (WLTP)
484 km
484 km
Range (NEDC)
557 km
557 km
Efficiency
147 kWh/100km
147 kWh/100km
Manufacturer Warranty
5 year(s)
5 year(s)
Keyless Features
Keyless Locking/Unlocking
Yes
Yes
Ignition
Keyless Start/Stop and Remote Start
Keyless Start/Stop and Remote Start
Headlights
Type
LED
LED
Headlight Features
Automatic On/Off and Delayed Off When Parked
Automatic On/Off and Delayed Off When Parked
Safety Features
Cameras
Rear
Rear
Cruise Control
Adaptive (ACC)
Adaptive (ACC)
Parking Sensors
Cross-Traffic Alert (Rear), Front and Rear
Cross-Traffic Alert (Rear), Front and Rear
Hazard Perception
Blind Spot Monitoring (BSM) and Forward Collision Warning
Blind Spot Monitoring (BSM) and Forward Collision Warning
Lane Assistance
Lane Keep Assist (LKA)
Lane Keep Assist (LKA)
Speed Sign Recognition
None
None
Dimensions
Kerb Weight
1,685 kg
1,685 kg
Ground Clearance
190 mm
190 mm
Driver Information
Gauges
Digital Only
Digital Only
Built-In Navigation System
Yes
Yes
Heads Up Display
Yes
Yes
Voice Control
No
No
Digital Radio (DAB+)
Yes
Yes
Release date
Apr 2019
Apr 2019
Compare all 13
Hyundai Kona
Visit official website
ProductReview.com.au has affiliate partnerships. These do not influence our content moderation policies in any way, though ProductReview.com.au may earn commissions for products/services purchased via affiliate links.