1 photo
Hyundai Kona OS AWD 1.6L Petrol N Line Premium (2020-2021)
Also referred to as: Hyundai Kona OS AWD 1.6L Petrol N Line Premium 2020 and Hyundai Kona OS AWD 1.6L Petrol N Line Premium 2022.
Brand Manager for Hyundai?
Register now
and take advantage of ProductReview's Brand Management Platform!
Expert Review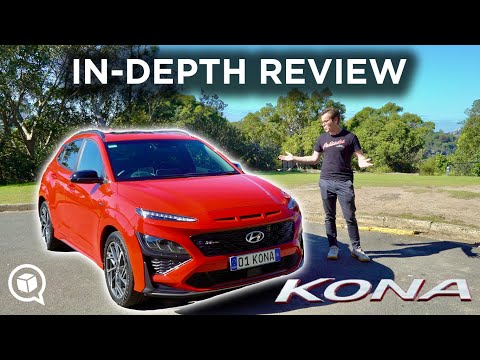 4.3 out of 5 stars
Introduction
This is the range-topping petrol-powered Kona...for now.
Until Hyundai's first performance SUV, the Kona N, lands on Aussie shores sometime in the very near future; the Kona N-Line is the most powerful Kona you can buy today.
With a relatively higher asking price in this segment; what features do you get and what sort of performance can you expect from this Kona?
Let's find out.
---
Build Quality
4.3 out of 5.
As I am impressed by Kia, I'm also incredibly impressed with the current build quality of Hyundai's products.
The Kona is no exception.
For the price, you're getting yourself into a vehicle that has been thoughtfully put together, with a good mix of the cheaper stuff, along with quality materials. On the outside, both paint and the plastic trim all appeared to be of a superior quality. Even the twin chrome exhaust tips looked and felt of a grade even greater than some European equivalents (no fakery here!) As they weren't just a facade of an exhaust exit, rather it looks like proper R and D went into making these tailpipes.
In this top trim, leather seats and soft-touch materials helped justify the higher asking price over lower trims.
Stand-out quality was found in the dual 10.25 inch displays, both for the infotainment and the driver's display.
Hyundai's infotainment system has some of the best responses to touch inputs in the industry. The tablet-like UI employed here is simple to use, helping elevate the quality of interaction you have with this vehicle.
The driver's display is ultra-crisp and smooth in its animations, again, helping improve the sense of quality in this cabin.
Small in their size and frequently used, they have a lasting impact slightly reducing the overall sense of quality. Some quality let-downs came in the form of a cheaper feeling interior door handles and the cheap nature of the drive mode select button.
To sum up this section, the build quality of the Kona is solid, luxurious and well thought out.
Value for Money
4.6 out of 5.
The Kona N-Line Premium, tops the standard petrol-powered versions of the Kona line-up at $47,093 drive away.
This is quite a step up. Conversely, you're getting a better motor, gearbox, all-wheel drive (AWD)and more features than you'd ever expect you'd need at this price point.
The Kona is up against the likes of the Nissan Juke, the Toyota Yaris Cross and the Subaru XV.
Against the Juke, the Kona definitely comes out on top for features and for having AWD.
Compared to the Yaris Cross, the Kona is petrol only or comes in a more expensive EV option. For those looking for an in-between, the Yaris Cross offers a hybrid that's far better on fuel for the inner-city.
Finally, against the likes of the Subaru XV, the Kona is not meant to head off the beaten path like the XV is advertised to do. It does, however, offer a better value for performance and features over the XV.
The Kona N-Line Premium offers a value for money proposition in the form of being a 'warm' small SUV. Not quite 'hot' in the sense of outright performance, but just-right for putting some pep in your daily commute step.
Cleaning and Maintenance
4.5 out of 5.
Cleaning the Kona is easy. It's a lifted hatchback for all intents and purposes, so height isn't going to be an issue when cleaning. There are, however, plenty of fake vents and diffusers, which may trap additional dirt and grime.
As cool as these wheels may look, they're an intricate design fitted to this little SUV that are sure to hide plenty of brake dust and contaminants from the road.
As for maintenance, Hyundai offers a 5 year/unlimited kilometre warranty with the Kona.
The Kona needs to be serviced every 10,000km or once a year.
Hyundai is less interested in showing a breakdown of each year of servicing, instead wants you to purchase a pre-paid servicing plan.
For the full five years or first 50,000km of driving, Hyundai will charge you $1,595; this is reasonable.
This works out to about $319 a year.
To fill the Kona up from empty to full, expect to pay on average, around $65 at the pump.
Noise Level
3.9 out of 5.
Harman/Kardon. Ever heard of them? I'm sure you have. If not, they're some of the best in-car speakers you can buy and have been seen in even the likes of Range Rover.
I just haven't yet seen these speakers fitted to the likes of a Hyundai.
Again, Hyundai is outshining its former self with improvements like this.
The premium speaker system used in the Kona was exceptional for the price.
If you love depth, clarity and feeling more immersed in your audio, the Kona N-Line Premium does an exceptional job of getting you into that space. Along with the audio system, the sound isolation from the outside world and from the engine was a pleasant surprise.
My expectations were exceeded when the Kona provided a quiet and refined audio experience. However, under hard acceleration the motor would really make itself known, but this is what you'd typically expect from a sporty-oriented SUV.
I did wish there was a bit more excitement coming from the tail-pipes in the form of exhaust noise theatrics. The Kona N-Line Premium looks the part, but it didn't really fulfill the "N" part of its name when it came to exhaust sound.
Braking
4.3 out of 5.
Plenty of braking ability can be found in the Kona.
With a kerb weight (the weight of the vehicle with a full tank of fuel) of just over 1500kg, there isn't much to stop when the car isn't loaded up with cargo and people.
The feel of the brake errs on the jerky side, but it's easy to avoid those abrupt stops once you get used to the brake pedals.
Under hard braking, the Kona pulls up nice and short. It also helps that it's fitted with a comprehensive autonomous emergency braking system just in case of an 'uh-oh' moment.
Additionally, braking while using the radar cruise control function is smooth and seamless. Unlike some other radar cruise systems, the Kona offers an eerily human-like input which prevents passengers from feeling car sick during a ride in traffic.
Acceleration/Power
3.9 out of 5.
As much as the Kona N-Line Premium looks the part, it's not going to fulfill the full-fat N experience you might be chasing.
This Kona has a 1.6L four-cylinder petrol motor pushing 146kW at 6,000rpm and 265Nm at 1600-4500rpm.
0-100km/h times haven't been officially announced, but many publications quote the capable little SUV hitting 100 in the mid to low 8 second range. That's respectable for a small SUV in this segment, in which cars usually achieve a time closer to 10 seconds.
The 0-100 time is aided by the AWD drivetrain and dual-clutch transmission partnered with the turbocharged motor.
I adored the grip this AWD system offered, as I never once experienced slippage under enthusiastic acceleration in situations where I normally would with other front-wheel drive systems.
Gear Shifting
4.3 out of 5.
I've read some complaints regarding the Kona N-Line's gearbox, but I've looked for a reason to hate it and still can't find one.
I understand that even though this is the sports-orientated version of the Kona, shifting gears using the manual mode isn't the best experience. Instead, you should leave the gearbox to do what it does best in auto.
The vehicle's 7-speed dual clutch transmission certainly does a far better job at shifting than the dual clutch unit in the Nissan Juke. Shifts can occasionally feel a bit abrupt under harsh acceleration with the Kona, however in every other instance the gearbox performs without a hitch.
I certainly appreciated the application of a dual clutch over a CVT, as it made driving in Sports mode a lot more entertaining thanks to the ability to quickly shift between gears.
If you want a gearbox you can have a bit more fun with (that is, shift yourself or use flappy paddles), you'll have to wait for the arrival of the all-new Kona N.
Suspension & Handling
4.2 out of 5.
Don't fret, the Kona N-Line is still a comfortable car. However, just like the additional visual theatre on this trim, you're going to experience a more sporty ride than the standard car.
There's a larger set of wheels fitted to this trim, translating to a stiffer overall ride. It's not back-breaking, but you are going to feel a little more on the road than a more comfort-orientated SUV.
Handling is aided by the AWD system and a stiffer suspension setup. The Kona is able to tackle tighter corners and start accelerating sooner out of them thanks to this setup.
Around town, you're going to be satisfied with the ability of the Kona to simply 'get on with the job' - it's not going to surprise you over speed bumps or rough surfaces.
The Kona instills confidence that you'll be able to drive in comfort, and helps somewhat satiate your inner sports car enthusiast.
Fuel Efficiency
4 out of 5.
Claimed fuel efficiency for the Kona is 6.9L/100km, but I achieved as high as 13.5L/100km during my time with the Kona. To fill up the Kona's 50L fuel tank from empty, you can expect to pay around $54 for a full tank.
Overall, the Kona is going to be easy enough on fuel. Unfortunately, there's no hybrid option if you're looking for a more fuel efficient option; instead there's a more expensive full EV option available.
You're most likely buying a Kona N-Line for its looks and features, so this fuel consumption would be more palatable than for someone who's searching for a more fuel-efficient option.
Interior Design
4.2 out of 5.
On a surface level, the Kona's interior is fairly plain.
I certainly appreciate the design of the Kona's interior, as it's not trying anything that's too left of field; Hyundai really is playing it safe with this interior.
The Kona N-Line adds some much needed flair to this interior with the addition of N badges sewed into the seats, an N-Design steering wheel and an N-Design shifter. Leather seats also elevate the interior to a more luxurious level, helping justify the price tag.
The Kona is almost minimalist in its interior design, as the interior looks a lot 'cleaner' thanks to a dual-screen setup, with a driver's display paired with a centre screen.
Again, the inclusion of a digital driver's display and a highly responsive centre media screen upgrades the interior from an interaction point of view. With great contrast, colours, sharpness and engaging animations (which vary depending on which drive mode you've selected), these screens certainly become a highlight of the interior.
Boot Size & Comfort
4,3 out of 5.
With all the seats folded-up, the rear boot space equals 351L, and the maximum boot space you can get with the second-row folded is 1143L.
Upon opening the boot, it becomes apparent that the Kona isn't a replacement for a family car. This car is more suited for a family of 3, or a spacious option for 1 to 2 people.
The boot is small and feels cramped once you've placed two suitcases in there.
The seats fold in a 60:40 split, which is ideal for a family of 3 and allows you to fit more cargo in the back whilst carting around two passengers.
The front passengers will be more than comfortable as there's plenty of space in the front portion of the Kona. Too hot? Turn on those cooled seats. Too cold? Crank up those heated seats. Don't worry, rear passengers also get heated seats (except for the poor middle seat passenger who has to 'cop' that seat).
As a 5'11" guy, the rear seats were too tight for me. Even though this is a four door small-SUV, the second-row was cramped and not comfortable on long journeys. These seats should be reserved for smaller passengers or used exclusively for shorter journeys.
Ultimately, as long as you're not too tall and don't have to spend hours in the second-row,then the Kona is a very comfortable car. It has radar cruise control, a heads-up display, Apple CarPlay/Android Auto and active lane-keep assist. All of these features add up to make long trips in a Kona N-Line very relaxing.
Features
5 out of 5.
This is a top-tier petrol-powered Kona that comes with everything you need...and more.
Apart from an absent power-tailgate (which isn't entirely necessary on a vehicle like this), the Kona N-Line Premium isn't missing anything.
With two screens, a heads up display, leather seats, a sunroof, keyless entry & exit, LED headlights, drive modes and a turbocharged petrol motor, the Kona really does have it all.
You can check out the full list of features and stats below:
Engine
1.6L turbo petrol four cylinder
Producing 146kW at 6,000rpm and 265Nm at 1600-4500rpm.
7-speed dual clutch transmission
Infotainment
10.25 inch centre touch screen display
10.25 inch digital driver's display
Apple CarPlay/Android Auto
Harman/Kardon audio system
Safety
Driver Attention Warning
Autonomous Emergency Braking
Active Steering Assist
Lane Keeping Assist
Rear Occupant Alert
Radar Cruise Control
Performance
Drive-modes
Sport mode for dual clutch transmission
Dual-exit chrome exhuast pipes
Diff-lock control
All-wheel drive
Convenience
Keyless entry/exit and start/stop
Heated and cooled front seats
Heated rear seats
Heated steering wheel
Sunroof
Leather seats
N-specific seats, shifter and steering wheel
Heated mirrors
Rear privacy glass
Electric folding mirrors
Heads-up display
Hyundai's 'Sounds of Nature'
Should you buy one?
There's more competition than ever in the small-SUV world, but this little Hyundai stands out.
For the price, you're getting a plethora of features that make you look down on cars without them. Rear heated seats, plenty of safety tech and a sprinkle of Hyundai N features will appeal to those looking for a fun yet practical small-SUV.
In addition, the AWD system will win plenty of buyers over who plan on taking their car on gravel paths, grass or snow. This is a special feature to find in a car below $50,000.
Unless you want more power or a more economical option in the form of a hybrid or EV, the Kona N-Line offers one of the best value for money propositions along with a premium driving experience and list of features in the small-SUV segment.
About the author
Cameron is your typical car nut, but also drives and writes about cars for ProductReview.
Sorry, there are no reviews about Hyundai Kona OS AWD 1.6L Petrol N Line Premium (2020-2021) but you can read 36 reviews about Hyundai Kona.
Write a review
Questions & Answers
Sorry, there are no questions about Hyundai Kona OS AWD 1.6L Petrol N Line Premium (2020-2021) but you can read 18 questions about Hyundai Kona.
Get an answer from our members
Details
Compare all 13
Hyundai Kona
Category
Small / Compact SUVs
Starting

Price

$46,490
Transmission
Dual-Clutch (DCT)
Drive Type
All Wheel Drive (AWD)
Fuel Type
Petrol
Wheels
18" Alloy

Doors

4

Seats

5
Fuel Consumption
6.9 L/100km
Fuel Tank

Capacity

50 L
Engine
Smartstream G1.6 T-GDi
Engine Code
Gamma
Max Power
146kW @ 6000rpm
Max Torque
265Nm @ 1600-4500rpm
Boot Capacity
374 L
Phone Connectivity
Android Auto (Wired), Apple CarPlay (Wired) and Bluetooth
Wireless Charger
Yes
Security Features
Immobilizer
Roof
Sunroof
Companion

App

No
Maximum Towing Capacity (braked)
1,250 kg
Maximum Towing Capacity (unbraked)
600 kg
Manufacturer Warranty
5 year(s)
Keyless Features
Keyless Locking/Unlocking
Yes
Ignition
Keyless Start/Stop and Remote Start
Headlights
Type
LED
Headlight Features
Auto-Dimming, Automatic On/Off and Delayed Off When Parked
Safety Features
Cameras
Front and Rear
Cruise Control
Adaptive (ACC)
Parking Sensors
Cross-Traffic Alert (Rear), Front and Rear
Hazard Perception
Blind Spot Monitoring (BSM) and Forward Collision Warning
Lane Assistance
Lane Departure Warning (LDW) and Lane Keep Assist (LKA)
Speed Sign Recognition
None
Dimensions
Kerb Weight
1,395 kg
Ground Clearance
178 mm
Driver Information
Gauges
Digital Only
Built-In Navigation System
Yes
Heads Up Display
Yes
Voice Control
No
Digital Radio (DAB+)
Yes
Release date
Nov 2020
Compare all 13
Hyundai Kona
Visit official website
ProductReview.com.au has affiliate partnerships. These do not influence our content moderation policies in any way, though ProductReview.com.au may earn commissions for products/services purchased via affiliate links.