1 photo
Hyundai Sonata N Line (2021)
Also referred to as: Hyundai Sonata N Line 2022.
5.0

from 2 reviews ·

View Statistics
Listing monitored by Hyundai
Expert Review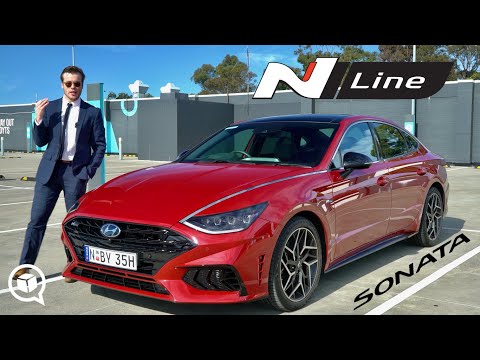 4.2 out of 5 stars
Introduction
When I think of the Hyundai Sonata, I remember being back in high school and reading an article that made me excited for the first time for a performance-oriented Hyundai.
That car was the Sonata 'Turbo'. How cool! It had affordable power, and was the first time you could get quad pipes on a Hyundai car.
Fast forward to 2021, and the word Sonata resonates best with the police as their squad car of choice.
However, now we have a refreshed and far more attractive Sonata here in Australia, aiming to move from forgettable sedan to undercutting the Germans in the luxury sedan segment.
Australia is only getting the top-of-the-range N-Line trim, which is a good thing, as this is fully loaded with options and packs a punch in the performance department.
Here's why the all-new Sonata should be included in your shopping list and should absolutely be considered alongside luxury German sedans.
---
Build Quality
4.5 out of 5.
The overall build quality of the Sonata is very impressive, but it's not as impressive as cars that cost $10-$30K more than this.
On the outside, panel gaps are even, plastic trim is neatly applied and the overall look and feel of the exterior certainly meets the asking price of this sedan.
On the inside, the leather seats, higher quality materials and fit and finish of trim pieces also meet the high quality exterior finish.
There are some shortcomings that may detract from the sense of perception of this car being higher in quality. From fake stitching to visible sound deadening in the door gaps, there are a few ways you're not paying more than $60,000 for this sedan.
If you can overlook a few cheaper elements, overall build quality is a lot higher than what you would have expected of Hyundai and ensures it can compete in the luxury sedan segment.
Value for Money
4.8 out of 5.
With a starting price of $55,651 drive away, it's available in only range-topping N Line trim, so you won't have to worry about choosing from a wide range of Sonatas.
The value for money proposition is Hyundai's strong suit.
Sure, the build quality isn't going to exceed the German alternatives. What you do get, however, is a fully-kitted out car, with a more than capable motor for less than some base model luxury sedans with not even half of these options.
I was swept off my feet with the number of features included in this Sonata. Combined with just how impressive this car's driving ability was, for the price, your every car-related need was addressed.
Highlight features include: heated and ventilated front seats and steering wheel, dual zone heated rear seats, radar cruise control with active lane-centring, BOSE audio, 213kW of power and an automatic rear blind.
For both the front and rear passengers, this is in every way a luxury sedan. Compare the comfort and performance of this sedan against the market - it's close to the top and scores a near perfect value for money score.
Maintenance
4 out of 5.
Service intervals are 12 months/10,000km (whichever comes first), with service costs capped at $350 for the first five years or up to 50,000km.
A full tank of fuel is going to cost you around $80 to fill from empty - which might be happening a little more often than not, as the Sonata is a little on the thirsty side.
Noise Level
4.3 out of 5.
If it's a quiet and comfortable cabin you're after, the Sonata does not disappoint.
Road noise, wind noise and engine noise are all kept at bay, with an obvious barrier between the outside world and the relaxing atmosphere of the interior.
The BOSE audio system was a highlight in the feature list. It offered superior bass, highs and clarity when listening to a variety of media. I sincerely missed this system when I hopped into my next press car.
This audio system isn't just reserved for music, podcasts and phone calls - you can also hear the artificial engine sound produced in both Sport and Sport + modes. It's not obnoxious or obviously pumped in, but it can be annoying to some who prefer an 'au natural' sound when it comes to engine noise. If that's the case, you can simply turn it off in the infotainment settings.
Braking
4 out of 5.
As a performance-oriented car, we have performance-oriented brakes on board.
There was never a doubt that these brakes would fade or waiver under pressure. When pushing the car through some twisty sections of road, all 1636kg was brought under control with ease.
There's an autonomous emergency braking system on board if you need it just in case a stray object makes its way in front of you. Just like every other car fitted with this system, it was occasionally spooked on tight roads. You can simply toggle this system off if you find this happening on your daily commute.
Acceleration/Power
4.3 out of 5.
Here we have a 2.5L turbocharged inline four-cylinder, producing 213kW @ 5800rpm and 422Nm @ 1650-4000rpm, all being sent exclusively to the front wheels via an 8 speed dual-clutch automatic transmission.
What's immediately noticeable is the wave of torque generated by this motor. It's sensational, and you never feel cheated by driving a four-cylinder motor.
To put it into perspective, although this is an N Line and not a full-fat N product, you have almost identical power figures to the critically acclaimed i30N!
213kW is noticeable and plentiful for the daily commute, and also capable to sprint the Sonata to 100km/h in around 5.9 seconds with launch control.
The main issues are derived from the typical front wheel drive tropes: limited traction and understeer. Launch control was fun to engage, however the car simply struggled for grip with all that power being put down through the front wheels.
Unlike the Kia Stinger, the weight shift on launch never translated to a rapid-feeling launch.
Through sharp corners, you could feel the front-heavy nature of this chassis, however the differential did a fine job of powering through corners.
Gear Shifting
4.5 out of 5.
The dual-clutch 8-speed automatic transmission was a treat to use.
Your initial encounter is via the drive-by-wire gear selector buttons, which look a little odd at first, but are fun and easy to use once you get used to them.
My only complaint when shifting gears is that for those quick three point turns, the gears are certainly not as quick to shift as they would be using a shift lever. This makes it a little awkward when you find yourself needing to get out of the way quickly if you're making a questionable u-turn.
This gearbox is able to smoothly transition all that power into a seamless driving experience when you're not seeking driving thrills.
This is an N Line, with quad-exhaust pipes, the gearbox allows you to become far more engaged with the Sonata than you'd expect.
That's thanks to Hyundai's 'N Power Shift' transmission setting engaged in Sport mode, which reserves additional power to be delivered between shifts to counteract the lurch you normally feel between shifts. It's designed to power through shifts, which is far more exciting than the standard shifting experience.
Again, it takes a little while to get used to the sensation, as it feels as if the Sonata has extra long gear ratios. Once you get used to the sensation, you simply keep your foot planted on the accelerator through shifts for a more exciting drive.
Suspension & Handling
4.4 out of 5.
It is fair to say that a downside to a more sporty-orientated sedan is the increased road-feel, leading to a stiffer ride.
For day-to-day driving, the Sonata was actually very comfortable. It offered comfort and relaxation across a variety of surfaces. Only across deeper potholes and very uneven surfaces, the larger wheels and stiffer suspension led to the Sonata to become a little more jittery. However, this is likely to be short-lived, unless you frequent these road conditions on your daily commute.
Where you will appreciate the stiffer springs, is through corners. This is a large sedan, but it doesn't wallow or dip in corners like some comfort orientated competitors might.
Suspension feels firm and toned, and inspires confidence to power through tight turns and sweeping bends. I adored the way this car handled, as it really lived up to the N badge plastered all over it.
Fuel Efficiency
3 out of 5.
One negative when it comes to a performance luxury sedan is the fuel economy.
The claimed combined fuel consumption figure is 8.1L per 100km.
I saw figures cross the 18.2L per 100km mark, which was expected.
I noticed that the fuel gauge was falling a lot quicker than some other N Line cars from Hyundai, which means you'll most likely need to fill up at least once a week.
Interior Design
4.6 out of 5.
The exterior of the Sonata is so sharp it'll take an eye out if you get too close, but it's the interior that you'll be ogling the most.
This is a thoughtful and beautiful interior that feels both upmarket and sporty, something you wouldn't expect from Hyundai.
If there were two things I would change, it would be the fake stitching pattern embossed into the dashboard, and the plentiful use of gloss black plastic. Outside those shortcomings, the interior of the Sonata was impressive to say the least.
Design-wise, I wasn't loving the oddly shaped transmission selector tunnel, which looked a little like melted plastic. However, that's where the criticism ends.
From the steering wheel, to the dash-layout, to the seat designs, it's a fantastic blend of performance and luxury.
The large panoramic sunroof adds much needed light to the dark-coloured interior, and if you do need a break from the sun, the automatic rear blind adds that extra bit of privacy to your driving experience.
The rear seats have been designed with plenty of space and are almost better than sitting up in the front, despite lacking the more secure-feeling bolstering of those bucket seats.
Hyundai makes sure you don't forget you're in an N product either. There are N badges found near the transmission, on the steering wheel and on the seats. This is an appreciated reminder you're in something a little more special than the standard Sonata.
Boot Size & Comfort
3.8 out of 5.
Similar to fuel efficiency, the other downside to buying a sedan over a wagon, hatchback or SUV is the limited boot space compared to those body styles.
In the name of design, you get a maximum storage capacity of 510L. Remember that you only have a trunk-sized opening, which limits you making the most of the space for larger items.
For added practicality you can fold the second row in a 60/40 split, however it's still limited in the pass-through opening and vertical space.
The fit and finish of the boot space is a little on the cheap side, as a simple glance inside the boot reveals exposed metal and some insulated wires. This is not a deal breaker by any means, but a visual cue as to how you're saving more money over a European competitor.
Comfort is exceptional on the inside, with heated and cooled front seats and dual-zone heated seats in the rear.
There's radar cruise control, and active steering assists, which really add to making the Sonata a treat to operate in slow moving traffic, and leaving you more refreshed on longer journeys.
Rear seat comfort is supreme. Not only do you have heated seats, but you also have window shades. When combined with blocking out the panoramic sunroof and activating the rear blind, you can have a relaxing and comfortable nap too!
Features
4.7 out of 5.
Sure, in the Hyundai range, you're on the upper end of the price range. However, you have every feature you could imagine fitted to the Sonata N-Line.
Have a look for yourself, here's a full list of features below:
Engine
2.5L turbocharged four-cylinder petrol engine
213kW, 422Nm
Infotainment
10.25-inch infotainment
Apple CarPlay/Android Auto
BOSE Speakers
12.3-inch driver's display
Safety
Blind-Spot Collision-Avoidance Assist (BCA)
Blind-Spot View Monitor (BVM)
Driver Attention Warning (DAW)
Forward Collision-Avoidance Assist (FCA) - camera and radar type, including:
Car/Pedestrian/Cyclist detection
Junction Turning (FCA-JT) functionality
High Beam Assist (HBA)
Lane Keeping Assist - Line (LKA-Line / Road Edge)
Lane Following Assist (LFA)
Leading Vehicle Departure Alert (LVDA)
Rear Cross-Traffic Collision-Avoidance Assist (RCCA)
Smart Cruise control (SCC) with Stop and Go
Safe Exit Assist (SEA)
Surround View Monitor (SVM)
Performance
Launch control
"N Power Shift"
Drive Modes
Sports exhaust and sports exhaust tailpipes
Convenience
Rear window electric blind
Rear heated seats
Rear passenger blinds
Sunroof
Keyless entry/exit and start/stop
Wireless phone charging
Blind spot cameras
Heated/cooled seats
Should you buy one?
Although the Sonata N Line gives you the best bang for buck in the mid-size sedan market, you do have a few shortcomings that might push others to more expensive options.
All of that power being sent to the front wheels, and the issue some people might take with picking a Hyundai badge over a three-pointed star might be enough to convince some to look for alternatives.
However, you're missing out in that case.
For day-to-day driving the Sonata's front wheel drive issues only apply if you're frequenting the launch control feature. Outside of that, you have a beyond-capable performance machine, with more features you'd find on cars twice this price.
I adore the Sonata N Line for breathing life into the mid-size sedan segment, with respectful performance figures, and luxury levels of comfort, without having to feel cheated for the price you paid for it.
Whether you're a budding executive, appreciate saving a large chunk of change in exchange for a badge, or don't want to join the SUV craze, the Hyundai Sonata N Line is for you.
It's distinct, unique, and absolutely turns heads, more so than any European badge could. If my line of work required me to frequent a suit and tie and an office, I'd be looking to make the most of my company car budget or personal budget with the Hyundai Sonata N Line.
About the author
Cameron is your typical car nut, but also drives and writes about cars for ProductReview.
Perfect combination of sport and family fun
This was the replacement for my 2009 Mazda 3 MPS.
It is a great car for the commute to work and for family day trips.
I bought this as my daughters are growing and the Mazda 3 was getting to be to small, especially for the school runs on the way to and from work.
For the cost the car is loaded with tech and features, much more so than any of the premium Euro mob that would require twice the cost of the Hyundai. There is no wireless apple car play or android auto but that is only a small gripe and I can fix that if I want with a separate don...
Read more
gle. Fuel usage is between 8-9 liters per 100k at the moment and it should get better as the car runs in. It breezes up hills and the gear changes are smooth and sharp, it is Also more economical than the outgoing Mazda which was 9-10 liters with a smaller 2 liter turbo engine, the Sonata N-Line runs a 2.5 liter turbo. I haven't noticed any wheel spin or torque steer ( Mazda had huge torque steer) but I also don't hoon around or go drag racing in the car. People have also mentioned the road noise that intrudes into the cabin, the old Mazda was noisier so I don't find it bad at all, plus a 12 speaker Bose stereo can fix that pretty quickly if that is an issue for you.

Purchased in September 2021 at Lennock Motors.
Extremely good car with very few vices.
Ordered the car sight unseen without a test driving one due to lockdown and supply issues. Only based on reviews I have seen from overseas. The car is feature packed only missing out of self parking, wireless phone connectivity and electric boot operation. Apart from those three thing it's not missing any creature comforts.
The car is used as a daily driver for work (both freeway and local roads) and family transport on the weekend. The car is now run in with over 5,000 km on it and now averages between 7.6 and 8.2 L per 100 (very surprising h...
Read more
ave been using 98 Ron fuel that improves the efficiency from 8.0 - 8.8 it was averaging on 91). A common criticism I have read about the car has been a lack of LSD to handle the power through the front wheels. I haven't noticed this until the car was run in. In any sporty settings now it cannot handle more than 2/3 throttle without wheel spinning (even with traction control on). Turbo lag is minimal and the DCT has been one of the smoothest I've experienced with stop start traffics not being an issues for it. The ride feels very similar to a WRX setup with better dampening rates. The look of the car was so so on the photos and through videos however now that I have had it in flesh for a while I truely love the look, colleagues, clients and friends regularly comment how nice it looks (without any prompting). The kids love the back seat room (which is actually bigger than older Falcons I've had in the past) with the sun shades and panoramic roof. The rear seat heater get overused because they are there. Overall the car appears to offer exceptional value for money on what you get for what you pay for it. It will need to have quality tyres always fitted, to assist in handling the power.
Purchased in May 2021 at Hyundai Dealers.
See all Hyundai Sonata reviews
Questions & Answers
Sorry, there are no questions yet.
Get an answer from our members and Hyundai representatives
Details
Compare all 4
Hyundai Sonata
Category
Sedans
Starting

Price

$55,650
Warranty

Distance

Unlimited kms
Transmission
Dual-Clutch (DCT)
Drive Type
Front Wheel Drive (FWD)
Fuel Type
Petrol
Wheels
19" Alloy

Doors

4

Seats

5
Fuel Consumption
8.1 L/100km
Fuel Tank

Capacity

60 L
Engine
SmartStream G2.5 T-GDi
Engine Code
G4KP
Max Power
213kW @ 5800rpm
Max Torque
422Nm @ 1650-4000rpm
Boot Capacity
510 L
Manufacturer Warranty
5 year(s)
Release date
Apr 2021
Compare all 4
Hyundai Sonata
Visit official website
ProductReview.com.au has affiliate partnerships. These do not influence our content moderation policies in any way, though ProductReview.com.au may earn commissions for products/services purchased via affiliate links.