3 photos
Hyundai Staria 2.2L Diesel AWD (2021-2022)
Also referred to as: Hyundai Staria 2.2L Diesel AWD 2021 and Hyundai Staria 2.2L Diesel AWD 2023.
(No Badge)

,

Elite

,

Highlander

(See All)
Listing monitored by Hyundai
Expert Review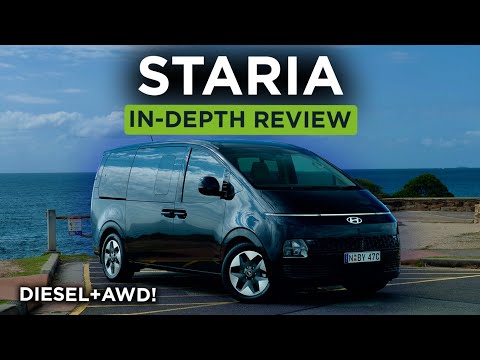 4.2 out of 5 stars
Introduction
As if it were a superhero coming back from retirement when the world needed it the most, the Hyundai Staria is here to make waves and breathe life back into the somewhat ancient people mover segment.
Traditional luxury players, like Mercedes and Volkswagen, are just sitting idly by as their R&D budget is spent elsewhere. That new Volkswagen Multivan can't come soon enough!
That's where the Staria comes in. It's the 8-seater van that isn't just for moving people, but offers modern features, luxury appointments and styling that breaks necks as it makes its way down the street.
It appears as if Hyundai's van department wondered what happened to all the 'cool' vans, so they went out and made one themselves.
---
Build Quality
4.3 out of 5.
Usually, people movers or 'adventure' SUVs that share their chassis with a commercial van or ute don't exactly excel in the build quality segment.
The Staria feels as if it's as far removed from its commercial sibling as it possibly could be. There's an obvious weight with plenty of sound-deadening fitted throughout the cabin that highlights this people mover's quality construction.
Leather seats and an infotainment system are straight from Hyundai's premium SUVs, and are a welcome addition in raising the perception of quality on the inside of the vehicle. There are plenty of hard plastics splashed throughout the cabin, but to me, that's acceptable as it'll wear a lot better than softer materials.
Whether it's the pixel-effect tail lights, aero-design alloy wheels or operation of the automatic doors, there weren't any examples of poor craftsmanship found on the exterior. It's certainly a van you could confidently show off at the school pick up line.
Value for Money
4.4 out of 5.
The AWD diesel Highlander model of the Staria is the must-have. It combines features, luxury and driving capability to make this a formidable people mover.
Topping out at $66,500, this quickly becomes the best value large people mover compared to the European alternatives. You're looking at nearly $100,000 for a similarly specced VW Multivan or Mercedes V Class.
Maintenance
4.5 out of 5.
It's no different for the Staria when it comes to Hyundai's warranty. It's 5 years/unlimited kilometres, which is dead on for what I'd expect when buying a new car in 2021.
Servicing can be prepaid up to 5 years/75,000kms, maxing out at $1,800 for that option. That translates to around $360 a service. Quite reasonable, especially considering there's a more complicated AWD system fitted to this high-end Staria.
Keep in mind that a van this large will see its tires and brakes require more frequent changing, all thanks to its 2.2 tonne kerb weight.
Noise Level
3.9 out of 5.
Cars that offer a commercial model usually suffer from a lack of isolation from their engine and road noise.
The Staria managed to combat most of that sentiment. That 2.2L turbo-diesel motor does cause a little bit of a rumbley racket when it comes to getting up to speed in the Staria, generating a tractor-like diesel sound the more you press down on the throttle.
However, once you're up to speed, and the gearbox can relax the motor low into the rev range, it becomes almost like you're riding in the cabin of a plane. Late at night, with rear occupants using the reading light, it really does feel and sound like you're on an overnight flight back from LA. There's some noise, but it's off in the distance rather than bleeding into the cabin.
The speaker system isn't all that impressive in the Staria, I would have loved to have seen a BOSE audio option for the Highlander trim. There was just a little too much 'tin' in the sound, and it certainly wasn't all that powerful to fill a cabin this large. It's still good enough for daily listening, but it's not the first place I'd want to listen to a new album.
Braking
3.5 out of 5.
The Staria manages to come to a stop with plenty of ease. I'm not sure if it's the driving position or the size of the brakes, but occasionally they did feel a little small for a car this size.
You won't have to worry about this van taking a dive forwards every time you get on the brakes; the added weight of the third row and AWD system allows for an SUV-like braking experience.
Acceleration/Power
3 out of 5.
Sadly, this isn't a performance-oriented people mover (that would be pretty cool). Instead, it's comfort-oriented, where all 430Nm from this 2.2L turbo-charged diesel four cylinder motor are required to get this van up to speed.
There's 130kW available at 3,800rpm and peak torque is produced between 1,500-2,500rpm. Combine this output with the weight of the Staria and you're looking at 57.2kW per tonne. This is the strongest engine choice for torque, but you're going to feel a little strain when fully loading this car up.
Although, with five adults in the car, plus some cargo, I couldn't get a hint of strain - so it might be a little more than just what's on paper when it comes to how capable this motor is.
Gear Shifting
4 out of 5.
The perfect pairing with this AWD system and diesel motor is the 8-speed automatic gearbox. It's a common gearbox now used by Hyundai, and I am a fan. It's smooth, predictable and rarely misses a beat.
Don't expect it to come alive in Sport mode, but rather, see it as the butter on a stack of pancakes. It's sometimes overlooked, but it really plays an integral role in completing the meal. All of that effort that's gone into making this a comfortable car is topped off with just how well-oiled this transmission feels.
Suspension & Handling
4.1 out of 5.
I wouldn't really want to imagine what traction is like in the FWD-only Staria, as this AWD system managed to avoid having all 430Nm disrupt traction upon harsh moments of acceleration.
The ride in the Staria is plush, but if you hit a bump too hard, that transfer of movement to the rear occupants is exaggerated around 1.5 times. So that slightly large bump you felt up front can bump bums off seats in the third row.
This is a long van, but it's not exactly too wide. It makes maneuvering through small alleyways, and tight streets, a lot easier than it might look. Additionally, the turning circle of the Staria is extremely impressive, I found it easier to park than the likes of a Kia Carnival.
Adding to that plane-like experience at high speeds, the suspension really does a great job of ironing out imperfections in the road. Notably, through corners that softer suspension can cause an aggressive amount of lean. When you're not pushing this van for a quick lap time, it's the definition of a lounge-room on wheels.
Fuel Efficiency
4.3 out of 5.
I wasn't entirely light-footing the accelerator when it came to driving the Staria. What I didn't expect was for this van to return a far lower-than-expected average fuel consumption figure. I was averaging around 9L per 100km of driving, whether it was in traffic or out on the highway.
It's a large vehicle, so filling up a full tank will set you back around $117. Since this is a diesel motor, you should see a full tank last as far as 1000km.
Interior Design
5 out of 5.
Where Hyundai went to town with designing the Staria was on making this interior as practical as possible.
Australia misses out on the 12-person seating option for now, for what I presume is to score 5 stars in an ANCAP safety rating. More on that in the next section.
Up front, the best elements from the Hyundai Tucson have been transplanted. This includes the cover-less driver's display, steering wheel and infotainment. Although, I really don't love the gloss-back capacitive buttons below the screen. They're a magnet for fingerprints and dust, and make quickly turning down the volume a tapping frenzy.
There's no transmission tunnel, allowing you to step through to the other side of the van. Without a giant mound between the front occupants, it means if you park too close to a wall, you can step through to the otherside. There are also plenty of places to lock and store loose items. Two lockable bins on the dashboard and a small table placed between the front seats ooze practicality. Additionally, shelving below the infotainment screen provides a place to wirelessly charge your phone.
Thanks to two large sunroofs, large side windows and an enormous windscreen, there's no shortage of light entering this cabin. All of these can be shut away with various blinds to help some occupants catch up on some Z's.
Boot Size & Comfort
5 out of 5.
1303L of boot space with all 8 seats up is an incredible feat for any car, but you'd hope for this much storage when you first lay eyes on just how long this van is.
The automatic tailgate is a must, as the small-garage-door-sized boot opening would otherwise prove to be a challenge. It's easy to throw items in and out, thanks to the low and flat load floor, also making for a great place to sit down.
The third row can fold to create an internal bench, or to help store additional items in behind the second row.
Second row comfort is first and foremost. Five people can travel long distances with ease, as there's no shortage of knee room, feet-room or head-room for anyone. As noted by the ANCAP requirements, this requirement restricts the movement of the third row, making it a little more restrictive than I would have liked. You'll have to ask nicely for second row occupants to sit a little more upright and slide forwards to share all of that room they're offered.
For me, this is the ultimate road-trip vehicle, a van I really wish I could bring with me on my next trip to the snow.
Features
4.6 out of 5.
What makes the Staria a breath of fresh air isn't just the styling, but it's also the number of features you receive.
There are heated and cooled seats up front, a heated steering wheel, two sunroofs, more than enough places to charge any devices and advanced safety features like a blind spot camera. Oh, and don't forget the camera feed for the passengers behind the front occupants.
Here's a full list of features available on the Staria Highlander:
Engine
2.2L turbo diesel four cylinder
130kW @ 3,800rpm and 430Nm @ 1,500-2,500rpm
8-speed automatic transmission
Infotainment
10.25 inch centre touch screen display
10.25 inch digital driver's display
Apple CarPlay/Android Auto
Passenger camera view
Safety
Driver Attention Warning
Autonomous Emergency Braking
Active Steering Assist
Lane Keeping Assist
Rear Occupant Alert
Radar Cruise Control
Performance
Drive-modes
All-wheel drive
Convenience
Keyless entry/exit and start/stop
Heated and cooled front seats
Heated steering wheel
Sunroof
Leather seats
Rear privacy glass
Electric folding mirrors
Electric tailgate
Electric passenger doors
360-degree parking camera
Hyundai's 'Sounds of Nature' sounds
Should you buy one?
This is a niche vehicle and I can appreciate that a van isn't the first choice for a lot of families. Unlike the US, drivers here in Australia are a little more restricted in what sized car we can park in parking lots and on the street.
If you can't picture yourself frequenting the third row, or don't need all of the space this van offers, I'd go for a Hyundai Palisade.
A Kia Carnival also makes for a more practical driving experience when entering low-height parking lots. However, if you know what you're after, this is the best van you can buy today.
ßIt's a head-turning, AWD, spacious people-mover. It's fresh on the market, and it's sweeping away aging rivals.
Until a newer people mover can come in and compete either on more power, features or price, the Staria now carries the crown as my first choice for a large people-mover van like this.
About the author Cameron is our resident car expert. Aside being a source of knowledge about the automotive industry, he has also driven a wide variety of cars. From Porsche 911 GT2 RS's, through to a 1998 Toyota RAV4, Cameron has not only seen it all, but has most likely driven it.
Questions & Answers
Sorry, there are no questions yet.
Get an answer from our members and Hyundai representatives
Details
Compare all 6
Hyundai Staria
Category
People Movers
People Movers
People Movers
Starting

Price

$56,690.00
$65,390.00
$72,690.00
Warranty

Distance

Unlimited kms
Unlimited kms
Unlimited kms
Transmission
Automatic
Automatic
Automatic
Drive Type
All Wheel Drive (AWD)
All Wheel Drive (AWD)
All Wheel Drive (AWD)
Fuel Type
Diesel
Diesel
Diesel
Wheels
18" Alloy
18" Alloy
18" Alloy

Seats

5 to 8
5 to 8
5 to 8
Fuel Consumption
8.2 L/100km
8.2 L/100km
8.2 L/100km
Fuel Tank

Capacity

75 L
75 L
75 L
Engine
R series 2.2 VGT 4 In-line CRDi
R series 2.2 VGT 4 In-line CRDi
R series 2.2 VGT 4 In-line CRDi
Engine Code
D4HB
D4HB
D4HB
Max Power
130 kW @ 3800 rpm
130 kW @ 3800 rpm
130 kW @ 3800 rpm
Max Torque
430 Nm @ 1500-2500 rpm
430 Nm @ 1500-2500 rpm
430 Nm @ 1500-2500 rpm
Boot Capacity
831 L
831 L
831 L
Manufacturer Warranty
5 year(s)
5 year(s)
5 year(s)
Release date
Aug 2021
Aug 2021
Aug 2021
Compare all 6
Hyundai Staria
Visit official website
ProductReview.com.au has affiliate partnerships. These do not influence our content moderation policies in any way, though ProductReview.com.au may earn commissions for products/services purchased via affiliate links.