1 photo
Hyundai Tucson NX4 2.0L Petrol 2WD Highlander (2020-2021)
Also referred to as: Hyundai Tucson NX4 2.0L Petrol 2WD Highlander 2020 and Hyundai Tucson NX4 2.0L Petrol 2WD Highlander 2022.
Listing monitored by Hyundai
Expert Review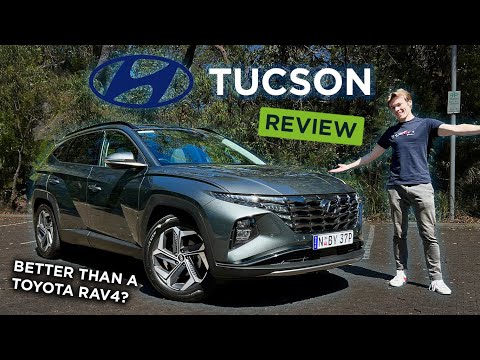 4 out of 5 stars
Introduction
The Hyundai Tucson has now been around for over a decade in the Australian market.
Over the years, it's evolved from a budget-friendly SUV with a budget-equivalent build quality to an entry-level luxury car.
I'm convinced that the latest generation of Tucson doesn't just involve a redesign and facelift. Instead, it's moving the bar for what customers should expect in a mid-sized family SUV.
No longer are these types of SUVs an exercise in how lifeless you can make a car. Now, with the Hyundai Tucson, it's a family SUV that won't break the bank or have you yawning at the dealership.
Although, just make sure you pick the Tucson that has an engine with a turbo-charger. This particular Tucson with the 2.0L non-turbo engine's power doesn't exactly match this exciting design.
---
Build Quality
4.2 out of 5.
The Tucson's Highlander trim gets plenty of upgrades over the base model car. It has leather, screens and a panoramic sunroof.
Don't worry, these plush upgrades over the cheaper trims isn't just some cover up for cheaper quality. What I noticed is that the build quality is of a higher standard than the previous generation.
There are less scratchy plastics used on the inside, external trim pieces are all put together with greater accuracy and on the road, and there are few rattles and squeaks.
Some panel gaps on the bonnet are a little large for my liking, and the lightweight feeling of the doors isn't a compliment to what the Tucson is trying to achieve.
However, these are all made up with high-quality screens, parking cameras, and what feels like an interior that could weather the messiest of families. If you do fall into the messy family car territory - avoid getting the Tucson with white leather.
Value for Money
4.5 out of 5.
This particular Tucson Highlander is priced from $46,000 before on-road costs. That's a killer deal for the most part.
I thought the optional feature-packed Highlander trim was a must for this next generation Tucson. It takes advantage of all the additional space, and compliments the striking exterior design.
The front-passenger electric seat controls, rear heated seats, front heated/cooled seats, radar cruise control, panoramic sunroof, parking cameras, automatic tailgate, larger alloy wheels and of course, the heated steering wheel - all do their part to make the Tucson an ideal daily driver.
It's easy to drive, it's safe, it's very spacious for all passengers,and it lets plenty of light into the cabin. There's a lot to love when you splash a little more cash on the Highlander trim.
This is the Highlander trim for the more price conscious, as its weakest link is the 2.0L naturally-aspirated petrol four cylinder motor. Only receiving power through the front wheels, it's the cost-saving powertrain options if all you care about are creature comfort features.
It's still a great value-for-money proposition, but I'd spend a little more to make the most of the Tucson and all it has to offer by opting for an AWD version with a turbo-diesel or turbo petrol engine.
Maintenance
4.5 out of 5.
The Tucson is no different from the rest of Hyundai's offerings. Featuring a 5 year/unlimited kilometre warranty and capped price servicing for this period, it isn't going to cost an arm and a leg to keep on the road.
I can attest to this, as my family has a last-gen Hyundai Tucson with this same motor, and it's one of the cheapest cars to maintain compared to our European daily drivers.
It's worth noting that the Tucson comes with a full-size alloy spare wheel underneath the boot floor! For those not familiar with the significance of this, it means you don't have to worry about using a tiny, speed-limited space-saver spare wheel or worse, have to use a tyre-repair kit.
Just throw on the new wheel and you can continue on your family adventure, without needing to be interrupted by a visit to a tyre repair shop.
Noise Level
3 out of 5.
The Highlander trim Tucson gets an audio upgrade too, in the form of a BOSE audio system.
The speakers and the sound they produce aren't comparable with a pair of BOSE speakers you'd buy for your home. They're simply an upgrade to the normal audio system, adding more bass, power and clarity at higher volumes.
The worst part about this listening experience is the lack of sound deadening of the outside world. The interior gets more than its fair share of road noise and external sound that bleeds a little more than I'd like. So much so, that speed-sensitive volume adjustment is enabled, which raises the volume of your audio as more noise enters the cabin.
Coarse roads and loud external environments are more noticeable in this cabin, but the noise level settles once you're away from these distractions.
Engine noise is uninspiring - it's a background drone that only is present under hard acceleration. It usually settles low into the rev range at local speed limits.
Additional sound deadening for added weight in the doors, and greater sound isolation would be at the top of my wishlist for the next facelift to the Tucson.
Braking
4 out of 5.
Without the added weight of an AWD system, the Tucson manages to come to a stop smoothly and briskly.
Brake feel is easy to modulate and makes for a comfortable ride, along with the modest engine performance.
This isn't anywhere near how smooth Hyundai's Genesis range operates at, but for the price, it's above par for maintaining comfort in the Tucson.
I did however find the active emergency braking system to be a little eager on tight streets when passing parked cars. It can be a good thing in an emergency, but occasionally it is annoying when driving in tight city streets.
Acceleration/Power
2 out of 5.
Producing 115kW at 6,200rpm and 192Nm at 4,500rpm, which translates to 75.3kW per tonne, this isn't a powerhouse of an engine.
What felt surreal was how brisk the Tucson could move up to the speed limit, without an overwhelming sense of speed. It sort of floated through to the posted speed limit without too much fuss or whine.
For day-to-day driving, this is a fine motor and drivetrain option. It'll take you wherever you need to go, and you'll be comfortable knowing that you don't have to put the pedal through the firewall to get up to speed.
Where this power does become a problem is when you start loading up passengers and cargo. This is especially the case on large, steep hills - this becomes the weak point for the 2.0L naturally aspirated four-cylinder petrol engine.
If you're used to a torquey diesel engine, or the extra punch from a turbocharger, you'll be underwhelmed by the acceleration and power from the Tucson with this motor fitted.
Additionally, arriving at a campground or heading down to the snow might get a little tedious without an AWD system in the family car. I've previously experienced plenty of slippage with the old 2WD system on the simplest of gravel roads with a slight incline.
If you're getting the car for mainly yourself and plan on city driving most of the time, the base engine is usable. If you want to take the Tucson off the beaten track and haul around lots of people and stuff, get a turbocharged unit.
Gear Shifting
4.3 out of 5.
The 6-speed automatic torque convertor transmission is the perfect pairing for what the Tucson is out to achieve.
It's meant to be comfortable and relaxing - a space to unwind and travel without too much involvement in the driving experience.
This gearbox effortlessly moves through its gears, and clearly prioritises having the engine revs remain as low as possible.
You can increase its reaction time by switching into Sport mode, but honestly, I don't see the point. It's a comfort orientated SUV, it doesn't really need to be in Sport mode.
Suspension & Handling
4.2 out of 5.
Another major win for the Tucson was just how comfortable and capable it felt on the daily commute.
Even with those larger wheels, the car glides across the tarmac in a manner that allows you to avoid being disrupted by a busy-feeling ride.
Through corners, this SUV manages to combat a lot of body roll. This happens up until you throw the steering wheel hard and fast -that's when you'll make the softer suspension set-up more apparent.
The brakes didn't upset the ride too much either, allowing for the cabin to remain relatively flat without pitching forwards too aggressively every time you slowed down.
Drive modes are available, allowing you to choose between Sport, Normal and Eco. I never found myself wandering out of Normal at all during my week with the Tucson.
Although, if you are looking for a tiny bit more driver engagement and road feel, you'll be better off in something like a BMW X1 or Mazda CX-5.
Fuel Efficiency
3.4 out of 5.
It's a thirsty motor, that's for sure. A larger SUV being powered by a non-turbo petrol four cylinder is a recipe for higher fuel consumption.
I saw my average consumption figure around the 12L per 100km range. This isn't great, seeing as a motor like this needs to rev higher than its turbocharged counterparts to deliver all it has to offer.
To fill from empty, it'll set you back around $95 for a full tank of petrol. If that's looking on the high-end for you, then you'll want to either opt for the diesel or sit on a 6-month long waitlist for a Toyota RAV 4 hybrid (Seeing as Hyundai is not bringing out a hybrid version of the Tucson to the Australian market).
Interior Design
5 out of 5.
Hyundai has completely redesigned the Tucson's interior, from drab to what feels like a post-modern living area.
The cabin is airy, with plenty of light flooding in from the roof, massive windshield and side windows.
The key to achieving a feeling of more space is to push the dashboard back towards the firewall as far as you can, and, removing the instrument binnacle cover. As back-lit dials are being replaced with screens, the Tucson doesn't require a cover to provide contrast. Instead, the 10.25-inch drivers display is easily viewed in direct sunlight.
The steering wheel design is unique and compliments the 'quirky' exterior design well. It's not just the front seats which have improved space. The rear seats also benefit from an overhauled seating position, providing a sense of space throughout the cabin, rather than just for the front occupants.
A major let down however is the enthusiastic use of gloss black plastic throughout the cabin, and especially on the capacitive touch buttons for the infotainment unit. It only encourages the visibility of dust and fingerprints. The quickly detracts from the visually clean and minimal interior design.
Overall, I found myself looking forward to spending lots of time in the Tucson. Every time I hopped into the driver's seat, I felt relaxed thanks to all the light entering the cabin, and had an excellent view out of the cabin. This is an interior that's sure to wow your passengers when they step in for the first time.
Boot Size & Comfort
4.8 out of 5.
Packing 539L of boot space with all seats in the upright position, the Tucson makes the most of its updated interior.
There's plenty of usable space, thanks to the vertical roof design and flat load floor. I would, however, recommend using the included cargo net to secure small and loose items. That hard plastic cladding in the boot makes quite the racket when struck with items such as a water bottle.
Fold the seats in a 60:40 split via the pull-tabs from the boot, and you reveal a total usable space of 1860L. It's the main reason I'd want a more powerful motor, as I'd want to take advantage of loading up the Tucson without having to worry about the impact on my engine's performance.
As for convenience, you're able to have the automatic tailgate open if your hands are full just by walking to the back of the car whilst it's locked. The car will start beeping and then open the boot automatically.
There's a full size alloy spare underneath the boot floor. This means you won't have to rely on calling roadside assist if you happen to encounter a flat tyre.
Rear seat occupants win the comfort war here. Front passengers are treated to the view out the larger windshield.
However, the rear occupants can make use of the folding bench design and sliding bench that allows for supreme levels of comfort in a mid-size SUV. The rear left passenger even has controls for the front left seat, to push it forward and create excess levels of legroom for themselves. Thanks to a relatively flat transmission/exhaust tunnel, this is a rare win for the middle seat passenger to not just have ample posterior comfort, but also have a place to put their shoes too!
Features
4.7 out of 5.
The Highlander trim will give you your cake and you can eat it.
There's a lot of equipment here for the price. It's an ideal all-rounder when it comes to a family SUV that remains in the city most of its life.
What stand out to me as my favourite features would include the blind-spot cameras, panoramic glass roof, BOSE audio system and the automatic: seats, doors, boot, wipers and headlights.
It's convenient and comfortable when it comes to the new Tucson.
Here's what you get for spending $46,000 on the base Tucson Highlander:
Engine
2.0L turbo petrol four cylinder
Producing 115kW at 6,200rpm and 192Nm at 4,500rpm
6-speed automatic transmission
Infotainment
10.25 inch centre touch screen display
10.25 inch digital driver's display
Apple CarPlay/Android Auto
BOSE audio system
Safety
Driver Attention Warning
Autonomous Emergency Braking
Active Steering Assist
Lane Keeping Assist
Rear Occupant Alert
Radar Cruise Control
Convenience
Keyless entry/exit and start/stop
Heated and cooled front seats
Heated rear seats
Heated steering wheel
Sunroof
Leather seats
Rear privacy glass
Electric folding mirrors
Electric tailgate
Hyundai's 'Sounds of Nature' sounds
Should you buy one?
Out of the mundane but must-have mid-size SUV segment, the Tucson sure is a breath of fresh air.
It's obvious that it lacks power with this base motor, and my only upgrade/recommendation would be to splash the extra cash on that turbocharged and AWD unit. It would make for a potent family car only after that.
However, say if you make do with this base motor, you'll quickly become infatuated with just how comfortable and stylish the new Tucson is.
This car deserves to be a sales success, as its complete redesign has been done so in a way that's thoughtful. It respects those who need a mid-size SUV by providing what feels like an entry level luxury car.
Absolutely take the Tucson for a drive to see if it's what you hope it is for yourself. I can't quite say if I'd take it over a Toyota RAV 4 or Mazda CX 5 just yet, as I'll need to review those in the near future.
What I can say with certainty is that it's the best looking, most spacious and most feature packed amongst the three, and you certainly wouldn't regret buying a new Tucson.
About the author Cameron is our resident car expert. Aside being a source of knowledge about the automotive industry, he has also driven a wide variety of cars. From Porsche 911 GT2 RS's, through to a 1998 Toyota RAV4, Cameron has not only seen it all, but has most likely driven it.
Sorry, there are no reviews about Hyundai Tucson NX4 2.0L Petrol 2WD Highlander (2020-2021) but you can read 159 reviews about Hyundai Tucson.
Write a review
Questions & Answers
Sorry, there are no questions about Hyundai Tucson NX4 2.0L Petrol 2WD Highlander (2020-2021) but you can read 26 questions about Hyundai Tucson.
Get an answer from our members and Hyundai representatives
Details
Compare all 25
Hyundai Tucson
Category
Midsize / Medium SUVs
Starting

Price

$50,290
Warranty

Distance

Unlimited kms
Transmission
Automatic
Drive Type
Front Wheel Drive (FWD)
Fuel Type
Petrol

Doors

4

Seats

5
Engine
2.0L Petrol MPi
Manufacturer Warranty
5 year(s)
Release date
Sept 2020
Compare all 25
Hyundai Tucson
Visit official website
ProductReview.com.au has affiliate partnerships. These do not influence our content moderation policies in any way, though ProductReview.com.au may earn commissions for products/services purchased via affiliate links.