1 photo
Kia EV6 AWD GT-Line (2022)
Also referred to as: Kia EV6 AWD GT-Line 2023.
Brand Manager for Kia?
Register now
and take advantage of ProductReview's Brand Management Platform!
Expert Review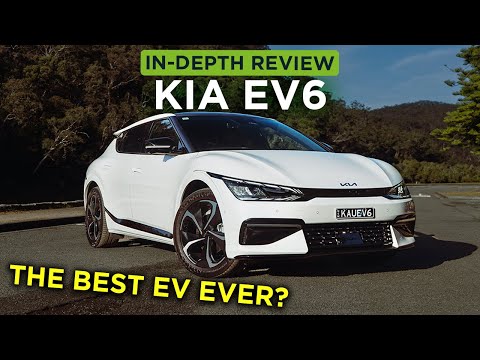 4.6 out of 5 stars
What is it?
Hyundai, Genesis and Kia have all had a go at introducing a new ground up EV. I was thoroughly impressed with Hyundai's IONIQ 5 and I've yet to review the Genesis GV60 (set to launch later this year).
Now, it's Kia's turn to show off its all-electric crossover. The EV6 has been ruthlessly marketed to potential Australian buyers for the past few months, and has already built an extensive wait list.
These customers haven't even seen this car in person, let alone driven it. The hype has been generated, and now it's time to see if it's all been worth it. Or, on the flip side, should buyers ditch their reservation and simply opt for a Tesla or Hyundai IONIQ 5?
---
Build Quality
4.5 out of 5.
Just like they did with the Hyundai IONIQ 5, Kia have taken the opportunity to step up their build quality and establish a new higher standard with the EV6.
I've had a lot of people gawk at the asking price for this particular Kia, purely based on their preconceived notions of Kia's build quality. But modern day Kias are a long way from the tinny, hard plastic and gutless cars from the past.
The EV6 is now the flagship example of where Kia is headed. Even while using recycled plastics, there are rich leather materials, soft suede seats, satisfying button engagements, large bright screens and of course, weighty doors.
It's a better built car than most mid-level European SUVs, and it'll impress many before they even know who makes this car.
There are some hard plastics on the interior A-pillar which don't look so hot, and the gloss-black plastic will show plenty of scratches and fingerprints over time.
At least the rear seat rattle I encountered on the IONIQ 5 was nowhere to be heard.
How Much Does it Cost?
4.4 out of 5.
Pricing starts from $72,590 before on roads and incentives, but this is the current top of the range dual motor version which costs $87,990. It's in line with the incoming Tesla Model Y pricing and dual motor Tesla Model 3 pricing.
It's relatively affordable compared to other premium electric SUVs, particularly considering cars like the BMW iX3 and the Model Y Performance are priced into the early six figures.
However, it is more expensive than the dual-motor IONIQ 5 and the Volvo XC40 Recharge, both of which are excellent EV crossovers - although the Volvo is a little inefficient by comparison.
It's still not the budget-friendly EV alternative to what you're driving now. It's a product for the early adopters, as there is a premium to pay for ground up EVs like this. Expect this tech to trickle down into more affordable models in the coming years.
Warranty and Servicing
4.5 out of 5.
The EV6 is covered by Kia's familiar and impressive 7 year/unlimited kilometre warranty. Plus, it covers parts like the battery pack and motors for 7 years/150,000km.
In addition, you can prepay for your services for either 3 years, 5 years or 7 years, at $594, $1089 or $1584 respectively.
Despite the price, it's still a lot cheaper than servicing cars like the Kia Sorento PHEV.
Noise Level
4.8 out of 5.
The EV6 is by all means a traditional EV experience. There's been an obvious focus on a serene driving experience. I feel relaxed when driving around in this EV; the only noise intrusions were some slight wind noise and the RC car-like whirr emanating from the motor under heavy acceleration.
If you miss engine sounds, Kia has engineered some for you. There's Stylish, Dynamic and Cyber, all designed to simulate engine sounds…from the future. Maybe there'll be a V8 sound for those who have succumbed to ever-increasing petrol prices.
Surprisingly, Meridian has joined Kia in engineering a 14-speaker surround sound system for this car. It's intoxicating to immerse yourself in surround sound audio from inside a near silent car. The system does a great job of filling the cabin with sound, although you'll want to turn off those traffic alerts, as they can interrupt your listening experience.
Braking
4.9 out of 5.
Sharing a similar experience with the IONIQ 5, the regenerative braking system in the EV6 is truly next gen.
It's the most important part of the braking system, as it allows you to slow down to a stop by simply lifting off the accelerator. And using the paddle shifters on the wheel, you can adjust how much regenerative braking you want. Interestingly, you can adjust the physical braking experience from either Normal or Sport. I couldn't feel a world of difference between the modes. What was noticeable was the increased response in the initial brake bite - a small improvement over the normal doughy feel.
Acceleration/Power
4.4 out of 5.
Until the rapid GT arrives, with more power and a 0-100km/h time of just 3.5 seconds, this is the fastest EV6 you can buy. Dual motors produce 239kW and 605Nm, allowing this Kia to hit 100km/h in a brisk 5.2 seconds!
When I say that these numbers are a little irrelevant, I mean it. During my time with the EV6, I had a petrol-powered Hyundai i30N Sedan, which can hit 100km/h in the same time.
Side by side, that EV6 would launch sooner, and would feel like it had hit its top speed a lot sooner, simply due to that wall of torque being available from 0 rpms.
It's addicting to silently launch from a traffic light and witness the rest of the traffic only just moving away from the lights in your rear vision mirror.
This instant delivery of power will convince you this is the fastest car you've owned.
Gear Shifting
4.7 out of 5.
Combining a tidal wave of torque with a single gear is an excellent way to travel. One gear means the only movement you'll feel inside the cabin will be from corners and braking.
Eliminating the feeling of changing gears feels luxurious, in addition to having no engine sound.
Day to day driving in heavy traffic feels effortless. If you can practice smooth braking, you'll be able to avoid triggering carsick-prone passengers.
Suspension & Handling
4.5 out of 5.
A heavy large hatchback like this has a few benefits, despite weighing over 2 tonnes. Firstly, a lower centre of gravity is achieved with a battery pack lining the floor of the EV6. Secondly, the EV6 has been blessed with locally tuned suspension and sits 55mm lower than the IONIQ 5.
Combining these features allows for precise cornering and a rich-feeling ride, similar what you'd get with a heavy luxury car. The EV6 is planted on the road, and is unphased by potholes and rough roads.
Put the car into Sport, and steering will tighten up along with acceleration response times. Although, it's still a slightly numb steering feel. As a sporty driver, engagement feel probably wasn't at the top of the development list for a family-oriented EV like this.
Fuel Efficiency
4.6 out of 5.
The 77.4kWh battery pack found in the EV6 is the larger of the two international battery options. We only get this one battery pack option, allowing the dual-motor EV6 to have a quoted range of 484km (WLTP).
I didn't take this particular EV6 on a road trip, but I will be taking the EV6 Air (RWD), which has over 500km of range, for a road trip.
Averaging between 17kWh per 100km and seeing figures as high as 20kWh per 100km, the EV6 is one of the most efficient EVs you can buy. This is eemingly irrelevant now; watch as these figures become the defining factor as to which EV you should buy in the future.
An 800V battery architecture has been adopted for the EV6's battery pack, allowing for quicker charging times and greater efficiency when driving. This is the very same technology employed by Audi's RS e-tron and Porsche's Taycan.
Charging from 10% to 80% can be completed in as little as 18 minutes from a fast charger, however that's in optimal weather and with optimal voltage. Most fast chargers in Sydney spit out 50kW, instead of the more desirable 350kW fast chargers.
Missing that crucial pre-conditioning technology that Tesla possesses, I've found Hyundai/Kia's battery packs need a little bit more time to fast charge as they don't warm batteries prior to charging.
Interior Design
4.8 out of 5.
There are stark contrasts between the interior of the IONIQ 5 and of the EV6. There are no bad choices between the two; rather, it's a matter of preference.
For some, the light filled, minimalist interior of the IONIQ 5 will be the biggest attraction, while others will flock to the 'human-centric' design of the Kia's interior.
The EV6 feels like it was broken down into every interaction, and built from the ground up around an actual human being. Button placement and the seating position are logical, with no awkward adjustments needed to interact with this car.
It's also visually impressive, with customisable accent lighting splashed around the cabin and a monolithic floating centre console being stand out features. On top of that, there's also a dual IMAX-sized 12.3 inch infotainment and drivers screen.
The EV6 feels more impressive to interact with than it does from the images you'll see of its interior. I heard lots of people going on and on about how great this interior was. I was already smitten with the IONIQ 5's interior, and I didn't know how much better it could get. Once you're using this interior day in and day out, you realise why it's so great.
To cap it all off, the GT-Line offers a large heads up display with augmented reality. This makes it feel like you're in Iron Man's car of choice, while floating 3D graphics point you in the right direction when navigating.
Boot Size & Comfort
4.6 out of 5.
With 520L of boot space with seats up and 1300L with the seats down, the EV6 is a practical car, despite it being built with batteries underneath the floor.
There are some issues with vertical space, thanks to the aggressively styled rear hatch. Yet, you're still going to be able to load this car up with around 3 suitcases.
You can fold the rear seats in a 60:40 split to make room for a fourth suitcase. I would have loved to have seen a 40:20:40 split to make the most of the boot space for four passengers.
However, you can electronically slide the rear seats as a bench to make a little more room in the back.
Under the floor of the boot, there's a tire mobility kit, and room to put your additional charging cables and Vehicle to Load adaptors.
There is a front boot underneath the bonnet. Although, space is extremely limited here, with there only being space for one charging cable. It's at least better than cars like Mercedes Benz's EVs that don't offer any storage under there.
Comfort is sublime. The suspension tuning has been honed down to the point where you feel like you're gliding above the road. The amount of rear seat space is plenty for tall adults, and a flat rear floor allows for all three seats to have ample foot room.
Front seats do tilt back to allow your feet to dangle off the floor (which is great for charging rest stops), yet miss out on that calf support found in the IONIQ 5.
Features
4.8 out of 5.
Kia hasn't held back on the feature list to help buyers justify the expense of a ground up EV of this size and performance.
There are heated/cooled front seats, a heated steering wheel, an upgraded sound system, large digital displays, premium recycled materials, remote parking controls, charging ports galore, and of course, a heads up display.
What I loved the most was the interior A/C charging port (aka Vehicle to Load). The IONIQ 5 only allowed you to insert household plugs using an adaptor on the exterior of the car, via the charge port. The Kia has that too, but it also possesses that very same household outlet underneath the rear seats.
As I found out, it was great at powering items - even a blender, letting you make fresh meals on the road.
Engine
Dual electric motors
All-wheel drive
225kW and 605Nm
72.5kWh
484km range (WLTP claimed)
Infotainment
12.3-inch infotainment screen
12.3-inch driver display
Apple CarPlay/Android Auto
BOSE Speakers
Safety
Blind-Spot Collision-Avoidance Assist (BCA)
Blind-Spot View Monitor (BVM)
Driver Attention Warning (DAW)
Forward Collision-Avoidance Assist (FCA) - camera and radar type, including:
Car/Pedestrian/Cyclist detection
Junction Turning (FCA-JT) functionality
High Beam Assist (HBA)
Lane Keeping Assist - Line (LKA-Line / Road Edge)
Lane Following Assist (LFA)
Leading Vehicle Departure Alert (LVDA)
Rear Cross-Traffic Collision-Avoidance Assist (RCCA)
Smart Cruise control (SCC) with Stop and Go
Safe Exit Assist (SEA)
Surround View Monitor (SVM)
Performance
0-100km/h in 5.2 seconds (claimed)
"i-Pedal" single pedal driving mode
Drive Modes
Drive 'Sounds'
Adjustable regenerative brakes
Convenience
Sunroof
Keyless entry/exit and start/stop
Wireless phone charging
Blind spot cameras
Heated/cooled seats
Vehicle to Load converter and interior V2L socket
Remote parking via key fob
External charge acknowledgment announcement
Flush door handles (automatically open)
Automatic tailgate
Heads up display with augmented reality
Buy it, Consider it, or Leave it?
The EV6 is a brilliant car by all accounts. It's fast, it's luxurious, it's spacious, and you can see why buyers are lining up to get their hands on one.
I really missed this car after I handed it back, as it made life just that much easier. It was such a pleasure to drive, with the added benefit of feeling like a calm sanctuary on wheels.
It's easy to love if you can charge from home or live near a fast charger. Although, road trips using the third party charging network can prove to cause some headaches at this stage of EV adoption.
For a family either looking for an EV to replace their SUV, or even someone who just wants a state of the art EV that isn't made by Tesla, this is the car to get.
Stiff competition in the form of the Hyundai IONIQ 5 AWD exists, offering the same value proposition but for less money. You're really going to want to prioritise features like the interior Vehicle to Load port, a heads up display and this interior layout if you're going to opt for the EV6 instead.
It's worth mentioning that that extra cash saved by buying the Hyundai version will go a long way for home charging upgrades to accommodate for an EV.
Regardless of which EV you go for, the EV6 has proven to be just as good as it looks. If you're at the end of this article trying to convince yourself that you should buy one, you should have put your name down before you started reading this, as that order book is long. At least you'll have time to learn a little more about the car, and hopefully benefit from an EV infrastructure boost in the very near future.
About the author Cameron is our resident car expert. Aside being a source of knowledge about the automotive industry, he has also driven a wide variety of cars - from a Porsche 911 GT2 RS, through to a 1998 Toyota RAV4.
Details
Category
Electric Cars
Warranty

Distance

150,000 kms
Transmission
Automatic
Drive Type
All Wheel Drive (AWD)
Fuel Type
Electric
Wheels
20" Alloy
ANCAP Safety Rating
5 Stars

Doors

4

Seats

5
Max Power
165 kW / 74 kW
Max Torque
350 Nm / 255 Nm
Country of Manufacture
South Korea
Phone Connectivity
Bluetooth
Wireless Charger
Yes
Security Features
Dashcam Built-In and Immobilizer
Roof
Sunroof
Companion

App

Yes
Steering Wheel Adjustment
Telescoping (Manual) and Up/Down
Acceleration

(0-100km/h)

5.2 seconds
Maximum Towing Capacity (braked)
1,600 kg
Maximum Towing Capacity (unbraked)
750 kg
Battery Capacity (Gross)
77.4 kWh
Max DC Charging Power
350 kW
Range (WLTP)
484 km
Manufacturer Warranty
7 year(s)
Keyless Features
Keyless Locking/Unlocking
Yes
Boot
Automatic Close and Automatic Open
Headlights
Type
LED
Safety Features
Cameras
360° and Rear
Cruise Control
Adaptive (ACC)
Parking Sensors
Cross-Traffic Alert (Rear), Front and Rear
Hazard Perception
Blind Spot Monitoring (BSM)
Lane Assistance
Lane Keep Assist (LKA)
Speed Sign Recognition
Yes, active speed limiting
Dimensions
Ground Clearance
160 mm
Driver Information
Gauges
Digital Only
Built-In Navigation System
Yes
Heads Up Display
Yes
Voice Control
Yes
Digital Radio (DAB+)
Yes
Release date
Visit official website
ProductReview.com.au has affiliate partnerships. These do not influence our content moderation policies in any way, though ProductReview.com.au may earn commissions for products/services purchased via affiliate links.