1 photo
Kia Seltos GT-Line (2019-2022)
Also referred to as: Kia Seltos GT-Line 2021 and Kia Seltos GT-Line 2023.
4.7

from 3 reviews ·

View Statistics
Brand Manager for Kia?
Register now
and take advantage of ProductReview's Brand Management Platform!
Expert Review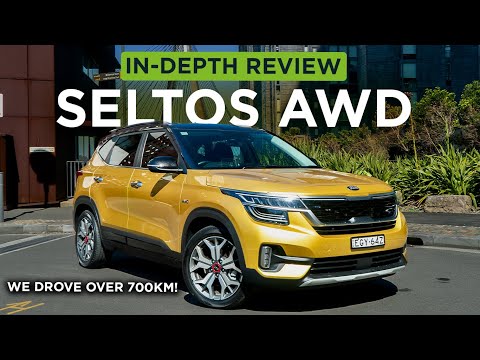 4.1 out of 5 stars
Introduction
This car came at exactly the right time in my week. I managed to witness our $210,000 Range Rover Sport that we were reviewing be struck by a careless delivery driver. That meant the most expensive car I've ever reviewed had to be returned less than 48 hours into our review period.
With my head down low, I swapped the Kia Sorento PHEV for a bright yellowish-green Kia Seltos AWD.
I'm going to be honest, going from a $200,000 SUV to a Kia Seltos wasn't exactly the most exciting jump. However, I was more than pleasantly surprised with this small SUV.
Out of everything, it was a bright spark that was strangely a lot of fun to drive. From party lights through to a capable AWD drivetrain, I think this could be Kia's strongest SUV for less than $50,000.
---
Build Quality
4.5 out of 5.
Kia's taking all the right steps to make it harder than ever to say you bought a bottom-of-the-range Audi for the 'build quality'.
The doors are well-weighted, with a very solid 'thump' when shut. On the inside, there are less soft touch plastics than a European alternative, however it's all constructed beyond my expectations here.
All in all, it's solid. You can poke and prod all you want, but you're never going to feel like this is a flimsy car. The build quality matches the boxy, rugged look of this little SUV.
Value for Money
4.4 out of 5.
This is the top-of-the-range Seltos, and it's a little pricey, but you need to hear me out. Compared to the competition, it still represents excellent value at this price point. It's easy to say there are cheaper versions available, but I think the advantage of an AWD system, punchy turbocharged motor and additional creature comforts make this a killer daily driver option.
Priced from $44,290 drive away, it's ideal for either an individual, a couple or even a small family. The way this thing has been designed makes it comfortable in the second row, and it has plenty of space in the boot, considering it's a small SUV.
Personally, if you're choosing between this and a Hyundai Kona, I'd opt for the Seltos. It's more SUV-like than many cars in this segment, and it's cheaper than the new Honda Civic. It's the pocket-sized adventure vehicle you could take camping, without being worried about getting stuck in a little bit of gravel.
Maintenance
5 out of 5.
With 7 years warranty and 7 years of capped price servicing, it's the industry leading manufacturer support program - and you get it when you purchase a Kia Seltos.
Total servicing costs arrive at $3,214 over 7 years or up to 70,000km of driving. Here's a breakdown of each service below:
| Interval | Cost |
| --- | --- |
| 1 Year or 10,000 km | $275 |
| 2 Years or 20,000 km | $466 |
| 3 Years or 30,000 km | $339 |
| 4 Years or 40,000 km | $600 |
| 5 Years or 50,000 km | $309 |
| 6 Years or 60,000 km | $593 |
| 7 Years or 70,000 km | $632 |
| Total | $3,114 |
Noise Level
4.3 out of 5.
The 1.6L motor isn't the best sounding petrol motor, but it at least sounds better here than it did in the Sorento PHEV. It's not all that intrusive, but it does make itself known to occupants when under hard acceleration.
What really blew me away was the BOSE audio system fitted in the GT-Line. The 3D geometric patterns on the speaker grilles and flashing multi color lights aren't just entertaining visually, but they also provide an excellent sound stage for the price.
I'd never think a Kia could produce a sound like this, with plenty of power through the mid-range and little distortion as you raise the volume. Okay, so it's nowhere near the $14,000 system fitted to the Range Rover I was SUPPOSED to have this week, with high volume levels increasing sound rather than just power.
However, if you're looking for one of the best OEM sound systems in a small SUV, the Seltos hands down has the best system in this category.
Braking
4.2 out of 5.
Weighing in at just 1,470kg, there's not a lot to stop in the Seltos. I would have liked a little more bite from the larger 305mm front brakes and 284mm rear brakes (up from 280mm and 262mm from the S and Sport models). With three people in the car, braking suddenly still required a little more squeeze, resulting in that force being translated to the cabin. This simply means it feels abrupt when you need to quickly stop, rather than feeling all too smooth.
That's about it with the complaints, for an otherwise easy-to-operate set of brakes. Autonomous emergency braking and rear cross-traffic braking is also fitted to this car. This casts a virtual safety net in case you don't react in time to an obstacle in the way.
Acceleration/Power
3.8 out of 5.
Torrential rain is no obstacle to just how capable the Seltos is. Normally, I'd expect a car at this price point with a turbocharged motor to lurch the front wheels and cause a bit of wheelspin, however I was met with the complete opposite effect.
Using all 130kW at 6,000rpm and 265Nm at 1,500 - 4,500rpm is no problem when translated through to all four wheels. It's an active AWD system, meaning the front wheels never have the chance to slip before AWD is engaged.
Launching from a set of lights, you can actually surprise plenty of cars next to you, as you briskly and smoothly move up to speed. Although it's not a sports car or even close to being a hot hatch, the Seltos has plenty of hustle when you ask it to.
Gear Shifting
3.7 out of 5.
Dual-clutch transmissions aren't the ideal transmission of choice for comfortable drives. They're usually jerky and are busy shuffling between gears at variable speeds. Luckily, the Seltos manage to iron out most of those characteristics, however those negative elements occasionally become very obvious.
The most obvious mistakes from the transmission occur when soft footing the accelerator at the top of the rev range, and maneuvering at low speeds when reversing. It's not my transmission of choice for this car, but at least it's a lot of fun to shift manually.
Additionally, the driver's display provides a shift light when you head into Sport mode. I feel like the engineers wanted to try and make a sporty little SUV, but Kia wasn't ready to give an SUV the full GT moniker. I'd love a little Kia Seltos GT with a shouty exhaust and rally car theme exterior.
Suspension & Handling
4 out of 5.
Throwing the Seltos through the urban jungle is plenty of fun. It's easy to coast over coarse sections of road and then quickly veer into a hairpin corner. Steering could feel a little quicker, but it's nothing too egregious.
It's easy to let your passengers feel comfortable when driving around in a Seltos. The upgraded rear multi-link suspension is a fantastic mechanical upgrade, allowing you to point and shoot with this trim of Seltos, vs the cheaper models in the range.
Fuel Efficiency
3.5 out of 5.
It's going to get a little thirsty with the Seltos GT-Line. That turbo motor demands a combined 7.6L per 100km of petrol. I saw figures reach as high as 10L per 100km, and that's the reality of a more punchy petrol motor. It's not the most economical, but it's not going to rip through the fuel bill each week.
Interior Design
3.8 out of 5.
Initially, the Seltos just feels like a slightly boxy Kia interior, but as you start to interact with it, you begin to appreciate its quirks and features.
Starting with the driver's display, it's larger than most, but not entirely digital. Flanked by two analogue dials, there's plenty of information to be consumed by the driver via this interface. It's well integrated and feels modern, with an excellent blend between analogue and digital.
The centre 10.25-inch display is typical Hyundai/Kia. It uses an Android-style app layout, which is one of the best screens in the industry. Responsive and clear, it's easy to navigate and an excellent display for Apple CarPlay.
Buttons below the screen are fantastic, as they're not capacitive, making it easy to jump between menus. There's also enough storage bins and shelves in here to make the most of the space given to you.
The BOSE speakers and interior lighting can also be synced to your music, providing a light show which you can disable. I loved it, and found it to be the most unusual but welcomed feature out of all the cars I've reviewed this year. I mean I've seen cars with RGB lights, but not ones that actually sync with the music you're playing out of the speakers!
It's a more exciting interior space than the Kia Cerato, and it feels just a little more special than something that's your practical daily driver.
Boot Size & Comfort
4 out of 5.
There's 433L minimum and 1,393L of boot space available in the Seltos, as this one was fitted with the full-size spare tyre option. This is an underrated option until you need it.
A boxy and level boot floor makes this more than practical for daily use, and the integrated roof rails allow you to transform the Seltos into a snow-bound vehicle by using a roof box.
I never worried about boot space, nor did I ever feel uncomfortable. Plenty of visibility and comfortable leather seats makes commuting a breeze. You're never really going to have to worry about rear passenger comfort, although you might have to slide those seats a little forwards for those with longer legs.
The Seltos is the small SUV to grab if you need a blend of boot space and comfort for a longer trip. This makes it a great road-trip vehicle option for the money.
Features
4.3 out of 5.
This is the range-topping GT-Line, with no features missing from this specification.
There were no optional extras fitted to this car, so what you see is what you get for the price. Personally, it's a great fit out. Although, a panoramic sunroof and rear heated seats would have sealed the deal against the Hyundai Kona.
Engine
1.6L 4-cylinder turbo-petrol motor
130kW at 6,000rpm
265Nm at 1,500 - 4,500rpm
8-Speed DCT Automatic Transmission
Infotainment
10.25 inch colour touch screen
Sound mood lamp 'party light' ambient lighting controls
Apple CarPlay and Android Auto
DAB Radio
BOSE premium sound system
Safety
Blind Spot Cameras
Blind Spot Collision Avoidance Assist
Active Lane Keep Assist
Active Steering Assist
360 degree Camera
Radar Cruise Control
Performance
Flappy paddle shifters
Sports mode
Active shift indicator lights
All-wheel drive
Upgraded brakes: 305mm front brakes and 284mm rear brakes
Convenience
Front Heated and Cooled Seats
Rear Outer Heated Seats
Automatic Headlights and Wipers
Wireless Phone Charging
Interior Mood Lighting
Colour Heads-up Display
Should you buy one?
Looking for a small SUV that actually can do the light off-road stuff? The Seltos GT-Line has you covered. It's comfortable, it's impressive and it's fun. It really is the successor to the iconic Kia Soul here in Australia.
I loved my week with the Seltos, and it feels like a car I could lean on to help me with daily tasks and take me on adventures. I didn't want to like the Seltos this much, but in almost every way my expectations were surpassed by one of Korea's best small SUVs.
About the author Cameron is our resident car expert. Aside being a source of knowledge about the automotive industry, he has also driven a wide variety of cars. From Porsche 911 GT2 RS's, through to a 1998 Toyota RAV4, Cameron has not only seen it all, but has most likely driven it.
Exceptional car! Love it!
I drive the car daily to work and weekend outings which are relatively low klms daily. I get the usual service as per the service manual. Being a fairly new car with 13000klm on the speedometer, it's only had two services so far. I love the car. It's a great looking car, with fantastic safety features and other great gadgets. It's got plenty of power and is great on fuel. It's extremely comfortable and should stand the test of time.
Purchased in July 2020.
Similar opinion? Write a review on ProductReview.com.au!
Great car, pity about the after sales service at the dealer
Great little car, modern looks, way up there with the technology and safety features. Factory paint finish very substandard and damage by dealer on 3 month inspection, awaiting warranty respray .
Purchased in June 2021 at Thompson Kia ,Shepparton..
Similar opinion? Write a review on ProductReview.com.au!
Love my Kia Seltos - Outstanding SUV!
Thanks to Jim Arsovski and the team at Gateway Motor Group for the exceptional and professional service provided. My brand new Kia Seltos has exceeded expectations in terms of style, comfort, safety features and technology. I absolutely love it! 5 Stars.
Purchased in August 2020 at Gateway Motor Group.
Similar opinion? Write a review on ProductReview.com.au!
See all Kia Seltos reviews
Questions & Answers
Sorry, there are no questions about Kia Seltos GT-Line (2019-2022) but you can read 7 questions about Kia Seltos.
Get an answer from our members
Details
Category
Small / Compact SUVs
Starting

Price

$41,990.00
Transmission
Dual-Clutch (DCT)
Drive Type
All Wheel Drive (AWD)
Fuel Type
Petrol
Wheels
18" Alloy
Fuel Consumption
7.6 L/100km
Fuel Tank

Capacity

50 L
Engine
4 Cylinder 1.6L
Max Power
130kW @ 6000rpm
Country of Manufacture
South Korea
Maximum Towing Capacity (braked)
1,250 kg
Maximum Towing Capacity (unbraked)
600 kg
Dimensions
Ground Clearance
177 mm
Release date
Oct 2019
Visit official website
ProductReview.com.au has affiliate partnerships. These do not influence our content moderation policies in any way, though ProductReview.com.au may earn commissions for products/services purchased via affiliate links.