1 photo
Kia Sportage NQ5 AWD 2.0L Turbo Diesel GT-Line (2021-2022)
Also referred to as: Kia Sportage NQ5 AWD 2.0L Turbo Diesel GT-Line 2021 and Kia Sportage NQ5 AWD 2.0L Turbo Diesel GT-Line 2023.
Brand Manager for Kia?
Register now
and take advantage of ProductReview's Brand Management Platform!
Expert Review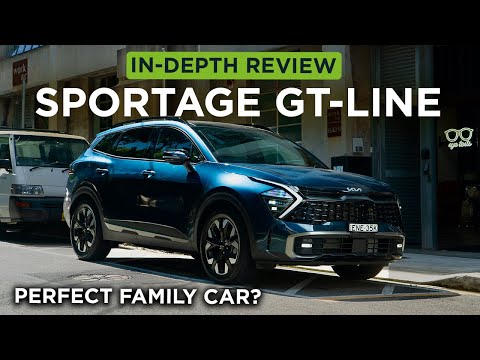 4.6 out of 5 stars
What is it?
This is the refreshed and updated Kia Sportage. We already tested the base model from this new line-up, however, the GT-Line showcases what makes the new Sportage so special.
It sits below the large 7-seater Kia Sorento and above the smaller Kia Seltos. Main competitors include the Toyota RAV 4 and the Honda CR-V.
What Kia has achieved with the latest generation Kia Sportage feels like a leapfrog in technology and packaging compared to its competitors.
Let's see what's so appealing about this fully equipped family SUV.
---
Build Quality
4.7 out of 5.
Kia's build quality has stepped up dramatically over the past few years.
Weighted doors, tight tolerances of trim pieces and higher quality materials all add to the increased level of build quality.
Major touch point plastics are soft and squidgy, with the cheaper plastics being placed lower down and out of the way of interaction.
The dual-screen set-up in the Sportage's interior is a highlight thanks to their quality. There's a quality in software design and hardware performance via a high refresh rate and ease of use (similar to using an Android tablet).
How Much Does it Cost?
4.6 out of 5.
Priced from $52,370 before on-road costs, the Kia Sportage GT-Line will be the most expensive version of this medium-sized SUV you can buy.
The way the Sportage is priced is towards the top-end against its competitors in this trim, but there's a good reason for it. You're simply not missing a single feature or option.
From heated/cooled automatic front seats through to a swath of tech and safety features, the Sportage has it all.
What it doesn't have is a hybrid model to compete with the wildly popular Toyota RAV 4 hybrid - we're hoping to see that model land here later this year.
For now, top of the range means AWD and a turbo diesel motor and every feature Kia can throw at you, apart from rear heated seats.
Warranty and Servicing
5 out of 5.
The most impressive warranty in the industry goes to Kia. The Sportage comes with Kia's 7 year/unlimited kilometre warranty and capped price service period.
That capped price servicing totals $3672 over 7 services (usually completed yearly). At least you can budget this into your long term running costs for this SUV.
Noise Level
4.3 out of 5.
External noise rarely becomes an issue in the new Sportage, thanks to thicker glass and heavy amounts of sound deadening in the doors.
Tyre noise and wind noise are distant, unless you start to corner the Sportage like you're driving the twin turbocharged Kia Stinger.
What is apparent is that distinct turbo diesel tractor sound that this motor makes when you're deeper in the throttle. Other than that, it's a quiet sanctuary from noisy day-to-day traffic.
Braking
4.4 out of 5.
What surprised me during my drive was the responsiveness of these brakes. Don't let the physical size of the new Kia Sportage fool you, it brakes just like any other hatchback.
In addition to the brakes, you have autonomous emergency braking and radar cruise control that works in bumper-to-bumper traffic, allowing the car to do that constant braking for you.
Acceleration/Power
4.2 out of 5.
Under the bonnet of this particular Kia Sportage is a 2.0L turbocharged four-cylinder diesel motor, producing 137kW and 416Nm respectively.
Power is sent through an eight-speed automatic transmission and to all four wheels via an all-wheel drive system.
The new Sportage isn't going to win drag races, but it is brisk in putting its power to the ground. In Sport mode, you actually feel as if the Sportage has some pace to it.
I never once thought this car needed more power, however I am looking forward to the benefits of electrifying this car via a hybrid powertrain.
Gear Shifting
4.5 out of 5.
A slick experience is had when interacting with this eight-speed automatic. I'm a fan of the rotary knob to select a gear - it's easy to use and quick to respond.
The same can be said for how this car changes its gears; there's never a moment where the Sportage doesn't know what gear to be in.
It really seals the deal when driving the Sportage when the powertrain and gearbox communicate with each other without interrupting a smooth driving experience.
Suspension & Handling
4.3 out of 5.
The longer wheelbase version of the Sportage is the only flavour of Sportage we get here in Australia. I found that this really played in favour of what the Sportage is trying to achieve.
Generally, a shorter wheelbase creates a more responsive ride, which can sometimes feel like a busy ride for cars that aren't intended to be sporty.
That's what makes this generation of Sportage feel so much more premium to ride in than its predecessors. A longer and more stable wheelbase combined with a soft yet responsive suspension tune generates a comfortable ride.
Cornering isn't an issue for the larger Sportage, however it really isn't going to make you sell your fun-to-drive weekend car.
Fuel Efficiency
4.6 out of 5.
Diesel efficiency is the reason why you're buying this over the petrol engine options the new Kia Sportage offers.
6.3L per 100km is the claimed combined figure for diesel consumption. I saw figures hover around 9-10L per 100km during my test. What was interesting was that over 200km of driving, I didn't even see the fuel guage fall from full.
Kia's diesel motors are good at sipping fuel and delivering decent performance - that's no different for this particular 2.0L engine.
Interior Design
5 out of 5.
The show piece of the new Kia Sportage is its all-new interior. It's just as striking as that unique exterior design.
The dual 12.3-inch displays are the party piece in here. They're the largest screens fitted to a Kia SUV - even bigger than the 10.25-inch displays found in the Kia Sorento.
They function no differently to other Kia displays, however the sheer size and placement really lifts the cabin feel from economic choice to a desirable daily driver.
Customisable accent lighting, leather and alcantara seats and a distinct centre console design all play a part in making the Kia Sportage look and feel like a well thought out product.
Against its competitors, the new Sportage's interior is a clear winner for its visual engagement and slick execution. If you're cross-shopping, you're going to remember this interior as a standout reason why you might consider buying one of these.
Boot Size & Comfort
4.8 out of 5.
This automatic boot has a trick up its sleeve. You can either open it using the key, from inside the car or simply by walking up to the back of the car (when it's locked) and it'll open after a few seconds.
Boot space with all seats up is 543L, and if you fold the seats in a 60:40 split, you'll receive a total of 1829L of boot space. Thanks to that longer wheelbase, you won't be stressing about a lack of boot space. Additionally, a flat load floor and larger boot entry makes this a very practical choice for hauling cargo.
Comfort is found in every seat in this car. Second row passengers are treated to plenty of knee, feet and head room. In addition to that, there are plenty of USB ports to charge, and large rear windows to allow for plenty of air flow.
The Sportage is as comfortable over long journeys as its plush interior would suggest.
Features
4.7 out of 5.
As I mentioned, Kia is throwing every option at you when you opt for the GT-Line trim of the Sportage. This showcases every possible option you could ever dream of on a Sportage. However, I did find the omission of rear heated seats a little odd.
A highlight feature would be the remote parking controls you have on your key. Need to squeeze your car in or out of a tight space, and don't fancy squeezing into your car? Simply use the controls on your key to move your Sportage forwards or backwards remotely.
I sorely miss using that feature.
Here's a full list of what you can expect to get with the purchase of a Kia Sportage GT-Line:
Engine
2.0L turbo diesel four cylinder
137kW and 416Nm
8-speed automatic transmission
Infotainment
12.3 inch centre touch screen display
12.3 inch digital driver's display
Apple CarPlay/Android Auto
Harman/Kardon audio system
Safety
Driver Attention Warning
Autonomous Emergency Braking
Active Steering Assist
Lane Keeping Assist
Rear Occupant Alert
Radar Cruise Control
Blind Spot Cameras
Performance
Drive-modes
All-wheel drive
Convenience
Keyless entry/exit and start/stop
Heated and cooled front seats
Heated steering wheel
3-D 360 degree camera
Sunroof
Leather seats/suede seats
Rear privacy glass
Electric folding mirrors
Electric tailgate
Custom accent lighting
Remote control parking
Buy it, Consider it, or Leave it?
Ultimately, you need to benchmark every other mid-size SUV against the new Kia Sportage.
It is the benchmark in regards to value for money, features and refinement at this price point. It'll quickly have you considering your go-to choice when it comes to a medium-size SUV.
I really enjoyed my time with the new Sportage, and see it as an excellent option for the daily drive and reliable road trip option.
However, I am excited for future variations of the new Sportage which have already debuted in the US, including a hybrid powertrain and a unique off-road focused trim.
About the author Cameron is our resident car expert. Aside being a source of knowledge about the automotive industry, he has also driven a wide variety of cars - from a Porsche 911 GT2 RS, through to a 1998 Toyota RAV4.
Sorry, there are no reviews about Kia Sportage NQ5 AWD 2.0L Turbo Diesel GT-Line (2021-2022) but you can read 103 reviews about Kia Sportage.
Write a review
Questions & Answers
Sorry, there are no questions about Kia Sportage NQ5 AWD 2.0L Turbo Diesel GT-Line (2021-2022) but you can read 71 questions about Kia Sportage.
Get an answer from our members
Details
Compare all 21
Kia Sportage
Category
Midsize / Medium SUVs
Starting

Price

$52,370.00
Warranty

Distance

Unlimited kms
Transmission
Automatic
Drive Type
All Wheel Drive (AWD)
Fuel Type
Diesel
Manufacturer Warranty
7 year(s)
Release date
Compare all 21
Kia Sportage
Visit official website
ProductReview.com.au has affiliate partnerships. These do not influence our content moderation policies in any way, though ProductReview.com.au may earn commissions for products/services purchased via affiliate links.