6 photos
Kia Stinger CK 330S (2017-2022)
Also referred to as: Kia Stinger CK 330S 2021 and Kia Stinger CK 330S 2023.
Brand Manager for Kia?
Register now
and take advantage of ProductReview's Brand Management Platform!
Expert Review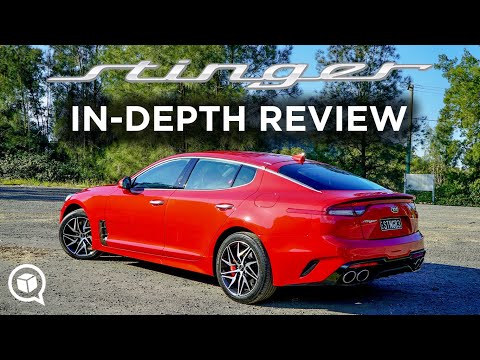 4.2 out of 5 stars
Introduction
Kia's heavy upper cut to Germany's four door offerings has recently been refreshed for the 2021/22 model year, and has ultimately come out on top.
This is the 2021 Kia Stinger 330S, and apart from a few updates to bring the Stinger's design a lot closer to perfection, this is also the cheapest way to have that now familiar 3.3L twin-turbocharged V6 up front.
If you're chasing after one of the best performance oriented grand-tourers for your money, you should be searching for your nearest Kia dealership, instead of a German alternative.
---
Build Quality
4 out of 5.
To understand why there are cheaper materials used, you have to understand that Kia's Stinger project had to operate in far tighter parameters than say BMW or Mercedes.
First and foremost, the Stinger needed to look like a formidable, aggressive sports car, with the performance to back up its design. So that meant focusing most of the R&D budget on the drive-train and driving dynamics of the car.
After that, you needed to ensure there was a budget to make the cabin of the Stinger luxurious without having to explain to customers why this Kia would be closing in on the $100K mark.
Overall, fit and finish is of high quality. There are some cheaper trim pieces used on the outside; take for example some of the bright-work running the length of the roof line of the car, which on the left side of the Stinger, was completely lifted from the car itself. Aside from these pieces, visually, the Stinger's bodywork has close shutlines and uniform body panel gaps, which are all good things.
Inside is where you're going to notice some cost-saving elements. However, these are done carefully so as to not be immediately noticeable to the average owner.
Kia also carefully made sure that the Stinger was going to support the higher-than-usual asking price for their vehicles.
Close the doors and you notice they carry a nice heft and weight to them, closing with an audible 'wumph'. Unknown to some, this noise is intentional and manufactured, which is obvious to someone like myself in a Kia product, but a welcomed addition to add to the luxury factor of the Stinger.
There's a careful use of high quality materials on all major touch points, with the cheaper and harder plastics being found in high-impact zones and areas you're least likely to touch.
The interior is seriously impressive on the initial viewing. Over time, you do notice the cheaper plastics found lower down on the door, in the middle of the steering wheel and on the indicator stalks.
I am convinced the dash-board employs the use of fake stitching which is embossed into the very soft plastics used to simulate leather. A great visual trick, and definitely looks more expensive than it is, and even better, should last a lot longer in the sun than a traditional leather dash.
To summarise, the interior and exterior of the Stinger is of very high quality. However, you are going to notice some cheaper materials if you keep your eyes peeled, but you shouldn't have to be touching or noticing them often/if at all.
Value for Money
4.5 out of 5.
This Kia Stinger 330S had no options, and was priced at $57,890 drive away.
You can get into the Stinger range for a little less, at $54,090 drive away, which you shouldn't do, since that is the 2.0L four cylinder Stinger. Sure, the motor is still strong in that car, but just do yourself a favour and opt for a 330S, it's going to bring everything to the table in the performance department.
If you're going to compare the Stinger 330S to other cars in this class, you're going to come up short with other brands not offering this much power, performance or even versatility of boot space.
Here in the base Stinger 330S, you get 18-inch alloy wheels, Brembo brakes, a bi-modal exhaust, radar-cruise control, semi-autonomous active lane-keep assist and of course, the 274kW twin-turbo V6, all under $60,000.
I can't recommend a vehicle that could match the Stinger across all of these segments or come out on top when cross shopping for a performance four-door grand-tourer. Instead, I'd have to push you down to a smaller hot-hatch such as a Toyota GR Yaris, which wouldn't offer the same rear-wheel drive or larger engine experience.
The Stinger is serious about being an attainable high-performance Sports-sedan, however it faces an uphill battle with getting new customers to overlook the three letters on the hood of the car.
Look past the badge, and you have more car than you'd know what to do with at this price-point.
Cleaning and Maintenance
4.1 out of 5.
The Stinger is a larger sedan, and thus will require a bit more muscle to ensure all panels are looking clean and tidy.
Additionally, there are real air-vents found at the front of the car, which can become a depositing area for small rocks, mud and other debris.
Kia offers the Stinger with a ultra competitive 7 year/unlimited kilometre warranty, which adds to the value for money sales pitch of this car.
Kia wants their owners to feel like the company has their back when making large financial decisions like this, and it shows with their commitment to a fairly significantly sized warranty, and commitment to capped price servicing.
Here's the year on year/kilometre breakdown of owning and servicing a Kia Stinger, with a total cost of ownership calculated:
| Interval | Cost |
| --- | --- |
| 1 Year or 10,000 km | $350.00 |
| 2 Years or 20,000 km | $537.00 |
| 3 Years or 30,000 km | $487.00 |
| 4 Years or 40,000 km | $792.00 |
| 5 Years or 50,000 km | $394.00 |
| 6 Years or 60,000 km | $731.00 |
| 7 Years or 70,000 km | $952.00 |
| Total | $ 4,243.00 |
Sure that total looks expensive on paper, but trust me, once those German alternatives cross the warranty line, things start to tally up a little faster than what's listed here.
Noise Level
4.2 out of 5.
I'm convinced there's active noise cancelling operating in the new Kia Stinger, it's so quiet in here, you often forget what's under the hood, until you stomp on it.
Sound isolation is a solid 8/10, with the last points being lost for some mechanical whine from the limited slip differential found in the rear, the occasional knock emanating from the boot, and the unused front passenger seat belt, which has a tendency to knock against the hard plastic behind it.
Personally, I like the mechanical sounds leaking into the cabin, which makes the Stinger feel just that bit more alive. However, you can't get past those knocks disturbing your quiet ride on occasion.
Unlike the Picanto we tested, my feedback from the quality of phone calls from the Stinger was dramatically improved. Which is also true for the sound system.
There's a great amount of depth and clarity from these speakers, even if they aren't the Harmon/Kardon ones found on the GT.
When you do decide to step on it, there is a healthy amount of distinct V6 tomfoolery that pronounces under hard acceleration. Although, this addicting noise quickly subsidies unless you're higher up in the rev-range, even when in 'Sport' mode. The addition of a bi-modal exhaust system for the 2021 model year certainly helps produce more theatre from the outside.
Shame you can't hear what that exhaust sounds like from the inside. Kia is about half-way there for making the Stinger really sound how it should, as piping a bit of that real exhaust note inside would go a long way to making owners really fall in love with the performance aspect of the Stinger. Adding additional noise could trigger that unconditional love that Alfa Romeo owners have for their questionably reliable cars, as they forgive it all when they hear that engine and exhaust come to life.
Braking
4.4 out of 5.
Hmmmmm Brembo-brakessss.
I'm like Homer when it comes to red brake calipers with white Brembo script along the surface. I can't help but melt for factory fresh Brembo brakes.
Yeah okay, it's the cliched car brake of choice, but it certainly suits the Stinger here, helping add to that 'High Chroma Red' paint adorning this test car.
These Brembos aren't full-fat, as they don't feature any slotting or drilled designs in the disc, which would help cool them. Instead, Kia used real vents to help with overall airflow of the car, and directly to the front brakes to cool them.
This is a heavy car, certainly noticeable when pushing the Stinger. All 1,800kg of the Stinger needs to come to a stop quickly, especially when this car is capable of hitting a top speed of 270km/h to be exact! The Stinger pulls up extremely fast, and with precision smoothness, too.
It's a funny sensation, as the deeper you dig into the brake pedal you notice the car doesn't become unsteady. Instead the brakes start biting harder, acting a lot like heavy anchors on a cruise ship, rather than a stick through the front spokes of a bicycle.
With additional cooling up front, these brakes should be able to handle a few hard laps at the track without too much fade, which is what you want in a car as capable as this.
Acceleration/Power
4.5 out of 5.
It's likely that you're looking at buying a 330S purely for that motor, as it does miss out on some options that the more expensive trims get.
That means you're going to be reading this section a little more carefully than the others, and I can tell you straight away that this is a fast car. 274kW, 510Nm and a 0-100km/h time in a claimed 4.9 seconds. Yeah, that fast.
This twin-turbocharged V6 immediately makes that torque known to you, the driver, the second you begin to search a little deeper in the accelerator pedal.
To extract all that power as quickly as possible from the motor, you're going to want to put the car into Sport mode, completely turn off the traction-control system, and begin the launch control sequence.
The Stinger creates no fuss about activating launch control. Foot on the brake, foot pressed down on the accelerator at the same time. 'Launch Control Active' pops up on the screen, and lifts that brake pedal for one of the fastest rides of your life (for $57,890). All relative of course, if this is your first time owning a car with this much power and pace.
The back tires will roll around a little if they're too cold, or the surface you're launching on is a little tricky. Aside from that, the 8-speed auto will help you rocket to 100km/h swiftly, and would definitely keep powering through to your top speed if you're not a fan of keeping your license.
The induction noise from those twin-turbos is incredible, and outside the car, that bi-modal exhaust is doing everything it can to generate excitement in the surrounding area.
Mid-range pulls are very strong, however, so remain in Sport mode for the best response times. Even better, pull on those paddles for optimum turbo response, as occasionally you'll notice a slight lag in response before the Stinger is ready to roll.
Concerning brand snobs, you're going to definitely offend them when you blast past them wearing a Kia badge. For those of you who know what you're working with, you'll get endless smiles and respect for this grand-tourer.
Gear Shifting
4.5 out of 5.
Kia gives you torque converter based 8-speed automatic transmission in the Stinger, which is now actually right on trend with the heavy hitters, seeing that the new BMW M3 and M4 are returning to the land of torque-converters.
This 8-speed is buttery smooth in modes other than Sport. It's certain which gear it wants to be in, and is quick to drop down when you need it to.
It's a lot quicker in auto than it is in manual mode, as there is an unsatisfying reaction when you pull the paddles to operate the gears, rather than leaving it in drive.
If you're looking for better semi-automatic experiences, you'll need to head up market. For the price, the paddles are decent in their response, but could be a little more engaging.
Mentioned above, response times are lightning quick in launch control. You're going to be flying through the gears without really noticing, as the 8-speed does its job to get you up to speed as quickly as possible.
It would be interesting to conduct a track test with the Stinger, and see how the transmission handles a bit more heat and stress, because I certainly couldn't shake it during my time with it.
Suspension & Handling
4.3 out of 5.
Now comes the part where I do have to deduct points for the classic trope of a dual-purpose vehicle.
Many cars suffer from wanting to grow up to be sports cars one day. They head out to the gym and only work out one muscle group, while the rest of their body suffers as a result.
The same can be said for the Stinger's ride quality.
It's a really nice ride, it truly is. The Stinger is comfortable, ironing out bumps and rough surfaces. However, if it's a plush luxury car you're looking for, the Stinger may prove to be a tad more aggressive than I'd like.
Even out of Sport mode, the car likes to respond to the bumps in the road a little more directly. While you'd prefer in Sports mode, it does the same in Comfort mode. As for ironing out those bumps, instead of making them invisible, it translates that to your bum, so you can braille read the roads, something not ideal in a luxury GT.
To clarify, it's not spine-tinglingly stiff, but imagine more of a firm memory foam pillow ride, rather than a plush, duck-down feather pillow experience.
In Sport mode and through corners, holy-moley, the Stinger surprises. Moving 1.8T is not an easy feat, but Kia certainly spent most of the development budget here.
The Kia is aided by thick strut bracing in the engine bay to help the car prep and corner tight sections of road without under-steering or over-steering out of its zone.
The V6 has been pushed far back into the engine bay, which helps move the centre of gravity back to centre. Combine this with rear-wheel drive, and you have a car that can quickly turn in, and exit without too much fuss.
You could definitely get this car sideways, although I could feel that's not what the car wants to do. Instead, it wants to nail that corner as flat and as fast as possible.
Be careful to watch that snap oversteer, though. I encountered that and found it to settle pretty quickly, but boy-oh-boy that can be a trap for young players.
The 330S arrives with a set of Continental ContiSports, whereas the GT comes with Michelin Pilot Sport 4's. After spending a week with the 330S, it is definitely worth grabbing a set of sticker tyres for handling the trickier stuff, to make the most of the power-plant and rigid chassis set-up.
Fuel Efficiency
3.8 out of 5.
The pitfalls of a fun engine like this V6, is the fuel economy.
I'm not even going to pretend this is an economical motor, with Kia claiming 14.9L/100km in the city.
However with the addition of turbo-chargers, drive-modes and a decently efficient gearbox, you'll actually be able to achieve and beat that city target, if you can restrain yourself in the city.
Combined with city driving and some highway, I was able to get into the low 14L/100km with plenty of lead foot driving, launch control episodes and spirited exits in corners. That's a good figure, considering similar-in-performance motors will be at least this thirsty, if not more.
Now, Kia says you can put 95 octane in this motor, but as for all high-performance motors, if you want the most power and performance, you're going to have to opt for 98. The advantage of only needing to put 95 in is that for those weeks you're not performance driving, you can avoid paying the 98 octane tax for that trip to the bowser.
Interior Design
4.1 out of 5.
Kia advertises that the cabin is inspired from an aircraft...sure.
I don't think that this parallel needs to be made, seems a bit forced. The Stinger interior stands out on its own just fine.
Pre-facelift, the Stinger was looking a bit dated, and all because of that centre screen with its large bezels. With the 2021/22 update, the Stinger is more than capable of punching up.
This is where Mercedes, BMW and Audi spend more money than Kia on making their interiors unique, with the liberal use of screens and adapting to the sudden obsession of removing all physical buttons from the interior of the car.
The Stinger has a thoughtfully designed cabin that doesn't require much of your attention span to learn how to operate it. You'll quickly become comfortable with the inside of the Stinger.
The centre 10.25 inch touch display houses all of your navigation, media and car information, and will mirror your phone via Apple CarPlay/Android Auto. If you want to make the most of the 10.25 inch display with your phone, unfortunately, phone mirroring only covers 3/4 of the screen, with the final quarter reserved for in-car navigation.
As previously mentioned, the major touch points are of a higher quality than other elements of the cabin. For example, the shifter feels ultra-premium; it's easy to use and I love its operation.Plastic buttons are nicely dampened to avoid feeling cheap, and elements like the paddles and infotainment 'hard' buttons are coated in a metallic finish.
Black-gloss plastic plagues the centre console area, which is a shame as after several years of use, I guarantee it's going to be micro scratches and fingerprints galore. Kia would have been better off providing a textured material instead, to help prevent these issues, but, we can only hope, one-day, manufacturers will stop over-employing the use of glossy black plastics.
The rear seats are placed higher than the front seats for better back passenger visibility. While this excellent touch will mostly go unnoticed, for those who do notice, it will be a great case against buying the cross-over alternatives to the Stinger.
The rearseats also get third-row climate control which is simple and to the point, with operation being completed using a roller knob (similar to those used to close air vents on other cars).
Overall, the cabin is luxurious, and for both commuting and long trips, you'll feel special when you hop into this generation of Stinger, that's for sure.
Boot Size & Comfort
4 out of 5.
The Stinger 330S's trim suffers from one annoying omittance, and that is a power tailgate.
This isn't a huge detriment, as manual operation of the boot is just fine. However, for some, considering the price, the inconvenience of an absent power tailgate might upset a few buyers.
The Stinger actually uses a hatch operation, so it's more of a 'Sportback' than it is a sedan. This is extremely useful as it allows for easy entry and access for your items in the boot's 406L of storage space.
The rear seats fold in a 60/40 split and are flat where the back of the seat meets the boot floor, making sliding items in and out a little easier. However, they do slope up a fair bit, which can encroach on your vertical storage space.
Fold all of these seats down, and you'll have 1114L of boot space, which provides a spacious and usable space. It's a usable boot for more than you'll most likely need to carry around. However, considering that the Picanto had over 1000L of storage with its seats folded down too, it's not a mind-bending amount of space.
With that being said, it still passes the test of being able to take home that new IKEA desk you've been eyeing.
The bi-modal exhaust does come at a cost. After driving all day in the Stinger, I noticed that items stored in the boot were as warm as clothes that had been out of the dryer for 5 minutes. The temperature felt cool enough that it wasn't going to melt plastics, but warm enough that it felt like the items had been resting on an electric blanket.
Additionally, if you don't get a cargo net to secure loose items in the back to the available tether points, they'll create a fair bit of noise moving around, or spill out of the grocery bag you had them in.
As for comfort, these seats are some of the best I've sat on in a while.
The front seats allow you to sink into the car; they contain supportive bolstering and are accompanied by plush headrests.
The rear seats offer ample room for two, but with the inclusion of an intrusive transmission and exhaust tunnel, three people may be a squeeze.
The radar cruise and semi-autonomous lane-keep assist features make long traffic queues and bumper-to-bumper peak hour much more relaxing.
The Stinger will let you know when the car in front of you is on the move. If you've activated radar cruise, all you need to do is tap the accelerator or a button on the steering wheel and the car will move in slow traffic for you.
The car can steer itself within a lane, however, it does like to play chicken with other cars and walls as it operates like a ping pong ball between the lanes. The car's self-driving ability is an imperfect system, it'll find the edges of the lane and steer away from that line, rather than remaining centred within the lane, if left unattended. It's more of a suggestive guide rather than a butler that you would find in the likes of the Tesla Model 3.
In addition to feeling comfortable, the Stinger has a 'Sound of Nature' feature o that allows you to relax to your favourite ambient tracks including 'Lively Forest' or 'Snowy Village'. It's a surreal audio experience as they don't quite capture the actual sounds but rather mimic them.
Features
4.2 out of 5.
For $57,890, you get a lot of bang for your buck. However, you miss out on additional features such as heated/ventilated seats and a power-tailgate.
Don't let those small missing features put you off as the base 330S trim of the Stinger still has plenty to offer. Like radar cruise, active steering assist, reversing camera, bi-modal exhaust system and Brembo brakes.
Engine
3.3L Twin-turbocharged petrol V6
274kW, 510Nm
Combined fuel consumption 10.2L/100km
8-speed automatic
Infotainment
10.25 inch touch-display
Apple CarPlay/Android Auto
6 speakers
In-built satellie navigation with 10 years of updates
Safety
LED headlights and daytime running lights
Rear parking sensors and reversing camera
Active lane keep assist
Active steering assist
Autonomous emergency braking
Performance
350mm front Brembo brakes, 340mm rear Brembo brakes
Launch control
Drive-modes (Sport, Comfort, Eco, Smart)
0-100km/h in 4.9 seconds (claimed)
Convenience
Remote engine start
Driver-side automatic seats
60/40 rear folding seats
Radar-cruise control
Should you buy one?
The answer is yes.
Truth of the matter is, there are no cars on the market with the space, performance and features to compete with the Stinger. It is the go-to choice for a performance sedan/grand-tourer.
The brand snobs may argue that you don't need that much power or to drive that fast.However, if you can move past the Kia brand and badge stereotypes that are fast becoming anecdotes of the past, you can reward yourself with a brilliant all-rounder which easily fulfills the performance-daily category.
One thing you'll never have are passengers who complain about a lack of space in the back.And let's be real, the inner-car enthusiast in you knows that having power sent to the rear is the right way to drive a car.
If you're not looking for a sports-sedan, you may not appreciate the Stinger for all it's worth. However, you can certainly still enjoy the Stinger for all its luxury and comfort features.
The 2021/22 Kia Stinger 330S is so convincing in its affordability and reliability that if I didn't review cars for a living, I'd certainly take one home in this exact trim.
About the author
Cameron is your typical car nut, but also drives and writes about cars for ProductReview.
Sorry, there are no reviews about Kia Stinger CK 330S (2017-2022) but you can read 12 reviews about Kia Stinger.
Write a review
Questions & Answers
Sorry, there are no questions yet.
Get an answer from our members
Details
Compare all 7
Kia Stinger
Category
Sedans
Starting

Price

$49,990.00
Transmission
Automatic
Drive Type
Rear Wheel Drive (RWD)
Fuel Type
Petrol
Wheels
18" Alloy
ANCAP Safety Rating
5 Stars
Fuel Consumption
10.2 L/100km
Fuel Tank

Capacity

60 L
Engine
6 Cylinder 3.3L
Max Power
272kW @ 6000rpm
Max Torque
510Nm @ 1300-4500rpm
Country of Manufacture
South Korea
Manufacturer Warranty
7 year(s)
Release date
Compare all 7
Kia Stinger
Visit official website
ProductReview.com.au has affiliate partnerships. These do not influence our content moderation policies in any way, though ProductReview.com.au may earn commissions for products/services purchased via affiliate links.