1 photo
2.8

from 13 reviews ·

View Statistics
Brand Manager for Land Rover?
Register now
and take advantage of ProductReview's Brand Management Platform!
Expert Review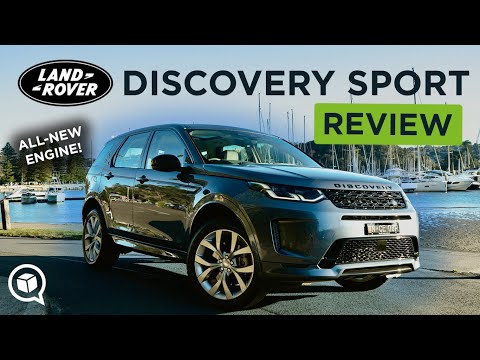 4.5 out of 5 stars
Introduction
My family had a choice back in 2015 between buying a Range Rover Evoque or a Land Rover Discovery Sport. We unanimously agreed that the Evoque was the better choice for the interior design, the exterior design and the brand.
In 2021, my opinion has shifted. The all-new, freshly updated Land Rover Discovery Sport is so impressive that I believe it's now one of the strongest products Land Rover offers.
I was also lucky enough to be the first person to drive the new Discovery Sport with Land Rover's new mild hybrid four-cylinder diesel engine.
From my experience during my week with this Land Rover, I found it to be one of the most exciting, luxurious and capable family cars for under $100,000.
---
Build Quality
4.8 out of 5.
There have been some serious improvements by Land Rover to step up build quality. It's never been bad - quite the opposite really. The construction of the exterior just appears to be accurately put together, complementing a premium brand like this.
On the interior, I was truly impressed with the fit and finish of the leather trim, metal buttons, handles and paddle shifters. From the construction of the leather seats, infotainment, centre console and even through to the third row seats, I was pleasantly surprised with this updated interior.
What stands out is how refined the cabin sounds; with minimal engine noise bleeding in and no strange rattles or squeaks, this certainly is a premium product.
Value for Money
4.3 out of 5.
After options and before on-road costs, this Land Rover was priced from $82,468 for the R-Dynamic SE D200 trim of the Discovery Sport.
It's certainly higher up in the price range, but it was hard to fault the asking price the way this Land Rover was specced.
Missing features included heated seats, a heads up display and second row climate controls - features I've seen included on a few family cars that are up in this price bracket.
That aside, this car has everything to make it a fantastic daily driver and the type of car you want to take away to go out and discover a bit more beyond your own backyard. Land Rover has provided plenty of options to make the Discovery Sport a capable off-roader, with all the off-road tech goodies you find in the iconic Land Rover Defender.
Additionally, this mild hybrid diesel motor is an absolute treat and upgrade for 2021 that makes me question non-hybrid alternatives. The way this Land Rover drives - with its features, design and construction - really helps justify the asking price.
Maintenance
4,2 out of 5.
Land Rover has upgraded its warranty period to 5 years/unlimited kilometres, with 24/7 roadside assistance.
From personal experience, servicing can be a little on the pricey side, especially when it comes to tires, brakes and rotors on these cars.
Land Rover servicing over 5 years/102,00kms will only set you back $1,950, which is far better than what I used to pay.
Noise Level
4.7 out of 5.
The brilliant thing about this mild hybrid system was the ability to reduce the strain a normal turbo diesel engine would endure.
I adored just how quiet this motor was, compared to the old 2.0L turbo diesel we had in our 2015 Range Rover Evoque. It certainly helped refine the sound profile, akin to that of a petrol motor rather than the 'trucky' sound of a traditional diesel engine.
The 6-speaker audio system was a treat too. Although it's not an upgraded system, nor is it all that powerful, it did stand out as a premium listening experience. Maybe it was the extra sound deadening you find in cars like this, but the audio system was clear, precise and free of excess distortion.
I can tell you that the audio experience of the Discovery Sport really does complement the premium price tag here.
Braking
4.5 out of 5.
There's nothing all that special in the braking department; it's as stock standard as you can get, in a good way.
In an emergency, there is Autonomous Emergency Braking which is great. However, just in case you fail to stop in time for a pedestrian, the Discovery Sport is fitted with an external airbag to help reduce injury - just don't drive around as if you think being hit by a car still wouldn't hurt.
The feel of braking was sharp on the initial press, however it allowed you to smoothly operate the brakes to come to a complete stop without much fuss.
In a family car like this, the best thing is that the brakes won't ever be the centre of attention.
Acceleration/Power
4.1 out of 5.
It's certainly not a powerhouse of a motor, but this 2.0L turbocharged four-cylinder mild hybrid (such a mouthful) is more than enough for the daily grind and odd getaway.
Producing 150kW at 3750rpm and 430Nm as low as 1,750rpm, it's clear to see the advantage of having a mild hybrid system fitted.
The claimed 0-100km/h time is 8.9 seconds. For most, this will be more than enough power, but for others it might not provide enough excitement as a family car.
For what this SUV is setting out to do, it offers a comfortable amount of torque for effortless mid-range pull and plenty of poke to get up to the speed limit. Overtakes will be just fine, but not instant at speeds in excess of 100km/h.
What does feel instant is the off the line performance the Discovery Sport offers with its hybrid assistance. Before you can even say go, the Discovery Sport has turned its engine back on after coming to a stop, and is off the line. It's so good at getting away from a standstill that you can actually win some traffic light drag races if you ever feel the need to do something like that. That's also up until the potentially more powerful car decides to put the pedal to the metal.
Gear Shifting
4.4 out of 5.
Would you believe me if I told you that this has a 9-speed transmission?
I know Ford has a 10-speed transmission in some of its cars, but gears this high give me a little anxiety. I worry about expensive maintenance costs and the busy shifting experience a gearbox like this might offer.
We can leave the maintenance to the warranty period, and so what I was left with was a far more improved experience than the one I had back in 2015.
I found the 9 speed to be far more subtle in its decision making process, deciding which gear to be in with more confidence than its predecessors. On very slight occasions there were some mis-shifts in awkward low speed situations, however this was a rare occurrence, even against gearboxes with less gears to move between.
There were a pair of beautifully presented paddle shifters located behind the steering wheel - the very same ones I encountered in the Jaguar F-PACE. These are some of the best paddle shifters in the industry right now, just behind first place which goes to Alfa Romeo.
It's a shame that shifting this motor manually via these shifters isn't as riveting and doesn't make a whole lot of sense. Regardless, when presented with the option to shift manually, it's nice to see Land Rover make a solid effort in providing a proper pair of paddle shifters.
Suspension & Handling
4.6 out of 5.
This particular Discovery Sport I had was riding around on a set of 20-inch wheels, which not only looked the part, but also provided an excellent ride.
It's a comfortable car; uneven bits of tarmac, speed bumps and potholes don't phase this SUV. Nor should it, as this Discovery Sport is in every way prepared to go a little further off-road where other European SUV's would have had to stop.
The lower centre of gravity in this family car really shines through corners. The Discovery Sport is actually really fun to push through sweeping bends! The all-wheel drive system provides a reliable amount of grip, with all 430Nms of torque available for you to control via those paddle shifters.
Steering is direct, accurate and provides a fair amount of road feel for an SUV. I thoroughly enjoyed the ride that the Discovery Sport had to offer, it's certainly a great option for the school pick up and the yearly ski trip.
Fuel Efficiency
4.3 out of 5.
Surprisingly, the mild hybrid system in the Discovery Sport doesn't have a dramatic impact on reducing fuel consumption figures.
Claimed fuel economy is 5.7L/100km, which can easily head as high as 10L/100km around town.
It's still an improvement over engines without the hybrid system, however, it's not going to be the saving grace in dramatically reducing overall fuel consumption.
Interior Design
4.8 out of 5.
In the previous generation Discovery Sport, this was the weakest part of that car. It was ultimately the interior that pushed us from liking the Discovery Sport and liking the Evoque instead.
That's all changed for 2021, as this Discovery Sport's interior is one of the best interiors I've been in this year.
I adored Land Rover's commitment to upgrading and improving this car. This interior went from feeling boring and soulless to a wonderfully designed one with some added flair.
The flair comes in the form of the upgraded 10 inch central touch screen, adaptive and capacitive controls for the aircon and terrain response modes, and a 12 inch fully digital drivers display.
I especially loved how every button, dial and material you came in contact with in this cabin felt premium to the touch. Made of soft plastics, rubber, leather or aluminum,there's been a lot of influence from Range Rover put into this cabin.
Additionally, the dual tone Ebony over Light Oyster grained leather really stepped this cabin up from feeling too dark. Yes, lighter coloured seats are a pain to keep clean, but it brought a lot more light into this cabin.
Boot Size & Comfort
4.7 out of 5.
With all the seats folded, you get a maximum load space of 1651L. It's not a large SUV level of storage, but it makes plenty of usable space for a family of four, maybe five, to head away on a long road trip.
Compared to an Evoque, there's a larger storage area, with a more practical load space. This has a higher roof line and more boxy dimensions to make the most of what you have back here.
The second row folds in a 40:20:40 split, allowing four people to travel with even more luggage pushed through the middle, without having to be squished together. Additionally, there was a 'clear sight' camera fitted to this Discovery Sport, which allows the driver to see a camera feed out of the back of the car via the rear view mirror.
This camera allows you to stack luggage in the car up to the roofline, and still have perfect visibility out the back via this mirror while driving.
The second row has plenty of adjustability and movement to accommodate taller individuals and provide additional comfort. Just don't force adults to sit in the third row, as it is quite tight back there for legroom and headroom.
Those jump seats in the third row are more akin to those seats that used to face backwards in a station wagon, making them great for your kid's mates to come along for a ride.
You just might have the slight issue of passengers complaining about charging their devices, as there were no USB ports in sight beyond the first row. Instead, you'll need to purchase a few 12V sockets to USB adapters before you set off on your road trip.
Features
4.3 out of 5.
There are a lot of features to be found in the Discovery Sport. This includes everything from the surround view camera to Land Rover's iconic terrain response modes and even access to a 7 day forecast, both in your current location and your destination via your navigation.
However, there are a few options that you might need to tick, like wireless phone charging, digital radio, fog lights and the ClearSight interior rear view mirror I mentioned previously. I wish these options could have been included in the purchase price, as it's the small things like these that could possibly win over more buyers quickly.
Outside those options ticked for this car, I have to say the Panoramic roof is a must for all that light it brings in, and the additional view up.
Here's a full list of features you can find on the Discovery Sport R-Dynamic SE D200:
Engine
2.0L turbocharged diesel 4-cylinder MHEV engine
150kW @ 3,750rpm and 430Nm @ 1,750 - 2,500rpm
9-speed automatic gearbox
All-wheel drive
Infotainment
10-inch touchscreen
12-inch drivers display
Apple CarPlay and Android Auto
Bluetooth connectivity
Weather forecast
Valet mode
Safety
AEB
360 degree parking camera/off-road cameras
Trailer sway control
Blind spot assist
Rear-door blind spot assist
Parking sensors (front and rear)
Lane keep assist
Rear cross traffic assist
Wade depth sensors
Traffic sign recognition
Driver attention monitoring
External pedestrian airbag
Performance
0-100km/h in 8.9 seconds
Terrain Response 2
Gearshift paddle shifters on wheel
Sport mode
Convenience
Keyless entry/exit and start/stop
Activity watch/key
Automatic front seats
Adjustable second row seats
Power tail gate
Heated rear window
Rain sensing wipers
Signature puddle lamps
LED daytime running lights, headlights and tail lights
Lights embedded in tail gate
Auto high beam assist
Should you buy one?
What I love about Land Rovers is that they provide that additional peace of mind that you'll be able to take this car to places where other cars might not like travelling.
It makes the most sense as a luxury SUV, as it's purpose built by a company that only makes SUVs and off-roaders.
For 2021, the Land Rover Discovery Sport has actually hit all the right points in improving over the last generation for me to say that for under $100,000, this should be near the top of your shopping list.
If you're looking for a motor to pair with the Discovery Sport, look no further than the D200, as this mild hybrid system certainly brings the diesel engine into 2021 with added power and responsiveness.
It's comfortable, it's certainly luxurious, and I felt like it'd make a great companion for long trips if you feel like exploring a little further beyond your own suburb.
About the author Cameron is our resident car expert. Aside being a source of knowledge about the automotive industry, he has also driven a wide variety of cars. From Porsche 911 GT2 RS's, through to a 1998 Toyota RAV4, Cameron has not only seen it all, but most likely driven it.
This is my day use car and after some hesitancy I have grown to love it. It's got all the gismos one needs and it's versatility is delighful. It can transport wine, big dog, shopping and suitcases for a week away, as well as be a 7 seater, a easy to use town car and when called upon something that manages flooded streets. If you need it can also get a move on and while not the fastest it can still over take a road train going uphill and outpace anyone you need to. So far (one year from new) not a single fault. I'm beginning to love it.
Purchased in July 2021 for $74,000.00.
Lemon - Currently at QCAT to have it refunded - it's that bad
We're now nearly a year down the track of trying to return a new Disco Sport after 9 faults in 6000kms. Faults range from gearbox failure and intermittent electronic brake failure to more minor faults such as dropping all of its washer fluid on the ground in our garage. The JLR do not deny any of the faults exist and have not provided any argument against the various legal precedents that confirm the threshold of "Major Failure" under ACL are reached. The faults reach this threshold individually, as an aggregation and via the clause "would a re...
Read more
asonable consumer purchase the vehicle knowing the nature and extent of the faults". The dealer (JLR Springwood, QLD) has repeatedly set out to gain advantage in QCAT by breaking the rules. Attempting to have legal representation without applying to do so, and despite having an application to have JLR added as a joinder denied, having an employee of JLR represent them during a hearing again without applying to do so. In mediation (8 months after rejecting the vehicle), they agreed to an undertaking to review the car at our premises to ensure it had not been damaged/modified etc (to value it for internal processes), and assuming all was well (faults aside) they would then provide a letter confirming the process for refund. Whilst they sent the staff member out and the car was as expected, they failed to follow through with the agreed process. JLR have a willingness to use the arduous nature of the process to pursue your rights under ACL (QCAT) to deny customers their right, hoping instead that it is too hard or not financially viable to fight. The protections for consumers needs to change to ensure companies such as JLR are held to account when they deny consumer their rights. Don't do it!
Purchased in September 2019 at Jaguar Land Rover Australia for $69,990.00.
I'm currently own Land rover Discovery sport 2016 year model with less than 70000km on odometer. And very disappointed with the quality of the parts its made. I would like to let people know as the quality is no longer of the premium cars as "Land Rover" presenting themselves. This also can be applicable to Jaguar that is also using exactly the same parts and made of the same material. As well as the parts quality is poor, the customer relationship team responses not applicable and this matter case raised should not be responded the way it doe...
Read more
s. Car recently have 3 years warranty expired, however when I purchased it from Land Rover dealer it came with complementary 1 year extended warranty. Car always serviced at Land rover dealership and very good looked after. Few weeks ago I found as on the steering wheel cruise control switch "-" button has peeled off. And i really would like to stress you as this button have no sign of wear ant tear, it clearly sign of poor quality of paint or part or material. I've visited Land rover service centre where part was replaced, however I has been charged for part and labour $313. I'm happy to have a new part installed, however I'm disappointed as the premium car have poor quality parts installed and warranty does not cover it. I've been explained as my warranty does not cover this type of scenarios, but it's not explaining bad quality part installed on the premium car and not replacing it as complimentary or cover by extended warranty for the car which is less than a year out of warranty. Response from the Customer relationship stated as your part is functioning and falls under category wear and tear. This in NOT WEAR and TEAR this is BAD quality part of the premium car.
Purchased in December 2018 at Land Rover Dealers for $53,000.00.
We bought ours brand new back in 2018 with the new Ingenium 2.0L Diesel engine, and dealer failed to mention that this car needs to be driven once a week on the hwy for the DPF to regenerate properly due to bad engineering design. DPF too far from the engine to heat up on short drives.
After 10,000kms service light came on and had to be taken to the dealer for a service well below their recommended 25,000km service intervals. Front tyres showed significant wear at the same time but dealer shrugged it off as a wheel alignment issue which they a...
Read more
ssured me it was fixed. At 15,000 tyre wear at the front was getting worse, dealer blamed it on driving style and round abouts. At 19,000 engine rattle noticed and needed new timing chain at the same time they also replaced front drive shaft bearing. Fuel Economy is also bad, no were near the advertised consumption values. Positive - prestige and good looking car
Purchased in January 2018.
Find out how Land Rover Discovery Sport SE compares to other Midsize / Medium SUVs
Know better, choose better.
Compare all
Major oil leak from transfer case found at 4th service. Dealer and Manufacturer refused to repair!
Had lots of problems with this car. Worst problem was a major oil leak from the transfer case that was found at the 4th service at 104000km. Was originally told not to worry and that Purnell Land Rover would not leave me out in the cold over the extra 4000 km but was then refused any repairs from both the dealer and manufacturer.
Purchased in August 2015 at Land Rover Dealers for $70,500.00.
terrible product. Just 2 years old, done only 26000 kms, already engine replaced, leaking roof, never ending exhaust problems and to top it all, the display constantly asks us to take car for service even within 1 week after service is done!! really regret I have bought this piece of S**t!
Purchased in May 2017 for $66,000.00.
Brilliant car when it works- sadly it doesn't work often enough
not sure I have enough room in the text box- car has upgraded sound system+ TV output rear DVD players for the kids, Tow Bar and Ambient Lighting. Car is 2 years old, done 40K and has visited the dealer at least once every 3rd Month.
Problems encountered
1. Ambient internal lighting- not consistent light transmission (problem still outstanding JLR acknowledge that there it is not illuminating correctly but says it is consistent with other cars so not a problem in their eyes)
2. Dash screen replaced x2
3. Forward Collision Alert (JLR ver...
Read more
sion) not working correctly 4. Automatic Hi Beams coming on when they are not supposed to and turning off when they are not supposed to (ie trees/road signs etc) 5. auto stop/start technology not operational repaired x6 still doesn't function 6. B Pillar rattles repaired x7 but still rattle post fix
Related Articles
Great car when running, So many small issues.
Very practical design, comfortable to drive. Only if we didn't have all these issues this would have been a great car.
We use it on a daily basis, 28K KM's in just under 2 years. Though Discovery Sport claims service every 34K KMS or 2 years whichever is first the information display keeps popping up as Service required. I did do a service after 1 year (Which is not covered in the service plan). Just 28,000 KMS and the brake pads are worn out, $1200 to fix them, I have not had this problem in any of my previous cars (Not Land Rover). Initial...
Read more
ly we were thinking that our next upgrade will be a Discovery, but I am not so sure anymore. Added: 07 Jan 2019, took my car for a wheel rotation last week (Every 10K). All 4 tires which came by default were chipped and I had to change tires (All of 30,000 Kms). Very rare off-road trips, mainly to scout camp sites. Car was driven mainly in Sydney streets.
Diesel engine proving to be a problem
These Landrover diesels need to come with a buyer beware warning on the diesel engines, which suffer badly from oil dilution and need many more services than advertised.
JLR continue to promote fictional service interval despite issuing a notice to dealers that the extra servicing requirements is a known problem. Google oil dilution Landrover diesel and see a long list of very unhappy customers who have been mislead by JLR marketing both here and overseas.
Find out how Land Rover Discovery Sport SE compares to other Midsize / Medium SUVs
Know better, choose better.
Compare all
Got a great deal on our "Disco" Sport, that included 3 years free servicing, in addition to the discounted sale price plus our modern l was packed with features including 7 seat option. Interior has ample storage, heaps of USB ports so family is happy on long trips. Vehicle is quiet, refined on long trips and not too big in the city. Fuel economy is Ok for this type of car and power of turbo petrol excellent. Love it!
beautifully designed, functional and goes everywhere
didnt break the bank as we thought it would. With the features loaded in this car, it matches up well with the luxury suvs and the price is close to the lower end suvs. relatively econmical on fuel considering its size and did i mention it has seven seats and does off roading very well. I would not be surprised if this becomes the best selling car this year
We did a lot of research and compared this car to 13 other diesel cars some 4wd and some suv's. This car turned out to be the number one from our research and has not disappointed us since. The leather interior is functional and easy to clean with kids in the back! It has a beautiful and smooth ride with a great turning circle. We drive on eco mode and the car still has enough kick and grunt to it, and we can get approx 2 weeks to a tank of fuel. Easy to drive to park with the camera and several sensors. Epic car were really happy with it.
Find out how Land Rover Discovery Sport SE compares to other Midsize / Medium SUVs
Know better, choose better.
Compare all
Land Rover Discovery Sport Turbo diesel Td4 150
Recently purchased this vehicle after extensive research in the mid range SUV category. The vehicle performance is excellent with great road manners and stance. Great amount of room for 5 adults and plenty of cargo space. Definitely worthy of consideration for towing with 2.2 tonne braked tow capacity. I am very pleased to have selected vehicle. A really great product!
2 years since purchasing and there have been some small issues with the tailgate opening when not activated- luckily only while in the garage. The dealer knew of the issue a...
Read more
nd addressed it quickly and effectively. The diesel exhaust fluid required more topping up than anticipated but still not an issue whilst under warranty. I attended an off road course by an approved training provider and realised a significant short coming with ground clearance resulting in the loss of a plastic panel below the passenger side doors. It's a great soft roader and great for a fire trail in Oz, but not for any serious, crazy off road stuff. It has its limits if you don't have air adjustable suspension. CB
Purchased in February 2017.
See all Land Rover Discovery Sport reviews
Questions & Answers
Sorry, there are no questions about Land Rover Discovery Sport SE (2015-2021) but you can read 8 questions about Land Rover Discovery Sport.
Get an answer from our members
Details
Compare all 17
Land Rover Discovery Sport
Category
Midsize / Medium SUVs
Midsize / Medium SUVs
Midsize / Medium SUVs
Midsize / Medium SUVs
Starting

Price

$56,595
$60,290
$60,255
$66,496
Transmission
Automatic
Automatic
Automatic
Automatic
Drive Type
Four Wheel Drive (4WD)
Four Wheel Drive (4WD)
Four Wheel Drive (4WD)
Four Wheel Drive (4WD)
Fuel Type
Diesel
Diesel
Petrol
Diesel
Wheels
18" Alloy
18" Alloy
18" Alloy
18" Alloy
ANCAP Safety Rating
5 Stars
5 Stars
5 Stars
5 Stars
Fuel Consumption
6.5 L/100km
6.6 L/100km
8 L/100km
7 L/100km
Fuel Tank

Capacity

54 L
54 L
68 L
54 L
Engine
4 Cylinder 2.0L
4 Cylinder 2.0L
4 Cylinder 2.0L
4 Cylinder 2.0L
Max Power
110kW @ 4000rpm
132kW @ 4000rpm
177kW @ 5500rpm
177kW @ 4000rpm
Max Torque
380Nm @ 1750rpm
430Nm @ 1750rpm
340Nm @ 1250-3200rpm
500Nm @ 1500-2500rpm
Country of Manufacture
United Kingdom
United Kingdom
United Kingdom
United Kingdom
Maximum Towing Capacity (braked)
2,200 kg
2,200 kg
2,000 kg
2,500 kg
Maximum Towing Capacity (unbraked)
750 kg
750 kg
750 kg
750 kg
Manufacturer Warranty
3 year(s)
3 year(s)
3 year(s)
3 year(s)
Dimensions
Ground Clearance
600 mm
600 mm
600 mm
600 mm
Release date
Jan 2016
Jan 2016
May 2015
Jan 2017
Compare all 17
Land Rover Discovery Sport
Visit official website
ProductReview.com.au has affiliate partnerships. These do not influence our content moderation policies in any way, though ProductReview.com.au may earn commissions for products/services purchased via affiliate links.