4 photos
Nissan Juke F16 ST-L (2020-2022)
Also referred to as: Nissan Juke F16 ST-L 2021 and Nissan Juke F16 ST-L 2023.
5.0

from 1 review ·

View Statistics
Listing monitored by Nissan
Expert Review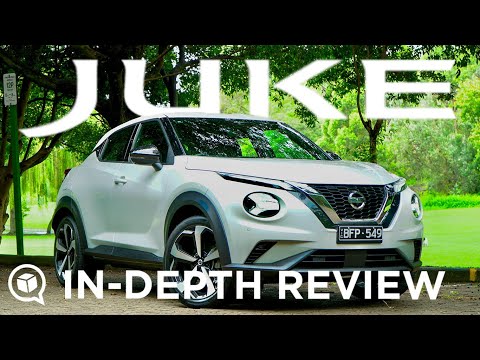 4.5 out of 5 stars
Introduction
This first generation Juke was a bit of a hit here in Australia, so it was only logical to expect a second generation to follow suit.
However, the second generation Juke has entered a very different market from the one the first generation entered, back in 2010.
In the early 2010s, compact SUVs were a rare sight. Instead, if you wanted a high riding position and more cabin space, you would have had to splash out cash on a medium to large SUV.
The Juke was released with the intention of being an urban focused, high riding and somewhat spacious compact SUV (aka CUV).
Its initial design was certainly polarising, but it did stand out - drawing focus and attention on the street, both positive or negative.
This second generation definitely has shifted away from being polarising, it now looks like it's been to the gym, and toned up for 2021.
The 2021 Juke ST-L has more competition than ever before, with almost every car manufacturer offering at least one CUV. So, is Nissan able to stand out from the competition with this new Juke?
Let's find out.
---
Build Quality
4.2 out of 5.
The new Juke does a great job at feeling premium, even in this price range.
You're not going to find anything glaringly cheap on the exterior. Nissan have done a decent job at presenting the Juke with minimal panel gaps, and an overall fit and finish that is impressive for a car at this price.
Move under the bonnet of the Juke, and you'll find a down-pillow equivalent of sound deadening, helping prevent intrusive engine noise overwhelm the driving experience.
It's fair to say Nissan have done their due diligence in ensuring the Juke is built to a high quality standard. We should note that Nissan opened a plant in the UK to build the new Juke, so here's hoping long term reliability will be of Japanese standards, unlike traditional British reliability.
Moving inside, there is a conscious use of cheaper materials to help save costs, but these won't overwhelm anyone who rides inside.
These cheaper materials are used on high impact areas of the interior, meaning they will withstand a bit more of a harsher treatment, for example, on the lower door trims, glovebox and cup-holders.
Our test vehicle was the Juke ST-L, sitting second from the top of the range, meaning we had a few extras in here over the base Juke to help lift the interior up to feel more premium. The ST-L features additional luxuries like leather trim, shadow grey plastic cladding and heated seats.
I did however notice that the leather boot around the gear selector had a small tear in it, around 2cm across. Seeing this vehicle had travelled less than 5,000 km's, this seemed a little concerning. Hopefully this was caused by someone who had the car to review before I did, rather than being attributed to wear and tear.
Value for Money
4.2 out of 5.
The Juke ST-L is priced at $36,490, and has a few features that go a fair way to help justify this price.
These features include a turbocharged motor, dual clutch transmission, drive modes, partial leather interior, 360 degree camera, front and rear parking sensors, heated front seats, keyless entry/start and an 8-inch full-colour touch screen media display.
There was one point with this car; is 84kW and 180Nm sufficient power when spending nearly $37,000? The simple answer is yes, it'll do.
The Juke ST-L is a comfortable car, you have enough creature comforts in here to have this car feel relaxing, and you also have enough standard safety equipment here to give you plenty of peace of mind.
The Juke is fitted with auto-collision warnings, emergency braking for detection for cars, cyclists and pedestrians, a rear cross traffic alert and blind spot monitoring.
It's great to see that vehicles under $40,000 are now being fitted with all of this safety equipment, without needing to go out of your way to option it in and spend more.
To summarise here, the Juke ST-L is fitted with plenty of features that most definitely help you feel as if you've received value for money.
Cleaning and Maintenance
4.3 out of 5.
Cleaning the Juke is no problem at all, you won't have to worry about anything in particular when hand-washing or taking your Juke to the local car wash.
I clocked up well over 1000km's during this test. Apart from being the final resting place of a few bugs, the front bumper fared well against any small rocks or other debris that may have chipped thinner paint.
When you purchase a new Juke, you receive a 5 year/unlimited kilometre warranty, with 5 years of roadside assistance included with your purchase.
Nissan also offers capped priced servicing for your first six services, which means you'll have added peace of mind when keeping your Juke maintained.
Both the warranty and capped price service offers are great additions to the Juke, and should make the ownership experience just that bit more pleasant.
Noise Level
4.2 out of 5.
Driving around town in the Juke offered an isolating experience from the road and any outside noise, nice and quiet for the commute.
Mechanical noise is heavily reduced thanks to the large amounts of sound deadening found under the bonnet. However, when you need to press down on the accelerator to squeeze some power out of the Juke, you will get some engine noise bleeding into the cabin.
This Juke ST-L was riding on a set of 19-inch alloy wheels. Wheels of this size are usually known for increasing road noise as you need to increase the width of your wheels here too.
More rubber usually means more noise.
Travelling over long distances, in the city and in day-to-day driving, I can assure you that these larger wheels weren't of concern for generating excessive road noise.
As for the sound system on the Juke ST-L, it was just fine. Playing podcasts, music and radio was as expected, although if you're a fan of bass, you might find the Juke will rattle a bit.
I'm looking forward to reviewing the Juke Ti, which has the upgraded BOSE audio system, which should be the improvement I'm looking for in this audio system.
Braking
4.3 out of 5.
The new Juke weighs in at just over 1,200kg, which isn't a lot of weight to bring to a stop, compared to other CUVs and even some other hatchbacks.
Equipped with 4 disc brakes, the Juke was able to pull up to a stop with ease, and perform this all smoothly. You won't wake the bubba in the back in heavy, bumper-to-bumper traffic, where consistent braking is required.
The Juke is fitted with autonomous emergency braking with cyclist and pedestrian detection, which should help reduce the instances where you may be involved in a collision if you can't react in time.
It should be noted from ANCAP's own tests, the Juke did avoid all instances of being involved in a collision with cars, pedestrians and cyclists, except at night, with a pedestrian. So just be a bit careful at night, in areas where you might encounter a pedestrian crossing your path.
Acceleration/Power
3.9 out of 5.
When you buy a new Juke, you receive 84kW and 180Nm from a 1.0L turbocharged 3-cylinder petrol engine - is this enough to get you from A to B? Absolutely.
As someone who is addicted to performance cars and chases every single drop of horsepower I can find, I have to admit, I was excited to drive the new Juke. The last turbocharged 3-cylinder I tested was the formidable Toyota GR Yaris, so you can see why I was enthusiastic to test out another 3-cylinder.
Paired to this particular motor was a 7 speed dual clutch transmission (DCT), which was quite a surprise as I was expecting the likes of a CVT, especially in a Nissan.
DCT's are becoming more popular with manufacturers as they can offer a range of improvements over a CVT and can be cheaper to mass-produce. So, what's the new Juke like to drive when you pair this motor and transmission?
Getting off the line and driving around town is a little painful thanks to the nature of this dual-clutch transmission and the Juke possessing a turbocharged motor.
Moving from 0 to 10km/h can often result in a lurch if you need to lift off the accelerator, making your passengers think one of two things: You're a bad driver (a little embarrassing) or you're trying to drive this like a sports car in traffic, and it's making them want to vomit.
It is possible to move smoother off the line, but you're going to take a while to get up to that signposted 50km/h speed limit as it requires almost the slightest of throttle inputs. However, this all changes once you're underway, as this is when the engine and gearbox really sing.
There are a few tests that suggest the new Juke will accelerate to 100km/h in around 10 seconds, which is acceptable for a front-wheel drive CUV in this price range.
How does that translate to overtaking and highway driving? It's satisfactory. Keeping up with traffic is a non-issue, and you wouldn't really be able to tell that this car only has 84kW under the hood, even at speeds of up to 120km/h.
Where the lack of power does become apparent is when you're trying to overtake on country roads. You might need to do a bit of planning in regards to how much space you need to safely overtake and enter your lane again.
Aside from overtaking and taking off from a standstill in traffic, I thought the Juke did a decent job of delivering its power. You can even switch the Juke ST-L into Sport mode to squeeze every drop of power out of it when you need to - neat!
Gear Shifting
3.8 out of 5.
Introduced previously, in the Acceleration/Power section, is the gearbox which has its pros and cons. So to rip the bandaid off, let's start with the cons.
Around town, you are definitely going to notice the jolting nature of this dual clutch transmission. It is a challenge to try and drive it smoothly while also trying to get up to speed.
The introduction of a DCT is to save fuel, and that can be a good thing. Unfortunately, I think I would prefer to go with a less desirable CVT transmission as I believe that if you're in the market for a Juke, you're mainly interested in how it drives around in the city.
Once you're up to speed in urban areas, the DCT is a lot smoother and does a great job of jumping between gears without moving the car around.
Where you're also going to see the benefit of the DCT is out on the open road. Changing down gears and getting up to speed when on the highway is done easily either in auto or using the paddle shifters on the wheel itself. You can drive the new Juke in manual mode by simply holding down a paddle, where the car will indicate it is indeed in 'manual mode'.
If you want to see how sporty the Juke can get in corners, switch the car into its Sport mode, and engage the paddles, and you're about halfway there to a fun little hot CUV. This is where the DCT really works- when you're revving out the car and engaging those gears.
Suspension
4.1 out of 5.
Again, it doesn't help that the Juke ST-L is fitted with 19-inch wheels, and this certainly does have an impact on its ride on the road.
You're going to encounter rough patches of road, speed bumps and potholes when daily driving your Juke, and if you're not careful, you will get a loud 'thump' of the suspension reacting to being battered against these surfaces. Nothing surprising, however, it is just a bit more apparent in here when you do hit that bump a little too hard. If you're careful around these obstacles, the Juke can offer you a smooth and relaxing ride.
Fuel Efficiency
4.2 out of 5.
I've listed both pros and cons of the DCT , however, it is hard to argue against it when its main purpose is to help save on fuel consumption.
The claimed fuel consumption of the Juke is 5.8L/100km (claimed), which is pretty good for a CUV. What did I average during my week with the Juke? Around 7.2L/100km, with a nice mix of urban and long stretches of highway driving. While on the highway, I saw my average drop to 5.9L/100km, when driving through country roads and some elevated roads. I did see our average around town top out at just above 10L/100km though, so be aware that it can sip a bit more than the claimed 5.8L in its natural habitat.
You will only need to fill the Juke with 95 octane, with a full tank costing you around $76. This is acceptable seeing that you can get a maximum range of just over 800km on a single tank when you're out driving on the highway.
Handling
4.2 out of 5.
When you're done carrying around passengers, the Juke can, in fact, corner quite sharply. You can see in these images, and in person, that the Juke's wheelbase is relatively wide for a CUV. This isn't inconveniently wide, instead, it provides a visual and performance-orientated stance, helping carry you smoothly through corners. The Juke is fun to put through corners! Who would have thought?
If you have to carry passengers and luggage on longer journeys, the Juke is a great road-trip companion. I had a passenger fall asleep, only to be awoken when we arrived at our destination. This is a testament to the Juke's handling - it's smooth enough for your passengers to snooze in when faced with hours of driving ahead of you.
Around town, the Juke can make sharp turns with no complaints and complete u-turns in an 11m diameter circle, tight enough to avoid most three-point turn scenarios.
Interior Design
4.4 out of 5.
A wow-point for me with the new Juke, I really think Nissan have done an excellent job designing this new interior.
It's a standout from the competition, and certainly compliments the wide and more muscular exterior. Your attention is immediately drawn to the circular jet-engine-like air vents mounted on the dashboard.
The Juke ST-L trims the dash with stitched leather, which is a nice touch, and really lifts this interior to where I'm sure the designers intended it to be. Yes, they did have to stick a touch-screen right on top of the dash, but it doesn't impede your vision out of the cabin.
What's cool in here is that the Start/Stop button is 'sunken' into the leather trimmed centre tunnel, which feels and looks a lot more exciting than being hidden away somewhere else on the car.
The leather trimmed boot around the shifter really does improve the look of the interior, rather than having a cheaper plastic gutter for the shifter to travel along.
Moving over to the driver's gauges, I thought the implementation of a digital display between two analogue gauges worked really well. The responsiveness of both this driver's display and the centre display was seriously impressive, making it seamless to interact with rather than being a laggy chore.
The steering wheel design is 'sporty', where Nissan have gone out of their way to use a flat bottom wheel in a car that didn't really need to have it. Personally, I'm glad they did put it in here, it looks the part.
Finally, the front seats are the cherry on top for the interior design, designed as a two piece seat, emulating the design of a sporty bucket seat. They look interesting and definitely help hug your body when testing out my claim of the Juke being really great at handling sharper turns.
Boot Size
4.2 out of 5.
The new Juke has a boot capacity of 422L with the rear seats up - a decently sized boot.
There's no automatic tailgate to gain access to the boot, instead you're greeted with a manual hatch. Open up the boot and you're also met with a large drop to the boot floor, which will prove to make getting larger items in and out more difficult.
Fold those rear seats down in a 60:40 split (to reveal 1305L of boot space), and you're going to again be presented with another large drop, between the rear of the seats and the boot itself. Forget about seamlessly sliding cargo in the boot, the boot floor is just too uneven.
You will be happy to know that you do get the benefit of a CUV without a sloping roof line impeding on rear head room, so there's plenty of height for taller items to be stowed in the back.
Comfort
4.3 out of 5.
You're likely to be looking to buy a Juke not just because it looks good, but also because you want a comfortable daily driver.
The Juke certainly will go a long way to help you feel comfortable, with a few standout features being particularly useful, such as a swath of safety equipment, heated seats, and a well insulated cabin.
Safety equipment, which is standard across the range, includes blind spot monitoring, reversing cameras and a rear cross traffic alert, makes driving the Juke around town very comfortable as you have plenty of safety nets and alerts fitted.
It's not just the safety equipment that helps with comfort, there's also some creature comforts which include front heated seats, a 360 degree camera, Apple CarPlay/Android Auto, radar cruise control and keyless entry, exit and start/stop.
The Juke ST-L represents a more luxurious and overall, more convenient Juke, when compared to cheaper models in the range. You'll want to head up the model range to feel as if you're being looked after by your car
The Juke makes for a great daily driver, with nicely contoured seats that offer decent cushion, which remain comfortable after many hours of driving. Your rear passengers will have enough space if they are grown adults, just don't expect to still be friends with the passenger that had to sit in the middle seat for longer than 20 minutes. Fitting child seats is a breeze with easy to access ISOFIX anchor points, and the conscious touch of having space to tuck the rear seatbelts out of the way.
Whether it's driving to work or driving hours on end to get to the mountains, the Juke provides that predictable and relaxing interior where you can feel as if you won't be overly exhausted driving it around.
Features
4.2 out of 5.
The Juke ST-L is fitted with a few extras for the price you pay, but it does share the same engine and drivetrain found across the entire range.
Check out the key features outlined below:
Engine
7-speed Dual Clutch Transmission
Turbocharged 3-cylinder petrol engine
84kW
180Nm
Infotainment
8-inch colour touch-screen display
Bluetooth with hands free phone system
Digital Radio (DAB+)
Apple CarPlay/Andriod Auto
Satellite Navigation with live traffic monitoring
6 Speakers
Safety
5 star ANCAP safety rating
Driver and front passenger front impact SRS airbags
Driver and front passenger side impact SRS airbags
Front to rear SRS curtain airbags
3-point Emergency Locking Retractor front and rear seatbelts
Child restraint anchorage (RH/LH isofix + tether and centre tether)
Seatbelt reminder (front and rear)
Alarm
Autonomous Emergency Braking with Pedestrian and Cyclist Detection
Forward-Collision Warning
Lane Departure Warning
Blind Spot Warning
Rear Cross Traffic Alert
Active Speed Limiter
Emergency Stop Signal
Traffic Sign Recognition
Lane Keep Assist
Performance
Drive Mode Selector (Eco, Standard, Sport)
Paddle Shifters mounted to steering wheel
MacPherson strut front suspension
Twist beam coil spring rear suspension
Front and rear stabiliser bars
Convenience
Rear parking sensors
Speed-sensitive variable intermittent windshield wipers
12V power outlets (x1)
Cup holders (x2) and bottle holders (x4)
One-touch window control (front and rear) with remote operation
Tilt and telescopic steering adjustment
Seat back pockets (x2)
Illuminated mirror visors
Satellite navigation with live traffic monitoring
Auto air-conditioning
Front parking sensors
Intelligent Key® with push button engine start
Rain-sensing front wipers
Intelligent Around View® Monitor with Moving Object Detection
Auto-dimming rearview mirror
Intelligent Cruise Control
7" Advanced Drive-Assist® Display
Automatic LED headlights with High Beam Assist
Heated and auto-fold door mirrors
LED Fog lights
Metallic grey centre console
Heated front seats
Front centre armrest
Leather-accented steering wheel, shift knob and gear shift boot
Black chrome headrest finisher
Centre console and door trim with ambient lighting
Should you buy one?
This is certainly a top 3 contender for small CUV's if you're looking for a stylish, roomy and safe daily driver. Certainly test drive one and see the new Juke in person to decide if it's the right car for you.
About the author
Cameron is your typical car nut, but also drives and writes about cars for ProductReview.
One of the most strikingly designed vehicles on the road!
I drive 25000 to 30000 k's per year as I live in the country. I purchased the Juke because of its blend of funky styling and practical features. It has heaps of space for a small SUV. It's engine is efficient, I regularly see figures of 6.5l for a mixture of urban and country driving. It handles well and I rarely find a lack of power from its three cylinder 1 litre engine. The stop start system can take some getting used to but generally works fine. It handles well and the radar cruise control works beautifully both in the city and on long coun...
Read more
try commutes. I also love the automatic lights and auto dipping high beams. Night driving becomes less of a chore with such features. The 360 degree cameras make parking a breeze. The cabin design is funky like the exterior, with comfortable seats and some nice leather touches. This car is both a joy to drive and fun to look at. I would highly recommend anyone to consider a Juke when looking at small SUV's.
Purchased in for $29,900.
Similar opinion? Write a review on ProductReview.com.au!
See all Nissan Juke reviews
Questions & Answers
Sorry, there are no questions about Nissan Juke F16 ST-L (2020-2022) but you can read 3 questions about Nissan Juke.
Get an answer from our members and Nissan representatives
Details
Compare all 11
Nissan Juke
Category
Small / Compact SUVs
Transmission
Dual-Clutch (DCT)
Drive Type
Front Wheel Drive (FWD)
Fuel Type
Petrol
Wheels
19" Alloy

Doors

4

Seats

5
Fuel Consumption
5.8 L/100km
Fuel Tank

Capacity

46 L
Engine
3 Cylinder 1.0L
Engine Code
HR10DDT
Max Power
84kW @ 5250rpm
Max Torque
180Nm @ 2400rpm
Country of Manufacture
United Kingdom
Maximum Towing Capacity (braked)
1,250 kg
Maximum Towing Capacity (unbraked)
648 kg
Manufacturer Warranty
5 year(s)
Dimensions
Ground Clearance
172 mm
Release date
Compare all 11
Nissan Juke
Visit official website
ProductReview.com.au has affiliate partnerships. These do not influence our content moderation policies in any way, though ProductReview.com.au may earn commissions for products/services purchased via affiliate links.