1 photo
Nissan X-Trail T32.II ST (5-Seat CVT FWD) (2017-2022)
Also referred to as: Nissan X-Trail T32.II ST (5-Seat CVT FWD) 2021 and Nissan X-Trail T32.II ST (5-Seat CVT FWD) 2023.
3.7

from 6 reviews ·

View Statistics
Listing monitored by Nissan
Expert Review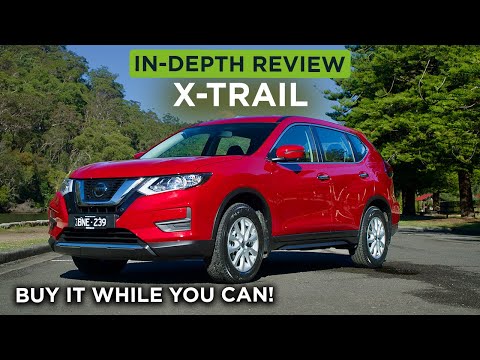 3.7 out of 5 stars
What is it?
The new X-Trail has been announced, has already been on sale in the USA for just under a year, and is hot on its way to Australia.
Due to a number of factors, we haven't seen a local launch of the new X-Trail yet. Nissan is still marketing the last of this generation of X-Trail to try and sell as many as they can before the new one arrives.
I thought now would be a good time to drive the outgoing model to see if it's good enough to grab at a discount, either as a demonstration or leftover stock when the new X-Trail arrives at any time now.
---
Build Quality
4 out of 5.
A Nissan X-Trail isn't a luxury car, but it does make for a long-lasting family car.
There are lots of hard plastics, and functionality appears to be the first goal of this car over luxury appointments.
It may seem cheap by touch, but the materials used will last a lot longer than softer plastics and leather. Although, hard plastics do have a tendency to rattle and squeak over time - it's the reason why us car reviewers usually despise them.
Overall, I felt as if the X-Trail could take any abuse I threw at it, however, some extra soft-touch materials wouldn't have gone astray.
How Much Does it Cost?
4.4 out of 5.
At $37,565 drive-away, the ST-X model of the X-Trail isn't a terrible deal. You get a lot of space, Apple CarPlay, automatic headlights, satellite navigation and a 360 degree parking camera.
Really, you're buying this car for the space. There's space for five adults to be carried around, or for a family with growing kids. There's also plenty of cargo space in the boot, making the X-Trail the logical budget-friendly choice for those looking for an SUV that'll carry the most people and luggage.
Be warned though, that you could be putting that cash towards a far more updated version of the X-Trail in the coming months, or a more modern feeling Hyundai/Kia product.
Unless stock is extremely limited, I'd be looking for a deal on that driveaway price to make up for this SUV that lacks a few safety features and creature comforts.
Warranty and Servicing
4.3 out of 5.
Nissan offers a 5-year/unlimited kilometre warranty with the X-Trail and a capped price service program.
It's part of the appeal of buying a new X-Trail, however keep in mind Kia offers a 7-year warranty if that's what you're after.
Over the long term, it's a simple car, mechanically speaking. The only main issue our reviewers said they encountered were some concerns about the CVT automatic transmission,but this seems to only be found with older models.
Noise Level
3.8 out of 5.
A Nissan X-Trail isn't the most luxurious vehicle when it comes to sound.
There's an uninspiring exhaust and engine drone as this is a utility family car, not some track-focused performance SUV.
Along with the engine sound, the speaker system is just fine. You'll want to ensure that speed-sensitive volume adjustment is enabled. Road noise can become more apparent at higher speeds and on coarse roads.
Overall, you're able to enjoy a quiet cabin space, until you need to accelerate a little harder, when that distinct drone of the engine and exhaust interrupts.
Braking
3.7 out of 5.
A basic SUV like this doesn't weigh as much as you might think.
Braking is as familiar and easy as it is on your family's hatchback. The X-Trail feels nimble and smooth to operate when slowing down for, say, a set of traffic lights or even a school zone.
It'll be easy for a learner driver to master within a few moments of driving.
Strangely, the handbrake is foot operated. It doesn't get in the way like you might think, and I sort of prefer it to a traditional hand brake, since it requires a little less effort.
Acceleration/Power
2.5 out of 5.
This has a 2.5L non turbocharged petrol engine. It produces 126kW and 226Nm, with all that power being sent to the front wheels via a CVT transmission.
It isn't a terribly heavy SUV, since this is only FWD, so power to weight is around 86.4kW per tonne.
Acceleration feels more rapid than it actually is thanks to a sharp initial response from the motor and transmission. Once peak revs are reached, that's where the X-Trail feels a little slow.
Unless you're constantly overtaking on country roads, the X-Trail has no problem keeping up with traffic on your daily commute and on the highway. Loading up this SUV with a few more passengers and a lot of luggage, however, will put this weaker powertrain to the test up steep hills.
Gear Shifting
4.1 out of 5.
There are simulated gears programmed into the CVT transmission, however, when in Drive, you're only going to experience one.
Shifting into gear is as traditional as it gets for an automatic. There's nothing complicated about engaging and using this gearbox. It simply gets the job done, and always ensures the engine is at the lowest rpm, and in the optimal rpm range for rapid accelerations.
Suspension & Handling
3.7 out of 5.
I found the X-Trail to be supremely comfortable. Plenty of tire wall, suspension travel and height over the ground allowed for it to make traveling from A to B as easy as it should be.
Whether touring on the highway, navigating potholes or making tight turns, the X-Trail is able to do it all smoothly.
A vague steering feel does nothing to encourage any spirited driving. Instead, it's easy to turn at low and high speeds, again, making it ideal for a range of drivers. Being easy to drive reinforces the X-Trail's primary purpose as a family hauler.
Fuel Efficiency
3.8 out of 5.
The X-Trail is relatively fuel efficient, despite lacking a turbocharger and having a naturally aspirated petrol engine.
I saw figures around 8-10L per 100km of driving. It's not as efficient as a diesel powertrain, but at least you don't have to worry about typical diesel maintenance issues if you're daily driving this SUV around town.
Interior Design
2 out of 5.
My issue with this old design of the X-Trail is the interior. It's a bland design and really is built with the ethos of 'function over form'.
Amongst a sea of hard plastics and fake stitching, there are plenty of hard buttons. These are used to control menus on the centre touch screen, climate controls and drive modes.
Unfortunately, there's only one USB port for the entire cabin, highlighting the fact that the new X-Trail is rapidly approaching to replace this model we see here.
The centre touch screen serves best as a display for Apple CarPlay or Android Auto, via a wire.
I don't dislike this interior, rather, I'm demonstrating that this car has been on sale for about a year too long. If you don't particularly want anything flashy and just want the absolute basics, this model of X-Trail will serve you very well.
Boot Size & Comfort
4.5 out of 5.
There's a large manual hatchback, which reveals the main appeal for buying an X-Trail. Its cargo carrying capacity is 595L of storage with all the seats up, and 945L with all the seats down.
Seats fold in a 40:20:40 split, further justifying just how practical this SUV really is.
If you're lacking space for smaller items, you can open up the boot floor to reveal plastic compartments. This is ideal for dirty luggage or to keep small items from rolling around.
The second row is great for a growing family because they can take advantage of the ISOFIX points and the acres of headroom, feet room and knee room. It's going to be annoying to charge all of those devices just with one USB port, but at least your passengers will be able to bring their bags and be comfortable.
Features
3.6 out of 5.
The ST+ isn't a feature-packed SUV, allowing you to save a bit of money. There are the basics here, plus a little more, like keyless entry and exit and a 360 degree parking camera system.
In addition, you can now order a Nissan Dog Travel Kit, whichI requested to review for my carphobic Golden Retriever. Varying in cost, our kit was priced from $460. It included a storage bag that mounted behind the front seats, a lead with a Nissan branded poo-bag, a water-tight storage bag, a Nissan-branded dog bowl, a boot-sized dog bed and a collapsible dog ramp.
I found it to be absolutely worthwhile if you have a large dog that needs to be moved around in your car. There's quite a distance between the boot floor and the ground, so you can save your dog's joints by allowing them to walk up and down the collapsible ramp. And, they can relax on the padded bed rather than awkwardly straddle the hard boot floor.
Nissan didn't cheap out on this kit, and it's one of my favourite optional accessories of 2022.
Engine
Petrol 2.5L 4-cylinder (non-turbo) naturally aspirated

126kW, 226Nm
Power-to-weight ratio of 86.4kW/tonne
Infotainment
Apple CarPlay and Android Auto

Voice Recognition
AM/FM/CD/AUX audio system
Six speakers
1x USB port
Bluetooth® audio streaming
Safety
Front, front-side and front curtain SRS airbags

Intelligent Emergency Braking
Forward-Collision Warning
Lane Departure Warning
Child restraint anchorage (RH/LH isofix + tether and centre tether)
Convenience
Bluetooth handsfree phone system

Front and rear parking sensors
Intelligent Key with push button engine start
Tilt and telescopic steering adjustment
Cruise control
Speed sensitive variable intermittent windshield wipers
12V power outlets (x2)
Remote window control
One touch window control (front and rear)
7.0" colour touch-screen display
Satellite navigation with live traffic alerts
Intelligent Around View® Monitor with Moving Object Detection
Rearview camera with predictive path
Rain-sensing wipers
Rear centre armrest with two additional cup holders
Buy it, Consider it, or Leave it?
The reason why you'd currently consider an X-Trail ST+ is because: you want to save money, or you don't care about the upgrades coming to the X-Trail.
It's now more important than ever to save money, and that's what buying a demonstrator or run-out sale X-Trail can do for you.
It's a back to basics SUV that'll serve as the family hauler for a growing family. It's got plenty of space, it's easy to drive and it's easy to use. That's what makes this basic X-Trail so appealing, and makes me appreciate it being sold right up until the new one lands here later this year.
You should buy it to save a little more on your medium-sized SUV. Although, maybe wait until the new one lands if you're liking most of what the X-Trail has to offer, but want a bit more of a modern flair.
About the author Cameron is our resident car expert. Aside being a source of knowledge about the automotive industry, he has also driven a wide variety of cars - from a Porsche 911 GT2 RS, through to a 1998 Toyota RAV4.
My complaint is with Nissan Australia, 6 months out of warranty and wont do good will on a safety issue, front radar collision module on my 2018 Xtrail because I bought it at a auction & not a used car dealer.
Very poor service , the car itself is a good car, this seems to a common fault with Nissan ingeneral when searching the internet
Similar opinion? Write a review on ProductReview.com.au!
I had this car for loan for about a month and it was so bad we tried to avoid it as much as posible. We generally used it for school drop offs and shopping. The cargo space is nice but still only 5 seats. The interior belongs in the bin. It was all cheap plastic and the front armrests on the door were very uncomfortable. The infotainment was just a screen about half the length of a smartphone and wasn't touch screen, and was hard to navigate.. The drive train, could be better. Like seriously... a CVT, it was hard to drive and would have much pr...
Read more
eferred a normal 4 speed even automatic transmission. FWD isn't bad but would have preferred RWD not FWD. The engine was alright, pretty gutless. If you were to buy this car definitely buy the top trim.
Purchased in .
Similar opinion? Write a review on ProductReview.com.au!
I use the car to commute to work as well as family transport. The Xtrail is great with plenty of space and leg room for both driver and passengers. The ST has all the basic tools, if you would like a bit more accessories then its worth to invest int he ST-L. We bought our Car from Brighton Nissan, Jimmy did his absolute best to help us with the car as well as Chris, Niraj and Antonio. I would definitely recommend Nissan Brighton.
Purchased at Nissan Dealers.
Similar opinion? Write a review on ProductReview.com.au!
Find out how Nissan X-Trail T32.II ST (5-Seat CVT FWD) compares to other Midsize / Medium SUVs
Know better, choose better.
Compare all
Rear floor compartment on a 5 mth old Xtrail cant handle two dogs eg Golden Retrievers. The material bends, dislodges and drops the dogs into the hidden compartment. Complained to dealer who advised me he knew exactly what I was talking about as he had fallen into the hidden compartment of another Xtrail the day before. No offer to fix, just note. Totally upset now that my 6yr old dog on her way to be put to sleep fell into the compartment screaming in pain. Its useless and given Nissans incompetence I intend to cut a sheet of chipboard into shape. Clearly used cheap materials to save fuel consumption.
Purchased in for $26,990.
Similar opinion? Write a review on ProductReview.com.au!
We have owned this car for about 8 months and I can't fault it. We have a baby and a toddler and their seats fit comfortably in the back and an adult can sit between them (although it's a bit cramped). The boot is huge and the telescopic back seat means we can choose between more boot space or more leg room depending on what we're doing. I struggle to live without the 360 degree cameras in my other car now. A very comfortable and quiet drive and strong enough to tow a trailer. My only small gripe is the GPS system seems to send you on long and strange routes but I just use my iPhone map connected by Bluetooth.
Purchased in at Cricks Noosa.
Similar opinion? Write a review on ProductReview.com.au!
See all Nissan X-Trail reviews
Questions & Answers
Sorry, there are no questions about Nissan X-Trail T32.II ST (5-Seat CVT FWD) (2017-2022) but you can read 365 questions about Nissan X-Trail.
Get an answer from our members and Nissan representatives
Details
Compare all 25
Nissan X-Trail
Category
Midsize / Medium SUVs
Starting

Price

$30,990.00
Transmission
Continuously Variable (CVT)
Drive Type
Front Wheel Drive (FWD)
Fuel Type
Petrol
Wheels
17" Alloy
ANCAP Safety Rating
5 Stars
Fuel Consumption
7.9 L/100km
Fuel Tank

Capacity

60 L
Engine
4 Cylinder 2.5L
Max Power
126kW @ 6000rpm
Max Torque
226Nm @ 4400rpm
Country of Manufacture
Japan
Maximum Towing Capacity (braked)
1,500 kg
Maximum Towing Capacity (unbraked)
750 kg
Manufacturer Warranty
3 year(s)
Dimensions
Ground Clearance
210 mm
Release date
Compare all 25
Nissan X-Trail
Visit official website
ProductReview.com.au has affiliate partnerships. These do not influence our content moderation policies in any way, though ProductReview.com.au may earn commissions for products/services purchased via affiliate links.