7 photos
Subaru Forester S5 2.5i-S (2018-2022)
Also referred to as: Subaru Forester S5 2.5i-S 2021 and Subaru Forester S5 2.5i-S 2023.
3.6

from 13 reviews ·

View Statistics
Listing monitored by Subaru Australia
Expert Review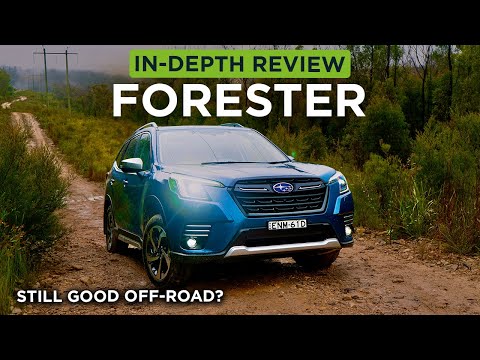 4.1 out of 5 stars
What is it?
This is the latest iteration of the legendary nameplate that is the Subaru Forester.
It's been slightly refreshed for 2022 with some slight cosmetic changes and the inclusion of features like Active Lane Keep Assist.
It's a popular choice for families here in Australia as an affordable, capable and safe daily driver.
There's sharp competition in the form of the Toyota RAV 4 and the Mazda CX-5, however neither of these claim to be as offroad-focused as the Forester.
I wanted to find out whether this refreshed Forester was worth buying as a daily family runabout and whether it still lives up to its legendary overlanding status.
---
Build Quality
4.2 out of 5.
Subaru have traditionally always felt a little 'tinny'. but the new Forester is changing that. No, it's not Audi levels of solid in its overall feel, but it's certainly a step in the right direction.
Around the exterior trim, pieces look and feel tightly bolted to the body of this SUV. There isn't a thread out of line along the stitching, and buttons have a satisfying spring to them when pressed. Although, don't press too hard on the climate controls, as that whole panel in our test car moved a little too much for my liking.
Over coarse sections of road, the Forester doesn't rattle like it used to in previous generations. It certainly feels like Subaru has upped the ante in its build quality process, and this is especially apparent in the new Forester.
How Much Does it Cost?
4.4 out of 5.
This is the second most expensive Subaru Forester you can buy, coming in at $44,190 before on-road costs. The hybrid variant sits at the top of the tree, sneaking in at just under $50,000 before on roads.
You receive upgraded wheels, interior trim, a 2.5L engine, a sunroof, creature comfort features like heated seats and an upgraded speaker system.
Sure, you can live without these upgrades, but this certainly does show the Forester in its best light. It makes daily driving feel like less of a chore, as you're surrounded by a more plush version of this affordable family SUV. Not to mention, that Harman/Kardon speaker upgrade certainly is worth it if you love your music
Warranty and Servicing
4.5 out of 5.
All Foresters are covered by Subaru's 5 year/unlimited kilometre warranty, and come with a capped price service program that again covers 5 years or 62,500km.
Here's a breakdown of each service interval and cost over 62,500km or 5 years of driving:
| Interval | Cost |
| --- | --- |
| 1 Year or 12,500 km | $342.29 |
| 2 Years or 25,000 km | $591.72 |
| 3 Years or 37,500 km | $343.89 |
| 4 Years or 50,000 km | $794.17 |
| 5 Years or 62,500 km | $350.31 |
| Total | $2,422.38 |
Service intervals are a little short, and I would have liked to have seen coverage extend a little beyond 62,500km of driving. However, Subarus don't have a reputation for being all too expensive to service out of warranty.
Noise Level
4.2 out of 5.
Since there's a lack of turbocharging and this is a petrol engine paired to a single-gear CVT automatic gearbox, this isn't the quietest engine option.
At low rpms and under mild acceleration, the Forester is indeed a quiet car. However, step deeper into the accelerator and you can't avoid the unmistakable drone of a single-gear, high-revving petrol motor straining to deliver all of its power.
What was a stand out was the upgraded Harman/Kardon speaker system. There's even a speaker added to the boot for maximum immersion. I had a $100,000 Land Rover on test at the same time as this Forester, and I have to say that this speaker system absolutely outperformed the Land Rover's speaker system by a country mile.
It came down to the clarity, power and bass that meant the Subaru's speaker system could produce superior sound than that of a car double its price.
Braking
4.2 out of 5.
This isn't a hefty SUV, so braking isn't a chore for this particular family car.
I felt confident and comfortable bringing the car down to a stop. It's certainly a vehicle that's approachable and easy for a range of drivers - even first time drivers - to operate.
Subaru have fitted their 'EyeSight' camera safety system to the Forester, which automatically detects any obstacles that might pose a threat. It's active and warns you before deploying the brakes autonomously, which is a nicer experience than just activating before warning you, a habit older versions of this safety system used to possess.
Acceleration/Power
3.4 out of 5.
At 136kW and 249Nm, this isn't a powerhouse of an engine, but it is enough for daily driving and light off-roading needs. Like many other buyers, I would have liked to have seen the return of a turbocharger to the top-of-the-range petrol motor.
Despite feeling strong enough to allow the Forester to feel brisk, I could only imagine it feeling a little strained when faced with a school holiday-packed car.
Power is delivered instantly thanks to the lack of said turbocharger, however peak power is produced high up in the rev range. This means you'll need to endure higher revs to squeeze maximum power when facing overtakes or long, steep inclines.
Gear Shifting
4 out of 5.
There are no gears to shift through in the Forester, even if Subaru provides a set of paddle shifters on the steering wheel. There are artificially programmed gears to move through, however you can tell they're not really there and that it's just a way to manually adjust engine rpms.
Instead, this single-gear CVT gearbox finds the optimal rev range and holds that rev through to its top speed.
It's a despised transmission purely because of its tumultuous reliability in other cars, however in the Subaru I found it to be the perfect pairing. I certainly enjoyed the lack of gear changes and the way the gearbox kept revs as low as possible, despite this being a petrol motor.
Suspension & Handling
4.3 out of 5.
I was exceptionally comfortable during my time in the Forester. It's not as plush as the more expensive Land Rover I had the same week, but the Subaru manages to avoid translating the worst parts of the tarmac through to the cabin.
A flat four engine has a lower centre of gravity than a traditional inline motor, which helps with cornering and handling. Add in Subaru's 'Symmetrical AWD' system and you have a distinct grip that doesn't skip a beat, even when being pushed.
Off-road, the Forester managed to behave extremely put together across sand, rocks and gravel. I'd love to see more ground clearance and grippier tyres to really enjoy these dirt trails.
Fuel Efficiency
3.5 out of 5.
Combined fuel efficiency is claimed to be 7.4L per 100km. I saw an average of around 10L per 100km during my time with the Forester.
It's not the most efficient engine by comparison to the hybrid engine option, however it can return a low enough fuel consumption figure over long distance drives.
Interior Design
3.7 out of 5.
There hasn't been a massive overhaul of the Forester's interior for this generation. There's still that three digital display set-up alongside the most amount of buttons I've encountered in a car's interior.
Subaru has hesitated to implement that futuristic and forward thinking vertical screen found in the Outback, and instead have kept the multiple screen setup. I'm certainly more of a fan of the Outback's interior over the Forester's, however it means you don't have a shortage of information or control over your car's individual features.
There's plenty of light that can enter this interior via a large glass sunroof and tall side windows. Analogue dials are still used in Subaru's interiors, which are easy to read and aren't a low point by any means.
I think Subaru could use a lesson in minimalism to reduce the number of buttons in here, however they could fall into the trap that VW has by eliminating all ease of use from their cars by doing so. Many of our Forester owners on Instagram mentioned they loved the interior design of this beloved SUV, so I'll trust long term owners that this is a user-friendly setup enjoyed by the masses.
Boot Size & Comfort
4.3 out of 5.
There's 498L of boot space with all seats folded up and a total of 1740L space available when the second row is folded.
Part of the Forester's appeal is its boxy, almost station wagon-like proportions. It allows for plenty of vertical space and a flat load floor to make ingress and egress a breeze. Add the fact that you can electronically fold the seats from the boot in a 60:40 split, and you'll absolutely understand why families have been buying generations of Forester for their daily driving needs.
Front row seats provided plenty of comfort and support over long periods of time, and the same can be said for the second row.
Five adults can enjoy being carted around in the Forester, however it would be more comfortable for four adults as that middle seat can feel like a bit of a squeeze, thanks to a raised transmission and exhaust tunnel.
Features
4.5 out of 5.
There are a lot of features included with the purchase of a 2022 Forester 2.5i-S. I certainly enjoyed everything from the heated leather seats through to that impressive speaker system.
Additionally, a suite of safety features and an all-wheel drive system headline the reasons why you'd consider buying a new Forester.
You can see the full list of features from this car in the list below:
Engine
2.5L non-turbo flat-four petrol engine
139kW and 249Nm
CVT automatic transmission
Symmetrical AWD
Infotainment
6.3" touch screen
4.2" driver's display
Multi-function display unit
Apple CarPlay and Android Auto
Harman Kardon speakers, subwoofer and amplifier
Safety
Electronic Stability Control (ESC)
Traction Control System (TCS)
Active Torque Vectoring system
Driver Monitoring System
Reversing camera
EyeSight® Assist Monitor
Blind Spot Monitor (BSM)
Lane Change Assist (LCA)
Rear Cross Traffic Alert (RCTA)
Reverse Automatic Braking (RAB)
Performance
Off-road drive modes
Paddle shifters mounted to steering wheel
1800kg towing capacity
Full-size spare tire
Convenience
Power tailgate
Power mirrors and windows
Smart key and push-start ingnition
Illuminated sunvisor vanity mirrors
Rear heated seats
Sunroof
CD player
Leather seats
x4 USB charging ports
X-Mode drive mode selector
Buy it, Consider it, or Leave it?
There's a strong reason why Forester buyers constantly upgrade their cars to the next generation. It's for the same reason that Porsche buyers head for the next generation of 911.
There are no dramatic updates and no gimmicky attempts at innovating; it really is an example of automotive evolution.
It's the combination of space, reliability, all-wheel drive and comfort that makes the Forester so appealing. Against the Toyota RAV 4 and Mazda CX-5, the Forester complements a more adventure-focused family simply because it's a tried and tested vehicle many Aussies rely on to drive across a variety of terrain.
It's not an aggressive off-roader, but you should definitely buy the Forester over its competitors if you're someone who needs all of those previously mentioned qualities that make this Subaru so appealing. Consider it if you want a more tarmac-focused SUV, as a Mazda CX-5 for example will be more driver-focused with sharper driving dynamics and a turbocharged engine.
About the author Cameron is our resident car expert. Aside being a source of knowledge about the automotive industry, he has also driven a wide variety of cars - from a Porsche 911 GT2 RS, through to a 1998 Toyota RAV4.
No beep sound while lock and unlocking door
Recent bought 2022 forester 2.5i-s and waiting for the delivery. Really disappointed while locking unlocking doors but no beeping sound. It just flashing a light at top of range model. I asked the dealership but they said already have factory fitted alarm on it and other dealer said $700 for alarm option. Who is right? Really confused.
Similar opinion? Write a review on ProductReview.com.au!
Sudden Acceleration and Jerking
Today is the fifth day that I got my new Forester 2.5i-S. Today when I was decelerating and near to stop, the car sudden accelerates itself, it makes me almost crash the car in front of me. Besides that, it also lurch and jerks very often during deceleration or slightly acceleration. I think it's an engine or transmission programming issue, I'm not dare to drive it now, I have called the dealer's service department and they replied that they have never heard this issue with my model before. I used to own other brands of cars but never experienced this before, it's weird, especially for a new car. Totally disappointed and want to sell it immediately.
Similar opinion? Write a review on ProductReview.com.au!
The rear passenger seatbelt has never retracted properly from when we purchased the new vehicle 15 months ago. As a result the belt is often left in the door reveal and much damage has occurred when passengers have unknowingly shut the door on the seatbelt. Subaru continues to blame us for the damage. Moreover we have been driving around with what are essentially defective seatbelts! Finally they have agreed to replace the seatbelts but will not repair the damage done to the door reveal (they say this would be too costly to the environment!) I look forward to having some safe seatbelts in my car Subaru. The vehicle itself is great, but we are very disappointed in Subaru who pride themselves as selling safe vehicles.
Purchased in for $50,000.
Similar opinion? Write a review on ProductReview.com.au!
Two weeks in and very positive experience
Took a Forrester S5 2.5i-S for a test drive, Shannon from Gosnells Subaru was very helpful not pushy as some car people can be. Only had it for two weeks but I am really enjoying the fab features on the very impressed vehicle. We purchased the Black Vue cameras in the deal, camera was fitted at the dealership. It did slip out of place, took it back and they fixed it straight away. The seat warmers at this stage are my favourite thing. it sits beautifully on the road, handles the wet weather well.
Purchased in at Subaru Dealers.
Similar opinion? Write a review on ProductReview.com.au!
Find out how Subaru Forester S5 2.5i-S compares to other Midsize / Medium SUVs
Know better, choose better.
Compare all
"IT'S A CHARASTERIC OF THE VEHICLE" - REALLY!!!
We have owned 3 previous Subaru Foresters and love the quality build, performance and safety features. With this in mind , we decided to upgrade both our Subaru's to the current top model 2.5I-S. My wife was first to receive hers in August. Driving she experienced stuttering, which was in her opinion not normal. The previous Subaru she had did not have this defect. North Jacklin carried out overnight testing on the vehicle, the report stating - "THIS IS A NORMAL CHARACHTERISTIC OF THIS MODEL - TO PREVENT ENGINE STALL THE IDLE IS RAISED ON COLD ...
Read more
START OPERATING TO BRING THE ENGINE TEMP UP QUICKLY - ENGINE STUTTER IS A BY PRODUCT OF THIS FUNCTION AND IS NORMAL". I could not believe that this is normal for any vehicle. My husband had his Subaru on order and it arrived 6th October. We were hopeful that the experience with our first one did not follow with his. Unfortunately he experienced jerking and shuddering issues with this brand new vehicle! Again his vehicle was taken to North Jacklin (who we must say is simply amazing) for a couple of days to try and sort out the issues. The result was the same in essence "IT IS A CHARACHTERISTIC OF THIS MODEL". We have encouraged family and friends to purchase this model Subaru and talking to them, they are having the same issues with this model, as we are. Subaru is known for its quality and this model certainly lives up to Subaru standard in that respect but one would not expect to have two brand new cars running rough. Checking out faults with this particular model (after the fact), we have found that Subaru customers are having exactly the same issues that we would like Subaru to address. It is not the fault of the seller, it is the company SUBARU that needs to address this issue. SUBARU what are you doing? Your fantastic reputation is going down the gurgler. We, along with many other loyal customers would like a fix. SUBARU I URGE YOU TO ADDRESS THIS ISSUE AS A MATTER OF URGENCY. We can no longer recommend your company.
Similar opinion? Write a review on ProductReview.com.au!
Great Car, a few fixable issues that they will not fix?
2020 2.5i-S. Paid the extra as I wanted a vehicle with navigation, not google maps or waze, just a simple navi system. At the time of purchase I read and was verbally told that the navi unit maps were Tom Tom and there were three years of free updates. Subaru Au web site states If your new Subaru is fitted with a factory line fit navigation unit your unit will be covered by Subaru's Map Update Program guaranteeing you'll have access to the latest maps for the first 3 years of ownership." The facts are there is only one Subaru Au update per ye...
Read more
ar being a total of three updates. Tom Tom update maps every quarter, hence, the Subaru guarantee of latest (Tom Tom) maps is deceptive advertising given Subaru update once per year and TOMTOM FOUR TIMES a year! My second issue is that there are no verbal or acoustic warnings for fixed cameras or when over the speed limit etc. You need to keep checking the screen for alert icons to pop up, hardly a safe way to drive, so I had to buy and fit a portable gps to get the warnings etc. doing that defeats the extra cost in getting a vehicle with navi? Here are the replies I have received from Subaru sometime ago, as I have only ever had one update, maybe the next one whenever that is, will fix the issues, however, I am not holding my breath. You be the judge! The MY20 Forester only has a visual alert for the sat nav when approaching the camera location. It's important to remember these features are driving assists. Careful driving where the road rules are followed should be practised at all times. Thank you for contacting Subaru Australia, The Sat Nav should not be relied upon for road rules. You should be always be aware of the road when driving and there are usually road signs for speed light cameras when approaching them. We will put your feedback through to our product planning team and to the supplier of the head unit/ map provider so they may take steps in providing the feature,
Purchased in .
Similar opinion? Write a review on ProductReview.com.au!
After driving for a month in both city and higher speed have found the Forrester very comfortable. All the extras on the S model make it easy when you get going, auto seat & mirror reset are great. Warning alarms though some may think annoying are just a reminder we are human and make mistakes or misjudgments.
Fuel consumption is good and though driving in the fuel efficient mode has still fast pick up when required. Engine shutdown when stopped saves an amazing amount of fuel. Startup is less than a second so no delays
Room through out is good as have been passenger in front & back ,only thing missing is phone charger but has many USB outlets
Previous car was current model XTrail and Subaru wins hands down.
Purchased in .
Similar opinion? Write a review on ProductReview.com.au!
Related Articles
Dashboard rattle, dealer can't fix
Dashboard is rattling crazily since new and already been to dealer 3 times. They can't fix it.
When the weather is cold, it make one noise. When it is hot, it make another rattling noise!
Small rock got inside the driver side door panel every time I travel on gravel road!
The dealer removed the rocks but never fix it so rocks still get inside every time!
Passenger seat squeak!
Driver side mirror rattle!
The car drive smooth but all the crackling and rattling noise is driving me crazy!
Build quality on this car is equivalent to something you order from Wish website.
Happy to trade in my 8 months old car now at a lost!
Ohhh it will constantly beeping at you for no reason!
Purchased in for $47,000.
Similar opinion? Write a review on ProductReview.com.au!
Find out how Subaru Forester S5 2.5i-S compares to other Midsize / Medium SUVs
Know better, choose better.
Compare all
Very comfortable fabulous safety features,
Easy to get in and out of, very comfortable, great colour range, best of all the excellent safety features. Easy to read large infotainment screen. plenty of leg room in the back. Excellent visibility. Love it
Purchased in at Subaru Docklands for $45,000.
Similar opinion? Write a review on ProductReview.com.au!
Incredible value for money
Want to pay double the price and get less? Buy a flash badged European car!
This car is incredible value I think for all the included safety features. Too many to list but the most important ones are.
Collision avoidance (brakes hard! to avoid rear end crashes)
Adaptive cruise control. Set the speed and it will keep a safe distance from the car in front and....collision avoidance will stop you hitting the idiot who turns at the last minute without indicating. Will even come to a complete stop at lights (when you have a car in front). Touch the ...
Read more
accelerator when the lights go green and it will cruise back up to your previous set speed or the speed of the car in front, whichever is less. Lane departure warning. It will gently ensure you stay in your lane. 5 star safety rating equals bloody cheap car insurance probably because you will never* have a rear end crash. * I cant see how you could ever have rear ender with this feature on (by default)
Purchased in for $43,000.
Similar opinion? Write a review on ProductReview.com.au!
It is great as a car, but not as a mobile entertaining tool.
I bought this car because I was expecting my baby and I need a solid car. This car came to my sight because it looks very tough, and it is. But what I did not expect was the horrible interior/ computer system design.
1. only 2 USB porters, and at the trunk near the elbow of the driver, seriously?? How can you access that??
2. no Apple or Google play system inbuilt in this car (2018MY). omg that's such a pain! every time you want to use the navigator, you'll have to use the outdated one inbuilt in your car, or you'll have to pay a good deal of...
Read more
money to update it. 3. worse things: MirrorLink and Pandora inbuilt in the system, which virtually do not exist in this car, because you cannot access them with any mobilephone. 4. No A/C duct at the back row. This is a minor issue but it will become something not satisfying when your baby is sitting at the back row and its SO HOT in your car when you get in or driving on the way. So if I could go back, I wouldn't have picked this model. I hope its 2019 model is better.
Purchased in at Subaru Dealers for $37,700.
Similar opinion? Write a review on ProductReview.com.au!
Find out how Subaru Forester S5 2.5i-S compares to other Midsize / Medium SUVs
Know better, choose better.
Compare all
True, we are only 5 days into our new Forester 2.51 S but wow! Silky smooth to drive, plenty of power, amazing technology covering everything you could need. Real luxury car feel with soft leather and great finishes. Traded in an xc90 and loving our experience.
Did lots of research before buying looked at xc60, x3, discovery sport (awful reliability), Honda CRV, Mazda X5...the Subaru came out on top for us with plenty of space, awd, latest release and features, great price compared to all the others.
So far so great!
Similar opinion? Write a review on ProductReview.com.au!
See all Subaru Forester reviews
Questions & Answers
Forester S5 2.5i-S (2018-2022)
I have heard that the latest release coming in last quarter2020 is increasing the tow bar load to 1800kg, has auto door locking and front corner parking assist as standard on the S version.Is this true,should I wait for this release as we like to tow a van and the 1500kg is a bit light on?
1 answer
Subaru
Subaru Australia
Send a private message
Hi @ Grime, There is the possibility that there will be changes to the Forester but we do not have any confirmed specs as of yet. Please keep an eye on our website for any new vehicle announcements. The Subaru Team.
See all

Subaru Forester

questions
Get an answer from our members and Subaru Australia representatives
Details
Compare all 18
Subaru Forester
Category
Midsize / Medium SUVs
Starting

Price

$47,958.00
Transmission
Continuously Variable (CVT)
Drive Type
All Wheel Drive (AWD)
Fuel Type
Petrol
Wheels
18" Alloy
ANCAP Safety Rating
5 Stars
Fuel Consumption
7.4 L/100km
Fuel Tank

Capacity

63 L
Engine
4 Cylinder 2.5L
Max Power
136kW @ 5800rpm
Max Torque
239Nm @ 4400rpm
Country of Manufacture
Japan
Maximum Towing Capacity (braked)
1,500 kg
Maximum Towing Capacity (unbraked)
750 kg
Manufacturer Warranty
5 year(s)
Dimensions
Ground Clearance
220 mm
Release date
Compare all 18
Subaru Forester
Visit official website
ProductReview.com.au has affiliate partnerships. These do not influence our content moderation policies in any way, though ProductReview.com.au may earn commissions for products/services purchased via affiliate links.