2 photos
Tesla Model Y Rear Wheel Drive (2022)
Also referred to as: Tesla Model Y Rear Wheel Drive 2023.
Brand Manager for Tesla?
Register now
and take advantage of ProductReview's Brand Management Platform!
Expert Review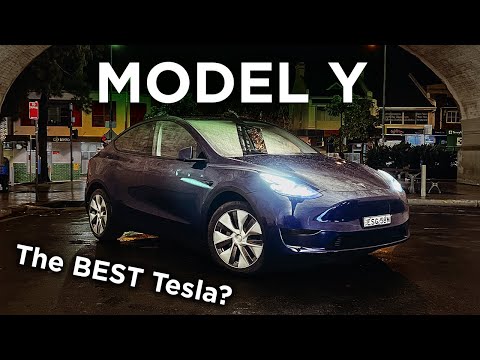 4.5 out of 5 stars
What is it?
Tesla has long dominated the Australian EV market with the Model 3. Since it went on sale, it's been the car of choice for anyone looking for an EV that's easy to use, modern, fast and spacious.
Compared to other EVs, it feels like a zero compromise car for a reasonable asking price.
As a result, many families have decided to choose the Model 3 to haul kids, family members and the luggage that comes with these passengers. Some of these buyers may have even hopped out of higher-riding SUVs in order to purchase Tesla's most affordable car.
Finally, the Model Y has arrived for these types of buyers. It's largely based on the Model 3, but it has a few key differences that will make it the best selling EV in Australia (I'm calling it now).
I lived with the Model Y during one of Sydney's wettest weekends to see if a larger boot, bigger second row and higher ride height really made that much of a difference compared to the base Model 3.
---
Build Quality
4.4 out of 5.
Being a member of the motoring media, I have to take the cars I get to review with a grain of salt. We're going to be far more attentive to build quality, especially on cars renowned for having a few issues with them.
Tesla is not without its faults and is infamous for having simple manufacturing mistakes. Luckily for Australians, we're usually getting cars a year or two after they've launched in the US. This means those teething issues during the manufacturing process are ironed out by the time we get new Teslas.
The Model Y presented no obvious faults, and I was deeply impressed with the build quality here.
I was particularly blown away with the materials used, even low down in the car's interior, with soft rubber being used in place of hard plastic in some places. The panels lined up accurately, there were no software bugs or glitches and thankfully, there were no rattles or squeaks. I will add I experienced the latter in the Hyundai IONIQ 5 (however this was an early build car).
I can only hope that this wasn't an exception for our press car, and is the new standard Tesla is adhering to in their Australian-delivered cars.
How Much Does it Cost?
4.8 out of 5.
Two models are available to purchase at the time of writing this article. This includes this (Base) model at $72,300 and the Performance at $102,329 before on roads and incentives.
Unless you're definite on blistering acceleration times, all-wheel drive and slightly more range, get the entry level Model Y.
There's no difference in materials, features or space between the two cars, so you really have to love the aforementioned advantages to justify getting the Performance.
A long range all-wheel drive model is expected to launch next year, along with Tesla's 7 seat option for the Model Y. However, that's not confirmed yet.
Against rivals like the Kia EV6, Hyundai IONIQ 5 and Volvo XC40 Recharge, the Model Y delivers a lot of value, particularly for its efficiency, space and access to Tesla's supercharging network.
Even against petrol-powered SUV rivals, the Model Y is more spacious, safer and feels more luxurious to drive.
Because of its pricing alone, the Model Y will be a massive seller, especially once EV incentives start to come into effect.
It's easy to justify the Model Y as the car to buy in 2022, although you will be waiting until early next year for deliveries.
Warranty and Servicing
4.3 out of 5.
Tesla claims that their cars don't have to be serviced at all until parts need replacing.
It's good news for your wallet, considering every other EV manufacturer aside from Tesla requires you to service your car for around $200 a visit.
Tesla's warranty is 4 years or 80,000km (whichever comes first). Additionally, battery warranty is 8 years or 160,000km (whichever comes first) along with a guarantee of 70% battery capacity over that period.
It would have been better if Tesla would have offered the more common 5 year/unlimited kilometre warranty. But that doesn't seem to affect sales all that much.
Noise Level
4.6 out of 5.
Tesla really is at the top of their game when it comes to sound isolation and making the most of silence.
In a Model Y, there are no fake engine sounds being generated, only the very faint whirr of an electric motor at the rear of the car. I love riding and talking in a Model Y, as there's nothing here to distract me from just simply relaxing and driving. You can actually feel your heart rate start to drop, even if driving feels like a stressful daily chore.
In addition, Tesla's sound system is top tier. A large speaker wraps around the base of the windshield, and speakers are splashed throughout the cabin to maximise the space in the Model Y. The sound stage is crisp, surround and has plenty of depth.
Although, it would be nice to see AirPlay or Apple Music integration to make the most of lossless audio files.
Braking
4.4 out of 5.
Despite its massive size and weight, the Model Y feels no different to any other SUV of a similar size when braking.
You have access to a traditional brake pedal (albeit it looks pretty ugly in the pedal box) which feels just like what you'd expect of a family SUV. There's a predictable initial bite, followed by a gradual and even braking feel.
You have access to regenerative braking, with road sign recognition. You can adjust how much regenerative braking you want in the centre screen, allowing you to drive 90% of the time without touching the brake pedal.
I found the Model Y to understand where a solid line was on the road, and almost perfectly come to a stop at that line. It's a feature that elevates this regenerative braking system over its competition.
Acceleration/Power
4.2 out of 5.
0-100km/h in 6.9 seconds isn't slow by any means, especially when all of your power is available from a standstill.
As I drive more EVs, I recognise these figures are becoming less relevant to how fast an EV feels. Rather, that instant torque launches with such immediacy that you never feel like you're straining for more power.
Unless you're driving the Performance against this Model Y, you're not going to wish you bought the Performance. In true Tesla fashion, there's plenty of punch behind the accelerator which will keep pulling through to a top speed of 217km/h.
There are two acceleration modes in the Model Y: Standard or Chill. Standard will cause occupants heads to be thrown back ever so slightly; the wrong driver will make occupants feel sick in this drive mode. Chill mode is what I drove in the most, as it dampens that initial acceleration for a far more relaxed cabin experience.
Gear Shifting
5 out of 5.
There's one gear to take you through to your top speed, making the Model Y feel greased up as you slick your way to the speed limit.
Once you experience the absence of gear shifts in your daily driver, you'll never wish for them back. I certainly felt more relaxed without the change in inertia occuring in the background of my driving experience.
You shift gears via a column mounted shifter which may cause some drivers to have flashbacks to the 1970s. It's super easy to operate and doesn't have you wishing for it any other way.
Although, the new Model X (the bigger SUV) is doing away with a physical shifter and putting that control into the screen… we'll have to test this when it lands to see how that behaves.
Suspension & Handling
4.1 out of 5.
Missing out on the locally tuned suspension the new Kia EV6 and Hyundai IONIQ 5 benefit from, the Model Y is obviously more stiff on tougher sections of tarmac.
Only when pointed out, you'll notice a little more bounce throughout the cabin. Although, it's only when pointed out. Otherwise, you and your occupants won't be disrupted by this stiffer ride.
The obviously low centre of gravity does play in favour of the Model Y, allowing for sharp cornering dynamics and a planted ride. I experienced one of the wettest weekends in Sydney during my time with the Model Y. Despite there being a constant thin layer of water over the roads, the Model Y never skipped a beat.
I wanted to verify if you really needed the AWD Performance Model Y for grip, and it turns out you don't. Even when attempting to lose traction, the Model Y never deviated from the direction I intended to go. Thanks to having an electric drivetrain, the Model Y was able to instantly apply power to the correct wheels a lot faster than a traditional ICE car.
Fuel Efficiency
4.4 out of 5.
Claimed WLTP range is 455km, which is more than enough to get you to your next charger when on a road trip.
I found the 75kWh battery to provide excellent efficiency, only needing to charge via a fast charger once for around 15 minutes the entire 4 days I had the Model Y for.
I missed the opportunity to head out on the open road with the Model Y due to the weather, but having experienced a roadtrip in a Model 3, Tesla cars are possibly some of the most efficient EVs you can buy. You'll actually achieve range figures close to the claimed range figure provided by Tesla.
Not to mention the Tesla Supercharger network is available to you, allowing you to seamlessly drive from Brisbane to Adelaide using it. These are a lot more reliable than the third party networks which feel a lot more disjointed.
Interior Design
4.8 out of 5.
The interior is Simple and ultra-minimalist. A 15-inch screen, two stalks and less than 10 hard buttons for opening windows and doors exist inside the Model Y.
Essentially, it's the same interior design as the Model 3 up front. It's the design improvements to the rear that benefit the Model Y the most; there's more headroom, more back seat room and comfort, and there's a lot more boot space.
If you're a fan of using your technology day in day out, the Tesla is the perfect compliment to your life. It's like driving around in a mobile Apple Store. Plenty of natural light, soft touch materials and that centre screen offer logical usability and provide a lot of entertaining features.
Boot Size & Comfort
5 out of 5.
There's a whopping 971L of storage space with seats up and 2158L with the seats down. Thanks to a larger hatchback opening, a lot of underfloor storage, and a front boot, the Model Y is certainly one of the most practical SUVs you can buy.
There's no need to buy that land-yacht sized SUV to get more storage, you simply need smarter packaging that takes advantage of the lack of traditional ICE car parts.
There's far more comfort to be had in the second row compared to the Model 3. There's more headroom, foot room and knee room. The front row seats also get more headroom.
Mix in soft faux leather seats, a reasonably comfortable ride and relative silence, and the Model Y quickly becomes one of the most comfortable cars to drive and ride in.
If you have been considering or been using the Model 3 as a family car, the Model Y becomes the obvious choice for hauling people and cargo.
Features
4.6 out of 5.
Despite lacking obvious physical features, the screen quickly reveals a plethora of usable options. This includes blind spot cameras, access to streaming services, Google navigation and drive modes.
Heated seats for all bums are available, as well asremote features via the Tesla phone app that help make life a little easier compared to other family car options.
Although, I do wish there were ventilated seat options, a 360 degree parking camera and options for Apple Music/Podcasts.
You can opt for two 'Full Self Driving' packages either pre or post purchase. For just over $5000, you can get features like navigate on AutoPilot and Smart Summon. However, if you want the car to stop automatically for red lights and stop signs, you'll need to pay just over $10,000 for the entire 'Full Self Driving' package.
Here's the full list of features that come with the Model Y.
Engine
Single-speed transmission
Lithium-ion battery pack
Single electric motor
Infotainment
15 inch central touch display
Over-the-air software updates
Full-internet connectivity
Spotify, Netflix, Disney Plus and Twitch connectivity
Google Maps integration
Safety
Eight surround cameras
Twelve ultra-sonic sensors
Forward-facing radar
5 Star ANCAP Safety rating in all categories
Performance
WLTP range of 491km
0-100km/h in 6.9 seconds
Top speed of 250km/h
Convenience
Keyless entry, exit and vehicle operation via phone app
Parking cameras
Blind spot cameras
Automatic boot
Battery pre-conditioning
Access to Tesla Supercharger Network
Buy it, Consider it, or Leave it?
The Model Y is a strong Buy. You can't really go wrong buying a Tesla as your first EV or as an upgrade over an existing one.
There's plenty of space, comfort, features, future proofing via constant updates and excellent efficiency.
The Tesla Model Y has great benefits as a road trip EV, thanks to its access to Tesla's Supercharger network and ability to pre-condition before charging to reduce charge times.
There are some flaws, like the stiffer ride and minimalist interior. Even though Tesla's build quality has improved over the years, it is an elephant in the room that can cause some pre-purchase jitters.
If you want a similar experience, the Kia EV6 and Hyundai IONIQ 5 are excellent alternatives, along with Volvo's XC40 Recharge.
The Model Y is my personal pick, but it's hard to look past what the competition has been up to - some of which may be more appealing if you're not a fan of the Tesla's interior design.
About the author Cameron is our resident car expert. Aside being a source of knowledge about the automotive industry, he has also driven a wide variety of cars - from a Porsche 911 GT2 RS, through to a 1998 Toyota RAV4.
Questions & Answers
Sorry, there are no questions yet.
Get an answer from our members
Details
Compare both
Tesla Model Y
Category
Electric Cars and Midsize / Medium SUVs
Warranty

Distance

80,000 kms
Transmission
Automatic
Drive Type
Rear Wheel Drive (RWD)
Fuel Type
Electric
Wheels
19" Gemini
ANCAP Safety Rating
5 Stars

Doors

4

Seats

5
Boot Capacity
971 L
Country of Manufacture
China
Wireless Charger
Yes
Roof
Panoramic Glass
Companion

App

Yes
Acceleration

(0-100km/h)

6.9 seconds
Maximum Towing Capacity (braked)
1,600 kg
Maximum Towing Capacity (unbraked)
750 kg
Battery Capacity (Net)
60 kWh
Range (WLTP)
455 km
Efficiency
14.6 kWh/100km
Manufacturer Warranty
4 year(s)
Warranty Details
Basic Vehicle - 4 years or 80,000 km, whichever comes first. Battery & Drive Unit - 8 years or 160,000 km, whichever comes first
Keyless Features
Keyless Locking/Unlocking
Yes
Ignition
Keyless Start/Stop and Remote Start
Headlights
Type
LED
Dimensions
Kerb Weight
1,778 kg
Ground Clearance
167 mm
Driver Information
Gauges
Digital Only
Built-In Navigation System
Yes
Heads Up Display
No
Release date
Compare both
Tesla Model Y
Visit official website
ProductReview.com.au has affiliate partnerships. These do not influence our content moderation policies in any way, though ProductReview.com.au may earn commissions for products/services purchased via affiliate links.